A 2018 Mercedes-AMG GT might not seem to have much in common with a Chevy Camaro. Ah, but nicht wahr: Mercedes' six-figure sports car and Chevy's muscle coupe both benefit from a benign form of climate change. Specifically, convertible versions that address the cars' most serious flaw, the stingy glass area, steeply raked windshield and grave-deep seats that make it hard to see where the hell you're going. Top-down aural pleasure is equally amplified, a Wagnerian V8 aria from AMG's mouth to your delighted ears.
The Mercedes won't make it here in time for an illuminating dose of summer sun and UV radiation, but dealers and fans will bask in two versions this fall:  The standard AMG GT Roadster with 469 horsepower, and the wide-bodied AMG CT C Roadster with a bountiful 550 horses. Hold on to your designer hat, because the GT C combines a 196-mph top speed with an expected base price of about $160,000. Like their hardtop siblings, the Roadsters share the distinction of being designed entirely by AMG, Mercedes' high-performance maestros in Affalterbach, Germany.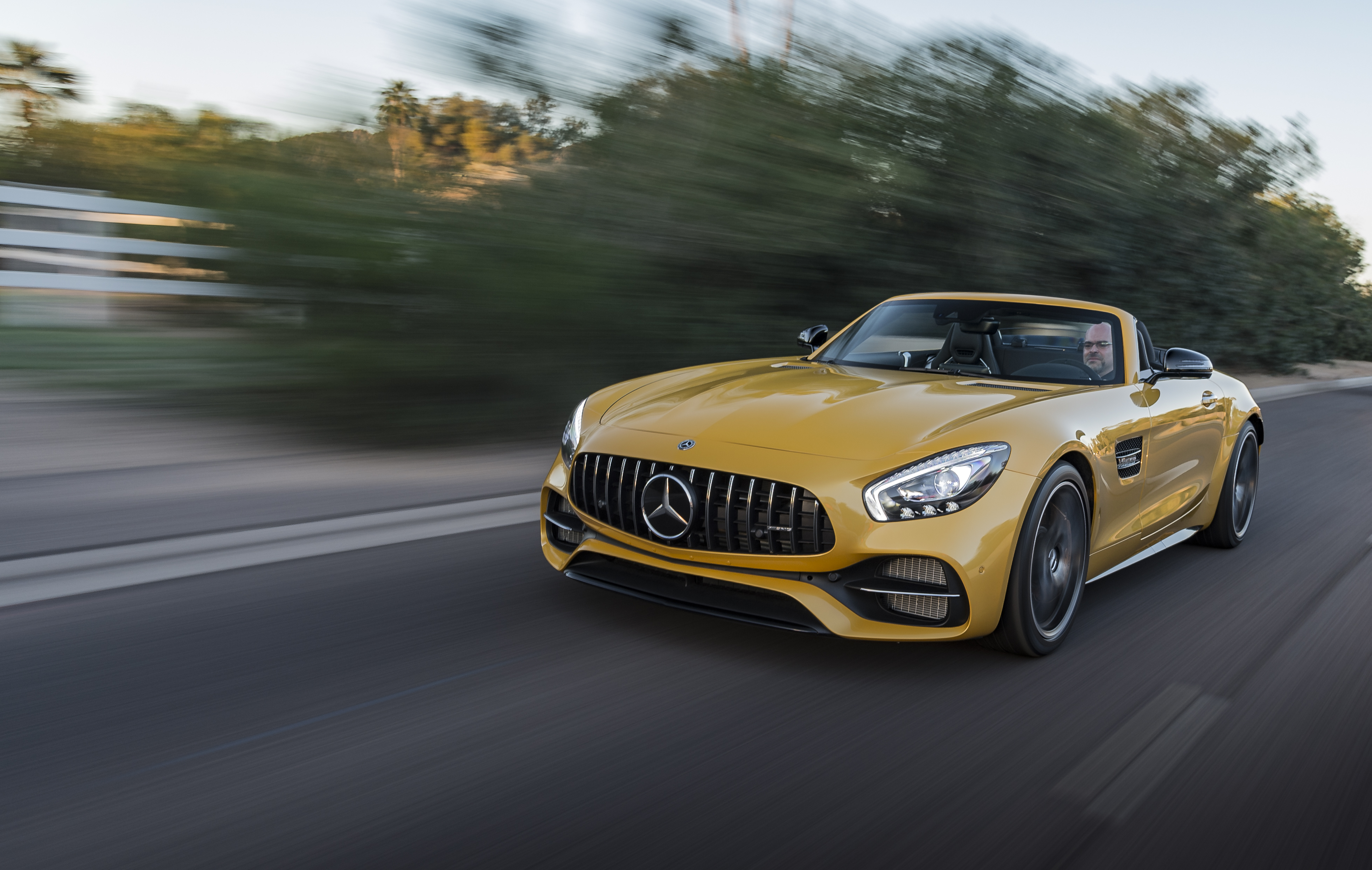 Mercedes' open-roofed roadrunner takes on the Sonoran desert, Daimler AG
The GT C demonstrated its Porsche-baiting flash and dash by earning me a stiff speeding ticket from an Arizona sheriff, likely as enthralled by the Benz' scorching yellow paint as by my radar-tripping 90-mph pace in a 65-mph zone. (Mercedes calls the AMG's signature yellow paint "Solarbeam Yellow," but this native Michigander can't help but notice its uncanny resemblance to the maize in Michigan maize-and-blue). The sheriff and his partner were friendly enough, informing me that the really epic curves were just ahead on Route 89A, a cliff-dangling beauty of a road toward the old mining town of Jerome. "Just take it easy and watch your speed, because you were really flying," one officer said.
"It's this stupid car," I replied helplessly, the citation already scorching my (guilty) fingertips. "It feels like it's going 60 when you're doing 90."
"I'll bet," the officer said, grinning from below his flat-brimmed Mountie hat.
Arizona's Route 89A winds like a snake, will bite if improperly cornered, Lawrence Ulrich
The same is surely true of the base model, the 469-horsepower, 188-mph GT Roadster. Our educated guess puts that one at roughly $125,000 to start. Mercedes' pegs the GT's 0-60 mph sprint at 4 seconds flat, compared with a blistering 3.7-seconds for the GT C. Both cars are powered by Benz' rollicking, dry-sump-lubed 4.0-liter biturbo V8, in tandem with the 7-speed AMG Speedshift dual-clutch transmission. Base GT's wind up 469 pound feet of torque. That GT C kicks that to 502 pound-feet, more than a Porsche 911 Turbo and close to the 516 pound-feet of the 911 Turbo S.
Roadster adopts key features of 2018 GT R Coupe
To better defend a $35,000 premium over the base model, the GT C version shares three key features with the upcoming, street-legal-racer GT R Coupe (no, not Nissan's GT-R). Dramatically widened rear fenders accommodate a 2.25-inch wider rear axle track. The GT C in turn adopts marginally wider, Continental ContiSport 6 tires at the rear, at 305/30/ZR20 versus 295/30/ZR20's for the GT. Secondly, the GT C's standard active rear-steering unit can turn rear wheels up to 1.5 degrees. A pair of adjustable links replace fixed toe links on the rear axle, spurred by electromechanical actuators that aren't connected to the steering column. At speeds below 62 mph (or 100 kph) rear wheels turn opposite the fronts for faster turn-in with fewer degrees of steering input. Breeze past 62 mph, and rear wheels steer in tandem with fronts to promote stability, with quicker buildup of lateral forces for faster directional changes. Finally, the GT C adopts an electronic limited-slip rear differential to minimize wheelspin and help the Benz exit corners faster than a teenager doing a dine-and-dash. The coupe makes do with a mechanical limited-slip diff.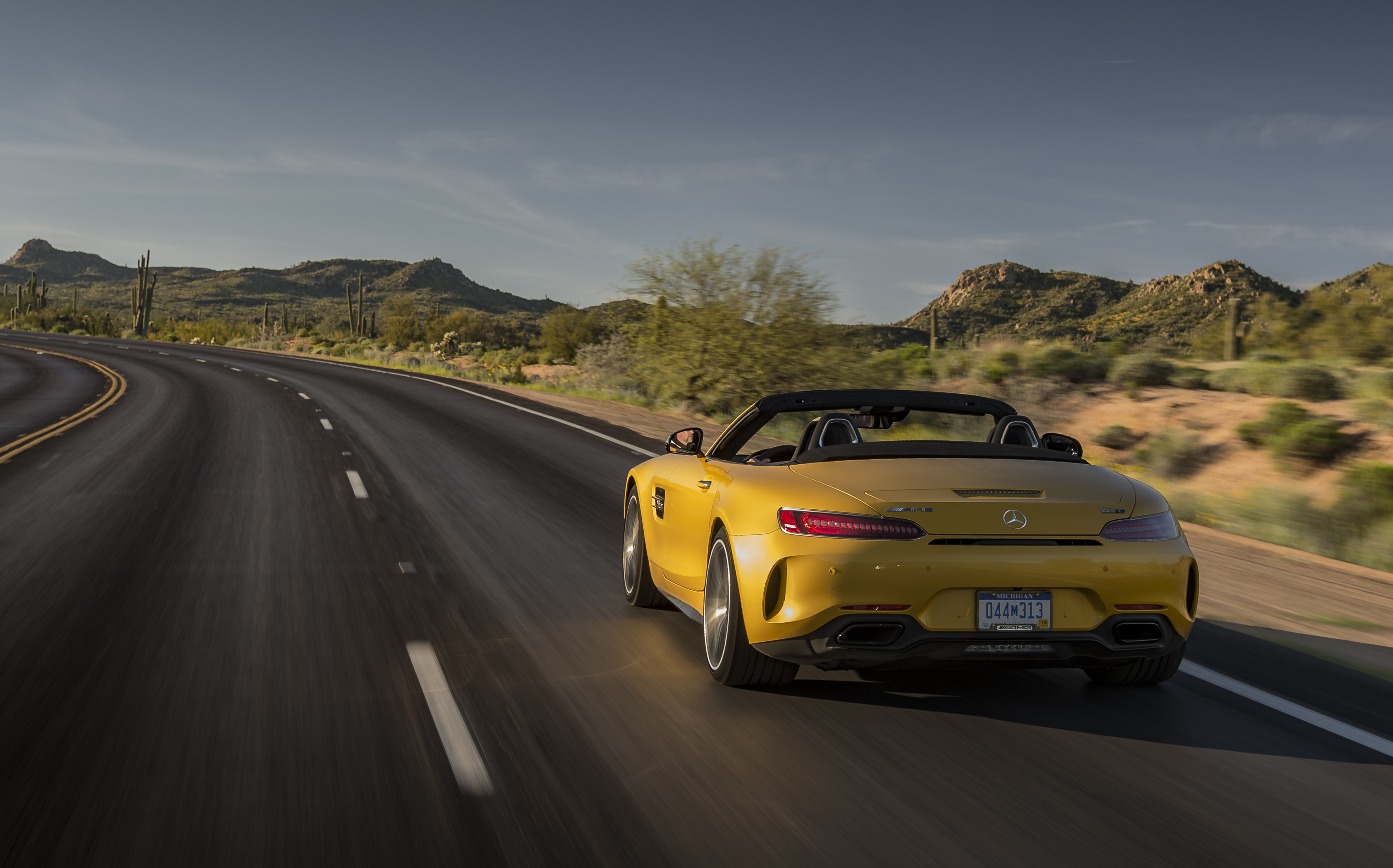 Back end still recalls Porsche 928, in a good way, Daimler AG
Convertible top keeps things light and simple
That GT C fairly feasted on desert asphalt between Phoenix and the spectacular red rocks of Sedona, while I soaked up sun for the first time after a long New York winter. Offered in black or red fabric – the latter contrasting beautifully with matte gray or mineral-black Anthracite paint -- the three-layer softtop opens or closes in a fleet 11 seconds, operated by a headliner switch. The Benz admirably defends against top-down wind noise, with passengers' conversations and the rocking Burmester audio system both reasonably audible at an 75-mph cruise. And while it wasn't needed on this gorgeous 85-degree day, Mercedes' Airscarf seemed much more robust than I've experienced before, directing a sizzling stream of warm air from the integrated headrests onto occupants' necks.
Interior is gorgeous yet nearly as intimate as a Miata's, Daimler AG
After a smoking descent to the valley floor on Arizona's spectacular Route 89A, the case was as open-and-shut as the roof: If the convertible gives up anything to the coupe's crushing performance, you'd probably only notice by a minute margin of lap times on a racetrack, and not at all on public roads. Both models get a standard adaptive AMG sport suspension and switch-selectable performance exhaust, with carbon-ceramic brakes a key option. Four performance settings comprise Comfort, Sport, Sport Plus and Race, the latter with its a stonking Race Start launch-control function.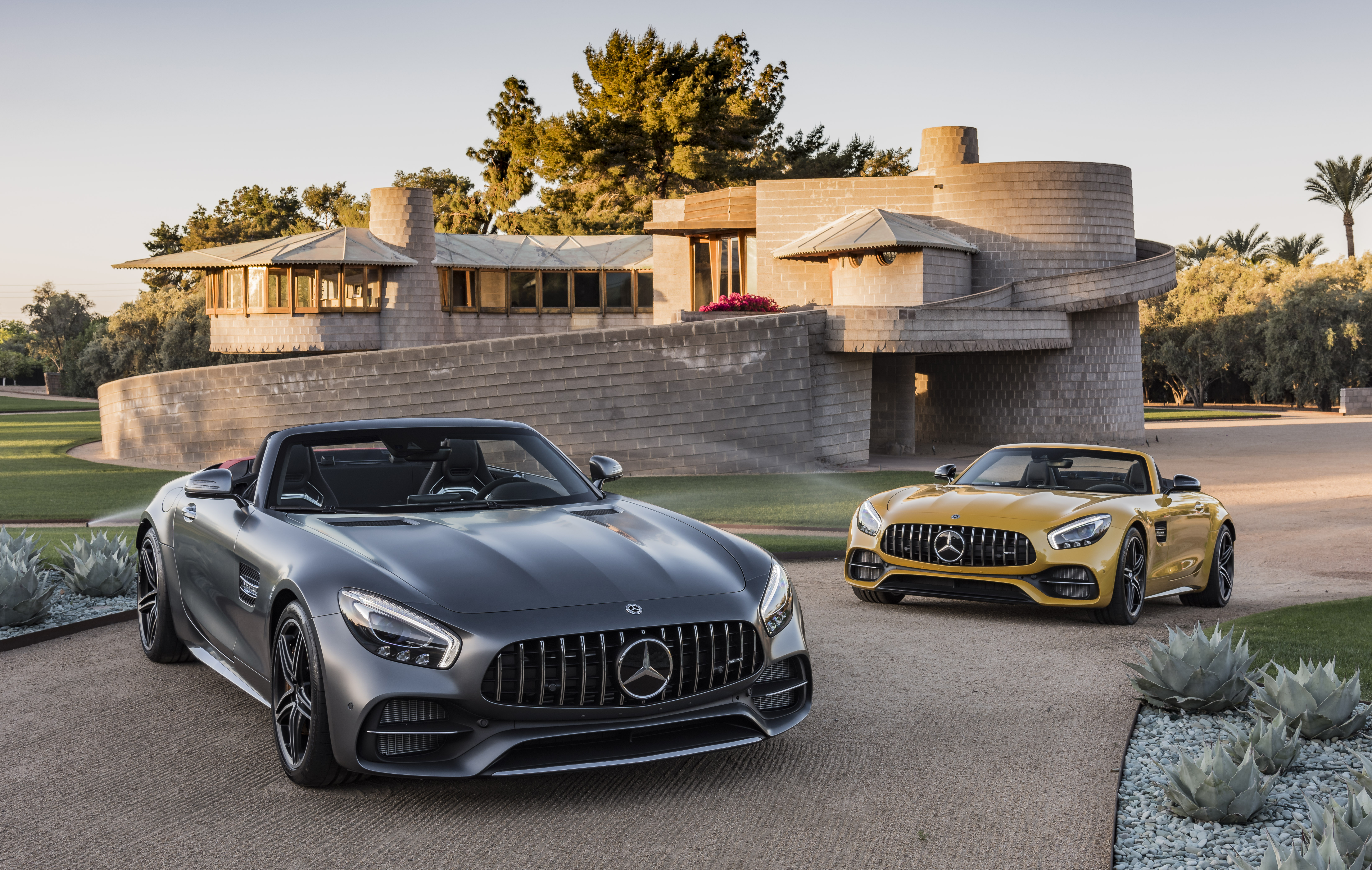 Anthracite Gray or signature Solarbeam Yellow? Discuss., Daimler AG
Restyled Panamericana grille fronts all 2018 AMG GT's
The GT Roadster adds just 120 pounds to the GT Coupe, largely due to thicker-gauge aluminum in the space frame along the door area; and an additional aluminum strut, hidden below the roof and fixed roll hoops, that links and stiffens the body. (A magnesium-and-aluminum roof structure does its own part to keep weight off). The mass variance is even more negligible between the GT C Roadster and the upcoming GT C Coupe – just 77 pounds, or the weight of a small, cute child – because that 2018 GT C Coupe adopts a standard, fixed panoramic roof that carries its own modest weight penalty. Mercedes hasn't released official curb-weight specifications for U.S. models, but its European team pegs the GT Roadster at 3,516 pounds and GT C Roadster poundage at a somewhat chubby 3,660. How hairbreadth-close is the performance? The range-topping GT R Coupe tops out at 198 mph, just 1 mph quicker than the GT C Roadster. Coupe and convertible models will share in more newness come fall: A completely restyled front-end for 2018, including the so-called "Panamericana" grille whose thick vertical slats replace the single chrome bar and three-pointed-star of the original 2017 GT Coupe. At this point, I have to say, I like the old grille better. Vitalis Enns, Mercedes-AMG's shaved-headed designer, said that the aggressive shark snout, together with a new floating A-wing fascia, serve to visually lower and widen the car.As with a middle schooler fresh from the orthodontist, there's no overlooking this metal-mouthed grin.
Functionally, Mercedes' Airpanel tucks 14 active louvers behind the jail-bar grille, which can shutter in less than one second to limit aerodynamic drag, or swing open when the engine needs more cooling breeze. Yet the GT's surfboard-sized snout is still more about style than anything else. Lift the hood, and you'll see that most of the V8 is shoved well behind the firewall; Mercedes could probably shave six inches off the front end and make it all fit. Inside, style and luxury are no issues, from beautiful porthole vents to sumptuous stitched black leather, glossy carbon fiber trim, AMG performance seats and the latest COMAND infotainment system. But that front-midship powertrain placement, which in turn demands an intrusively tall and blocky center console, helps explain the Mercedes' ergonomic deficiencies.
Carbon ceramic brakes will cost you extra, Daimler AG
Supercar style demands a few interior sacrifices
As in the coupe, the wraparound intimacy of the cockpit is fine when you're hauling ass. At other times, you get the sensation that the cabin wants to eat you whole and spit out the bones. Thick, Alcantara-clad front roof pillars, including a left-hander that aims at the driver's forehead, impede the forward view, especially in hairpin turns. Footwells are short and narrow. My body tells me there's just a skosh more space for knees, hips and elbows than a Mazda Miata, in a Mercedes whose exterior footprint is decisively larger. There's zero storage behind the seats, not even a net or center cubby as in the Miata. The relatively tight quarters for bodies and gear point up the key competitive advantage of the two-plus-two Porsche 911 or even the far-pricier Aston Martin DB11, with their luggage-swallowing rear seats that can also accommodate children or grown-ups in a literal pinch. The convertible shrinks the coupe's cargo space as well, especially by eliminating the hatch-like rear glass. Two soft-sided weekenders is the convertible's absolute limit.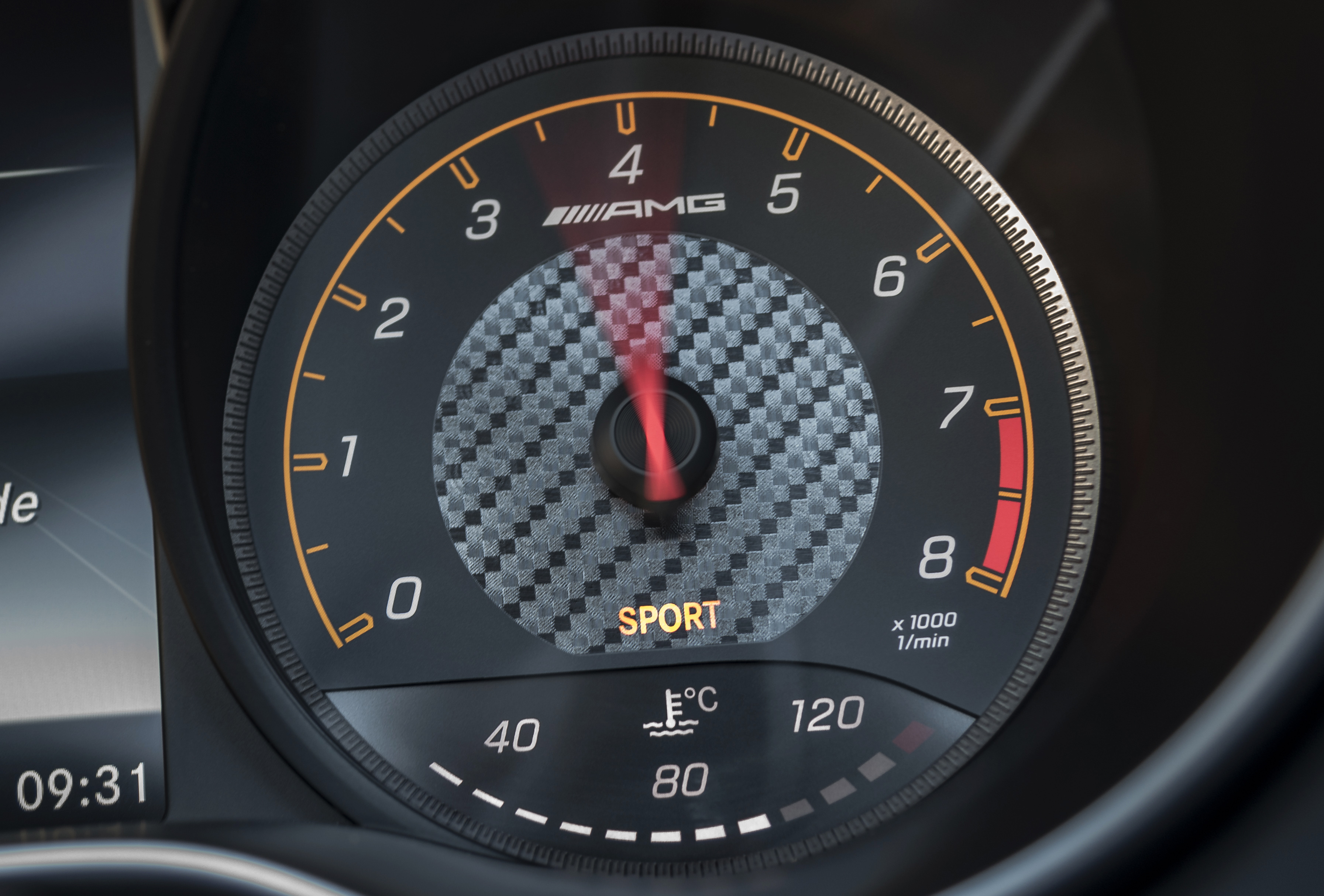 Daimler AG
Of course, the Mercedes is positioned as an expensive, indulgent toy, with just-shy-of-supercar performance. If it's grand-touring comfort and practicality you're looking for, you'll find it in the Mercedes SL-Class. The AMG GT's major advantage? Pull into any hotel or restaurant lot, and valets and bystanders alike will go apeshit over the Benz. Between its half-century familiarity and ubiquity, any Porsche 911 within 100 yards is rendered invisible.
With its dizzying lineup expansion, Mercedes already offers more varied boxes than a supermarket cereal aisle. These flip-top Roadsters boost the AMG GT lineup to seven models (if one includes the GT3 race car) that include the GT, GT S, GT C and GT R coupes. That's a lot of AMG GT's to look at. The Roadsters, by far, are the best to look out of.
Lawrence Ulrich,The Autance's chief auto critic, is an award-winning auto journalist and former chief auto critic for The New York Times and Detroit Free Press. The Detroit native and Brooklyn gentrifier owns a troubled '93 Mazda RX-7 R1, but may want to give it a good home.