The 2021 Acura TLX is finally here and, praise the heavens, it's a spitting image of that gorgeous Type S Concept. On top of awesome styling, the production-ready TLX will also bring with it an all-new V6, the return of double-wishbone front suspension, brakes from the NSX, and—after a decade-plus-long hiatus—the Type S badge.
Upon arrival, the new TLX is long-hooded, aggressive without being overdone, and features a low-and-wide stance that's reflected in its specs. It's 2.2 inches wider, 2.9 inches longer, and almost half an inch lower than the car it replaces but we don't need measuring tape to tell you that it's the best-looking Acura we've seen in a long time.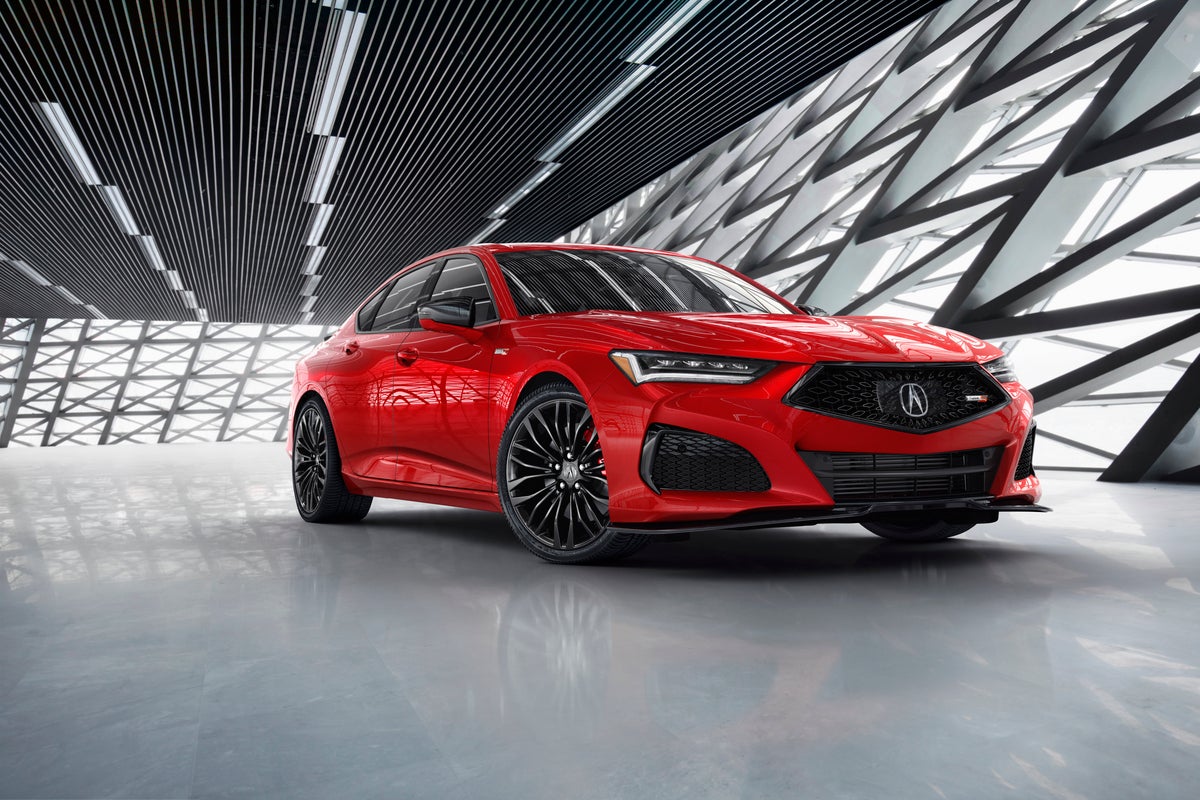 Acura
Regular versions of Acura's new sedan will be powered by the same 2.0-liter turbo-four found in the RDX crossover, which produces 272 horsepower and 280 pound-feet of torque. The Type S, however, will see the debut of a potent 3.0-liter turbocharged V6. A 10-speed automatic transmission is standard with both engines. 
Annoyingly, Acura won't confirm the V6's power and torque stats for now but did say to expect "dramatic gains" in both metrics across the rev range, compared to the outgoing 3.5-liter which made 290 hp and 267 pound-feet in the old TLX. It's also understood that the new Type S will compete with cars like the Audi S4 rather than the BMW M3, putting its expected power output somewhere in the mid-300s.
Speaking of the Germans, brand snobs will be happy to know that this isn't just a gussied-up Honda. Acura says the new TLX is built on an entirely model-exclusive chassis with a company spokesperson ensuring us that "no chassis or platform components are shared with Accord." It also happens to boast the most rigid Acura body this side of the NSX supercar and distributes its weight with balance in mind, using lots of aluminum up front and a trunk-mounted battery.
Connecting that bespoke chassis to the front wheels is the return of double wishbones just like the aforementioned NSX...or a 1987 Honda Accord. Double wishbone suspension is generally heavier, bulkier, more complicated, and more expensive than the MacPherson struts they're replacing here but they also make for cars that handle better while maintaining proper ride comfort. Variable ratio steering, Super Handling All-Wheel Drive (standard on Type S, optional otherwise), and an electric brake-by-wire system lifted from the NSX (big, red, Brembo fronts on Type S, regular pleb brakes otherwise) keep the 2021 TLX pointed where it should.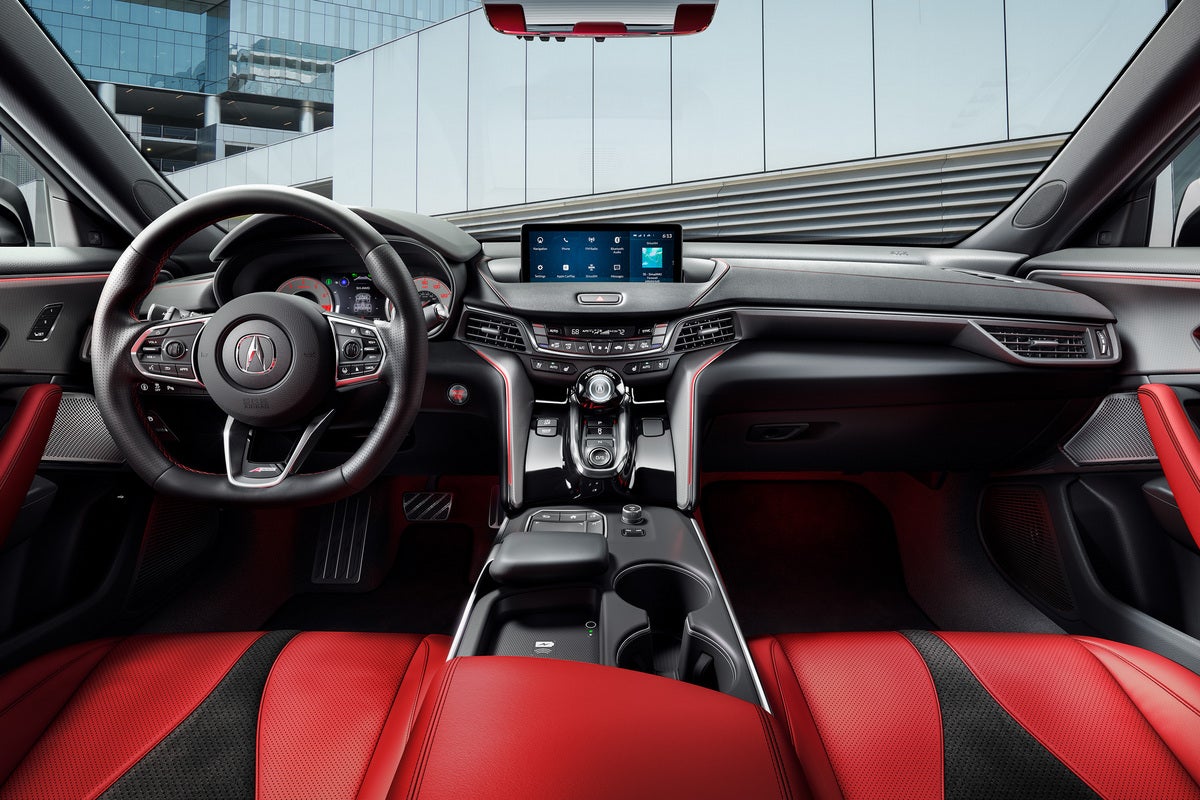 Acura
Stepping inside, drivers are greeted by an appropriately plush-yet-sporty interior complete with the same touchpad-based, 10.2-inch infotainment system found in the RDX making itself heard through an optional ELS Studio 3D sound system. Like the RDX and NSX (and, frankly, most of its competitors), the TLX's cabin also features a knob that switches between drive modes, altering things like throttle response, gear mapping, damper softness, steering weight, and AWD behavior. For the first time in any Acura, however, TLX owners can select a custom Individual mode.
All of this adds up to what Acura's touting as its "quickest, best-handling, and most well-appointed sedan" ever. Sounds promising, but we'll hold off on awarding superlatives until we've had some seat time. Starting somewhere in the mid-$30,000 range, vanilla versions of the 2021 Acura TLX will hit dealerships early this fall while the V6-powered Type S will arrive spring 2021.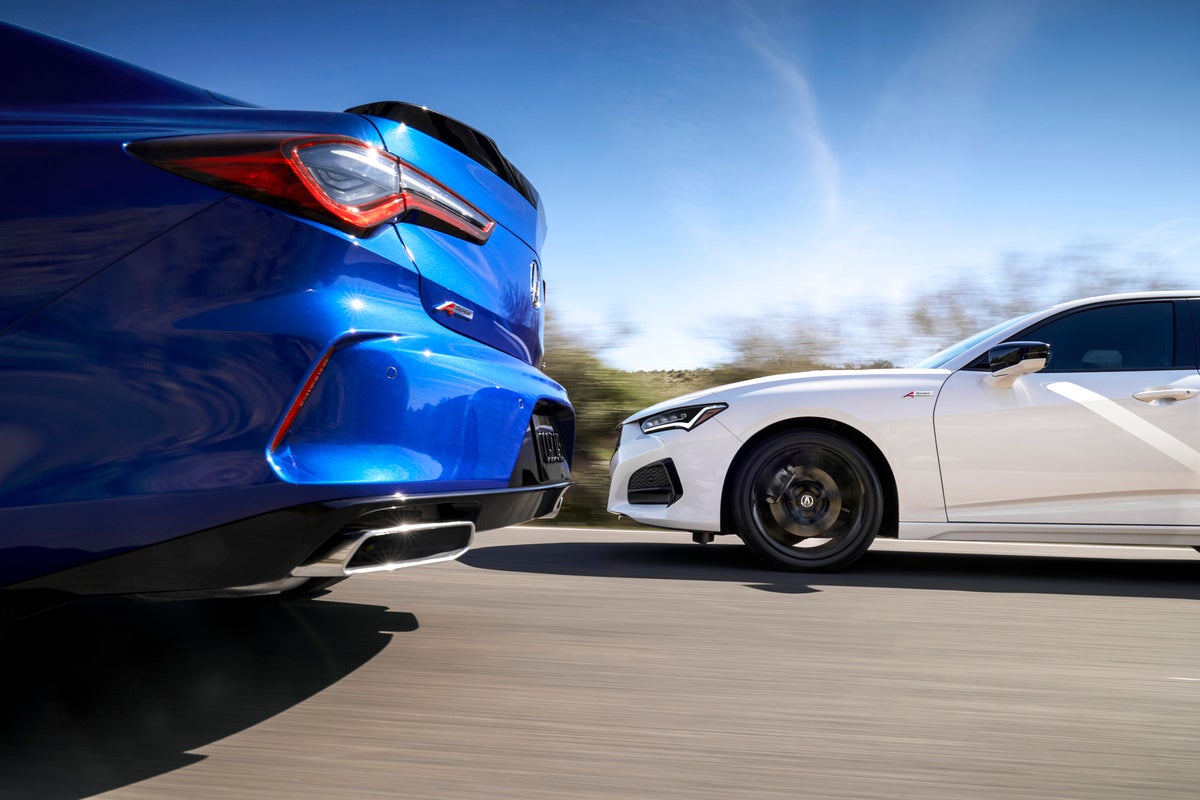 Acura
Got a tip? Send us a note: [email protected]