Aether (pronounced "e-ther") is an apparel brand based in Los Angeles that harmoniously blends the style and sensibility of urban fashion with the versatility and practicality of outerwear. Founded by Palmer West and Jonah Smith in 2009, both men sought to create a such a collection for men and in recent years, their collection and business has grown to include a women's line. Both are avid adventurers as well as motorcyclists, so it made sense for both to take a chance and create functional, yet stylish, garments for those on two wheels.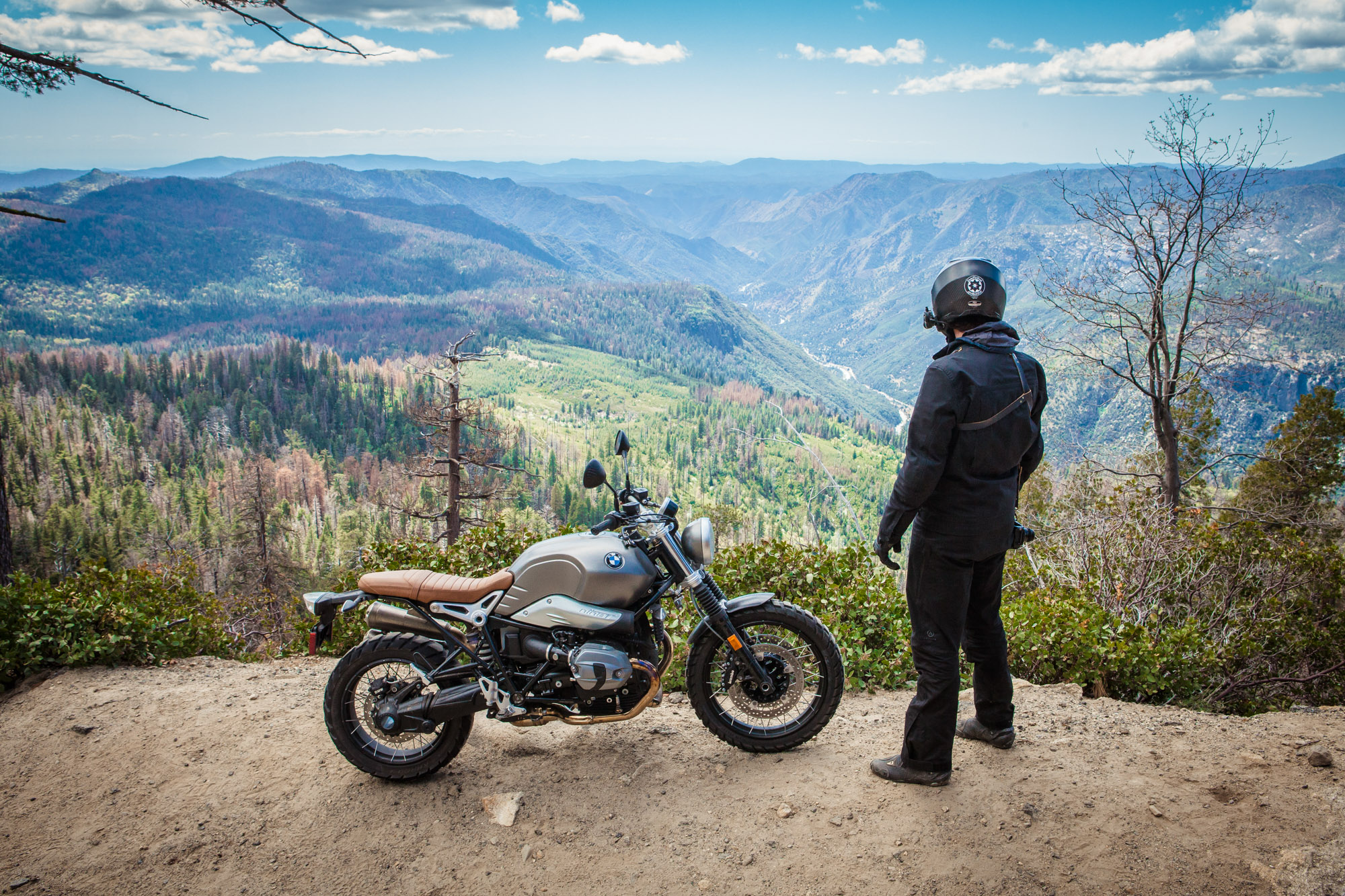 Erik Jutras
, Purpose-built FOR everyday riding or extended jaunts, I spent months battle testing the Aether Rally Jacket and Compass Pant. ,
Aether Rally Jacket
Inspired by utilitarian workwear with its classic silhouette and sturdy three-layer, abrasion-resistant nylon shell. The Rally Jacket features fully seam sealed, waterproof, and wind resistant fabrics. With a two-way zipper and large snaps at the center front allowing the wearer some fit versatility. Additional design details include a chest pocket, dual hand pockets, and back and pit vents to help control and regulate body temperature. The Rally is also completely waterproof. In an effort to think of everything, Aether even made the bottom front snap rubberized to prevent it from scratching your fuel tank.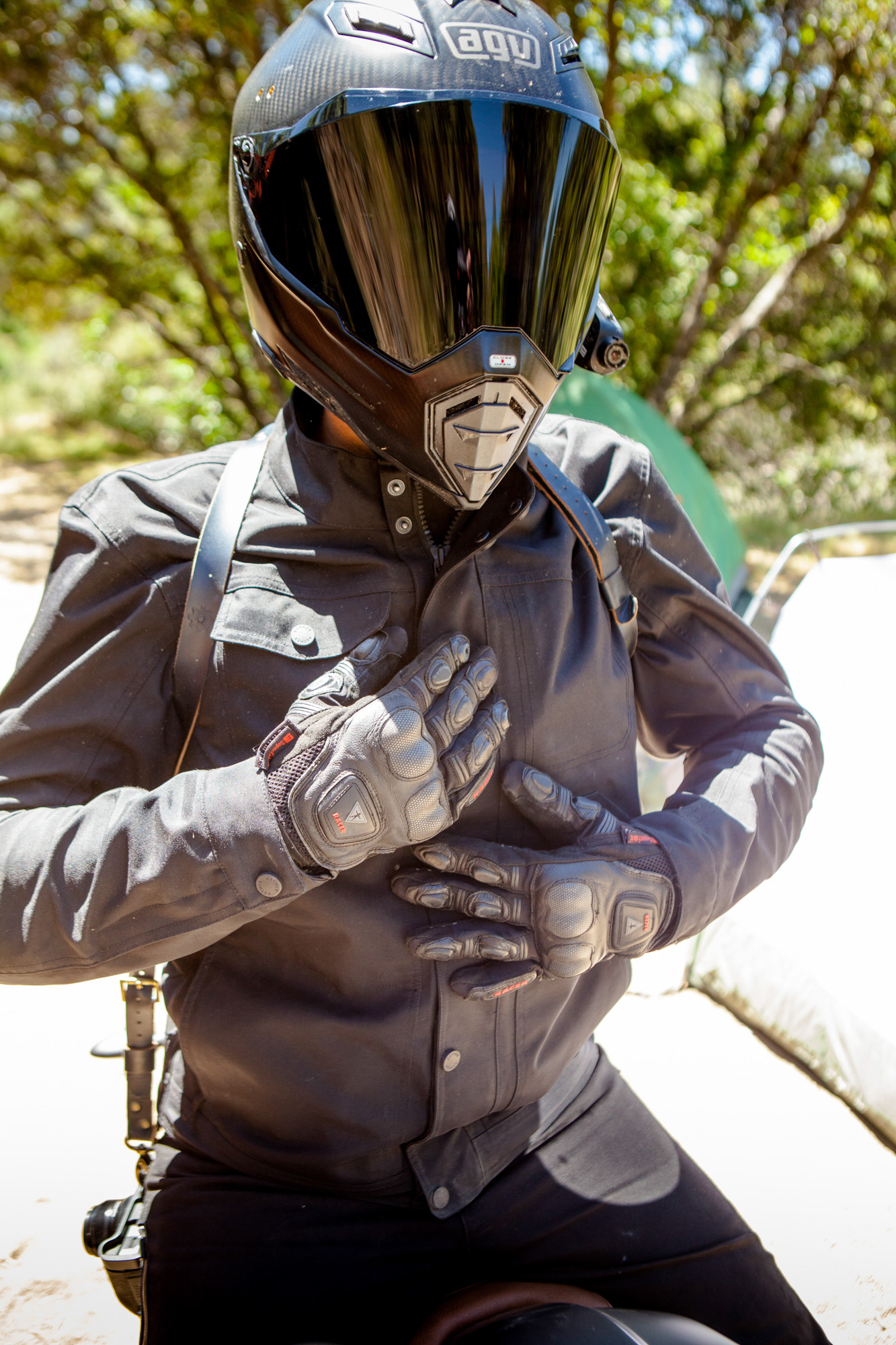 Michael "Yoshi" Jasionowski
, This jacket looks so good it makes me want to touch myself. ,
For protective padding, Aether partnered with D3O, the global market leader in impact protection and shock absorption. D3O uses unique patented and proprietary technologies to make rate-sensitive, soft, flexible materials with high shock-absorbing properties. The material's molecules flow freely, making it soft and flexible, but on impact, the molecules lock together to dissipate impact energy and reduce transmitted force. The Rally is equipped with pads featuring D3O technology at the elbow, shoulder, and back, all of which are CE-certified and completely removable.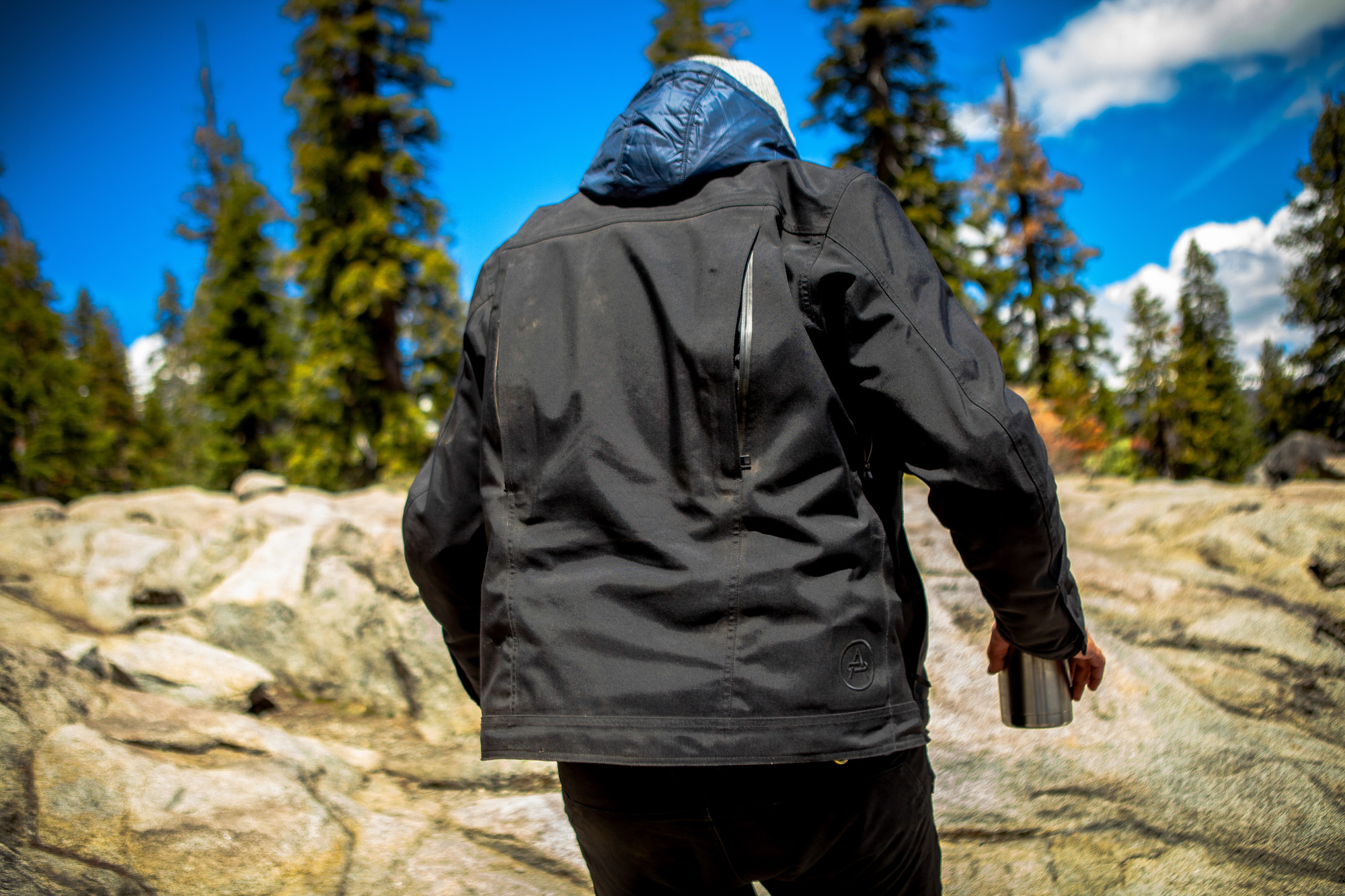 Michael "Yoshi" Jasionowski
, Back Vents allow for increased breathability and thermal regulation when the temperature rises. ,
Aether Compass Pant
The Aether Compass Pant pairs perfectly with the Rally jacket. These minimalist style pants look like slacks from afar but are made from a heavy-duty Scottish canvas. According to Aether, the material was subjected to extensive abrasion testing.
Erik Jutras
, Designated ergonomic panels make for a comfortable pant on and off the bike. ,
The casual, boot-cut pants come with removable D3O hip and knee armor. The Compass pants are designed to fit ergonomically for use on a motorcycle as seen by the pre-curved knee joints and careful elimination of pinch points while on the bike. The Compass pants feature an adjustable waistband with velcro straps for a personalized fit, while the bottom of each leg has both a zipper and velcro closure.  These pants' pockets have also been angled for easy access while seated, and a mesh liner makes for a comfortable and airy fit.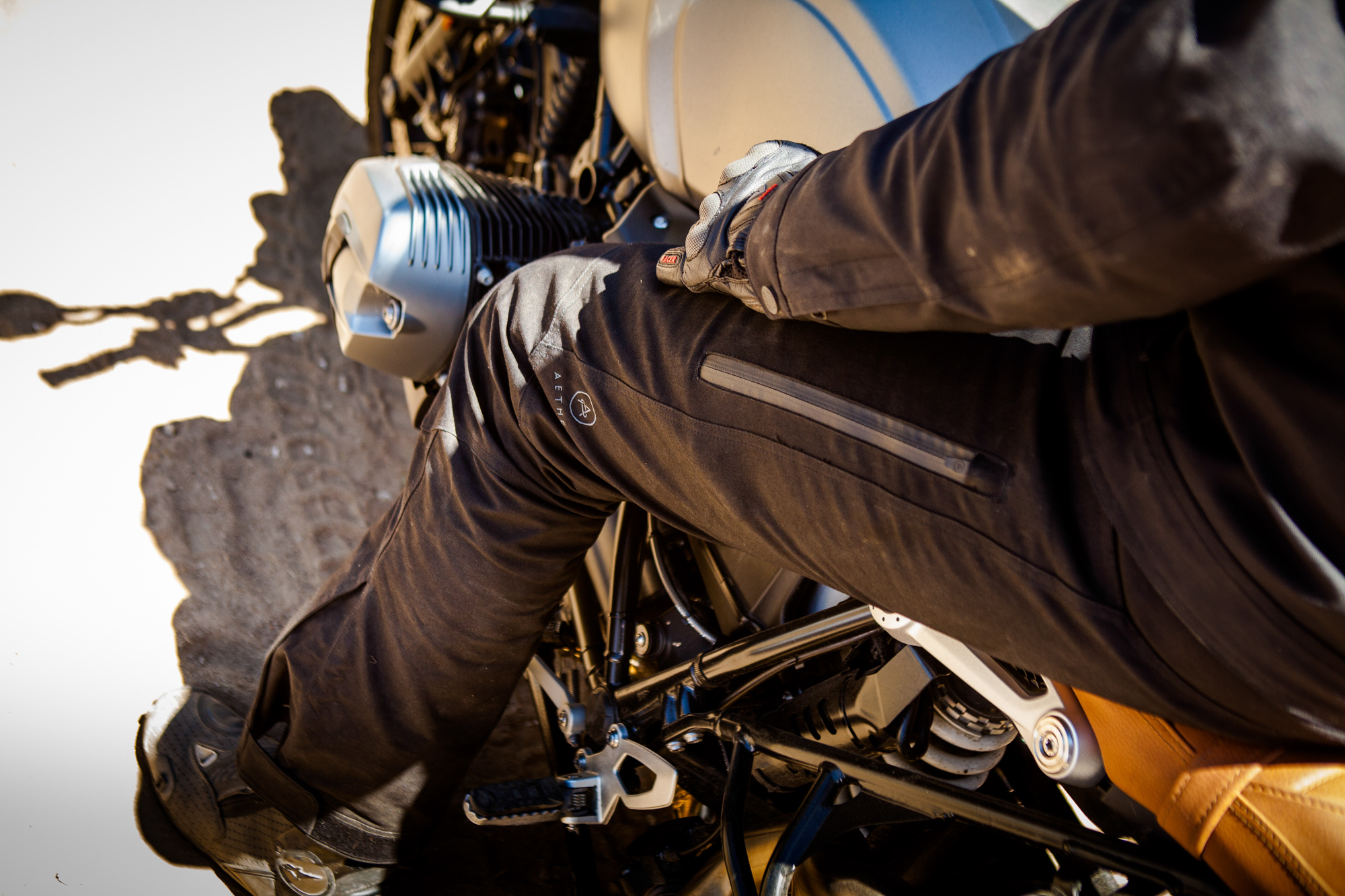 Michael "Yoshi" Jasionowski
, The Compass Pant is designed for riding. The weather sealed zipper seen above is a vent for warmer riding days. ,
Overall Impressions - Used and Abused
I wore this Aether combo for the better half of seven months spent all over California including a number of long-haul rides between Los Angeles and San Francisco, up into Oregon, and out to the Mojave desert.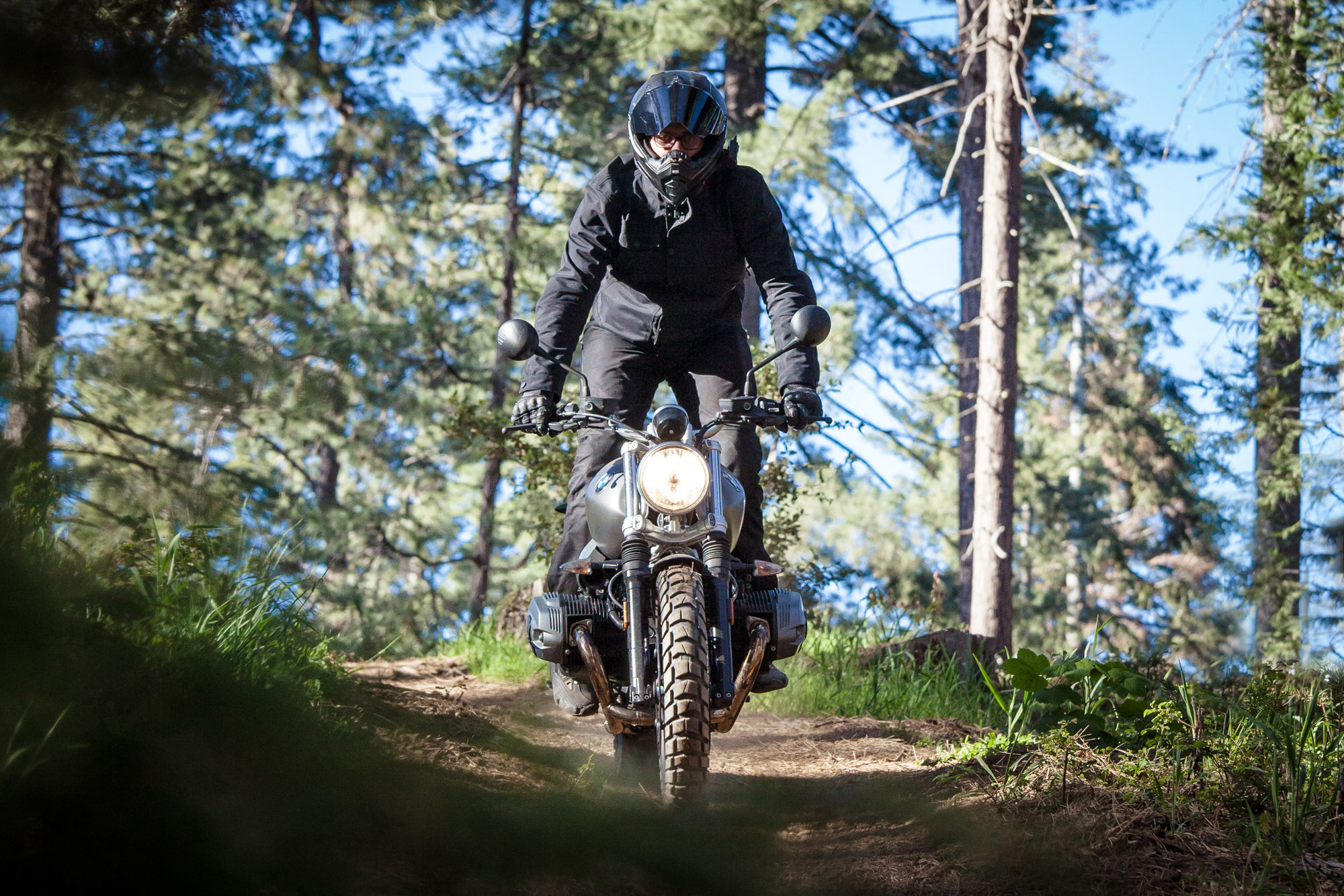 Erik Jutras
,
From a fit and finish standpoint, both the Rally Jacket and Compass Pant fit incredibly well and are ultra-minimalist in design. Upon very close inspection you can see what you are paying for with both pieces. The sleeves contain a weather sealed zipper placket and button cuff, all panels of fabric are joined together in a way which reinforces the whole garment and even the inner lining is stylish yet durable yarn-dyed plaid. All zipper vents are sealed with a rubber gusset further enabling protection from the elements. The wide tooth chunky zipper proved incredibly robust and has not faltered once.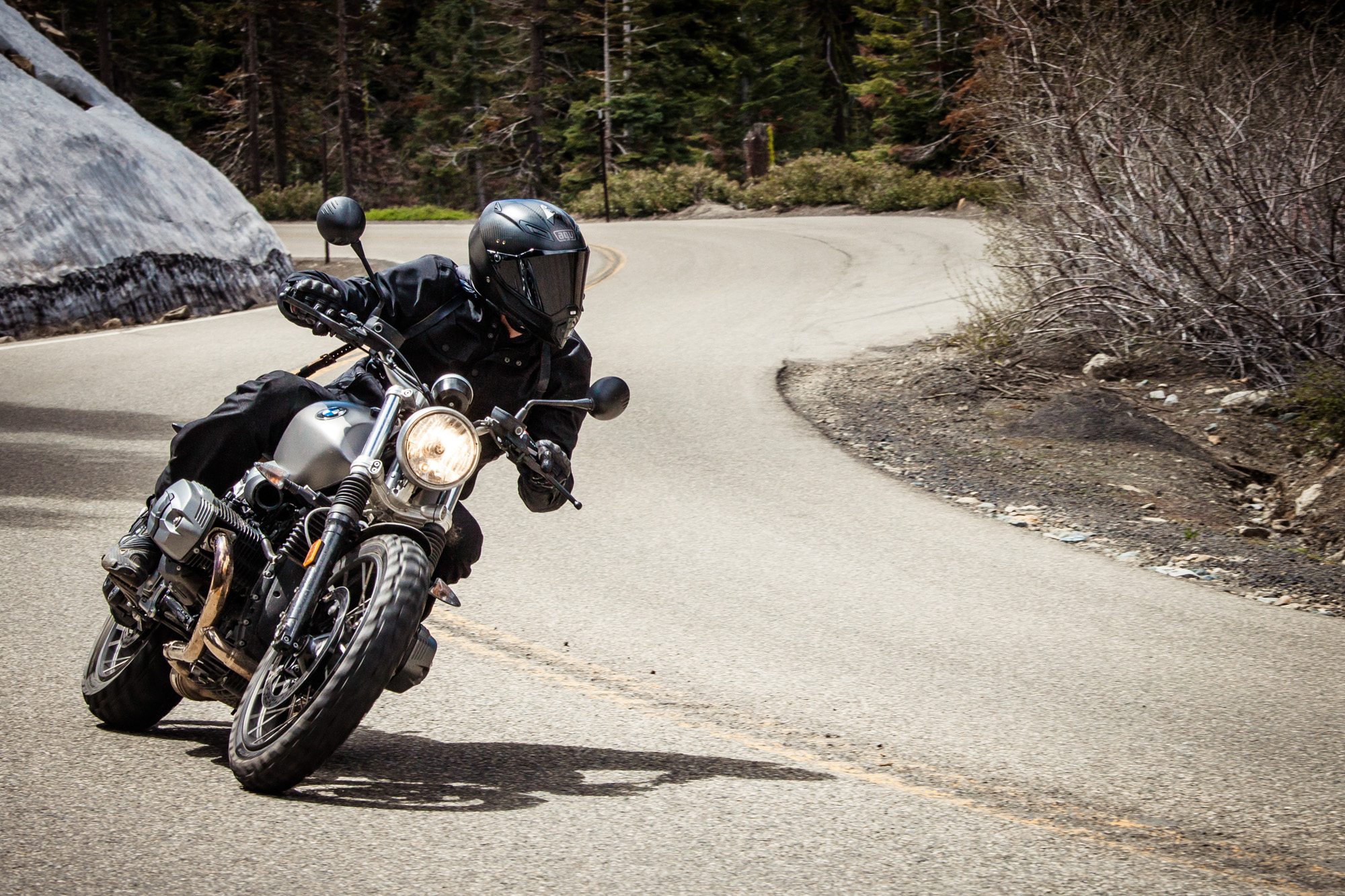 Erik Jutras
, The Aether Rally Jacket and Compass Pant really fit that hipster aesthetic on the outside while being highly technical on the inside. ,
Even in the rain, both pieces lived up to their "waterproof" claims when coupled with a pair of gauntlet Gore-Tex gloves. I did experience some water leakage around the collar but I was pleasantly surprised at how little water got into this single layer suit. 
The only time I opted out of wearing the jacket was during a spell of 95-degree plus summer days in August. Even with the underarm vents and back vents fully opened, I felt the weight and dark color of the jacket too much to bear to ride comfortably in really hot climates. Those days I opted for a full mesh jacket. With this experience, I would position the Rally jacket as a solid three-season jacket. A couple of buddies and I rode up to Yosemite for a weekend where I experienced sub-40 degree riding weather.  When coupled with a mid-layer insulating layer, I stayed plenty warm on the bike.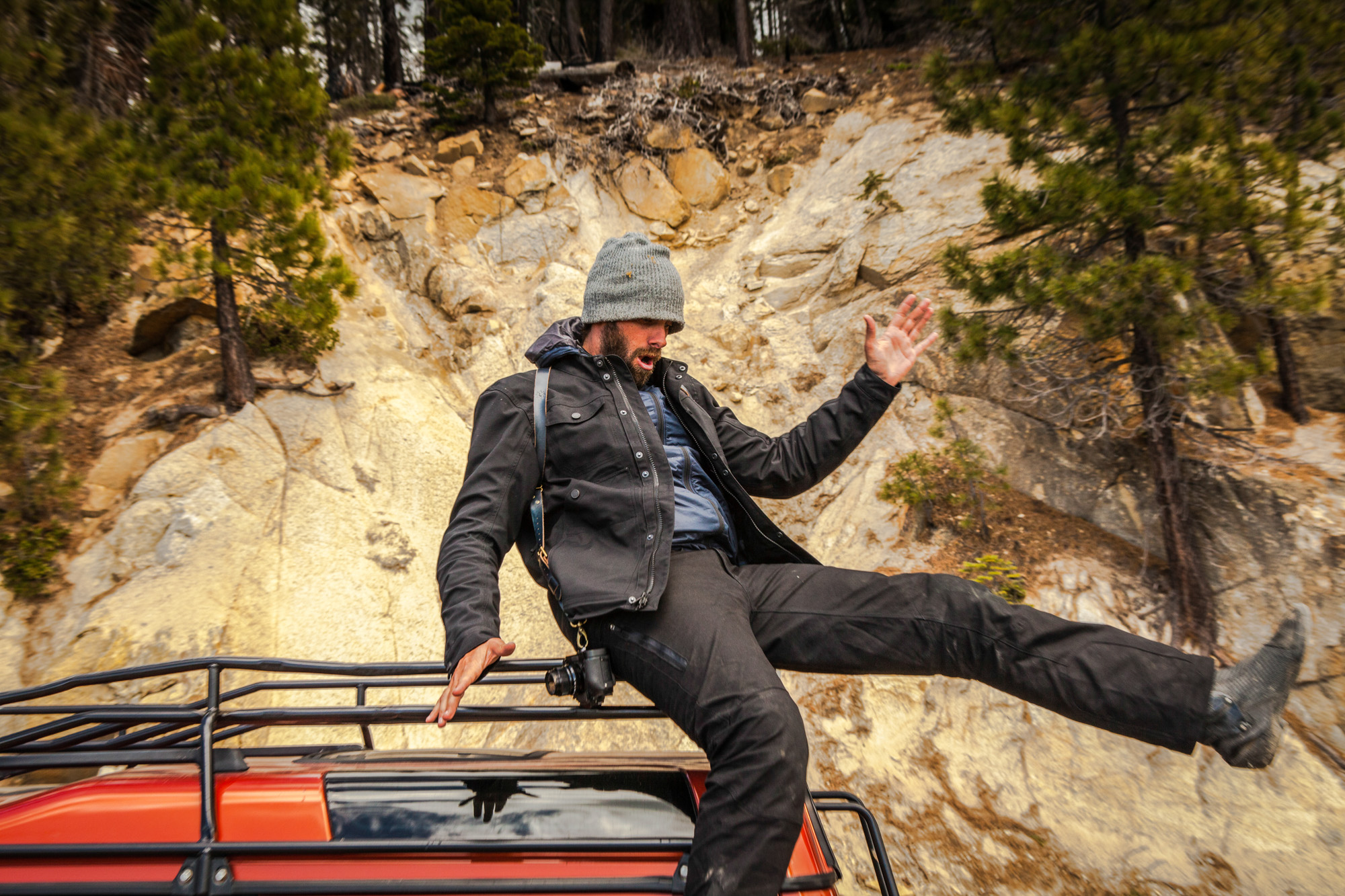 Michael "Yoshi" Jasionowski
,
As for the D30 armor effectiveness and abrasion resistance, I can attest to its durability. I had a couple unscheduled dismounts when riding hard in the dirt. Part of learning how to ride better sometimes comes with screwing up. The Rally Jacket and Compass Pant took the abuse on a couple occasions. Both garments still have that "like new" appearance.   
The Aether Compass Pant has proved itself to be a fantastic all season riding pant and the Rally Jacket a solid 3 season jacket. I love the utilitarian style and it is the jacket you would reach for when you go out for a ride on the town. It pulls triple duty incredibly well from casual riding to touring, to heavy off-road excursions. 
Areas that could be improved upon would include bigger chest pocket and lower pockets. Both are near useless in my book. I would also like to see the incorporation of a sleeve pocket for information when a medical emergency occurs.  
While hardcore adventure riders will likely opt for something more astronaut in aesthetic like the suits from Klim, Revit, or Dianese. Aether is ahead of the curve with an adventure suit that doesn't scream "Hey, I'm an Adventure motorcyclist." 
Sam's Gear:
Helmet: AGV AX-8 Carbon Fury
Gloves: Racer Mickey
Boots: Alpinestars SMX-Pro
Insulated Mid-Layer: Aether Eclipse Hoodie
Camera Strap: DamnFineGoods Solo Strap 
Motorcycle: BMW R nine T Scrambler