At first glance, the 2017 Chevrolet Corvette Grand Sport might seem like a Z06 that's missing 190 horsepower. But don't consider that a demerit against it. If anything, it may just be the best new Corvette you can buy off the floor of a Chevy showroom.
Here, the Corvette engineering team took the Z06's chassis, cooling and styling upgrades, then slotted them onto the regular 'Vette. The Grand Sport uses the 6.2-liter, naturally-aspirated LT1 V8 from the Stingray, developing the same 460 horsepower with an optional sport exhaust. But it's got widened rear fenders, unique front fender inserts, and a Z06-esque front grille and rear spoiler for extra visual panache. The stabilizer bars and springs are calibrated specifically for the car, and magnetic ride suspension comes standard. Grand Sport-exclusive wheels are staggered (19-inch front, 20-inch rear), all wearing Michelin Pilot Super Sport summer tires. The front wheels are 10-inches wide, the rears a full foot from side-to-side. Brembo brakes are standard, too—six-piston calipers and 14-inch rotors up front, four-piston calipers with 13.4-inch rotors out back. If that package doesn't do it for you, an optional Z07 trim subs in Pilot Super Sport 2 rubber and carbon-ceramic stoppers.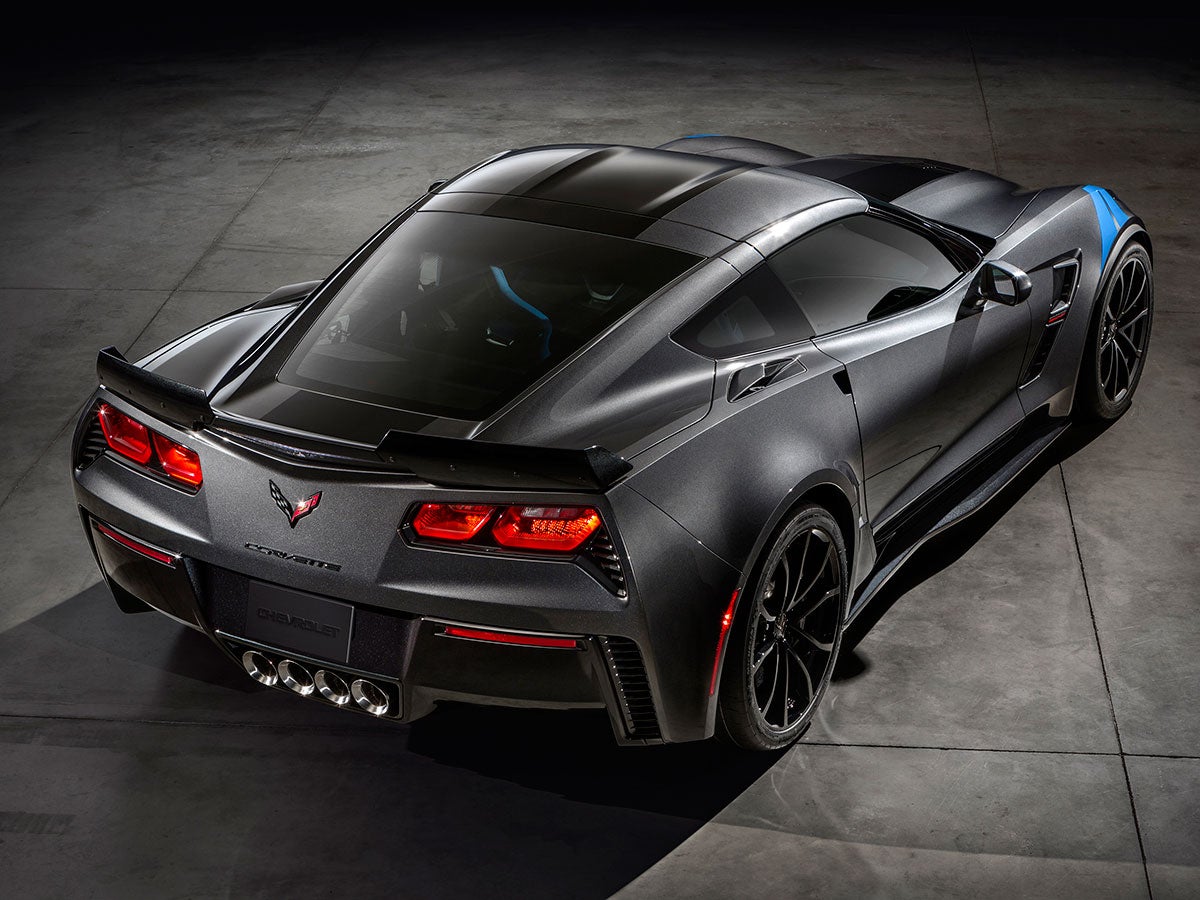 The result of all these upgrades, Chevy says, is a machine that can lap GM's Milford Proving Ground less than a second behind the C6-generation ZR1. Which, if you'll recall, was a 638-hp moonshot that Chevy spent a fortune making as fast as possible.
The 2017 Corvette Grand Sports arrives in the U.S. this summer and in Europe this fall. Both a seven-speed manual and eight-speed automatic gearboxes will be offered, in both coupe and convertible body styles. Of course, you should buy a manual coupe. And while Chevy hasn't said how much the Corvette Grand Sport will cost, we'd expect it to ring in somewhere between the top-trim Stingray's $71,140 sticker and the entry-level Z06's $80,395. Shut up and take our money.