After selling for half a million dollars in January, the very first production example of the 2024 GMC Hummer EV SUV is going back up for sale at the hands of its new owners.
In lieu of a traditional for-sale ad, news of the truck's availability was made on Hummer Chat, a Hummer enthusiast forum, last week. The company that purchased the vehicle does not appear to have purchased the truck in order to flip it and make a quick buck. Instead, the poster (who goes by the name of Bill) says that it was all about Tread Lightly, a charity that the auction benefited that teaches people how to responsibly enjoy the outdoors in motorized vehicles. And now that the charity has received its money, it's time to send the Hummer off to the forever home of a collector.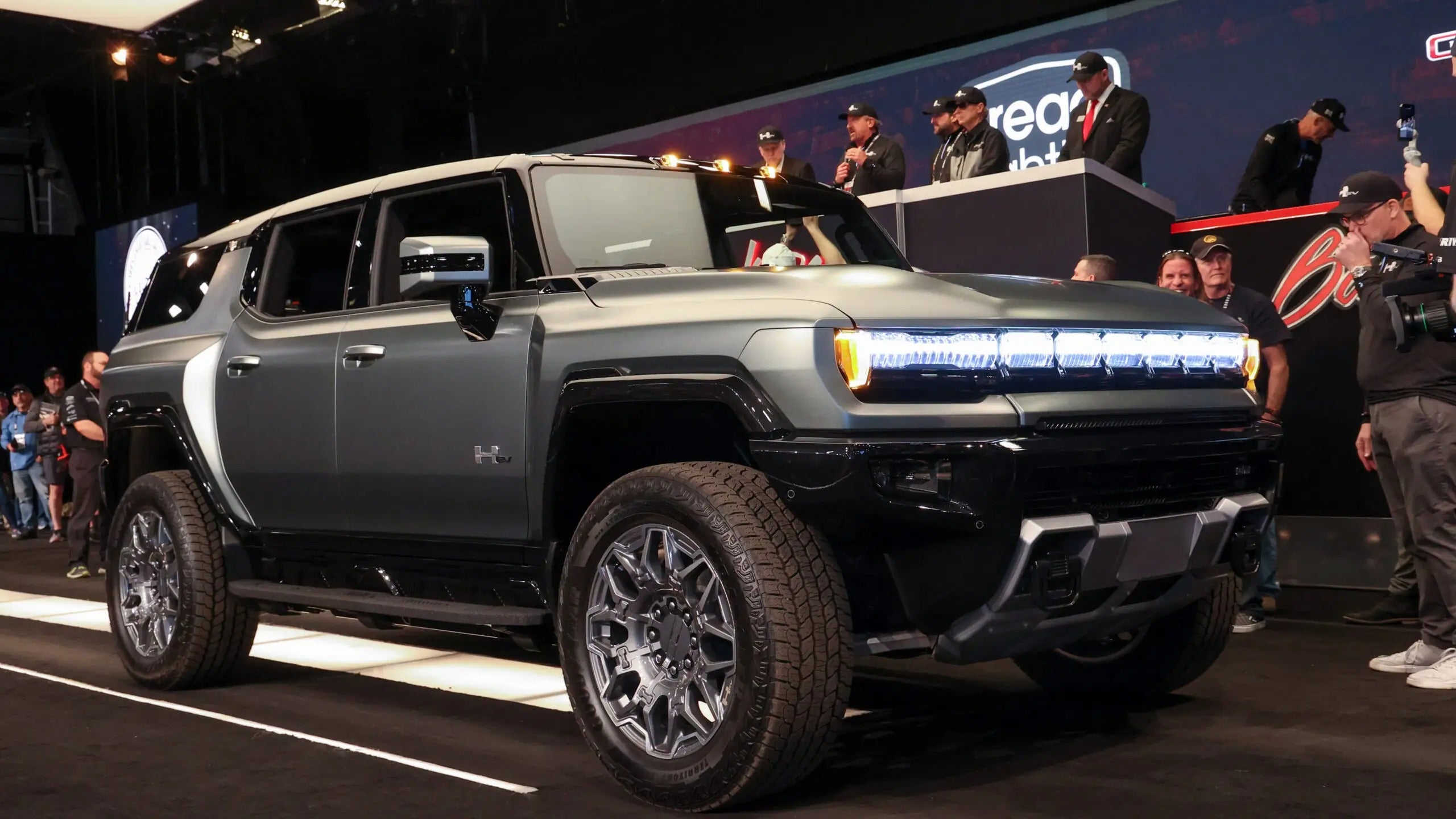 "Our company purchased the VIN#1 Hummer EV SUV at Barrett in Scottsdale," reads a post on Hummer Chat announcing the availability of the SUV. "Tread Lightly, the charity organization that the funds went to, aligns well with our company and we were excited to participate with them, however, the Hummer should go to a true enthusiast or collector."
Now, the company doesn't say exactly how much they are asking for the vehicle but instead is entertaining "all offers" on it. The right number will nab this fully loaded Edition One painted in GM's beautiful Moonshot Green Matte with the Lunar Shadow interior. Officially, the truck is built and will soon be titled and shipped to the auction winner ahead of being re-sold to the future purchaser.

On Bring a Trailer, the very first Hummer EV sold on the platform brought in $275,000 on April 1st, 2022. The most recent example sold for $150,000 earlier this month. Similarly, Cars and Bids saw their highest auction hit $260,420 in April 2022, and its lowest-priced Hummer EV pickup sold for $154,500 on February 8th.
And while none of those examples were the very first production model, it's still pretty unlikely that the seller will be offered the full $500,000 that was spent at the charity auction—after all, there's no charity involved this time around. Furthermore, the SUV didn't receive nearly as much attention as the first GMC Hummer EV pickup that went through the charity auction block. That particular truck brought in $2.5 million, or nearly five times the price of this Hummer EV SUV.
But if there aren't any takers willing to bite on this collector's item, Barrett-Jackson is reportedly willing to put it back in front of an audience at either Palm Beach in April or Vegas in June.
Got a tip or question for the author? Contact them directly: [email protected]