One day you will grow old. You will wake up to discover small wrinkles around perplexed eyes, gray hairs sprouting like weeds on a once-lustrous scalp. If you're a car fan, you may discover your tastes changing, as well. Speed may still beckon, but not if it means sacrificing every shred of comfort or dignity.
Choices for the loafer-clad and well-heeled are vast. For maximizing velocity while minimizing discomfort, the Porsche 911 Turbo is a longtime benchmark. (Anyone who swears by "No pain, no gain," has never gained 190 mph in the warm embrace of a 911 Turbo.) But some rebellious types look at the Porsche, or even an Aston Martin or Bentley GT, and see rich-dude conformity, or a vision of looming mortality.
Those iconoclasts are hereby whisked to the McLaren shop for an eyeful, and handful, of the 570GT. It's a (barely) mellower version of the vigorous and visceral 570S. It adds a soupçon of practicality with a handsomely leather-lined luggage shelf atop its mid-engine, twin-turbo V8.
And if you live in a city like New York, Chicago, or Detroit—where roads are scarred and expensive wheels are regularly sacrificed to the pothole gods—the 570GT may be a supercar savior. Like its closest rival, the Audi R8 V10 Plus, the McLaren is elusive, exotic, and cheetah-quick, but doesn't threaten to disembowel you on the daily stalk to work. And the rear-drive McLaren is a more transcendental experience than the heavier, AWD Audi. Like its 570S counterpart, the GT forges that rare mind-meld between car and driver that's usually limited to the best Porsches and Ferraris.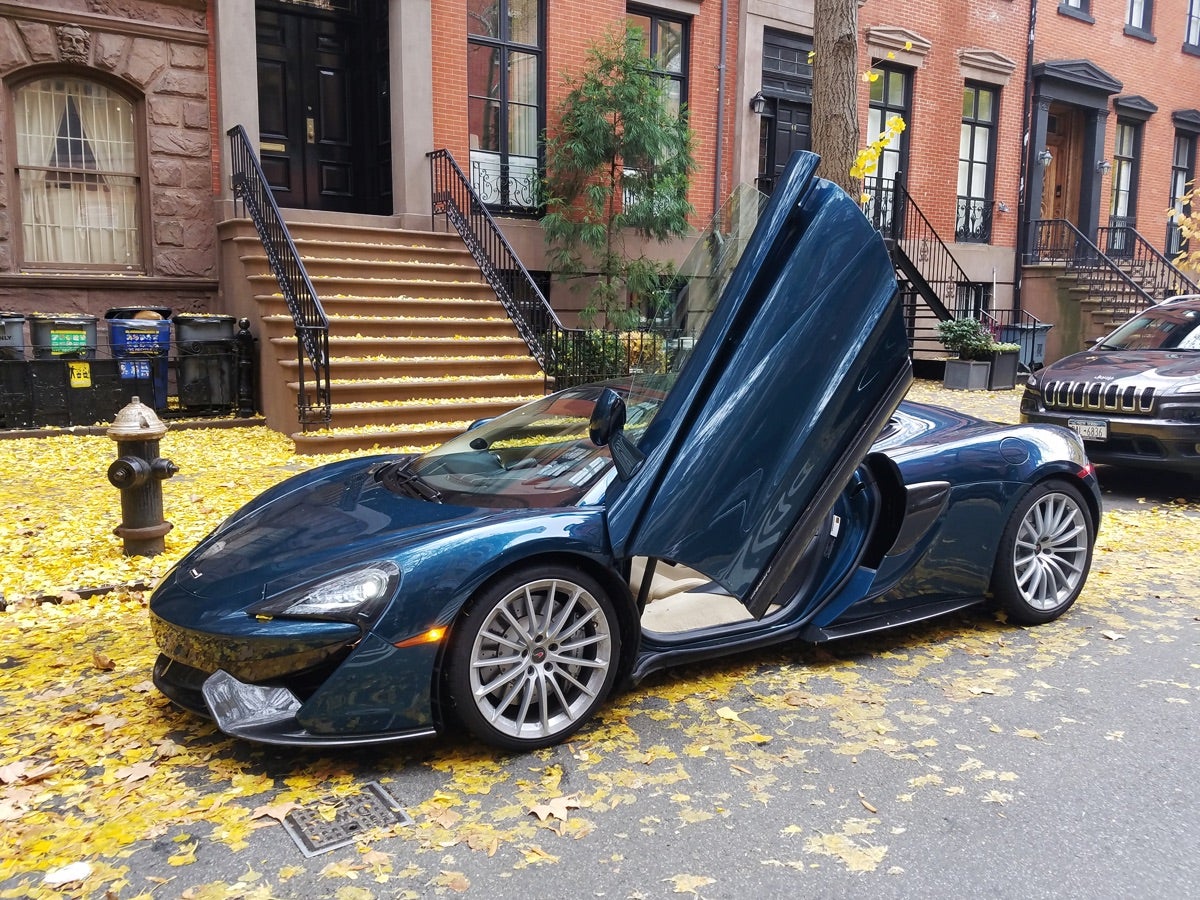 The GT replaces the flying-buttress roof and vertical rear glass of the 570S with a pretty fastback roof (including a standard tinted panoramic top) and a pop-up glass hatch. What you lose is any glimpse of the 3.8-liter V8, which the 570S teases via a pair of nostril-like slots in the rear deck. Consolation is large: The GT more than doubles the S's room for groceries or gear, with 7.3 cubic feet on the so-called "Touring Deck" in addition to 5.3 cubes in the frunk below the hood. If you live in the U.K. or other right-hand-drive market, the hatch opens on the left; for left-drive markets like America, the hatch cracks open on the right. Meaning, you'll always load and unload from the sidewalk, at least when parked on two-way streets.
Compared with the 570S, the GT's spring rates are 15 percent softer up front and 10 percent in back. Steering is a negligible two percent slower, but you'll only notice the difference at speeds above 120 mph or so. And the drivetrain is identical between these two Sports Series models, with 562 madcap horsepower and 443 pound-feet of torque and a nifty dual-clutch, seven-speed automated gearbox.
Nods to livability aside, the McLaren isn't your typical gentleman's GT, beginning with its sky-scraping dihedral doors. They're show-stoppers, but you don't always feel like being part of the show—like when you stop for gas and just want to climb aboard gracefully with your sack of smoked almonds. (Ninety-some percent of the time, though, the doors really are part of the fun.) Step carefully when you emerge, to avoid whanging your Achilles' tendon on the protruding corner of the rocker extension. Yet McLaren's Sports Series models, the 570GT and 570S, don't demand the yoga-move passage of the pricier 650S and 675LT, thanks to lower and narrower doorsills.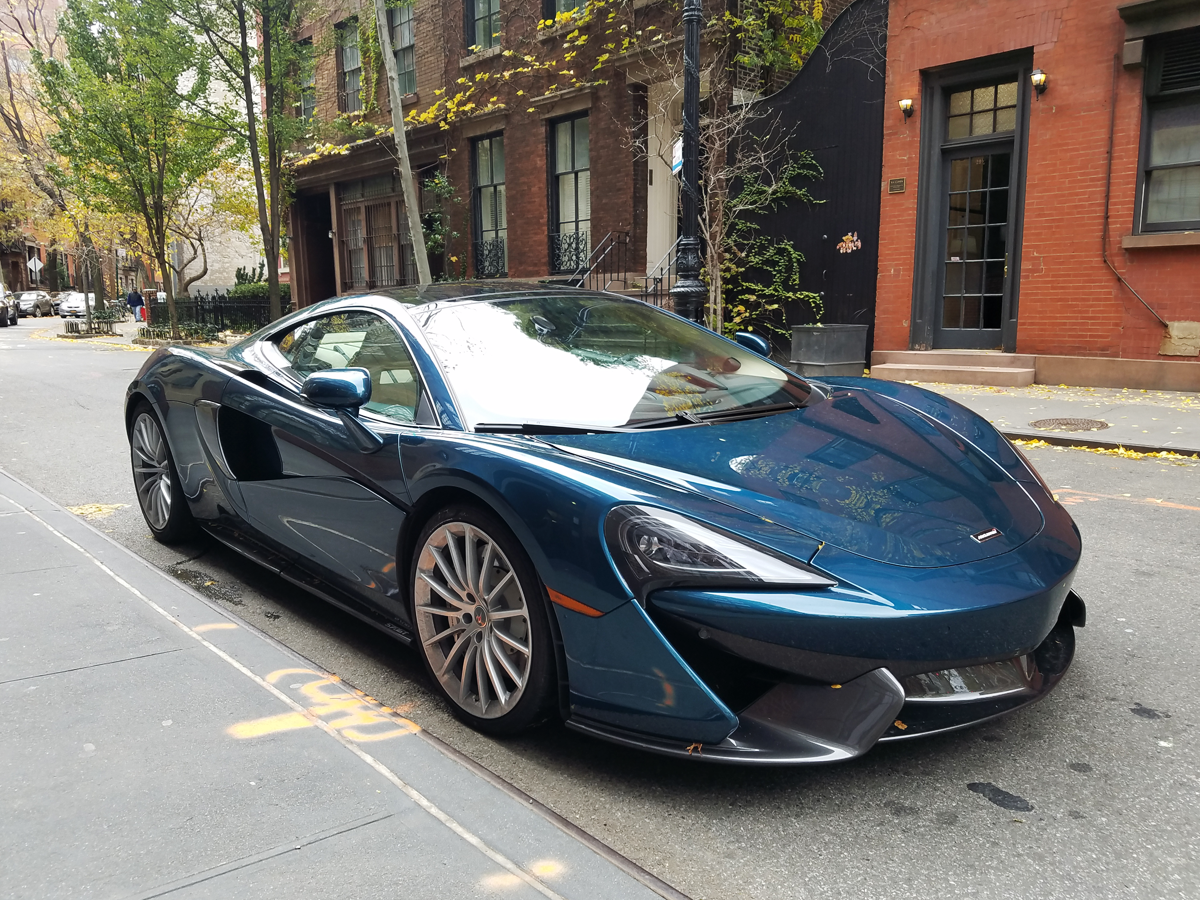 Inside, this was the most striking McLaren I've driven, another example of how far this company has come, both in design and performance, since the somewhat robotic and generically styled MP4-12C of 2012. The cabin gleamed in a two-tone hookup of jet black and bone-white leather. Tie-down straps set a veddy-British tone for the "Touring Deck," McLaren's name for the cargo hatch. But compared with the Audi R8's posh, tech-showpiece interior—Minority Report by way of MOMA—this is still a minimalist sports car in many ways, with a headache-inducing IRIS infotainment system and not much frou-frou like high-res displays, WiFi connections, and the like. (Some fans will thank McLaren for that purer approach.) As usual with McLaren, this test model showed quality niggles. The plastic surround for window switches had sprung up from the driver's side armrest and wouldn't click back into place. A "check engine" light flashed on the dashboard one morning, urging a visit to a McLaren Service Center, but it eventually went away. A similar warning suggested a failing side marker light, though the indicators worked fine.
At a dry curb weight of 3,307 pounds, the leather-swaddled GT adds 121 pounds to the 570S. It also sports new, 19-inch Pirelli PZero noise-cancelling tires that literally sponge up sound: A polyurethane sponge in the tire absorbs vibration from compressed air that would normally be transferred to the wheel hubs, suspension and steering column. Pirelli says tire noise is reduced by up to 3 decibels, and overall noise cut by half.
Between its extra weight and less-aggressive tires (the 570S gets PZero Corsas), McLaren says the 570GT scoots to 62 mph (100 kph) in 3.4 seconds, and to 124 mph in 9.8 seconds—a respective 0.2- and 0.3-seconds slower than the 570S. Both cars peak at 204 mph. Yet McLaren's acceleration figures are notoriously conservative. Car magazines have romped the 570S to 60 mph in as little as 2.8 seconds, and through a quarter-mile in 10.7 seconds at 134 mph. That's quicker than a 650-horsepower Corvette Z06, including the 'Vette's 10.95 quarter-mile at 127 mph. So, yeah, the McLaren is kinda fast. Take it from our own Will Sabel Courtney, who pried away the McLaren's keys for an upstate excursion in New York:
"Considering the 570GT is McLaren's softest, least-powerful model (not counting the 540C not sold Stateside), the level of performance is nothing short of astounding. Apart from the slightly wheezy engine note, you'd barely know the diminutive V8 is turbocharged; the power starts flowing low in the rev range and just keeps on building, all the way to the towering-for-a-turbo 8,500-rpm redline. The 570GT has the sort of spacetime-bending acceleration only true supercars can deliver."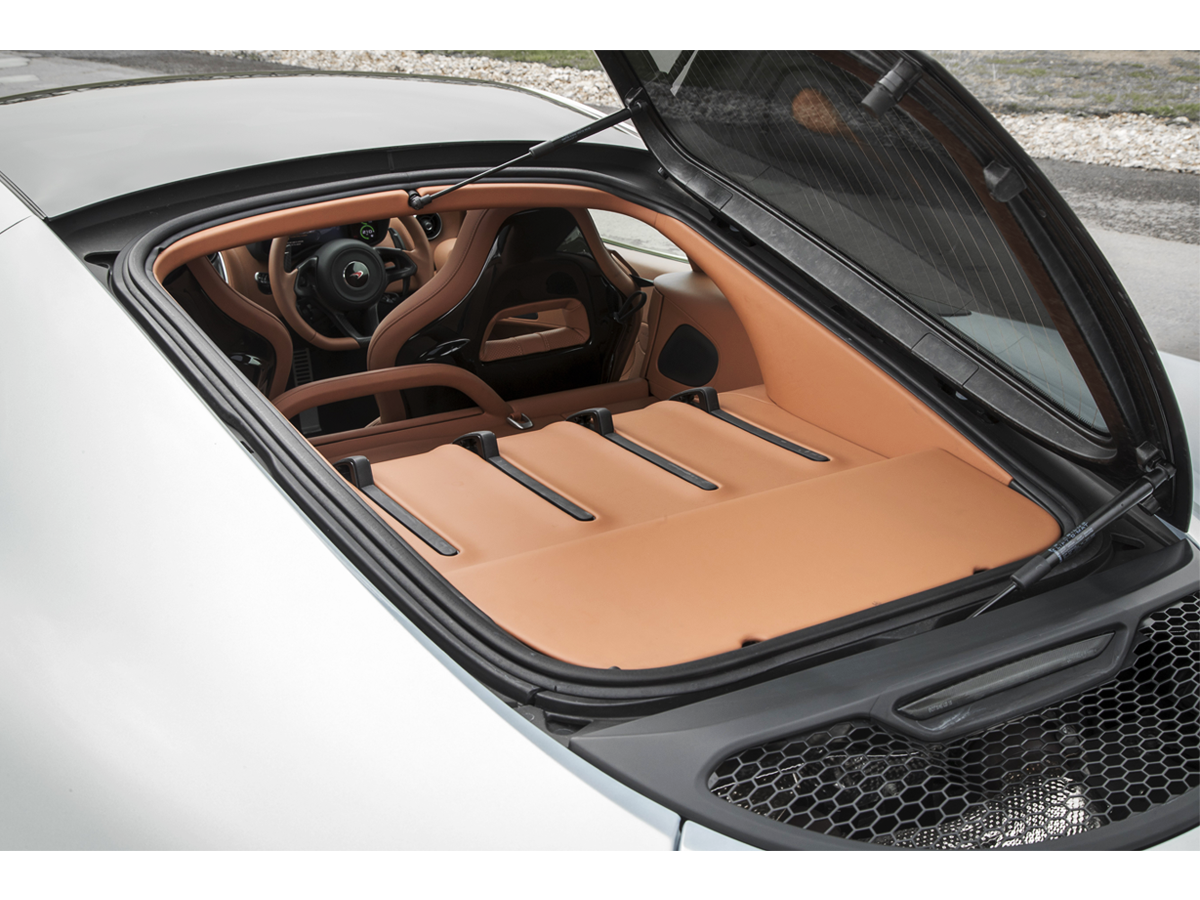 Equally impressive is the galaxy-wide bandwidth of the McLaren's performance. Ride quality is an everyday delight in the car's "Normal" Mode, on par with a magnetic-suspension Corvette or 911. But even in Manhattan traffic, I preferred toggling the console's powertrain switch to its fiercest Track setting. A touch of turbo lag is already the main performance flaw of the 570 line (along with some squirrelly behavior on track). So while a soft ride is fine in many situations, a soft throttle is not; at any moment, I might need to stomp some impudent millennial in a Mustang.
As we learned in a back-to-back test of the 570S and ultra-hardcore 675LT at New York's Monticello Motor Club, it basically takes a racetrack to expose the 570's performance handicaps versus McLaren's pricier Super Series models. Dropped onto public roads like a British commando, the 570GT assaulted anything in its path, until I wanted to pin a medal on its aluminum chest. With settings dialed to "11" on wooded two-laners north of Manhattan, the GT felt as savagely capable as its 570S counterpart. And nothing ambushes this machine. When I entered a turn too quickly on Route 301 near the Appalachian Trail—an easy enough mistake—an extra squeeze on the brake and a minor steering correction had me back on stride and rocket-launching toward the next curve.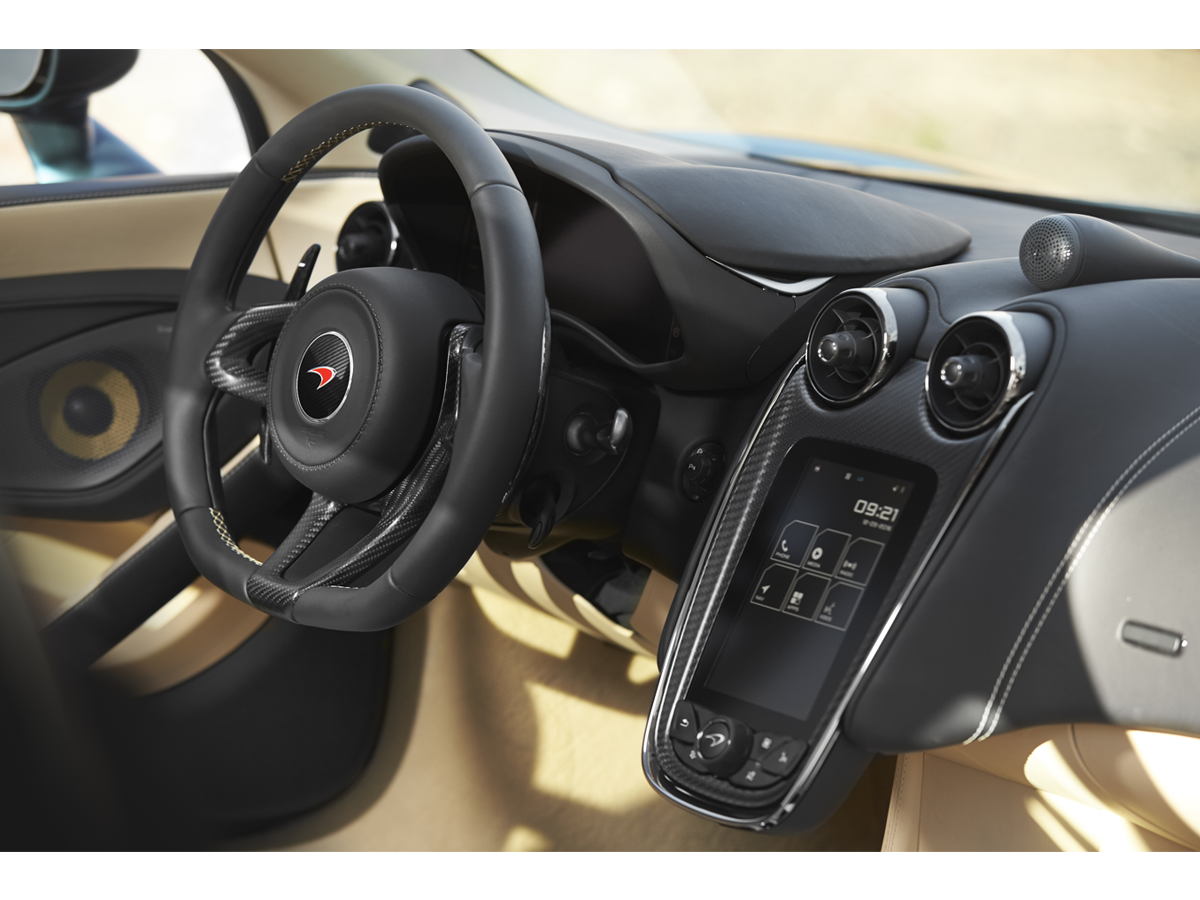 So what's the threshold for an entry-level British supercar these days? The 570S starts from $191,100; the 570GT, from $201,450. My GT stayed under $210,000 even after options, including seriously knockout Pacific blue paint and a Bowers & Wilkins audio system.
To me, the 570GT's lovely, cohesive styling, cargo-space bounty, and added layer of cush—the latter in play only when and where you want it—is well worth a piddling $10,000 premium over the 570S. Both Sports Series cars are triumphs, so one can't go wrong. But the GT offers more for the grown-ups who can afford it. That includes more reasons to roll up the miles, to check into that romantic weekend hotel, instead of taking the Range Rover instead. And naturally, I'd favor the GT. I'm starting to get old.
Lawrence Ulrich, The Drive's chief auto critic, is an award-winning auto journalist and former chief auto critic for The New York Times and Detroit Free Press. The Detroit native and Brooklyn gentrifier owns a troubled '93 Mazda RX-7 R1, but may want to give it a good home.