We won't see the 2017 Ford F-150 Raptor on the streets until fall, but when the 2016 Best in the Desert off-road racing series kicks off in Parker, Arizona this week, the new Raptor will be there—and not on display, right in the thick of competition.
The new Ford Raptor will be duking it out in the new factory stock class, which requires competitors to use unmodified factory engines and transmissions. In the Ford, that'll be a twin-turbo 3.5-liter V6, good for 411 horsepower, connected to all four wheels via 10-speed automatic. The race-spec Raptor also keeps its stock Torsen front diff, 17-inch wheels and, of course—Denis Leary voice now, kids—its high-strength military-grade aluminum-alloy body.
In fact, the only major changes Ford Racing made to the 2017 Raptor are a bespoke roll cage, racing seats with five-point harnesses, a minor league baseball stadium-worth of additional LED lights, and tougher, taller springs and shocks to handle the ups, downs and myriad dangers of Parker 142-mile loop. Well, that and one hell of a busy livery.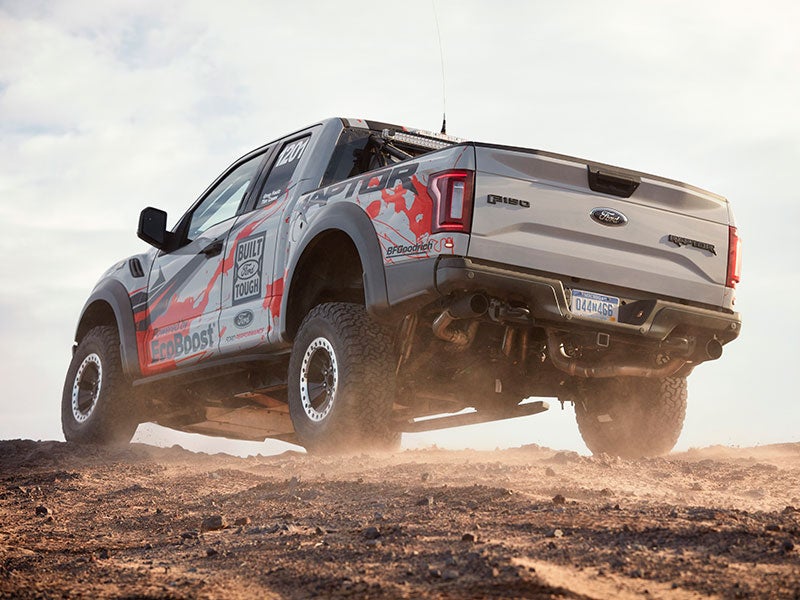 "Without custom technology or other modifications, this all-new Raptor is ready to prove the toughness and performance in the Best in the Desert series," Ford truck builder and main race truck driver Greg Foutz said, in what were clearly uncoached remarks.
If you can't make it out to join the 3,000 residents of Parker for the race February 4–7, no worries—the race-prepper 2017 Raptor will be making appearances at Las Vegas's Mint 400 in March, the Vegas to Reno race in May, and the four other BITD car and truck races stretching into December. By which time, you won't need racing to get your Raptor fix.