It's no secret that Hyundai and its sister brand Kia are trying to break into the performance car market. The new Kia K5 GT has us impressed, and the Veloster N is an all-around performance sensation for the price. It's only right, then, that the new Elantra N gets a hardcore track-only version, and that car has been revealed today at Daytona International Raceway.
It's Veloster N sister car has won back-to-back double TCR championships for Hyundai, meaning this new Elantra is going to have a tough act to follow once it hits the track under the Bryan Herta Autosport name. To prepare the car for this challenge, Hyundai hasn't just thrown a cage in the car and took out the rear seats, of course. This racer is changed extensively from the stock car in the name of performance...and meeting IMSA's Michelin Pilot Challenge regulations.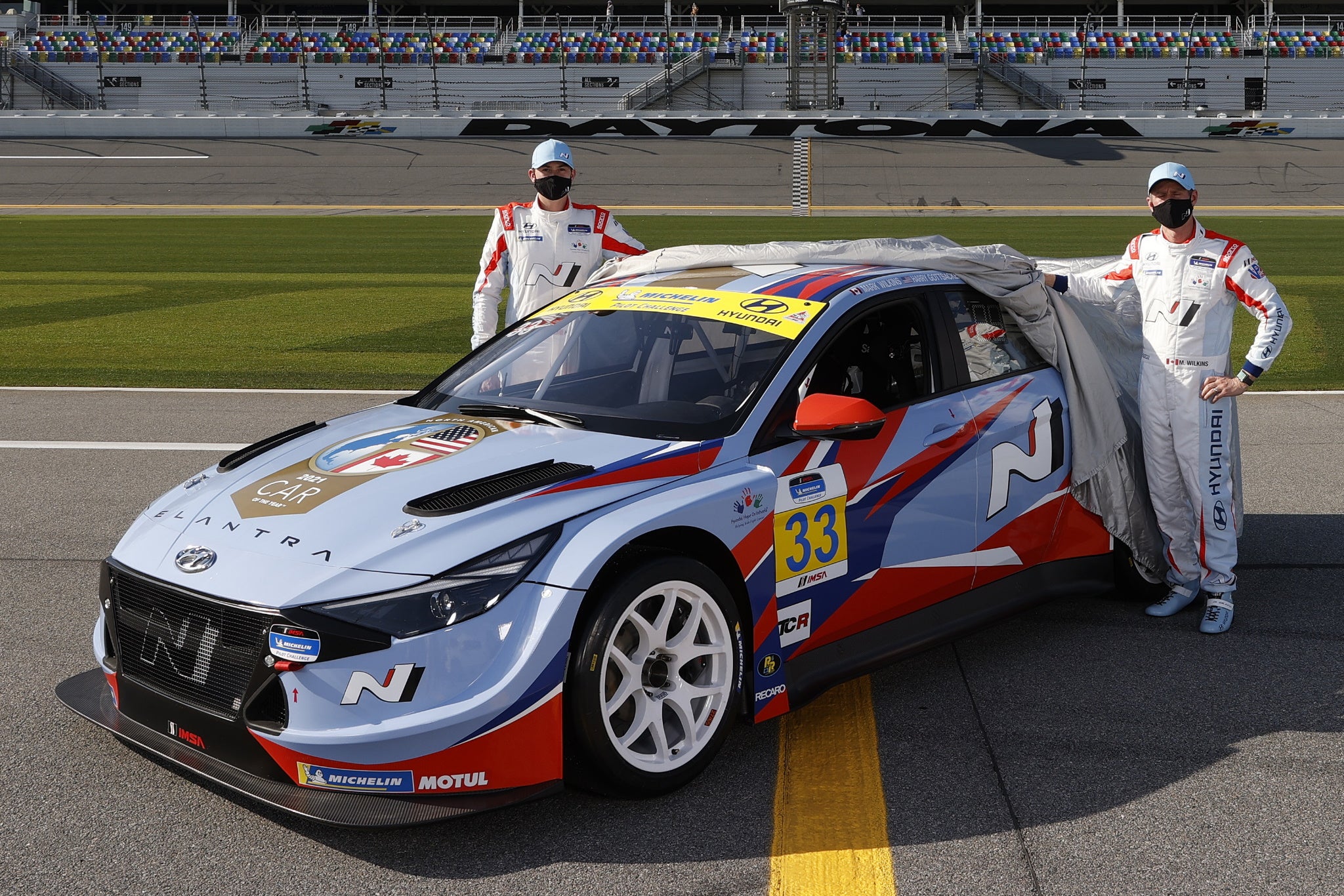 Hyundai
The most visible changes are on the outside, where the car has received massive flared-out fenders and aerodynamic bodywork to keep the Elantra stuck down to the racetrack. Behind 18x10-inch Braid wheels sit new brakes with six-piston calipers in the front gripping 380-millimeter vented discs, and two-piston units in the rear with 278mm discs. Its 2.0-liter engine produces a stout 350 horsepower, sending power to the front wheels only via a six-speed sequential transmission. The suspension is the same basic layout as the stock car, though changes have obviously been made to the tuning. Even the "N" version of the Elantra doesn't sit that low. Altogether, this whole package weighs 2,789 pounds, including the driver.
The car is set to debut in a four-hour race on the Daytona road course Jan. 29, so we won't have to wait long to see two of these things ripping up the track. The cars, Nos. 33 and 98, will be driven by Ryan Norman and Parker Chase, respectively. Let's hope those two can keep up with the Veloster's stellar rep. 
Got a tip? Send us a note: [email protected]