With all the German spoken in luxury SUV circles, it's hard for a Swede to get a word in edgewise. But like a well-prepped, sharply dressed political candidate, Volvo's all-new XC90 has been biding its time just offstage. Cue: Grand entrance.
In this 2016 debate, folks tend to fawn over a domineering German trio, the Mercedes GLE (née, ML), BMW X5 and Audi Q7. The bland-yet-rational Lexus RX often wins over U.S. voters; Acura's MDX adds some sport to the practical-Japanese formula. Cadillac will soon replace its age-spotted SRX with a fresh hopeful, the XT5. And at stage left, the Lincoln MKX is Lincoln Chafee, hoping anyone recognizes its name before it drops from the ballot and retires to a quiet country home. (Oh wait, he already did.)
In a showroom as crowded as the GOP's, it's difficult for fresh-thinking outliers to break through. But while Volvo fans are often pigeonholed as PBS-watching lefties, this new second-gen XC90 is a canny centrist—pleasing looks, versatile platform, nimble responses and cross-generational appeal. It's the Bill Clinton of luxury SUVs, so good you'd vote for it thrice. What family SUV voter doesn't love safety? Class-leading cargo space? Standard seating for seven that eludes many rivals? That's like saying "Restore America's greatness with free bacon."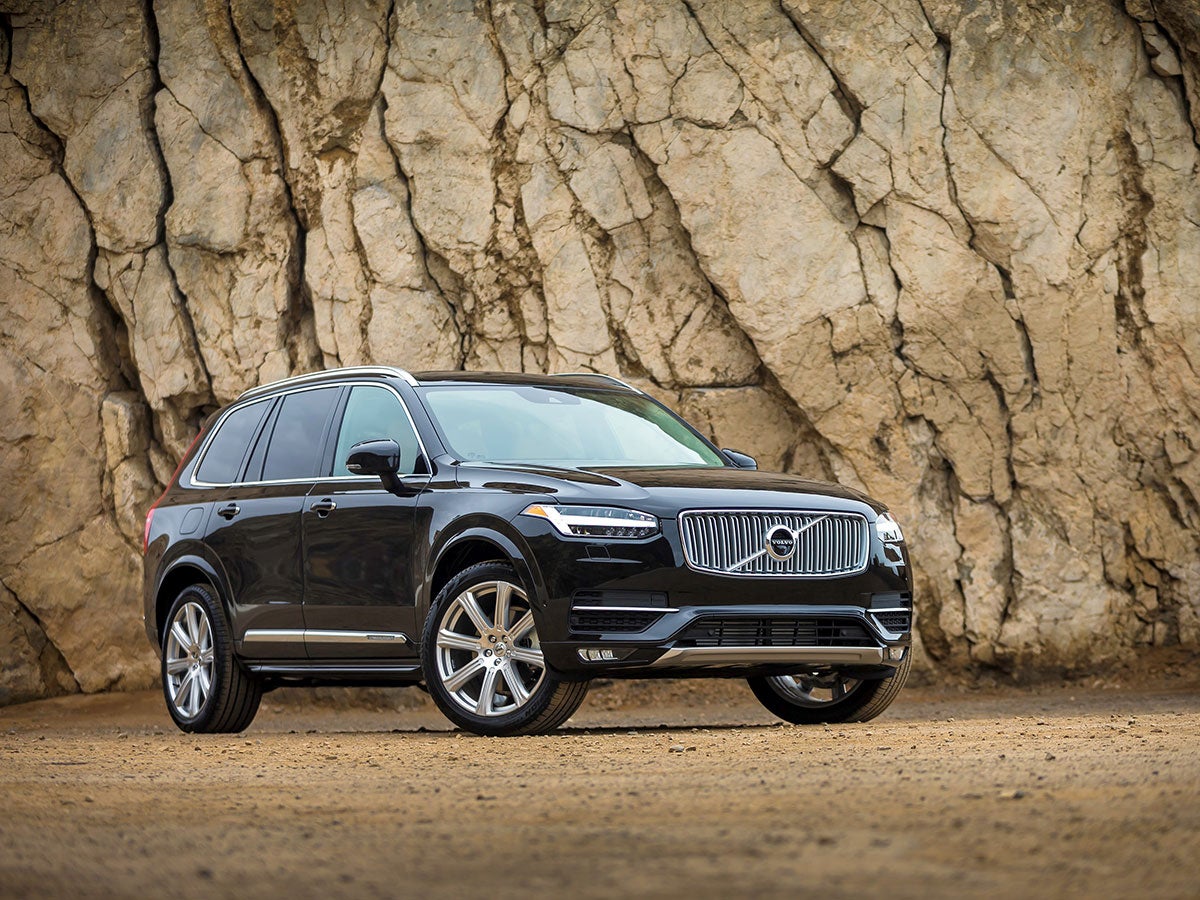 The XC90 starts with the semi-spooky autonomy of rivals like the Mercedes GLE, and to this adds two safety firsts: The Volvo can stop itself before a driver, perhaps distracted by a farmer's market, mistakenly turns in front of a fast-approaching car. Accidentally go off-road, and the Volvo's seats dampen all-terrain forces—such as bouncing through a ditch—to lessen spinal injuries.
Even in darkness, the Volvo's assists can detect cars, motorcycles, pedestrians and cyclists using radar and a new front- and side-view megapixel camera. When danger is detected, the car brakes to avoid or mitigate low-speed collisions. The Volvo can automatically tighten seatbelts when it senses an impending rear-end wallop, while optional systems wrap the car in 360-degree camera and blind-spot-sensing views. Like the Benz, it can automatically pace traffic and steer itself along gentle curves. (Volvo's autopilot feature, designed to alleviate tedium in stop-and-go traffic, can steer at speeds below 30 mph). The XC90 even parallel-parks itself on my Brooklyn street, and far better than any Uber driver manages.
The new XC90 looks great, inside and out. It's like a modern, ice-sculpted tribute to a station wagon, only with all-wheel drive and a taller view. Like the old XC90, it's a perennial kind of design, hyper-aware of suburban decorum. It should continue looking good deep into the next decade.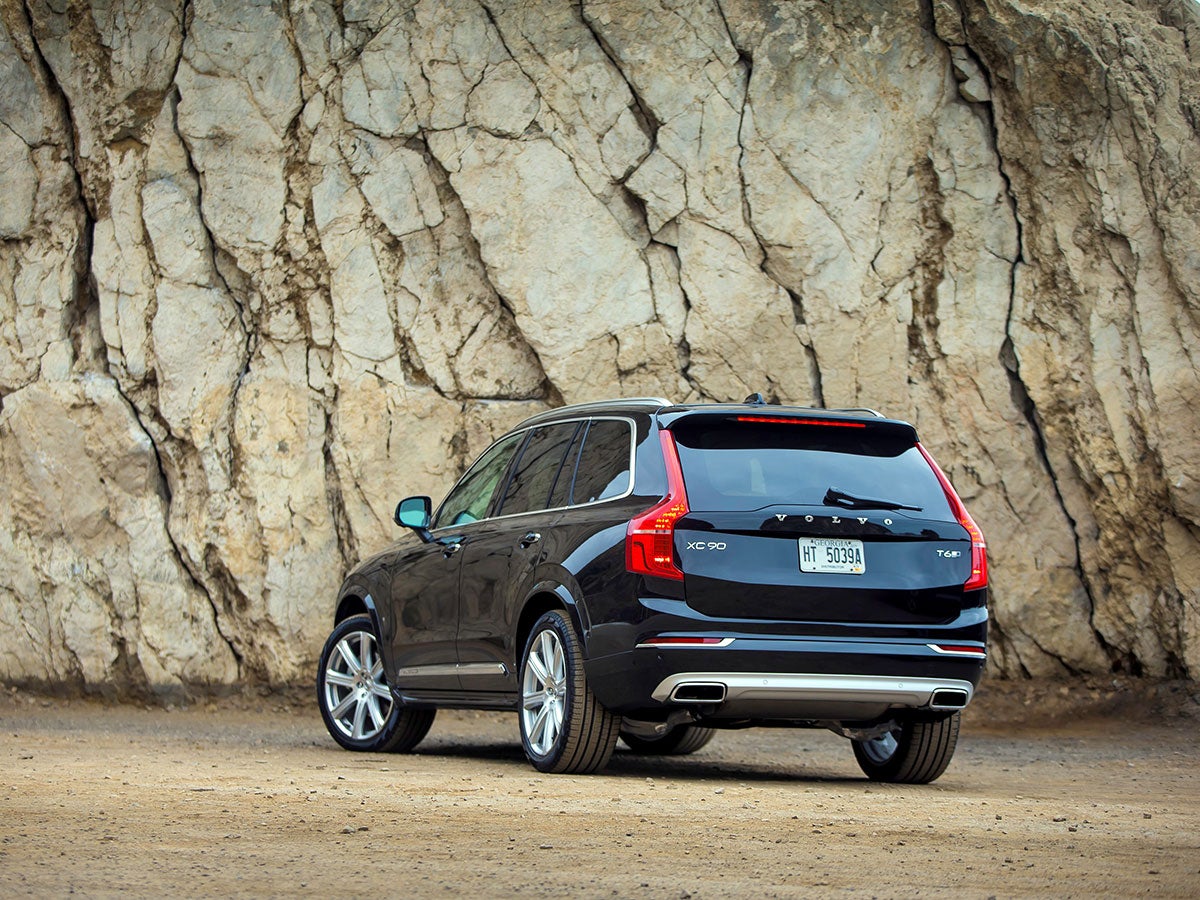 The cabin offers an airy, straight-outta-Stockholm getaway, a crisp alternative to the Germans' burly, dark-leathered caves. My top-shelf Inscription model added such goodies as "Thor's Hammer" daytime running lamps; caramel-color Nappa leather seats, dash and key fob; open-pore walnut inlays; a rear sunscreen; and illuminated tread plates. Every model spotlights a new, nine-inch touchscreen system, all-wheel drive and a hands-free tailgate.
That fresh infotainment system is a quantum leap from the wretched, ATM-keypad Volvo interfaces of yore. Maps are generously sized, and users can pinch, spread or swipe between screens, smartphone-style. Radio lists include the station, artist and song for every available channel, a real boon when you're choosing among myriad satellite stations. But, as with any Version 1.0, there's room for improvement.
Big touchscreens can present a lot of useful information—and sometimes too much. As with the virtual Jumbotron in the Tesla Model S, the XC90's unit invites eyes to leave the road. Parsing reams of text on some screens is like reading a beach novel on a tablet. A lack of standardized layouts, or a Germanic console control knob, leads to bouts of hunt-and-peck. Example: Say you wanted to disable the Volvo's engine on/off feature—despite the attendant global-warming guilt you'd suffer. That'd require swiping to a settings screen and punching an icon, each and every time. A console button would be preferable. Navigation or media info is also displayed on a snazzy, 12.3-inch driver's instrument screen, though the steering-wheel controls are neither comprehensive nor particularly intuitive.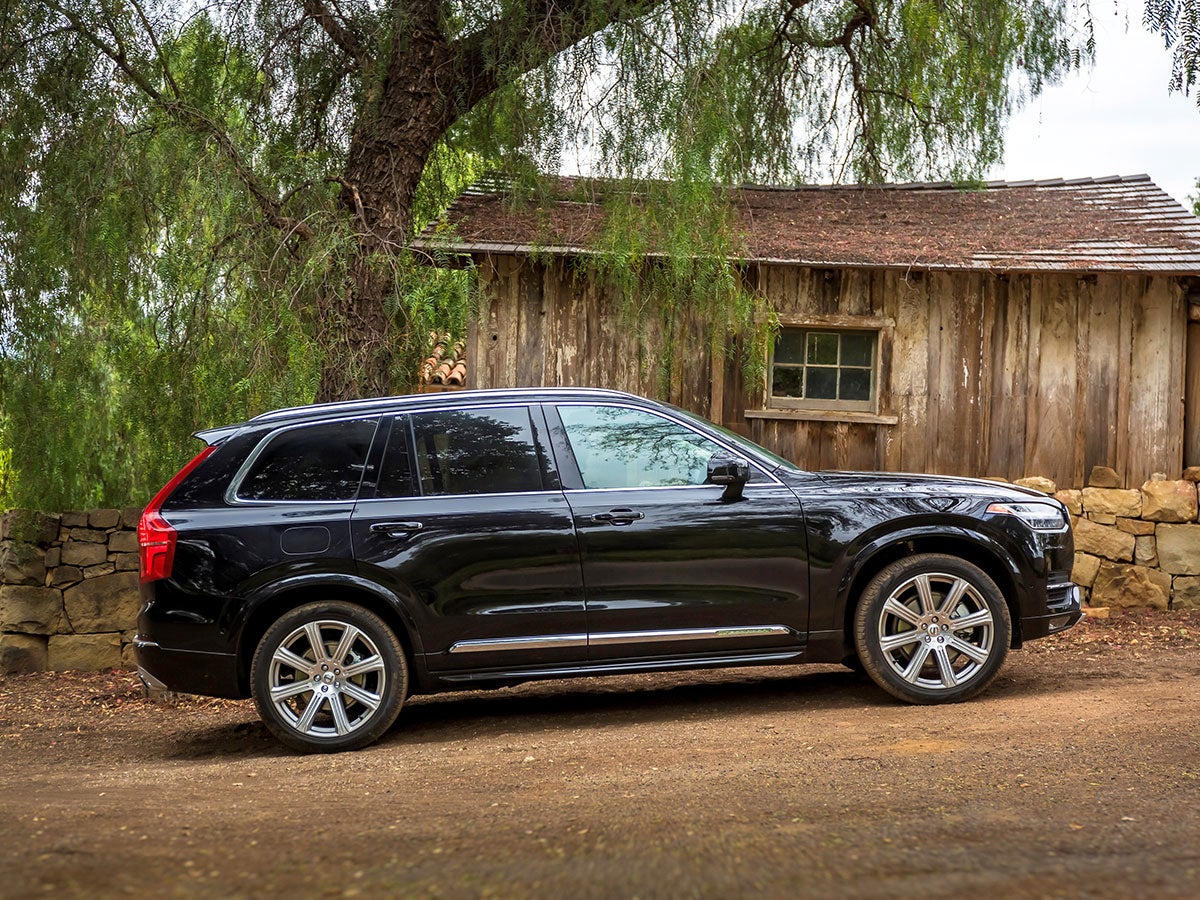 The rest is copacetic. In a Volvo signature, seats are orthopedically comfortable and correct. The second row offers a built-in child booster seat in the middle, within easy reach of parents. Folding all seats opens up 85.7 cubic feet of maximum cargo space, with 41.8 behind the second row. That beats all competitors and crushes some; Lexus' RX offers just 56.3 total cubes. Even the third-row seats, while best suited to progeny, are roomier than expected: I'm nearly six feet tall and had tolerable head- and legroom. All in all, enough space for an Iowa caucus.
Virtually every competitor uses a six-cylinder engine, with V8s available from Benz and BMW. The XC90 T6 upends the status quo with its four-cylinder. That sounds scrawny for a 4,400-pound SUV, until you consider the engine double-whammies: The 2-liter uses both a turbocharger and supercharger, good for 316 horsepower and 295 pound-feet. That's more than most V6 competitors, including the sporty Acura. To spark envy in the green heart of Volvo country, where neighbors still keep "Gore/Lieberman" signs in the front yard, the T8 version becomes the class' first plug-in hybrid, narrowly edging out the Porsche Cayenne S E-Hybrid for the honor. That T8 offers a robust 400 hp and 475 lb-ft—with an Orrefors crystal gear lever—at a diamond-like $70k starting price. Fuel economy is rated city-strong at 20 mpg, but strictly average on the highway at 25 mpg; I managed 27 mpg in Eco mode, which offers fuel-saving coasting below 40 mph.
Mated to a discreet eight-speed automatic transmission, the T6 moves with endearing pep, hitting 60 mph in about 6.5 seconds. Winding north along the Hudson River in New York, I dialed up the Dynamic mode that gooses throttle and transmission response, and firms up the optional four-corner air suspension. (In off-road mode, it can lift the body 1.6 inches to clear obstacles and lock all-wheel-drive differentials.) Volvo fans will be familiar with the overall sensation of mellowness, the trademark pliable feel of the steering and handling: not aggressively sporty, but confident and frisky. The all-season, comfort-focused Pirelli tires are the biggest performance handicap, yowling in protest under high-g duress. It's no match for a BMW X5's athleticism, but far more dynamic than the Lexus or Audi Q7. The whole car feels inspired by lightweight, high-end sportswear, perfect for a brisk hike or a Lululemon-ed yoga retreat, not a triathlon.
Again, that big-tent, gender-neutral approach feels just right for this class, and it's intentional. The XC90 is Volvo's first contemporary model designed by its lonesome, conceived and built in Sweden, with no input from Ford, which sold Volvo to China's Geely Automobile Holdings five years ago.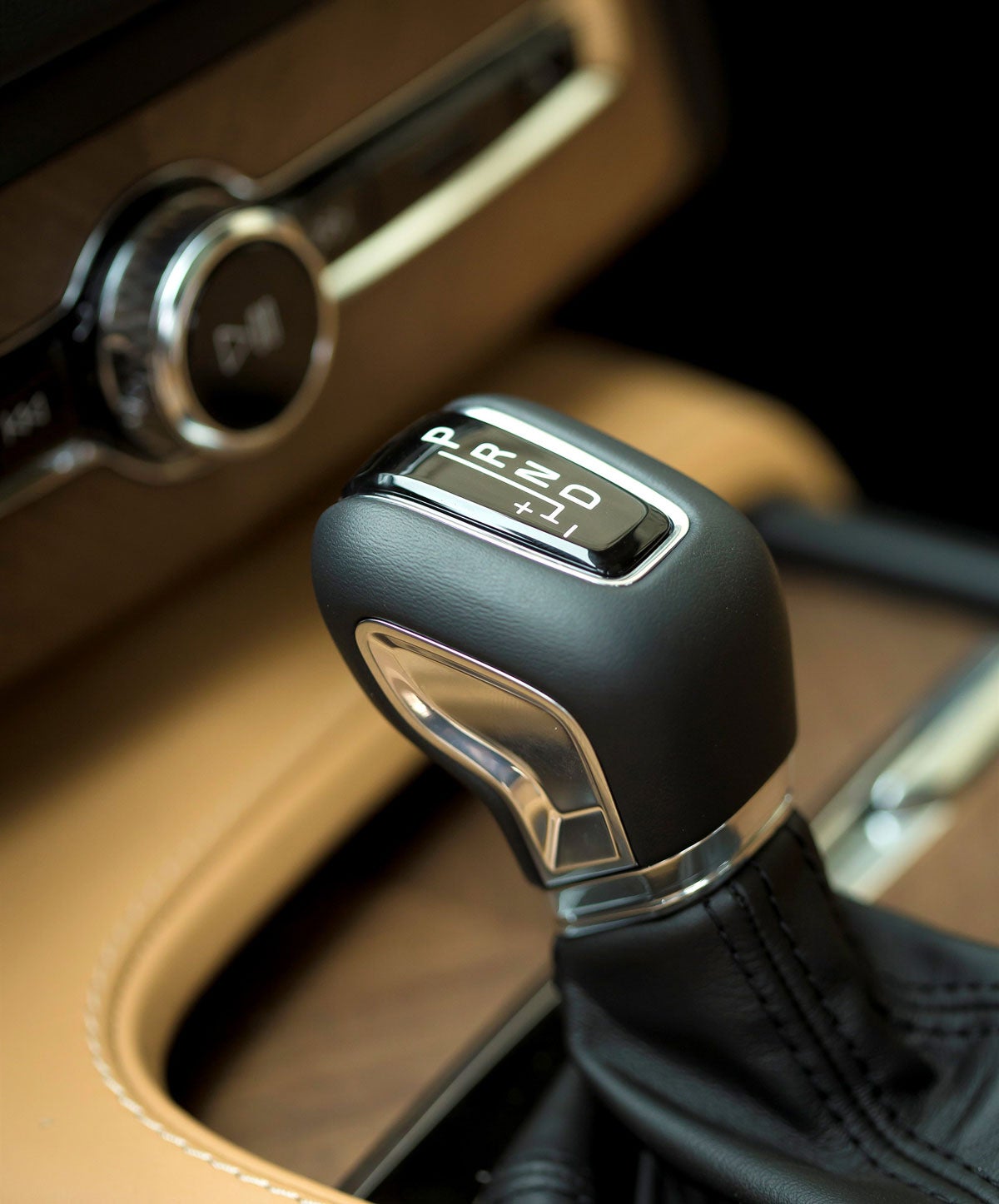 It hits the mark in America though, like its German rivals, the Volvo doesn't come cheap. Between a $5,600 upcharge for the Inscription trim, plus three option packages ($1,800 air suspension, $2,500 premium audio, $250 for the booster seat), my nearly loaded T6 reached $67,605.
This land of opportunity cuts both ways, and many citizens are nonplussed by SUVs priced like a Koch Brothers' fundraiser dinner. Volvo figures 150,000 current luxury SUV owners in the U.S. will switch to another brand; in these ranks of the undecided, Volvo's square-jawed Swede can campaign, and win, on multiple fronts. Family values. The American dream. The virtues of a well-cut suit and ultimately, a promise to keep citizens safe from harm.
--
2016 Volvo XC90 T6
PRICE (BASE): $50,795
POWERTRAIN: 2-liter turbocharged and supercharged I-4, 316 hp, 295  lb-ft torque; eight-speed automatic; AWD
WEIGHT: 4,394 lbs
0-60 MPH: 6.5 sec.
TOP SPEED: 130 mph (limited)
MPG: 20 city / 25 highway
ON SALE: Now