The Suzuki Jimny sparks joy no matter what it's doing. If I came across one on a U.S. highway, you can bet I'd pull a U-ee to check it out. These time-attack Jimny utes are particularly special, though, and they look just as happy to be flying around Tsukuba as we are watching them do it.
I had never heard of these until I saw an excellent Speedhunters feature on them earlier this week. Then, this video popped up showing them in action. I can now confirm that watching them lift their front inside wheel during hard cornering is as much fun as I'd hoped.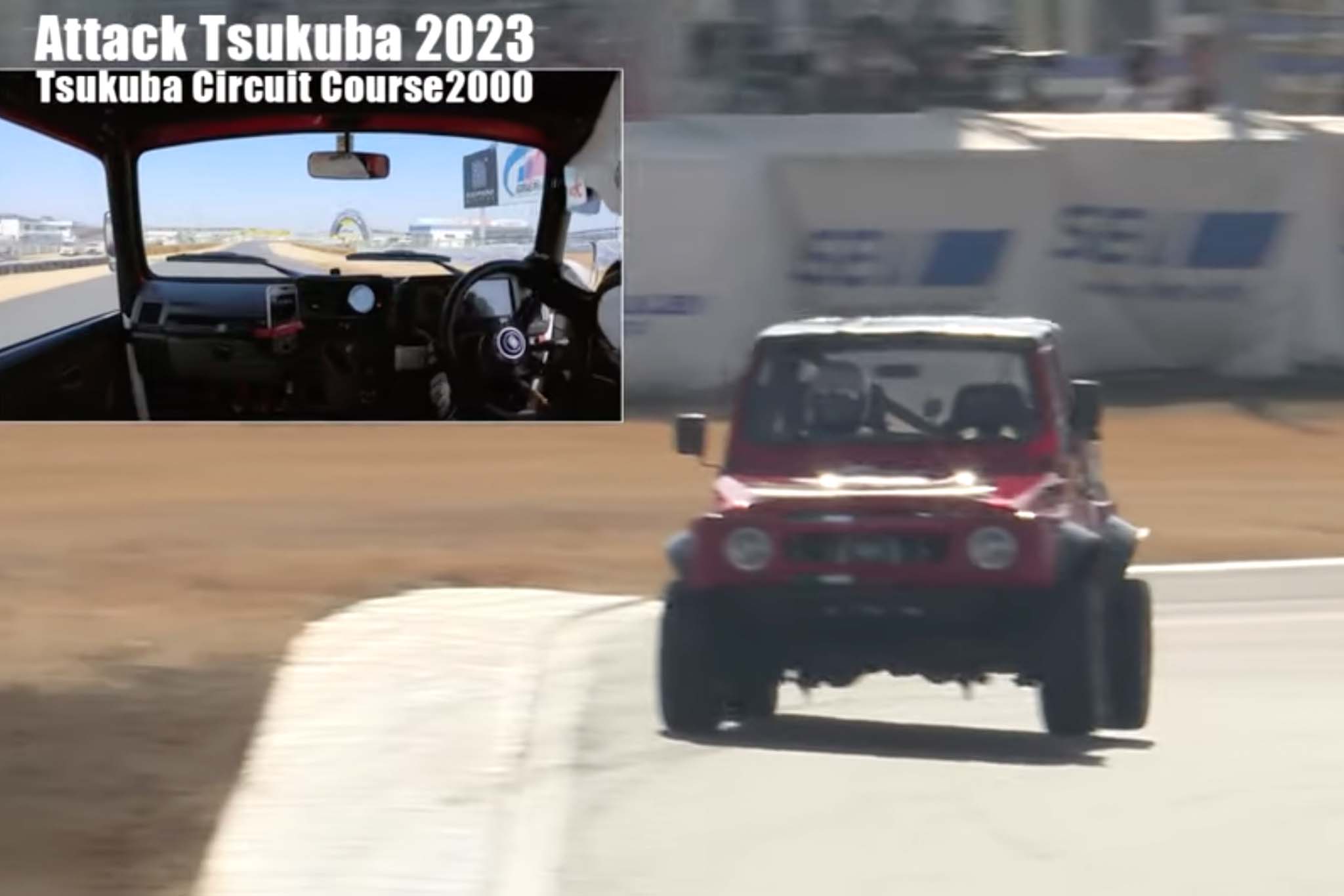 What amazes me most is that there's apparently a designated Jimny class for Tsukuba time attack trials. Like, there are enough of these to justify dedicating an entire category to the modified keis. They're all lowered and running track tires—plus, most of them seem to be boosted in some way. That makes for equally hilarious noises as they go on and off the throttle around the famous circuit.
As Speedhunters writes, they come from a shop named Rainbow Auto that's nearby Tsukuba. They offer a few different packages in various performance stages, though the baseline appears to consist of improved cooling via a larger radiator, an upgraded air intake, better ignition coils, and coilover suspension.
It's a vast departure from the tall and skinny off-road rubber I'm used to seeing Jimnys ride on. The roll cages are maybe nothing new, but again, you'd expect them to be for rollover protection on a tight trail, not a race track. I love the roofs, too, as they look to consist of a front hard top and a plastic rear half. I'm not sure if they provide any real aerodynamic benefit but they look neat, almost like a backward snapback.
Obviously, they aren't the fastest around the track. The red one that's spotlighted in the video below manages a time of 1:12.056 while some monsters can do it in less than 50 seconds. These Jimnys will never be that, but truthfully they don't have to be. They're great the way they are.
Got a tip or question for the author? Contact them directly: [email protected]