If you spend enough time on the internet, it's easy to feel like you've seen it all. Lots of horsepower in a tiny car. An engine stuffed in both sides of a car. Pfft, that's been done. So, here's something that even broke my jaded brain: A 340-horsepower classic Mini Mayfair with not one, but two 1998 Yamaha R1 engines stuffed in the trunk. 
That's right: Two engines, both at the opposite end from where the Mini usually has its engine, both powering the rear wheels through a Quaife limited-slip differential. Best of all, it's for sale on Quick and Big here if you'd really like to have the world's most heretical version of Alec Issigonis' front-wheel-drive pioneer.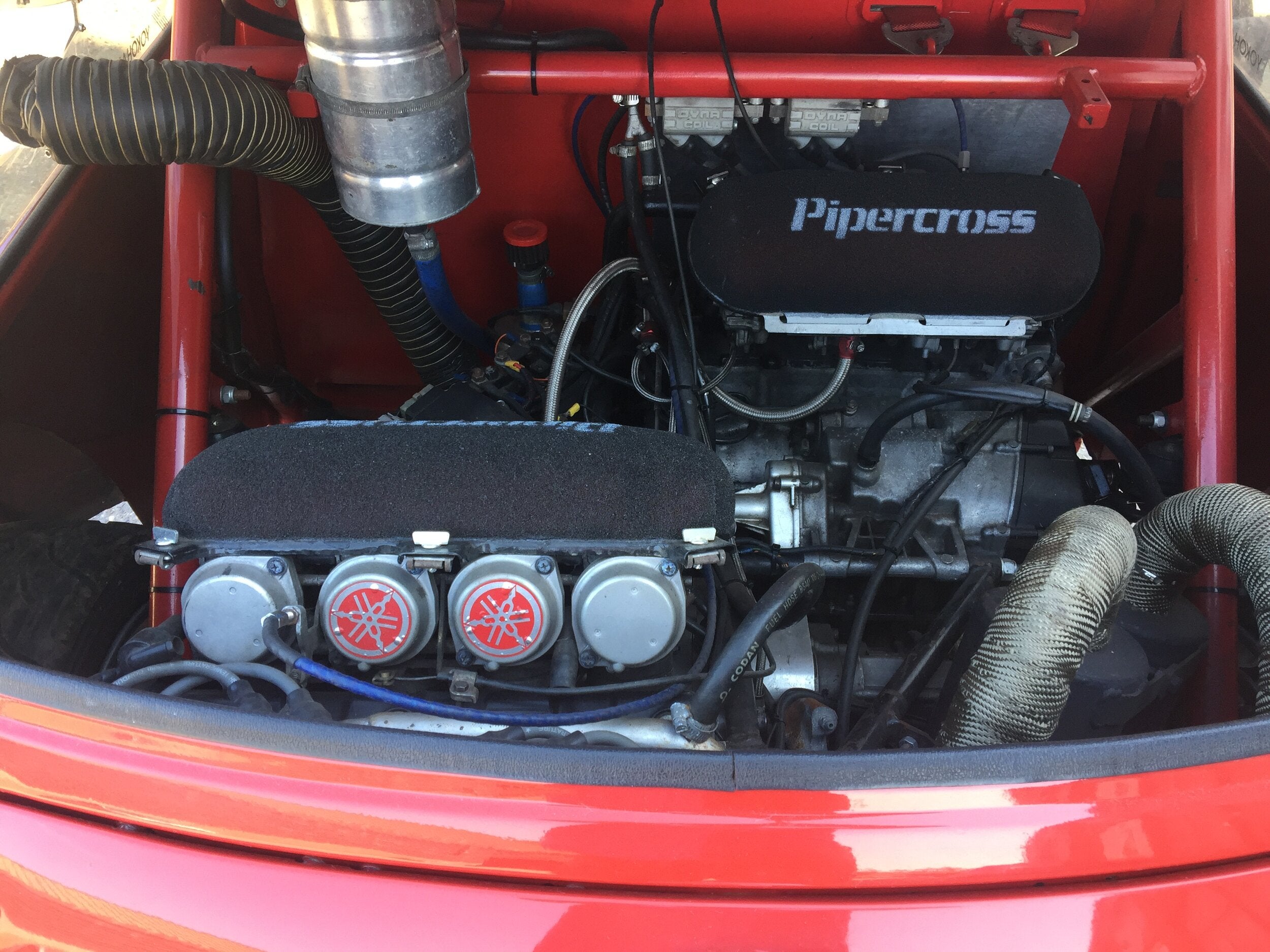 Quick and Big
The twin-engine conversion was done by Z Cars Limited as a one-off, as in, none of their other Mini builds has two Yamaha R1 engines sitting in the trunk. It's probably the only Mini to do that in the world, if I had to guess. Z Cars' specialty is shoving high-horsepower motorcycle engines like those from the Hayabusa into small cars like Minis and Smarts. The company did the build in 2000 and 2001 and comes with some $51,407.96 U.S. in receipts for the build. 
This isn't a total sleeper, as it's got wide fenders, a window with a NACA duct, a fuel hole in the hood, hood pins and some other aftermarket dress-up bits.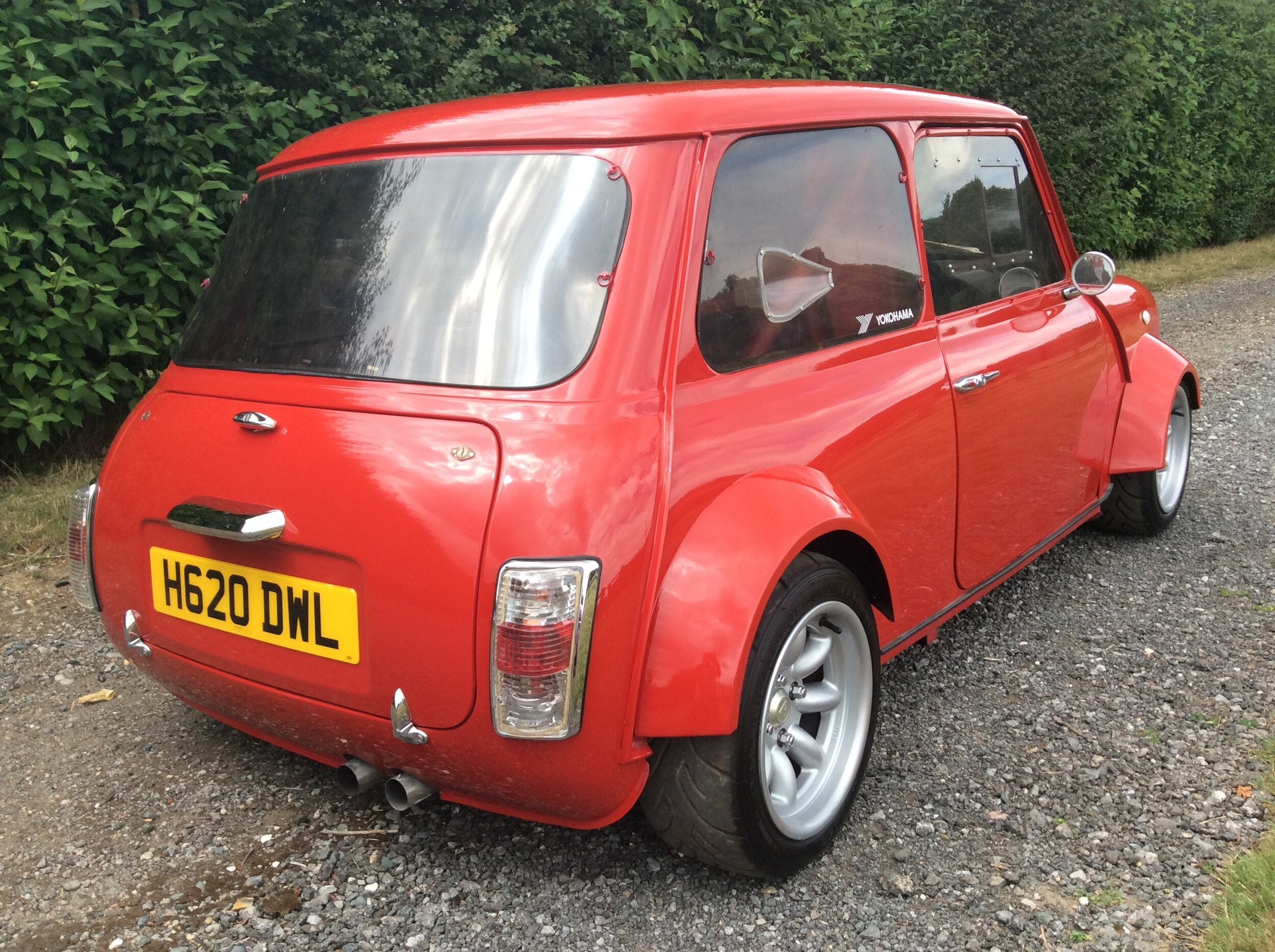 Quick and Big
"How much of the original Mini remains? Not much, but it does have the original working sun roof!" the owner explains on Quick and Big. "It has lightweight carbon fiber boot lid, dashboard, front wings and inner door skins, along with fiberglass doors and bonnet, with plexi windows (removable around the engine compartment)."
It wears an attractive shade of Rover Flame Red, so you may want to take it easy on the fun-pedal out on public roads. Its 6'3" current owner says it's a great track day car for people who can't fit in Caterhams and other track-day specials, so that's where I'd take it. 
You shouldn't sleep on it, either. This is a Mini from the days when they were actually mini, weighing just 1,543 lbs. The seller estimates that its featherweight combined with its 340 horsepower results in a sub-3-second 0-60 mph time, although that hasn't been tested. 
Weirdly, it packs two sequential six-speed transmissions—one for each engine. They're quick-shifting gearboxes with straight-cut gears like those that would come on a motorcycle, however, they're both connected to a Z Cars central drive box. Reverse is handled completely differently using an electric motor. That central drive box can run the Mini with either one engine or both, depending on what you want. The engines can even run in different gears if so desired.
The suspension and entire structure underneath parts of the car were heavily modified to handle all these changes, as the listing explains on Quick and Big:
"Front and rear coil over suspension with travel and rebound adjustment. Z Cars tubular front sub-frame (recently fitted and designed to reduce bump steer, and the tendency to lift a front wheel under hard acceleration), inboard rose jointed shock absorbers adjustable for ride height and damping operated by push rod and cantilever running a lower wishbone. The rose joints and threads allow for toe, camber and castor adjustment. Z Cars bespoke rear sub frame, allowing adjustment for camber, caster, toe, ride height and damping."
Four-piston Wilwood disc brakes up front and Yamaha R1 calipers on the rear make it stop. It all rides on 175/50/R13 Yokohama Advan A048-R semi-slick tires mounted to Compomotive ML alloy wheels—plus you'll get a spare set of semi-slicks as well as a set of Dunlop wet-weather tires.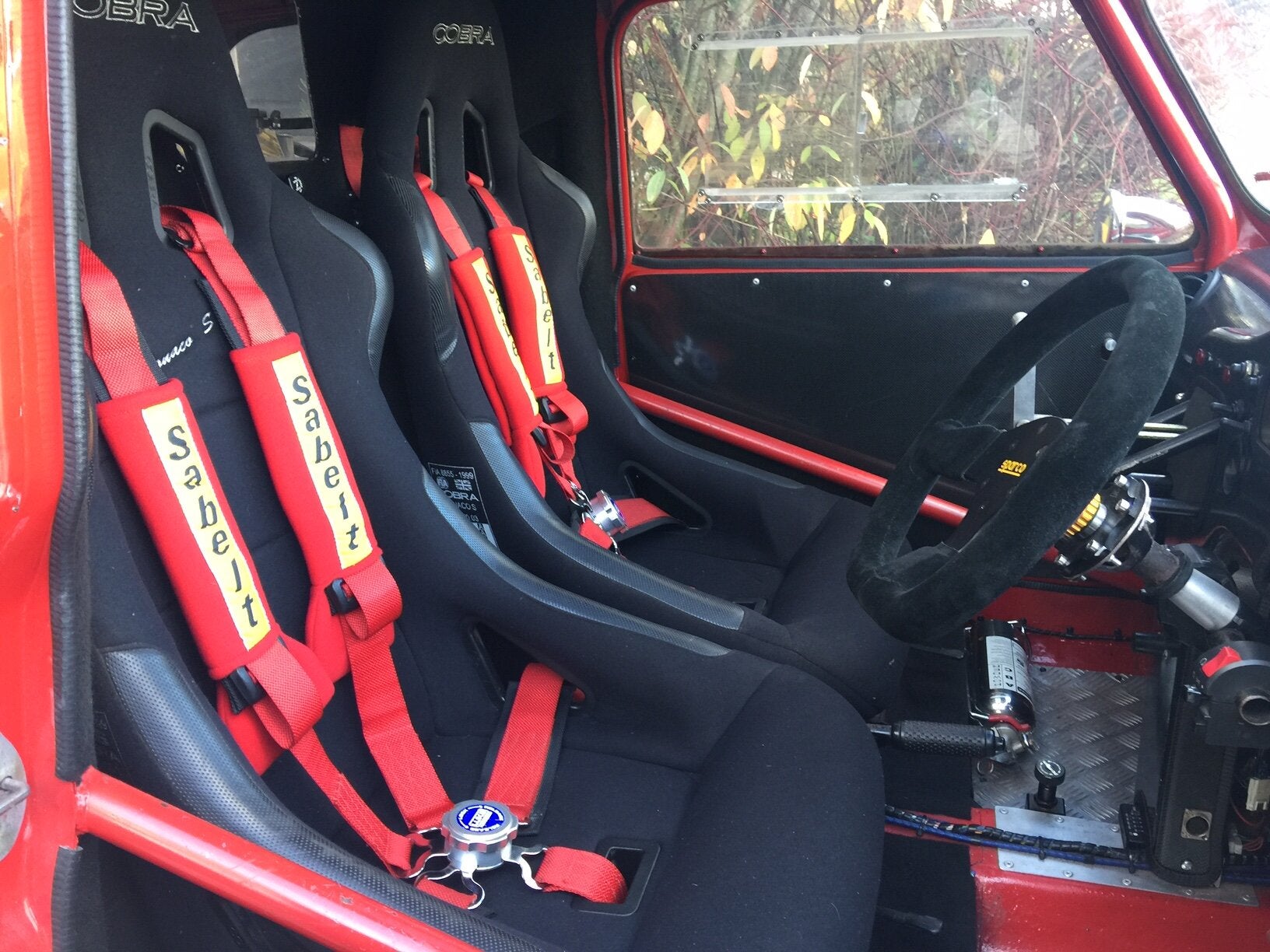 Quick and Big
The interior is stripped down to strictly business, with a Z Cars bespoke roll cage, a flat-bottom Sparco wheel, MoTec ADL2 digital dashboard, two Cobra bucket seats and Luke racing harnesses. There's a solid steel bulkhead separating the passenger and engine compartments, too. 
It's road-legal in the United Kingdom, too, so I'm sure you could at least clean-Florida-title over here. It's based on the Mini Mayfair edition of the classic Mini and was first registered in 1990 according to the seller, making it old enough to import to the United States.
The car is currently for sale in the U.K. for $29,097.24 U.S. at today's exchange rate (£21,500). That's a lot, but it's a lot of car in a fun-sized package. You can check out more photos (and/or buy it) on Quick and Big here and on eBay here. 
[H/T Team Radar Love!]
Got a tip? Send us a note: [email protected]