Every now and then, a car sneaks on to the market with a surprisingly crude name. Generally, this is thanks to something getting lost in translation—think the Nissan Homy Super Long, the Daihatsu Naked, or the Mazda Titan Dump. But the acronym formed by the name of the new Subaru Forester Ultimate Customized Kit Special edition is so obvious, and the car itself is so in tune with that vibe, we can't help but think this one might've been on purpose.
Shown off at the Singapore Motor Show this week, the Forester Ultimate Customized Kit Special was first spotted by Top Gear Philippines on Thursday. It's not clear whether this foul-minded Forester is bound for production or simply a show car, since we can't imagine the eye-searing blue-and-red paint job, underglow lighting, and lime green brake calipers coming out of the factory on a dealer-sold car. We've reached out to Subaru for clarification on that front.
There's no release on Subaru's global media site trumpeting the Forester Ultimate Customized Kit Special, so Top Gear Philippines was kind enough to also highlight the car's STI-inspired suede-and-leather interior, upgraded infotainment system, and trunk subwoofer to blast questionable music at full volume. The 20-inch Enkei wheels might be the most tasteful thing about this Subie, frankly.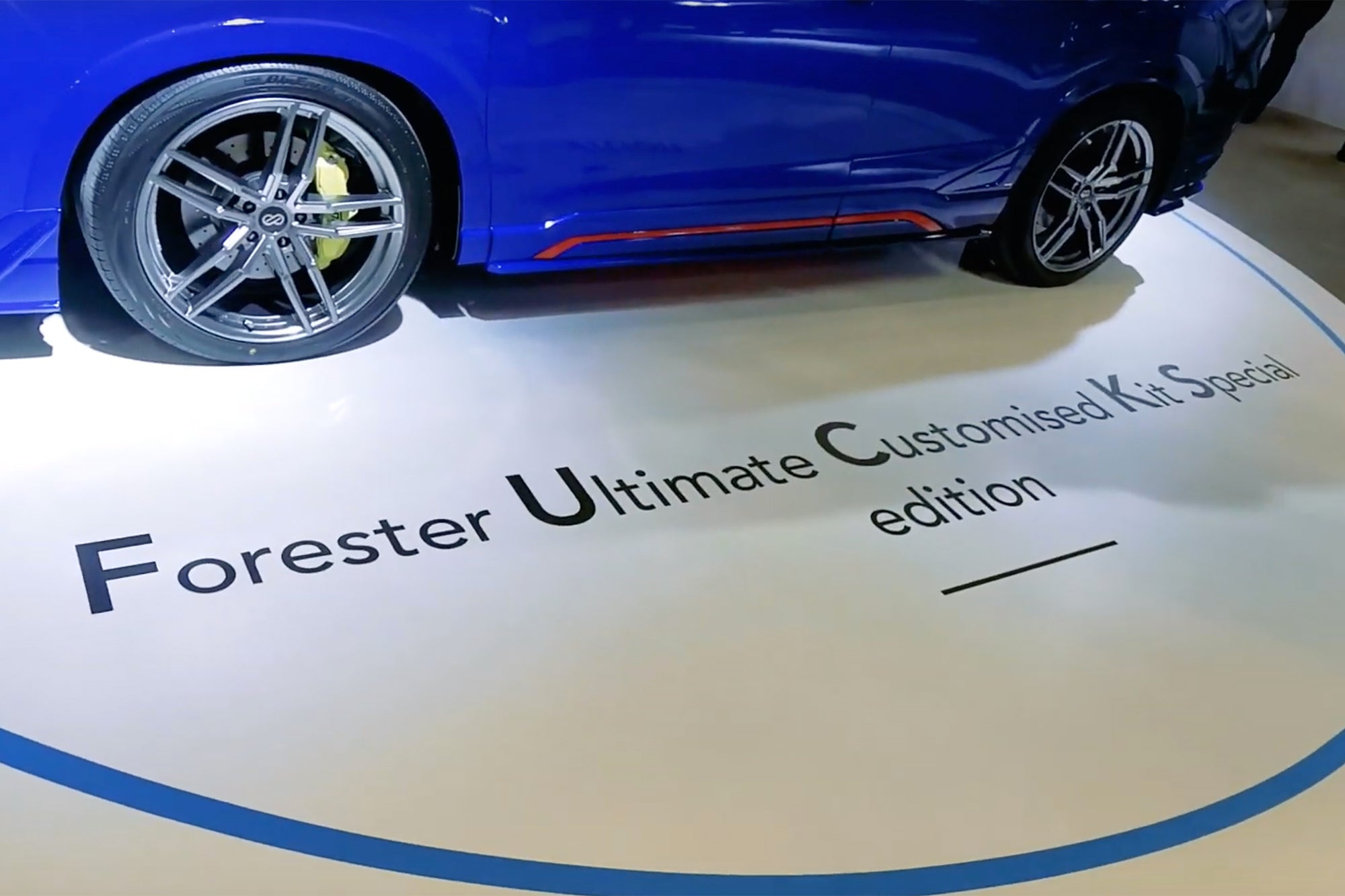 YouTube | glitchfan2428
So is the dirty name an unfortunate coincidence, a prank pulled by a Subaru intern, or Subaru hat-tipping the stereotypes careless owners have saddled some of its cars with? The phrasing of "Ultimate Customized Kit Special" is unusual enough that we have a hard time believing the name wasn't chosen to fit the acronym. Plus, the display stand seen in the video makes a big show of capitalizing the first letter in every word except "edition," which further drives home the visual.
There'll be a paper trail that inevitably leads back to the source of this silly name. We just hope that no one loses their Forester Ultimate Customized Kit-ing job over this.
Got a tip? Send us a note: [email protected]