The 13th day of the Kremlin's invasion of Ukraine has begun. Russia appears to be stalled on its northern front, while things have also slowed in the south. Logistics remain a major issue for Russian forces and Ukraine's military appears to be taking advantage of that, attacking rear logistics routes whose vehicles are not heavily armored or all that well defended. Meanwhile, the DoD says nearly all of Russia's forces that were once arrayed around Ukraine's borders are now engaged in the conflict directly. This comes to as reports state Russia is looking to import Syrian fighters to fight in the conflict, which many say is a sign of early desperation more than anything else.
Readers can bring themselves up to speed on the current state of the war in our preceding rolling coverage here. Now let's get to the most recent developments.
The Latest
UPDATED—
We have concluded our updates to this story. You can our latest rolling coverage of this conflict here.
UPDATED: 9:00 PM EST—
Russia claims it knows exactly where Zelensky is, albeit that comes after Zelensky pretty much told the world where he is (see prior update below):
There are more indications that initial reports that one of Russia's top generals has been killed in the conflict are true: 
Zelensky orders return of any peacekeeping forces abroad to fight:
Meanwhile, the Ukrainian government is still pushing for face-to-face dialogue between Zelensky and Putin.
The latest intel assessment from UK MoD doesn't have much to share beyond what we already know: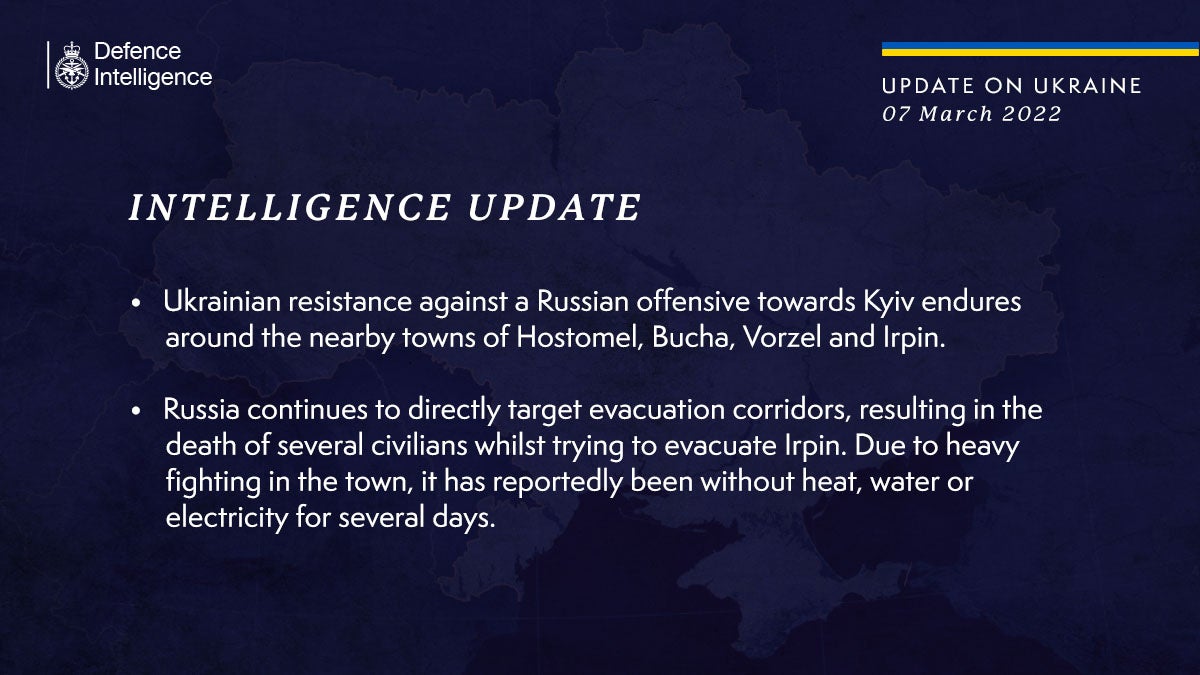 UK MOD
The latest control map from ISW:
We are increasingly hearing about Ukraine's female adult population taking up arms against Russia for direct action operations. A video today sort of underlined that reality:
It is remarkable the amount of Russian airpower we have seen poured into Belarus:
We are increasingly seeing Ukrainian troops concentrate on hammering Russia's vulnerable supply lines. These targets do not take Javelin missiles to destroy and leave their hardened armor without fuel and ammunition:
One of the biggest takeaways already from this war is just how much an asymmetric opponent can dominate its foe in the information space. Ukraine has unleashed a campaign unlike any we have ever seen before and it has been brutally effective:
Russia's mobile air defense units also appear to be targeted, with more and more of them seen destroyed or abandoned: 
More nonsensical measures coming from U.S. congress and being parroted by the press that doesn't know any better:
It's also worth noting that we have seen our first appearance of one of Russia's armored trains in the conflict, which you can read about in our recent article linked below:
Thousands of foreign fighters have come to Ukraine's aid and are actively participating in the conflict now:
UPDATED: 6:30 PM EST—
Ukrainian President Zelensky has released a new, defiant video shot from his office in downtown Kyiv. In it, among other things, he makes clear that he's not in hiding and not leaving Kyiv.
A video has emerged showing Ukrainian forces employing a Soviet-era 9M113 Konkurs anti-tank guided missile (ATGM) during today's fighting in Mykolaiv. This is a weapon that was already in Ukrainian inventory prior to the start of the conflict.
The International Atomic Energy Agency (IAEA) says that a nuclear research facility in the Ukrainian city of Kharkiv has been damaged in the fighting, but there are no signs of a radiological incident as a result.
UPDATED: 4:40 PM EST—
The Ukrainian Armed Forces claim to have staged a nighttime raid at a Russian-occupied airfield in the southern city of Kherson, destroying some 30 helicopters there as a result. While this remains unconfirmed, satellite imagery does show dozens of helicopters at the base in question in the past day or so.
Pictures continue to emerge of various types of anti-armor weapons that foreign countries have been supplying to Ukraine recently. You can read more about the various shoulder-fired anti-aircraft and anti-armor missile and rocket launchers being sent to Ukraine in this War Zone explainer.
Russian forces have reportedly struck two more Ukrainian oil depots, one near Zhytomyr and another in the vicinity of Chernyahiv, overnight.
Russian President Vladimir Putin has said that no Russian conscripts or reservists will be sent to fight in Ukraine. Of course, there have already been a significant number of reports that conscripts are taking part in the conflict already and that at least some of them may have been forced to sign contracts to officially change their status. Putin's remarks do seem to be in line with the Kremlin's attempts to find non-Russians, such as Syrians, to help bolster its forces in Ukraine in a way that would be less likely to provoke domestic uproar. 
U.S. President Joe Biden held a call today with his British, French, and German counterparts – Prime Minister Boris Johnson, President Emmanuel Macron, and Chancellor Olaf Scholz – regarding the ongoing conflict in Ukraine.
UPDATED: 1:45 PM EST—
The third round of Ukrainian-Russian talks near the Belursian border has now concluded. The Ukrainian side said that this meeting produced "some positive results concerning the logistics of humanitarian corridors." The Russian relation said that the expectations were still "not fulfilled" and hoped for a "more significant step forward" in the next round.
The U.S. military has now given its latest assessment of the invasion of Ukraine. American officials now believe that Russia has committed nearly 100 percent of the forces it had previously arrayed around the country to the conflict. Russian forces have now fired at least 625 cruise and ballistic missiles at Ukrainian targets. A senior U.S. defense official said today there had been a noticeable uptick in Russian strikes of various kinds amid still limited progress on the ground and a continued inability to secure the skies over the battlefield. They would not say whether they believed that growing civilian causalities have been a result of those attacks being aimed deliberately at non-military targets or simple inaccuracy.
The senior U.S. defense official cautioned that the Kremlin continues to have significant amounts of aircraft and helicopters available for use in Ukraine, despite Ukrainian forces inflicting significant losses on Russian combat aviation elements in recent das, 
The U.S. military says there are still no clear indications that Russia is about to mount a major operation against the Ukrainian port city of Odesa on the country's Black Sea coast. There similarly remain no signs that any large number of Belarusian troops are about to enter the conflict. There was an unconfirmed report yesterday that the Chief of the General Staff of Belarus had resignedover possible plans to join the invasion.
The U.S. military believes that recent reports that the Russian government is attempting to recruit Syrians to fight in Ukraine are true, but that no Syrians have been deployed so far. If the Kremlin is indeed pursuing this option, it would seem to indicate that there is a need for additional combat capacity on the ground, but also a desire not to commit any more Russian forces to the fighting.
Separately, the U.S. military has deployed 500 additional personnel of its own to Europe as part of the ongoing effort to bolster defenses along NATO's eastern periphery with Russia. There are now 100,000 American service members either permanently stationed in the region or there as part of rotational deployments.
In addition to the comments about Russia's own stated objectives from Kremlin spokesperson Peskov earlier today, Russian Foreign Minister Sergei Lavrov has made clear that a key goal of the invasion remains to render Ukraine unable to serve as a staging ground for any future military operations.
POSTED: 12:50 PM EST—
Turkish Foreign Minister Mevlut Cavusoglu announced today that Ukrainian Foreign Minister Dmytro Kuleba had agreed to meet his Russian counterpart, Sergei Lavrov, this Thursday. Cavusoglu said that the talks would take place in the Turkish port city of Antalya on the Mediterranean Sea and that he would also take part as a mediator.
If these talks go ahead as planned, it will be the first time the top Ukrainian and Russian diplomats will have sat down face-to-face since the invasion began on February 24. It will also be the highest-level interaction of any kind between the governments of the two countries since then.
It's not immediately clear what the objectives of these Kuleba-Lavrov talks might be, but Turkish President Recep Tayyip Erdoğan said he had urged his counterpart in Russia, Vladimir Putin, to declare a ceasefire in Ukraine and begin peace talks over the weekend. The Turkish government also announced last week that it would block warships from any country from sailing into the Black Sea from the Mediterranean, though there were loopholes that Russia could exploit. Turkey, which is a NATO member, has a complex geopolitical relationship with Russia, and Erdoğan has cultivated personal ties with Putin in recent years.
At the same time, Dmitry Peskov, Putin's personal spokesperson, has reiterated the Russian government's maximalist demands for what Ukrainian officials must agree to in order to bring the conflict to an end. This includes a need for Ukrainian authorities to officially cede the Crimean peninsula to Russia and recognize the independence of the two breakaway areas of the country's eastern Donbas region.
Interestingly, Peskov added today that the Kremlin wants the government in Kyiv to agree to never join any "blocs." This would seem to expand on previous Russian calls for Ukraine to stay out of NATO to now include other international groupings, such as the European Union. Ukraine has now formally applied for E.U. membership. 
Peskov said that "the main thing is that Ukraine ceases its military action" and that "they should stop their military action and then no one will shoot," according to Reuters. The Kremlin spokesperson insisted that the Russian government's position on what is necessary to bring the conflict to end has not fundamentally changed, though this could signal a softening of earlier demands for Ukraine to demilitarize entirely.
Separately, a Ukrainian delegation has met today with Russian representatives at a site near the Belarusian border for the third time. For the second time, a Polish military helicopter brought the Ukrainians to the meeting. This time it was a Mi-8/Mi-17 Hip-series instead of an S-70i Black Hawk. A Belarusian Mi-8/Mi-17 provided transportation to the first round of talks. It remains unclear exactly why authorities in Ukraine made the switch, but it very likely had to do with security concerns of one kind or another. Ukrainian President Volodymyr Zelensky has now reportedly survived at least three separate assassination attempts.
It's not clear what is expected to come of these talks today, which were still ongoing at the time of writing. The first two rounds failed to produce any meaningful agreements beyond plans to establish localized ceasefires around certain Ukrainian cities to allow civilians to evacuate. In every one of those instances,including a third attempt to get people out of the southern port city of Mariupol today, Russian forces have continued their bombardments largely unabated. Evacuations from some cities, including Irpin, just outside the capital Kyiv, have proceeded in spite of these attacks.
In general, Russian missile, air, and artillery strikes against Ukrainian population centers have become a key aspect of the conflict as the Kremlin's actual advances on the ground continue to proceed slowly. Ukrainian forces continue to heavily target Russian supply chains, among other things, to try to further hamper their operations.
There continue to be reports that Ukrainian forces have inflicted new losses against Russia's combat aviation elements operating over Ukraine.
There are new indications that the Russian military may be making a new push to finally gain air superiority. This includes the apparent deployment to Belarus of additional A-50 Mainstay airborne early warning and control aircraft, critical for managing Russia's air war and detecting Ukrainian threats, and the new appearance of imagery showing Russian jets armed with Kh-31 anti-radar missiles.
A Ukrainian official says that the country's forces have recaptured the airport in Mykolaiv in the southern portion of the country. This comes amid reports that Ukrainian forces are looking to go on the offensive.
There are unconfirmed reports that the Russian Navy's Project 22160 corvette Vasily Bykov, one of Russia's newest and most modern warships, may have been damaged while sailing in the Black Sea by a Ukrainian rocket artillery barrage. 
Civilian casualties have continued to mount as accusations grow that the Kremlin is not only being indiscriminate in how it is prosecuting its war but is deliberately attacking non-military targets to try to help achieve its aims.
In many areas of Ukraine that are now ostensibly under some form of Russian occupation, Ukrainian civilians are protesting and otherwise carrying out acts of civil disobedience.
Military aid from the United States, other NATO members, and other countries in Europe continues to flow into Ukraine. Over the weekend, The New York Times
reported that 17,000 anti-tank weapons of various types, which you can read more about here, had been delivered in the past week or so. That same story said that, while the U.S. government continues to try to avoid any direct involvement in the conflict, it has positioned cyber warfare units in Europe to target Russia and continues to provide important intelligence information to the government of Ukraine.
There have been significant anti-war protests in Russia itself. Glitzy pro-war videos have now begun to appear online, in a clear attempt to push back against critics of the conflict and of Putin's regime. Some of these include clips of youths wearing clothing sporting "Putin Team" in English or stylized letter "Zs." Some Russian forces in Ukraine have been using "Z" markings to differentiate themselves from Ukrainian units, and that has become a symbol of support for the invasion domestically.
As the fighting over Ukraine continues, there are reports that the Russian Navy vessel Yantar has left its port for an unknown mission. This is a special mission ship capable of deep-sea intelligence-gathering, espionage, and other operations, including a reported capability to tap or cut undersea cables.
The German government has said it will not take part in a Europe-wide embargo on Russian oil given the lack of energy alternatives at present and the burden it would impose on its own people. This underscores the potential limits of the sanctions that can be imposed on the Kremlin, even just in Western Europe.
A man was arrested in the Irish capital Dublin today after ramming a truck into the Russian Embassy in that country. The embassy has been the target of protests over the invasion of Ukraine.
We will continue to update this post with new information until we state otherwise.
Contact the author: [email protected]