Volkswagen has big plans for the 2020s, and chief among them is the launch of its "ID" lineup of electric vehicles. These will aim to reach the mass market Tesla hasn't yet been able to reach, and possibly eclipse Elon Musk's ego manifest with the mysterious Project Artemis EV. Of course, accomplishing either will require redirecting huge sums of money, some of which VW will scrape together by shuttering its motorsport division.
"The Volkswagen brand is on the way to becoming the leading provider for sustainable e-mobility," declared Dr. Frank Welsch, Volkswagen board representative for development, in a press release issued Tuesday. "To this end, we are pooling our strengths and have decided to terminate the Volkswagen brand's own motorsport activities. The motorsport workforce will be integrated in Volkswagen AG. The deep technical expertise of the motorsport employees and the know-how gained from the ID.R project will remain with the company and will help us put further efficient models from the ID. family on the road."
Pausing racing ambitions is one thing, but program termination and employee reassignment is something altogether harder to reverse. It won't be something VW undertakes immediately, as it confirmed it will fulfill contracts for Polo GTI R5 rally cars through the end of 2020, and that "long-term" parts supply for it and the Golf GTI TCR racer is "secure."
Nevertheless, this will bring to a close a period of already waning involvement in racing. After discontinuing the Beetle in 2019, VW also killed its silhouette racer, the Beetle R, which was orphaned after the collapse of the Americas Rallycross Championship. A trophy truck called the Atlas Cross Sport R was meant to utilize a similar drivetrain to compete at this year's Baja 1000, but those plans seem to have fallen through as the truck was absent from the race's list of SCORE Class 7 truck entries.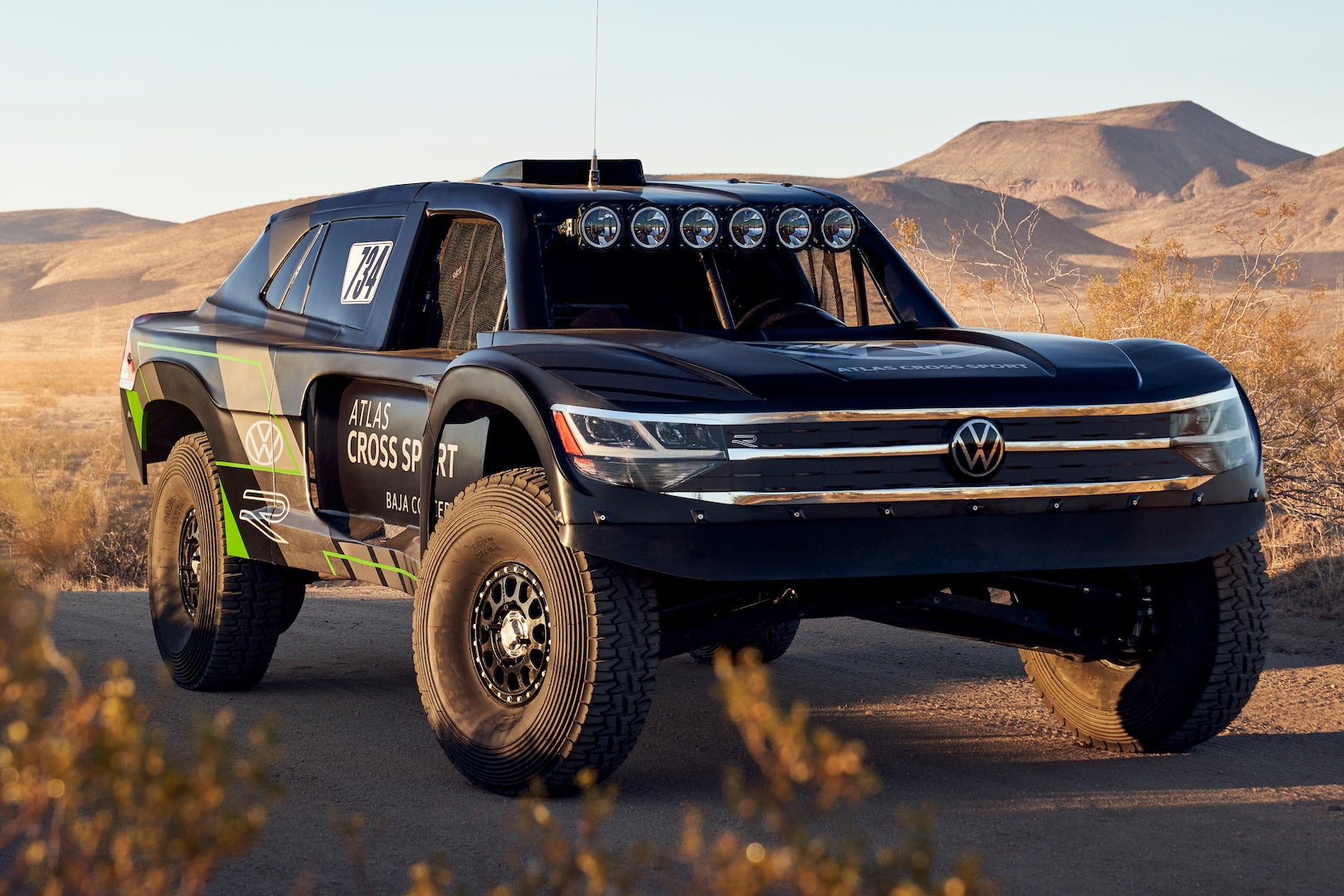 Volkswagen Atlas Cross Sport R, Volkswagen
VW's most notable recent racing vehicle was easily the electric ID.R prototype, which rewrote course records at Pikes Peak, the Nürburgring, Goodwood, and other venues across Europe and Asia. Its specialized design, however, meant when it ran out of records it could easily demolish, it became effectively obsolete. Though upgrades made throughout its lifespan may have made it capable of beating its record run at Pikes Peak, which was slightly hampered by poor weather near the summit, the program's termination means we'll never get to see it go back for round deux.
Got a tip? Send us a note: [email protected]