Motor racing has been a predominantly male hobby since day one. The first recorded race between motorized vehicles, an 1867 street race between steam carriages, took place three decades prior to the first known instance of women racing motor vehicles, when a group of Parisian women on motorized tricycles raced around a horse track. Men may have raced before women, but women were never as far from motorsports prominence as one might expect, despite their lack of legal liberties early on.
Women still make up a minority in current motorsports demographics, but at all levels of racing, from grassroots to professional, women make up a greater proportion of competitors than ever before. Some, by mention of their name alone, conjure up images as heroic as any male in the biz. Others have names whose notoriety has been eroded by the sands of time, and accomplishments overwritten as records tumble to technology's advance.
Their achievements, however, are not eclipsed. Pelting across cobbled roads at 91 mph in a car made from pig iron and optimism is no less impressive today than it was in 1906. If anything, it is made more astonishing by the fact that girls were reared in the day to avoid such hobbies, and were often outright barred from competing. Yet there they were, lasses leaving lads to languish on the lower levels of the podium, seizing the champagne for themselves.
Let's meet some of those women now.
The 1900s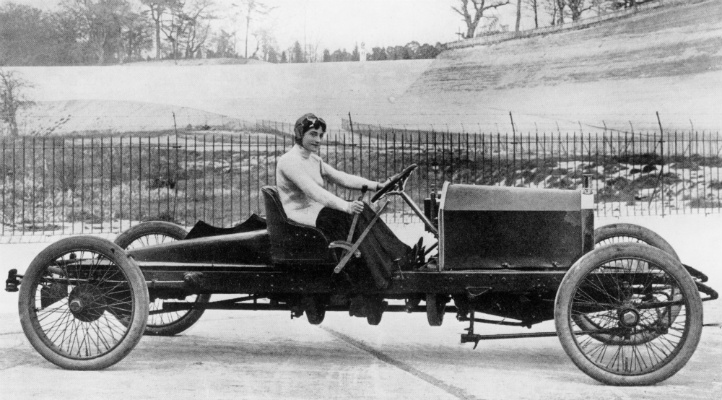 Dorothy Levitt and her Napier, Heritage Images, Hulton Archive, via Getty Images
1901: Camille du Gast, as a wealthy French widow and extreme sports enthusiast, became the first female star of motorsports because of her performance at the 1901 Paris-Berlin race. She started dead last of the 122 entrants, in her 20 horsepower Panhard, and finished 33rd, reportedly unsatisfied with overtaking a mere 89 of her competitors.
For reference, in this same year, girls are included for the first time in Chinese education.
1905: Four years later, at the Brighton Speed Trials, Dorothy Levitt rode an 80 horsepower Napier to almost 80 mph, winning her engine class, the Autocar Challenge Trophy, and the right to call herself the fastest woman on earth. The following year, she raised the bar to 91 mph. Levitt is also thought to have pioneered the rear-view mirror, though hers was handheld, and not affixed to a car.
Also in 1905, women in Honduras received legal
majority, or legal status as individuals with accountability for themselves.
The 1920s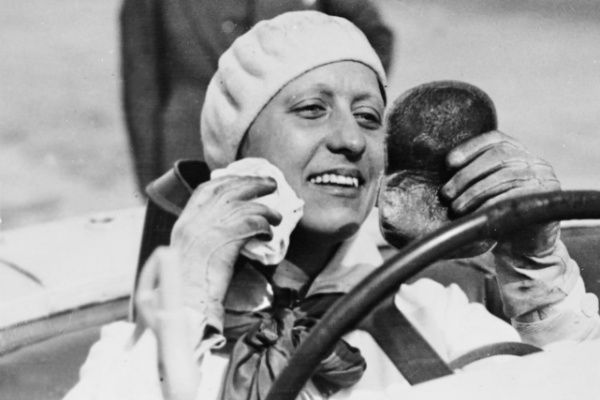 Hellé Nice in her Oméga-Six, Imagno, Hulton Archive, via Getty Images
1921: Gwenda Janson, a decorated, self-taught WWI ambulance driver, got her start in motorcycle racing with a 1,000-mile promotional record on a Ner-A-Car recumbent motorcycle, setting her up for more opportunities to race through the early 1930s.
That same year, in Belgium, women were granted the right to hold public office.
1924: Eliška Junková of Czechoslovakia became one of the first practitioners of scouting racetracks on foot before a race. She drove a Bugatti 30 with Grand Prix history to victory in a regional touring car race. The following year, she seized another win in a Czech hill climb, and two years thereafter, she won the two-liter class at the inaugural car race at the then-new Nurburgring.
While all this went on, Argentina outlawed firing women for being pregnant.
1929: Dancer, model, and until an accident injured her knee, skier, Hellé Nice took up racing as a new career, and won a women-only Grand Prix, unknowingly breaking the women's land speed record in doing so.
Around that same time, Edwards vs. Canada resulted in a ruling that women were eligible to serve in the country's senate. 
The 1930s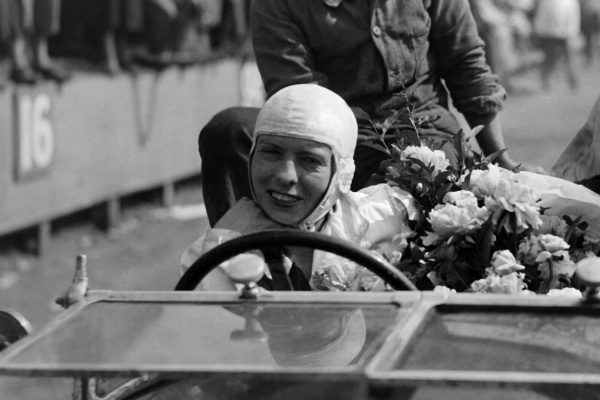 Odette Siko at Le Mans in 1932, Keystone-France, Gamma-Keystone, via Getty Images
1932: Odette Siko's racing in the late 1920s prepared her for her bids at the 24 Hours of Le Mans, which started in 1930. After one successful finish and a disqualification in her first two races at Le Mans, Siko wrangled her Alfa Romeo 6C to a fourth-place finish in 1932, winning the 2.0-liter class. Her finish remains the best achieved by any woman to race at Le Mans.
Colombia and Romania approved of legal majority for married women.
1934: Margaret Allan was invited by MG to race with the team, due to her 10th-place finish in the 1932 Monte Carlo Rally, among other strong drives. She competed at Le Mans the following year in a 0.8 liter MG, finishing the race. Allan eventually lapped Brooklands at over 122 mph in a 6.5 liter Bentley, and became one of a handful of women that would ever complete a lap of the circuit exceeding 120 mph.
At around the same time, Women in Haiti were permitted to pursue careers as physicians.
1935: Remember Gwenda Janson? She became Gwenda Stewart, and more importantly, the fastest woman around Brooklands, with a lap at a speed of nearly 136 mph. Her record was never broken. Brooklands closed four years afterward.
At around the same time, Tehran University in Iran finally opened its doors to women.
The 1940s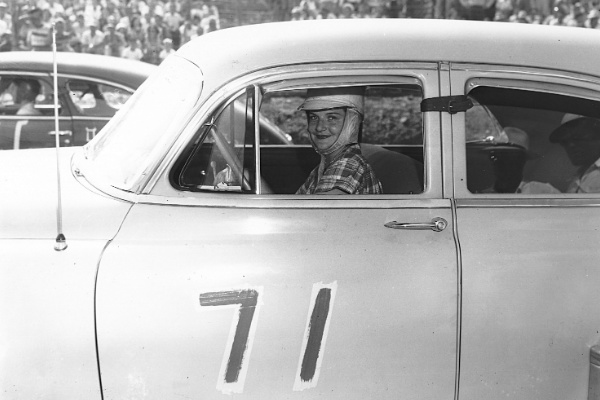 Sara Christian in her #71 Oldsmobile, RacingOne, ISC Archives, via Getty Images
1949: Much of the world dropped motor racing to fight World War II, though the postwar economic boom made many wealthy enough to take up racing. Sara Christian was among them, and competed in NASCAR's inaugural race at Charlotte Speedway. Her finish of fifth at Heidelberg Speedway later in the season remains the only top-five finish for a woman in NASCAR.
Ecuadoran women received legal majority.
The 1950s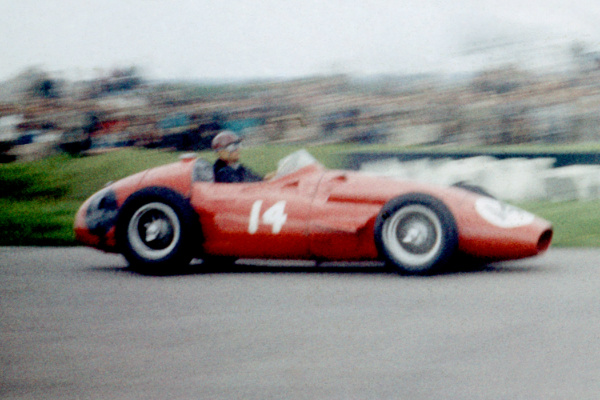 Maria Teresa de Filippis in a Maserati 250F, PA Images Archive, via Getty Images
1958: Maria Teresa de Filippis took one small step for women, and one giant leap into a more organized Grand Prix racing scene, now known simply as Formula 1. Her F1 debut came at the 1958 Belgian Grand Prix, where she finished 10th. de Filippis was denied the chance to race at the following French Grand Prix, with the race director reportedly telling her, "the only helmet a woman should wear is the one at the hairdresser's."
At around the same time, Swedish women were allowed to become priests.
The 1960s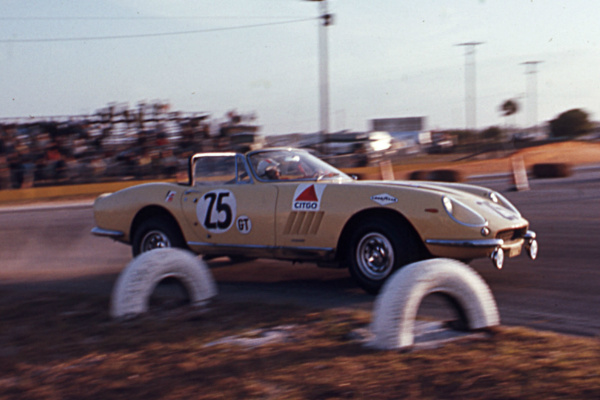 Denise McCluggage in a Ferrari 275 GTB Spyder, RacingOne, ISC Archives, via Getty Images
1960: Talented rally driver Anne Hall won the Morecambe Road Rally, and became the first woman to win any national or international rally. 
Afghanistan's University of Kabul began accepting women.
1961: Denise McCluggage drove a Ferrari 250 GT in the 12 Hours of Sebring, and took home a Grand Touring class win. In the Safari Rally, known for being the most challenging in the world at the time, Anne Hall finished third.
The Dowry Prohibition Act was signed in India.
1964: Hall and McCluggage wrestled a Ford Falcon along the stages of the Monte Carlo Rally, to secure a class win. Whilst in Monaco, Hall butted heads with Graham Hill—five-time Monaco Grand Prix winner, double F1 World Champion, and the only driver to complete the Triple Crown of Motorsport—with a race around the Monaco Grand Prix Circuit that Hill knew so well, in identical cars. Hall beat Hill by a reported 6.6 seconds.
Title VII of the Civil Rights Act was enacted in the United States.
1969: Shirley Muldowney, an NHRA Pro-licensed drag racer since 1965, competed in the NHRA Nationals, in the Top Gas category, now defunct.
The taking of women as prisoners of war for forced marriage was deemed a crime against humanity by the Special Court for Sierra Leone.
The 1970s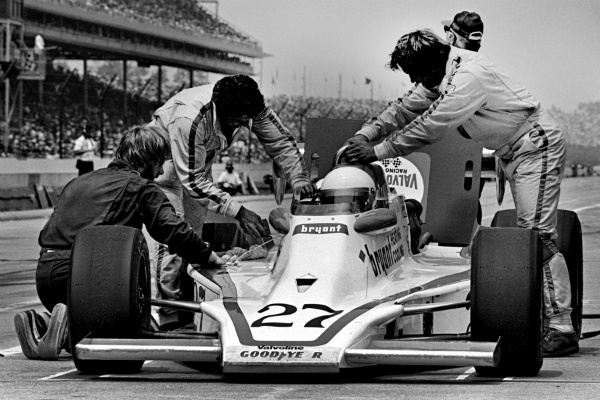 Janet Guthrie's mechanics tend to her engine, Bob Harmeyer, The Archive, via Getty Images
1971: Muldowney won the IHRA Southern Nationals. The following year, she and her husband Jack—who introduced her to racing—divorced, in part because he was uncomfortable following her upward into nitrous oxide-powered NHRA Top Fuel racing.
Preventing women from practicing law became illegal in the United States.
1974: In a privately-entered Brabham, Lella Lombardi made a one-off entry in F1 at the British Grand Prix, but did not qualify. She was hired by the March team the following year and became the first woman to score championship points in F1, with a P6 finish at the chaotic Spanish Grand Prix.
Spain lifted a ban on women participating in bullfighting at around the same time.
1975: Michèle Mouton won the 2.0-liter class at the 24 Hours of Le Mans, beating four teams in larger engine classes.
Abortion was legalized in France.
1976: Flight instructor, aerospace engineer, and former astronaut candidate Janet Guthrie became the first woman to race a NASCAR superspeedway event, at Charlotte Motor Speedway's World 600, where she finished 15th.
The United States Supreme Court upheld the decision of Planned Parenthood v. Danforth, repealing a requirement for written consent for a woman to have an abortion.
1977: Lella Lombardi, after two prior entries at the 24 Hours of Le Mans, finished 11th alongside Christine Beckers in an Inaltera LM77. Fiat France hired Mouton to race for the company in the European Rally Championship, in which she placed second.
Shirley Muldowney won the first of her thee NHRA Top Fuel championships, which would follow in '80 and '82. Guthrie entered the Indianapolis 500 and Daytona 500, the first woman to attempt either race. Engine problems in both races handicapped her to finish 29th and 12th respectively. She finished ninth at Indy the following year, and her best finish in Indycar stands at fifth.
Guthrie fought an icy climate for her entire career in NASCAR. "I knew the woman part was irrelevant, but nobody else seemed to," she stated to Washington Post in 2006. "I am a racer right through to my bone marrow, and that's what it was all about for me." 
NASCAR maestro Cale Yarborough, too, saw things from Guthrie's perspective, stating, "there is no question about her ability to race with us. More power to her. She has 'made it' in what I think is the most competitive racing circuit in the world."
At around the same time, in Afghanistan, women and men reached legal equality.
The 1980s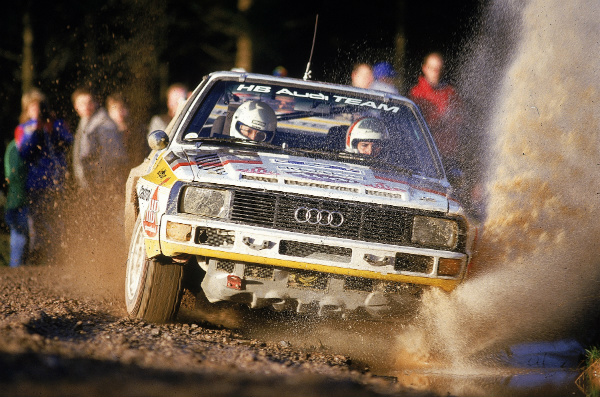 Michèle Mouton slides her Group B Audi Sport Quattro, Mike Powell, Getty Images Sport
1981: Mouton was selected as one of Audi Sport's drivers for its turbocharged, four-wheel-drive Quattro. With Audi, she would win four World Rally Championship events and place second in the championship in her second year with the team.
Sweden became the first western nation to codify a law banning FGM.
1985: In the outrageous Audi Quattro S1, Mouton won the world's longest and most extreme hillclimb, Pikes Peak, setting a course record.
France altered parenting laws to give mothers equal say in the handling of a child's property.
1986: Carol "Bunny" Burkett took the first IHRA Alcohol Funny Car drag race championship, and is still the only woman to have done such. Her nickname came from a period in 1967, during which she worked at the Playboy Club of Baltimore as a hostess, to support her racing. She took the moniker in stride, plastering it on her cars.
In Djibouti, women were allowed to run in elections.
1988: Anne Hall, now 68, made a one-off return to racing, winning the Alpine Cup in a Ford Anglia as part of the Pirelli Classic.
Switzerland and Brazil equalized the legal powers of husbands and wives.
1989: Against doctor's orders, Eliška Junková, at age 89, flew to the United States for a Bugatti reunion, where she received a hero's welcome.
In Canada, retail chain Safeway is punished for inadequate compensation of employees on maternity leave.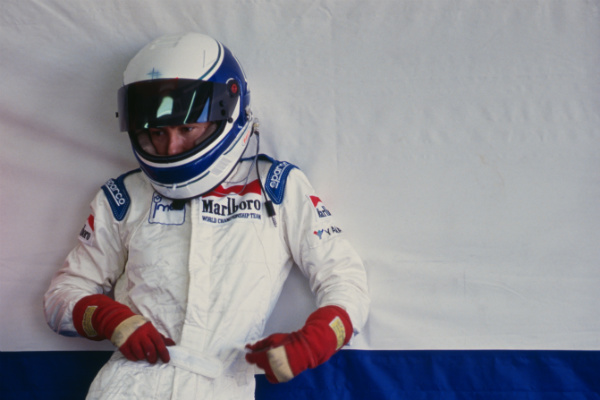 Pascal Rondeau, Getty Images Sport
, Giovanna Amati suits up for practice,
1992: Giovanna Amati was signed by the faltering Brabham F1 team, but inexperience with fast single-seaters left her uncompetitive, and her contract was terminated shortly thereafter. She remains the most recent woman to have entered an F1 race.
Women's involvement in American politics, specifically the elections of 1992, exploded, resulting in the year being dubbed "Year of the Woman."
1995: Carol Burkett was involved in an accident at a race in Pennsylvania, when her opponent lost control and crashed into her. Burkett's car sailed into the woods at 200 mph, leaving Burkett with injuries that doctors told her would prevent her from walking ever again. About 18 months later, she was back at drag strips, racing her Funny Car, undeterred.
The United States' Violent Crime Control and Law Enforcement Act raised penalties for crimes classified as hate crimes, under which women are protected.
1996: Sommelier and racing driver Sabine Reck won the 24 Hours of Nurburgring, and came back for a second bottle of champagne the following year. She would eventually marry into the Schmitz family, adopting the name many know her by today: Sabine Schmitz, whose 20,000-plus laps of the Nurburgring make her its undisputed master.
Italy reclassified any form of sexual assault as a felony.
The 2000s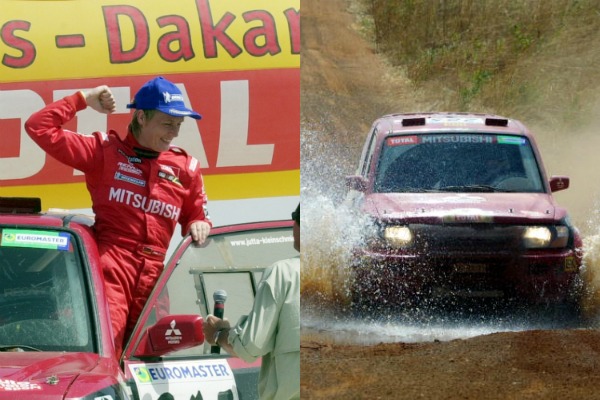 Jutta Kleinschmidt's 2001 Dakar Rally win., Patrick Hertzog, AFP, via Getty Images
2000: Indycar driver Sarah Fisher became the first woman in the series' history to post a podium, at the Kentucky Indy 300. Two years later, she secured pole position at the same event, also a first for women in top-level open-wheel motorsports.
Nepal allowed married women under 35 to inherit property.
2001: Jutta Kleinschmidt maintained a speed befitting of the Amazon she is throughout the duration of the 6,200-mile Paris-Dakar Rally, and became the first woman (and first German) to win the race. Across the Atlantic, Venezuelan academic, naval engineer, and former model Milka Duno busied herself with four class wins in the ALMS endurance series.
In the following year, Bangladesh raised the penalty for acid attacks to death.
2004: Duno entered the prestigious Petit Le Mans in a Lola B2K/40, and came away with an LMP2 class win. Later in the year, Sabine Schmitz's notoriety exploded, after she was televised on the BBC program Top Gear, where her lap of the Nurburgring in a diesel Jaguar S-Type beat that of host Jeremy Clarkson's by 47 seconds.
Divorce was made legal in Chile, and in Pakistan, honor killings were outlawed.
2006: Champ Car driver Katherine Legge became the first woman in the series to lead a race lap, and held on to the race lead for 12 laps of the Road Runner 225.
Greece debarred marital rape.
2007: At the 24 Hours of Daytona, Legge completed the millionth lap in the race's history, though she finished far adrift of Duno, who enjoyed a second-place finish overall, less than a lap down from the race leaders.
Egypt and Eritrea forbade female genital mutilation.
2009: The Indy 500 was one of the biggest moments of Danica Patrick's professional racing career. She elbowed her way into the shootout for pole position, ultimately starting 10th. Patrick hunkered down for the ensuing 200 laps, during which she sneaked past seven competitors, to finish third, the best finish for any woman in the race's history.
Sudanese activist Lubna Hussein was fined for wearing pants.
The 2010s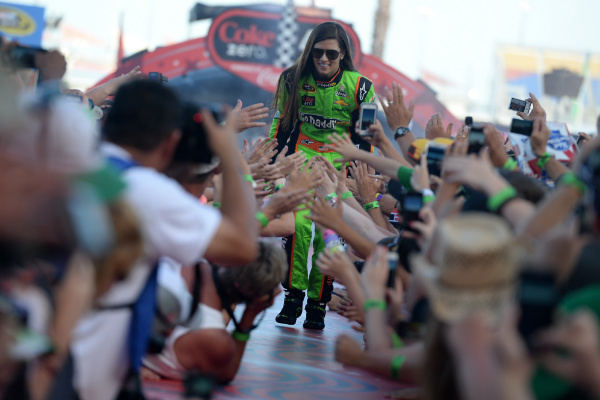 Danica Patrick greets her fans, 2013, Patrick Smith, NASCAR, via Getty Images
2011: In the midst of her Indycar season, a United States customs officer denied Simona de Silvestro's entry to the country, and cited repeated trips in and out of the country as reason to send her back to Switzerland. The officer did not believe de Silvestro's explanation that she was a racing driver.
Afghanistan criminalized any attempt at flight from a forced marriage.
2013: De Silvestro climbed atop the second step of the podium at the Grand Prix of Houston. Danica Patrick blitzed her competition in qualifying at the Daytona 500, and snatched pole position. In F1, Sir Frank Williams prepared his daughter Claire to take over the team. He appointed her to Deputy Team Principal of the eponymous Williams F1 team.
Saudi Arabian women were allowed to ride bicycles, but only in designated zones, in full body covering, and with a male family member present.
2015: The BBC announced that in the wake of the liquidation of its Top Gear hosts, Sabine Schmitz would join the show's roster.
Gambia and Nigeria prohibit FGM.
2016: De Silvestro scored points at the Formula E Long Beach ePrix, and was the first woman to do so. Fabricator, TV host, and racer Jessi Combs shattered the ladies' land speed record, setting a speed of 477.59 mph. Maria Teresa de Filippis, the first woman to race in F1, passed at 89.
Gambia ends forced and child marriage within its borders.
2017: Amazon's "The Grand Tour" revealed its new test driver, 2014 Mazda MX-5 Supercup winner Abbie Eaton, unceremoniously introduced as "the fastest" of any of the drivers evaluated.
Saudi Arabia laid groundwork for women to receive drivers' licenses the following year. The United States reactivated and inflated the Mexico City Policy. Nepal criminalized the exile of menstruating women.
Today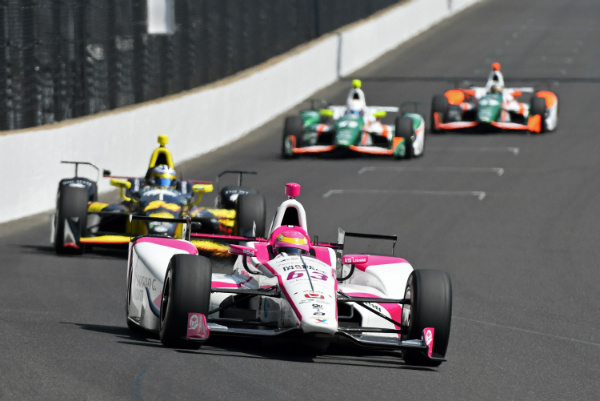 Pippa Mann, front, at the 2017 Indy 500, Michael Allio, Icon Sportswire, via Getty Images
The likes of Mouton, Junková, and Patrick have proven one thing beyond a doubt: Regardless of motorsports discipline, women can kick pedals just like men. Why, then, do women remain a relative rarity in racing?
The answer lies within the accessibility of car culture within which racing resides. Despite advances in communication and media technologies, such as film, television, and the internet, car culture as a whole remains somewhat insular, and fraught with tribalism. Social standing within the car community tends to scale with knowledge; being able to sound off the available engine options for each body style of a car, for example, is a badge of honor.
For that reason, outsiders bereft of knowledge often find it daunting to confront a split-window Corvette owner with pedestrian questions about the car, even if the motive is nothing more than innocent, open-minded curiosity. A lack of knowledge places one squarely at the bottom of the totem pole.
There is, however, a way to circumvent the gauntlet of making a bid to join a social circle: A foot in the door. Having a member of the community be your intermediary or mentor lends their standing within the community to you. It is by this method that many women (and men) are brought into the fold of car groups, and likewise, into racing. 
For women, that introduction is often by men, often a coworker, father, brother, romantic partner, or friend. One member of The Drive's own staff, Natalie Fenaroli, got her start in racing when her father dropped her into karts, sending her on a path into a motorsports career.
"I come from a family of car people, but not racers, and that's the key to this story," said Fenaroli. "I grew up around cars, and when I was little, my dad would be working on them all the time, and when I say really little, I mean two or three years old."
Unlike many, Fenaroli would not need to wait until her teens to get behind the wheel—her father had bigger things in mind.
"When I was four years old, my dad heard this story on NPR about how there are windows of time in a kid's development where certain motor skills become hardwired in the brain, and the ones associated with reaction time, and with driving, are developed around the ages of 7 to 8. He decided he wanted to put me in a go-kart, and so they tossed me in a go-kart when I was four and a half years old, and I was terrified of the noise at first—I had to wear earplugs in my helmet because I was so scared of the noise!"
Though unsettled by the ruckus of the kart, Fenaroli was desensitized by the time she was old enough to compete.
"I started racing ten days after my fifth birthday, because 5 years old is how old you must be to kart race. I won my first national championship when I was 7, and I never looked back."
After winning the Group 2 Kid Kart championship, she kept her skills sharp with additional karting over the following years, before upgrading to cars in her early teens. It was around this time that Fenaroli was enrolled in a program run by Denise McCluggage, with an emphasis on mentally, physically, and socially preparing women for the world of professional motorsports.
"I really have always admired Denise McCluggage. I had the opportunity to meet her, and hear some of her stories, which is amazing. As hard as it is for women today, it was SO much harder for her then, and to do it with style, and befriend all of the people along the way is pretty amazing."
"Being around the other women in motorsport—which I had never really seen any of at that point—changed how I viewed racing, and how I approached it. It has lent me a level of professionalism that has served me well, and I can honestly say that if I hadn't participated in that program, I would not be where I am today in motorsport."
The wisdom passed on from McCluggage to Fenaroli steeled her for a career in an industry with a long history of conservatism. Has being a woman in this industry affected her career?
"I think it would be incredibly naive to say that it hasn't, in good ways, and in bad ways," she said. "It's different from segment to segment in motorsports, but in a lot of ways, Indycar, NASCAR, and IMSA can still be incredibly traditional."
"You definitely have to work a little bit harder. It doesn't matter if you are a driver, of if you are in PR, or if you are in a technical role. You definitely have to go the extra mile because it is largely a community of men. And I'm not talking young men; the vast majority of the staff I work with are in their 40s and 50s. I probably run into as many problems with my age as I do with my gender."
"I've always been really fortunate that in the communities I've raced in that I've never really felt unwelcome. I've definitely had moments where I recognized that in order for me to get something that I wanted, I was going to have to work harder than my counterparts. I hesitate to categorize the entire industry like that, but there are people I've worked with in or around Indycar that have given me issues, because I'm young, and because I'm a female."
The sword of femininity, however, is not one destined to wound only its wielder, for it is double-edged.
"I have been positively affected in the sense that being a woman in this industry is an attention grabber. You're in the minority, and maybe you have to work a little harder to get that respect, but getting on someone's radar is probably a little bit easier, because I'm able to leave a little bit more of an impression. I think that if you play your cards right, that can be an advantage, and obviously, you need to demonstrate professionalism in order for that to be effective."
Other examples of entry with the influence of a male acquaintance with later ascensions into professional racing appear throughout history. Eliška Junková and Shirley Muldowney followed their husbands into racing before eclipsing their legacies. De Filippis outraced her brothers to shut them up. Michèle Mouton was her friend Jean's co-driver, before her father offered to support her racing career as a driver.
Introduction in this fashion remains a common point of entry today, with another example of the sort surfacing in the "Where are the Car Girls?" spotlight video by automotive YouTube channel Gears and Gasoline, which interviewed a variety of wheel-wielding women, from hobbyists to professionals. One interviewee, Sally, a former National Auto Sport Association instructor, got her start when a coworker invited her to a day at a nearby racetrack. From there, things snowballed, and today, she drives a caged-up Subaru time attack car, with which she competes at events across the country.
In contrast, not all women have access to an insider via whom they can break into the racing community. Some must go it alone in the pursuit of racing. This approach was also covered in Gears and Gasoline's examination of the subject, with Savannah Little describing her self-driven advance into the racing world.
Savannah had close proximity to motorsports in her professional life, where she was employed as a promotional model for Monster Energy and Nissan's Pirelli World Challenge team. Getting the chance to sit in the cars around which she spent her time cemented her interest in racing, and resulted in the purchase of a Nissan 350Z, which she would later convert into her own race car.
Make no mistake, getting into a hobby as complex as building one's own car without someone to show you the ropes is tricky. Guidance, however, can be found from sources other than existing relationships with other enthusiasts—the internet is a near endless library of information on racing, with all one could ever need to know about how to change brake pads, find racing lines, and correct oversteer. This is the method by which Savannah learned, and perseverance pushed her through to her racing today.
She does not, however, wish to leave the impression that her entry point—modeling—is the only way to get a foot in the door. Not everyone is interested in a modeling career, even with the perk of being paid to hang around racetracks on the table. Again, one may look to history to find women whose intrigue with racing caused them to seek out motorsports for themselves, unsupported.
Camille du Gast herself strode into motorsports after watching the 1900 Gordon Bennett Cup planted an interest in her brain. Lella Lombardi and Danica Patrick tasted karting, and dove down the rabbit hole from there.
Many women in this position often have a sole ally: Intrepidity backed by the simple desire to get out of the bleachers and onto the track. Grassroots racer Kiem Tjong exemplifies this trait and shared her own experiences of blazing a trail into amateur racing as a woman.
"I have no male or female role models around me and did not enjoy the help and guidance of a father or older brother, boyfriend, or husband who were already into racing, and who encouraged me to track or race with them," Kiem revealed.
"I really only purely got into racing because I so enjoy the physical and emotional sensations that I experience when I am driving fast, or when I find myself driving fast next to other fast vehicles."
Kiem does not consider herself an outlier among women; an exception to the rule, for she did not enter racing with many of the advantages many grassroots racers used to support their hobby, such as a preexisting affinity for working on cars, or a social group of other drivers.
"I am otherwise a 'typical' woman in the sense that I have little mechanical aptitude, nor natural curiosity for fixing or modifying cars. I have to labor more than my male teammates when I unload my trailer, or change wheels, and struggle more than they do in trying to understand and find the proper setup for my car on different tracks. I am often the last one to leave the track because it takes me longer to load all of my equipment and my car onto my trailer and truck."
Asking for help with the menials from competitors is no taboo, but not everyone in the pit lane will be ready to lend a helping hand.
"These days, there will usually be some men who are friendly, and make an effort to include women, but most of them are just not well-trained at making a woman feel welcome. Many guys at the track are just naturally a little awkward with women, and some of them will be even more awkward if it turns out the woman is a faster driver than they are."
"In racing, you learn by constant association with other racers, and trying out different things with your car and on the track. It is just much harder for a woman to closely bond and hang out with others if they are all guys."
Kiem acknowledges that socializing with other racers can be difficult for men too, though the discomfort may be magnified a tad for some women.
"I have heard some men make the same remarks about feeling a little left out, and intimidated by the 'I already know how to be a real driver' attitude, but a woman will feel more like the odd duck."
Gender is left in the pit lane with one's trailer when the green flag drops, though. All that drivers see is a car, a competitor, and all that drivers feel is the primal desire to chase.
"When it comes to competing against other drivers on the race track, the joy and confidence (and okay, frustration, at times) of doing so comes to me naturally, and not for a second does it ever enter my mind that I would do better if I were racing against women only. I am no slower, probably faster than most of the men I race with and against."
Optimism in the face of the unique challenges faced by women who wish to race can be hard to maintain without a light at the end of the tunnel. An icon can fulfill said role; heroes are thought to be crucial for inspiring women to participate in many primarily-male fields beyond racing, so the same should hold true for motorsports, should it not?
A problem presents itself when one looks for the most visible women in racing, however, with sign-bearing "grid girl" promotional models capturing an unreasonable portion of the attention, considering their negligible role in the racing itself. The governing bodies of global motorsports, though, see the untapped competitive potential in women and are gradually doing away with grid girls. Formula 1 has already ditched them, and MotoGP is considering the same.
With grid girls gone, focus on women may be redirected to those involved in operating teams and driving the cars. Some of the current crop of racing heroines, however, are exiting alongside grid girls.
Danica Patrick is scaling back her motorsports commitments, though she will compete in this year's Daytona 500 and Indy 500. Sabine Schmitz has not driven the 'Ring Taxi that got her exposure on global television since 2011, and the likes of Simona de Silvestro and Katherine Legge have retreated from global motorsports, settling into regional racing series. A new generation of drivers is needed to maintain the position in the racing world which women occupy today.
And that generation is maturing before our eyes.
The Future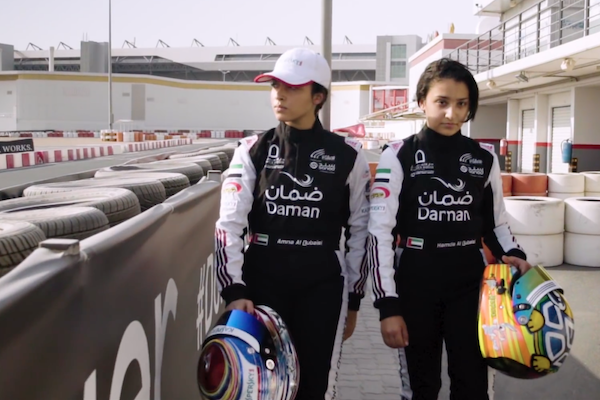 Amna & Hamda Al Qubaisi, Great Big Story on YouTube
Across the spectrum of motorsports, from endurance racing to open wheel and karting, talented girls are gaining prominence. In junior motorsports and feeder series, from which talent for ultra-competitive international racing series is drawn, new names are beginning to distinguish themselves from the competition.
Already at the professional level, there are young women to keep tabs on. Audi entered an all-female team at this year's 24 Hours of Daytona in an R8 LMS GT4, and up in Formula 1, Sauber F1 Team declared its new test driver to be Tatiana Calderón, of Columbia.
Trailing them are a number of youths, deserving of the notice taken to them by the racing world. Two of the rising stars are UAE kart racers Amna and Hamda Al Qubaisi, 17 and 15 respectively. Their father, Khaled Al Qubaisi, who has raced professionally since 2009, noticed racing talent sprouting from Amna at a young age, and after she entered karting, Hamda tagged along, as younger siblings do. Both are competitive, and the trophies for their regular podium appearances and wins are taking up ever more shelf space in the Al Qubaisi home.
Across the planet, Juju Noda, daughter of former F1 driver Hideki Noda, is setting Japan's junior open-wheel racers on edge. At 12 years of age, Juju holds the Formula 4 lap record at the historic Okayama International Circuit, and is already practicing in Formula 3 cars, though she is not yet old enough to compete in them. Her driving—which is exceptional for her age—is making an international splash, with even 2009 F1 champion Jenson Button taking notice of her advanced skills. Being on the radar of F1 royalty is advantageous for Noda, who has stated she wants to be the first woman to win an F1 Grand Prix.
Not all is coming up roses, however. In the face of pioneering female racers across the ages, some seek to split the sexes into segregated racing. As of late 2017, a women-only race series was in the works, and oddly enough, it has support from at least one woman in the industry, ex-GP3 driver Carmen Jorda, who has spoken in favor of segregated racing.
Despite holding this position, Jorda was appointed to the FIA Women In Motorsport Commission in December of 2017. The commission's members include significant figures such as Michèle Mouton, Jutta Kleinschmidt, and Claire Williams, all of whom have claimed firsts for women in racing. Because of Jorda's outspoken desire to divide male and female competitors in racing, she found herself opposed by some of the most competitive women in motorsports today, who decried her appointment to the council, and even criticized by other members, such as Leena Gade.
Jorda, whose stint in GP3 concluded with no championship points after three seasons, and the only failure to qualify for a race in the series' history, doubled down on her beliefs earlier this month. Jorda blamed a "physical issue" that she professes to be an obstacle preventing women from being competitive in Formula 2 and Formula 1. She says this makes women more suited to "not super difficult" Formula E.
These comments, too, were inflammatory in the motorsports community. Formula E driver Robin Frijns argued against Jorda's suggestion that Formula E cars are simple to drive, and former F1 driver Jenson Button voiced support for female drivers, denouncing Jorda's purported "physical issue" as not being the barrier standing between Jorda and success as a driver.
The consensus among women more competitive than Jorda remains all but unanimous: Women are competitive with men in motorsports. So says the FIA commission's Leena Gade, so says Indycar's Pippa Mann, so say Tatiana Calderon, Susie Wolff, Jamie Chadwick, and of course, Kiem Tjong.
"I absolutely believe women can—and should—race at the same level as men, and I believe a women-only series is insulting and demeaning, and would limit the racers to a small pool of competitors, only hurting their chances of exercising their full potential," Kiem states.
"In terms of other athletic skills, I used to be a competitive table tennis player, and I have seen women in the upper echelons have as good (or better) hand-eye coordination skills and senses of timing than men."
"I see women as no less capable than men of stepping on the pedals, shifting gears, or turning the wheel. In terms of withstanding heat and discomfort, women often perform better than men do in ultra-marathons so I see no disadvantage for them there."
The question of women versus men in motorsports may well shamble on, but it may be safe to say that it has already been answered. A century plus of women have deemed the racing world their oyster, which many have shucked with hands as skilled as any man's.
One truth remains apparent, which was summed up by Savannah Little, in her interview with Gears and Gasoline.
"Once your helmet is on, you're a driver. It's not about being male, it's not about being female, it's not about anything. Once the helmet's on, none of that stuff matters anymore."