After a week with an electric Ford Mustang Mach-E loaner car, my wife Hanna and I were sold on one as our next daily driver. We didn't get a Mach-E because we had no car — we added it to our eclectic garage because sometimes, especially in the traffic of Los Angeles, you just need an easy, everyday runabout. This EV had the right specs and size for us, and now that we've had the car for three months and 1,700 miles, I'm happy to say it's been generally great.
Why an EV over a gas car? Well, first off, this isn't my first electrified car. I owned, and I adored, a first-, then a second-generation Chevrolet Volt. I didn't write about it much or make videos, because frankly, no one cared. But it was one of the finest appliance vehicles ever made, and tragically underappreciated. Technically it was a plug-in hybrid, but my average day's commute was so short that I averaged around 300 mpg over the life of the car.
I have driven every model of Tesla except the Y, which I have only sat in and played around with. You can see reviews of all those cars (as well as the Volt) on my YouTube channel, TheSmokingTire. I have generally had good things to say about Tesla's cars. I love their infotainment in particular. But I really care about build quality, and Teslas are simply not built that well. I also strongly disagree with many, many things about how the company operates, most importantly the false marketing of advanced driver-assistance systems (ADAS) as semi-autonomy. In a beautiful bit of corporate doublespeak, Tesla gives its customers, investors, and the general public a drastically exaggerated picture of the autonomous capabilities of its cars, while simultaneously downplaying the capabilities of those features to regulators. I am not short on $TSLA, as it would be incredibly unethical for someone in my position to hold a position (including a short position) in any automotive stock. But I choose to vote somewhere else, anywhere else with my wallet.
The Mach-E has few appealing competitors in the market. Porsches and Audis are nicer but have less range or cost way too much, and Hyundai and Kia just seems to be making electrified versions of existing economy cars. After a week with the press car, I came to the conclusion that the Mach-E is pretty much just like a Tesla in all the important ways, but screwed together much better. And importantly, it feels like it was always meant to be an EV as opposed to an adaptation of an existing platform.
Although I've done a thorough dynamic review of the Mach-E for The Smoking Tire as well as a range test in which I discovered, at least anecdotally, that this car will easily achieve its stated EPA range numbers, I haven't covered much at all about the ownership experience. We'll go through that here.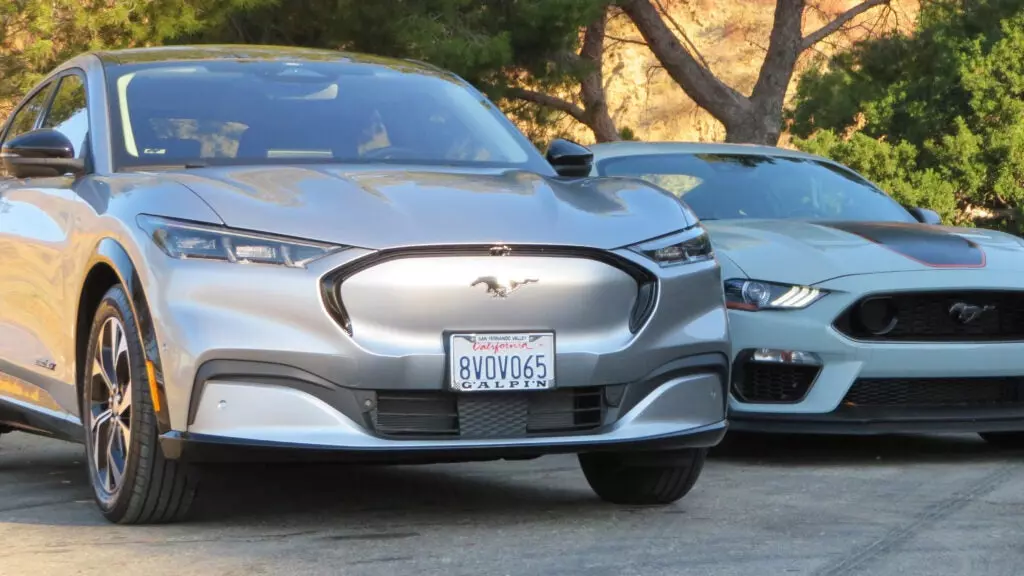 Although COVID put the brakes on our projected late-February delivery, my car arrived in March at Galpin Ford in LA, and it looked stunning in Iconic Silver. Although my press tester had been a long-range model with all-wheel drive, two-wheel was just fine for us. I knew the basics of how the Mach-E operated, so I stood back and allowed Carl, a kind salesman, to explain to Hanna how to set things up. Training took the better part of half an hour, but it really took a few days with the system to get comfortable, and you have to take the time once to set it up the way you want it. After the phone was connected and everything seemed in good order, we set off… but didn't make it out of the parking lot before the main, large vertical screen went blank.
Unwilling to settle for a basic restart and "on your way!" I asked Carl to take the car to service in the morning and call us. To their credit, folks at the Galpin service department jumped, reset the software, ran the latest updates, and delivered the Mach-E to our home the next day. An engineer from Ford who contacted me by phone and asked for further details listened intently, and told me another Over The Air update would be coming in a few days, which should (and, in fact, did) eliminate the problem.
Other than that, in three months and 1,700 miles, the Mach-E has been largely comfortable, refined, and quiet. I've given rides and test drives to family members and friends, all of whom are impressed with the build quality, style, and depth of flake in uncharacteristically rich (for Ford) silver paint. The Bang & Olufsen stereo sounds excellent (though noticeably thicker on a hardwired phone connection than over Sirius or Bluetooth). It's super spacious in both the front and back seats, and the trunk is perfectly sized for a day of golfing with my dad. Because my commute is less than five miles, and my other cars are old and European, and require long periods of warmup, I really appreciate the ability to press a start button and immediately smash the throttle. Since our bedroom is directly above the garage in our home, Hanna really appreciates the lack of "old European car warming up for five minutes at 6 a.m." when I'm just going to the office.
Out on the road, the power is excellent, the regenerative braking is intuitively programmed, and the steering, though very digital, is light and direct. Though I originally said the extra performance that the forthcoming "GT" version will offer is probably not something I'd pay for, after extended trips up and down the 405 freeway, I might reconsider my position as the ride can be a bit bouncy over extended expansion joints. I don't need the power, but the GT is also getting magnetic ride, which will likely solve this issue. For any highway drive over a few miles, I use radar cruise control. Not because of efficiency, but because it makes me a much more relaxed driver and mentally provides a block from over-maneuvering — an easy trap when you have instant, silent torque.
The cabin is very spacious and has smart storage solutions with plenty of places to plug things in, so the Mach-E makes a great camera support vehicle.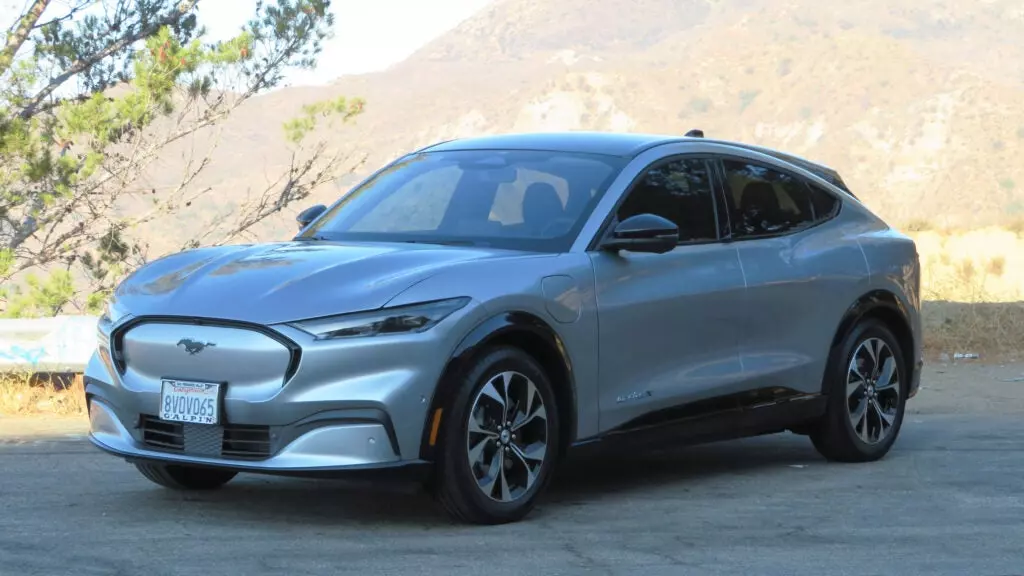 Our charging strategy consists of a basic 110V wall outlet at home and a 240V "Level 2" charger at my work. My commute is short, hers is nonexistent, and both of us own other liquid-powered vintage vehicles, not to mention the never-ending tide of press cars and motorcycles. So, keeping our Mach-E juiced up is very easy for us.
Between the wife and myself, we have only had to publicly charge one time in three months. It was a less-than-pleasant experience, with big variations in the speed and availability of chargers, multiple different brands of chargers, and occupied chargers. This is still a frustrating reality of electric car ownership: it can be very challenging even in a technologically progressive place like Los Angeles to run an EV without a home charging solution. But our longest real-world trip is to Hanna's brother's house about 110 miles away, and the round trip is no problem on one charge, even if driving at faster-than-optimal speeds.
There have been, even after the first day, a few hiccups. The "your phone as a key" feature is still buggy, slow to respond, and generally, somewhat half-baked. The good news is that Ford provides a physical key. The bad news is that it only provides one and really doesn't want to sell you another one. If two people share the car and those two people are wildly different sizes, with different preferences for all kinds of things, either one person has to use the phone as a key, or both people will have to manually change all kinds of settings each time. And speaking of phones, I use an iPhone 12 Mini, but the wife uses an iPhone X. Although my phone connects to wireless CarPlay perfectly every time, her phone has had a variety of connectivity issues. (In fairness, Ford has been communicative in escalating this issue and working with us to find a solution, and we are still unsure if the problem is with the car or with her phone, and my money is on the phone). When my phone connects to CarPlay, the whole upper half of the big screen mirrors the phone, while the Waze and Google Maps directions remain visible on the phone screen itself, resting on the wireless charger. It's a good system.
Although I find the touchscreen controls to be intuitive, I have found that it's possible to brush the climate controls while adjusting the radio volume, occasionally resulting in some surprising blasts of air. Lastly, the cargo area cover seems to always find a way to fall down — it's just resting on some hooks and takes very little effort to knock it off.
But if this is this stuff I'm complaining about? Cargo hooks, very specific cell phone connectivity hiccups, and a feature I'm not actually forced to use in order to enjoy the car? Then being an early adopter isn't actually any kind of real inconvenience at all.