Audi R8 Spyder joins a parade of supercar convertibles
As bad as Volkswagen is feeling right now, the diesel-dogged automaker might take solace in this: They've still got Porsche, Bentley, Bugatti and Lamborghini. And of course, Audi, a mass-market luxury brand that VW might not trade for all four of those highfalutin' names.
At $177,650 to start and $191,550 as tested, the R8 Spyder isn't your typical family Audi. Instead, the R8 is the whipped cream atop Audi's German strudel. First, the R8 underlines the brand's ruthless dominance of international endurance racing over the past decade. Coupe or convertible, this mid-engine supercar also epitomizes Audi's somewhat fastidious approach to design and performance.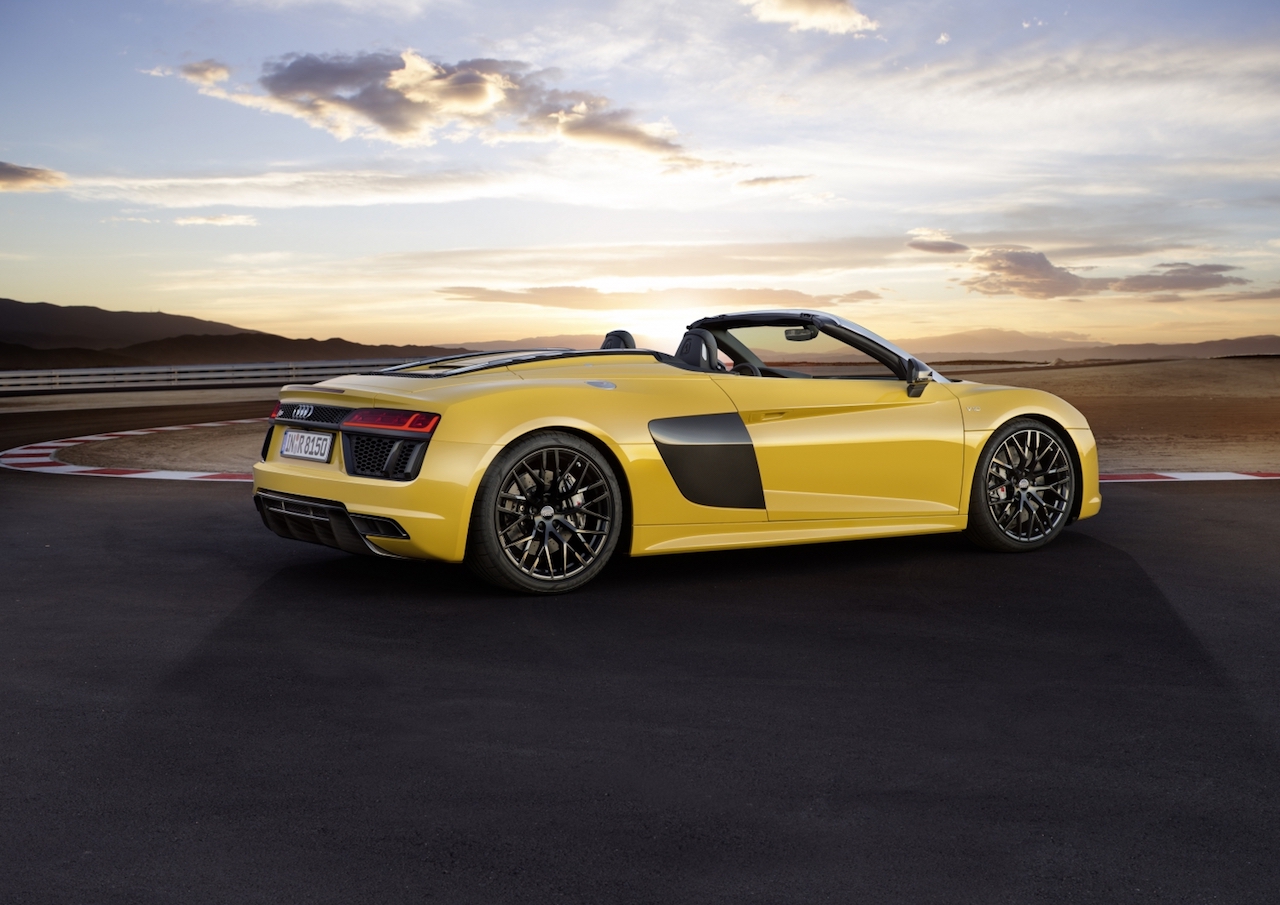 Excuse me, while I kiss the sky, Audi
I'd already driven the all-new, second-generation R8 V10 Plus Coupe in a memorable setting: Daytona International Speedway. On my first-ever trips around the Daytona road course, I found myself nipping 180 miles per hour in the 610-horsepower Audi. This new Spyder "settles" for a 540-horsepower version of that spectacular 5.2-liter, naturally aspirated V-10 engine. That same engine powers a base R8 Coupe that starts for around $164,000—$11,000 less than this Spyder, and $27,000 less than the R8 Plus version. But as with the coupe, the standard Spyder is more than enough sports car for public roads. I mean, I like to feel the wind in my hair, not have it torn out at the roots. 
The whipping commenced on forested roads north of Manhattan, where the Audi scoured the blackboard message of every modern supercar into my brain: Convertible versions aren't for posers or wimps. 
To wit: Audi says this R8 Spyder will dash from 0-60 mph in 3.5 seconds, in a dead heat with the base Coupe. (The form-fitting fabric top weighs just 95 pounds). Yet Audi's figures are actually conservative: The R8 V10 Plus Coupe has actually been clocked to 60 mph in as little as 2.6 seconds, or 0.6 seconds quicker than Audi's 3.2-second estimate. So figure on the convertible storming to 60 mph in about three seconds. Top speed is 198 mph, compared to 205 mph in the hardtop Plus.
Audi R8's links to racing are the real deal
Among the Fun Facts that will impress supercar friends: That 5.2-liter V8 is the same engine that Audi uses to power its R8 LMS GT3 racers. Those track cars roll off the same Ingolstadt assembly line as the showroom models. Privateer racers, Audi claims, should expect to run an entire season with no engine rebuilds, in contrast with competitors who often deal with a pricey, time-consuming teardown after each race.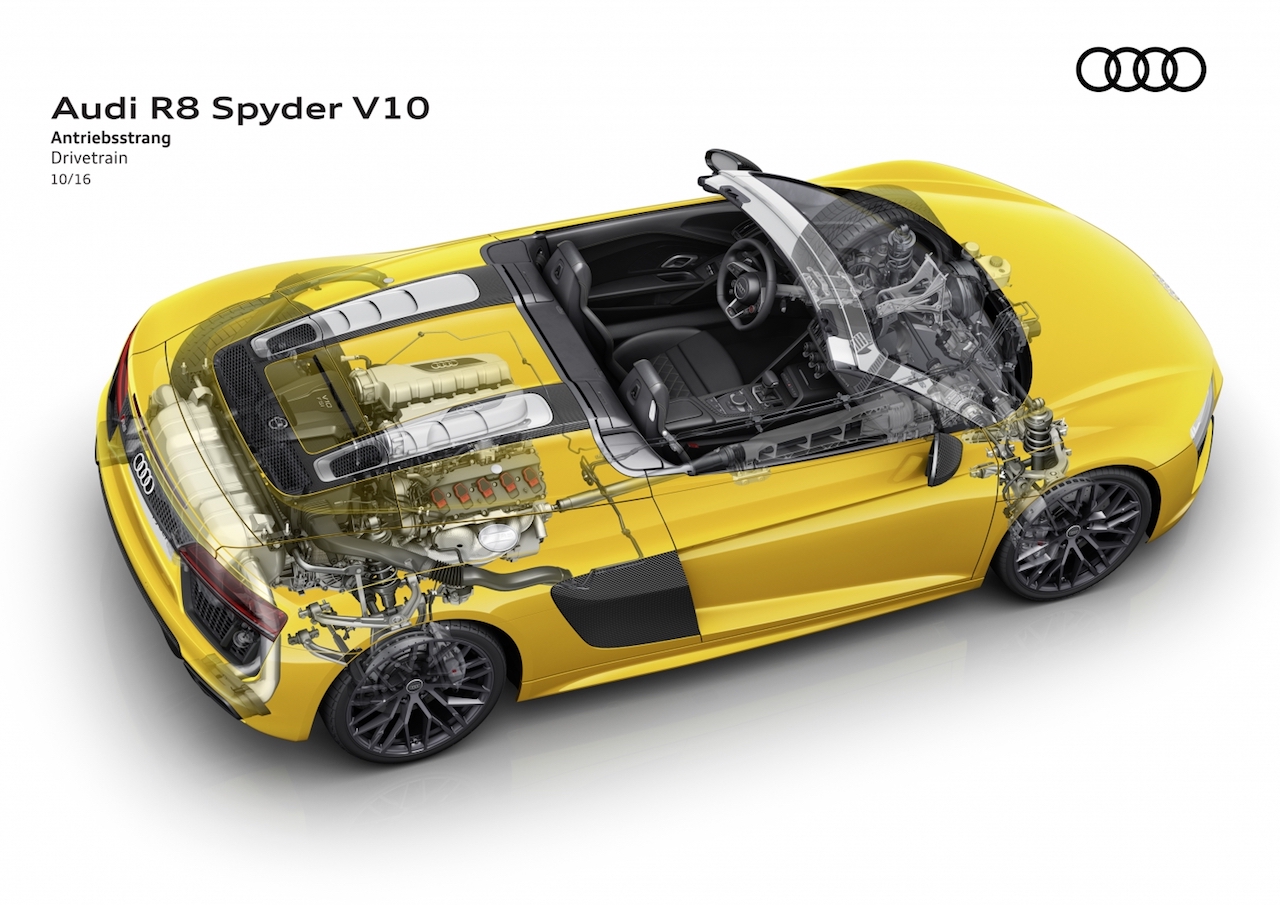 Party in the front, engine in the back, Audi
And gott in Himmel, what an engine. Like the Lamborghini Huracan, the Audi's bolder, even-louder Italian sister car, the R8's naturally aspirated V-10 distinguishes it from the herd of mid-engine convertible rivals that get their high-torque jollies via turbocharging. That list includes the Ferrari 488 Spider, McLaren 650S Spider and Porsche 911 Turbo Cabriolet. The front-engine Mercedes AMG-GT S Roadster, at $157,995, also requires a bi-turbo V8 for its 550 horsepower and 502 pound-feet of torque. 
V-10 has less torque than some rivals. You won't miss it
Compared with the Mercedes's 502 pound-feet of torque, the Audi's 398 pound-feet may not dazzle on paper. But I mentally crumpled that on-paper stat whenever I wrung the V-10 out, something I did with the regularity of a frontier washer woman. This V-10 flaunts the vocal range of Luciano Pavarotti (or for the kids, Arianna Grande), from a chesty baritone growl to a valve-gnashing wail as it chases the upper registers to 8,500 rpm. It's a virtuoso peak that the Audi's turbocharged competitors just can't touch, whether for practical or emotional effect.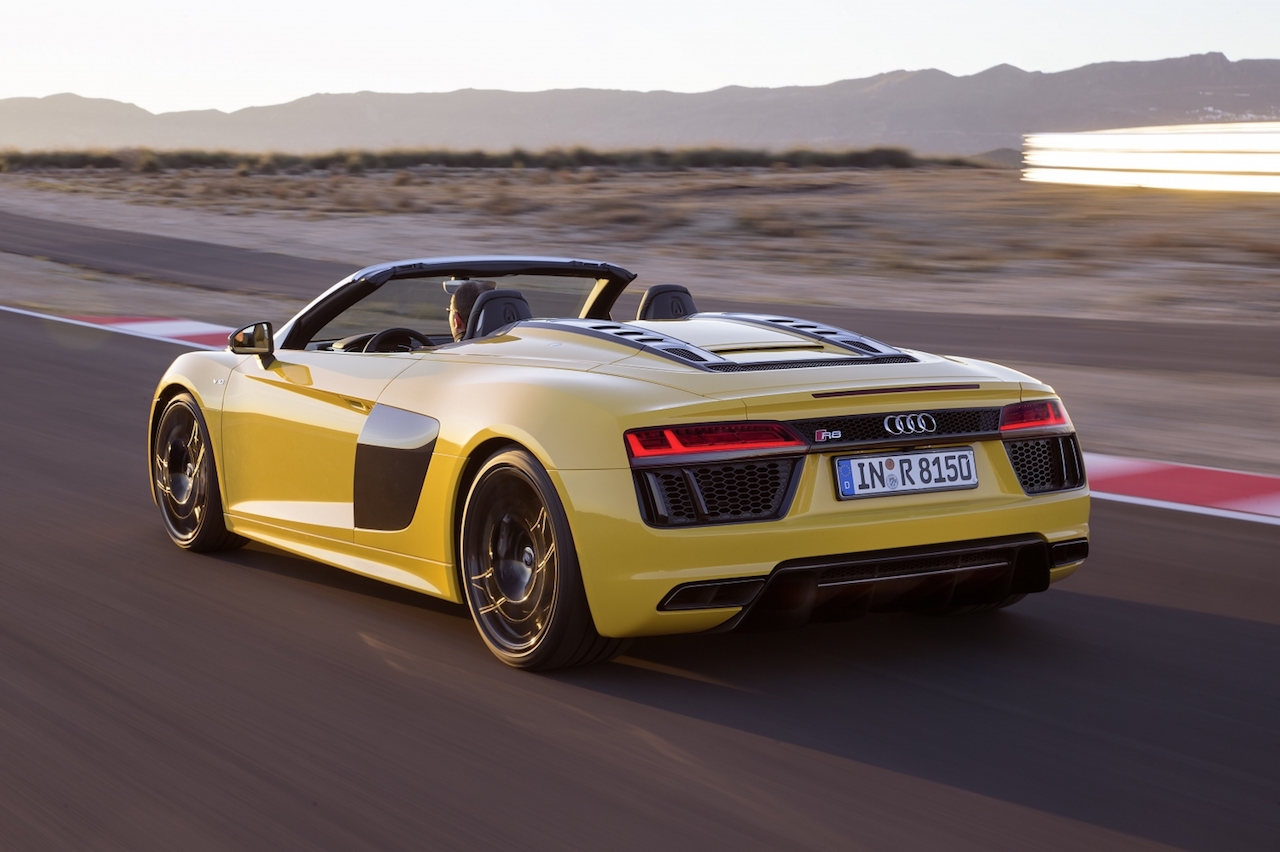 540 horsepower proves plenty quick in the R8 Spyder, Audi
Naturally, the Spyder pressed its sensory advantage over its coupe cousin whenever I dropped the soft top. The sound-suppressing fabric roof opens or closes via console pushbutton in about 20 seconds, and operates at speeds up to 31 mph. That in-transit operation came in handy when I was crawling over the Brooklyn Bridge during a sudden rain shower, and again when the sun peeked back out. One cool feature is a small, vertical rear window that operates independently of the roof. That lets you drop the rear window even when the top is raised for more fresh air and engine sound, or to use the window as a breeze blocker in al fresco driving.
Audi Space Frame adds a dose of carbon fiber
The Spyder's latest Audi Space Frame (ASF) is now 80 percent aluminum, with a larger dose of carbon fiber to keep things impressively stiff and vibration-free, including added buttressing in the windshield header, front roof pillars and door sills. Audi claims the new Spyder is more than 50 percent more rigid than before.
As per usual with coupes, the hardtop R8 looks sexier than the convertible when the latter's top is raised. But when I switched to fresh-air mode, I'd call it a toss-up: This convertible looks seriously exotic when the top is hidden away, exposing the sprawling rear deck and voluptuous wheel arches, the latter an inch wider than the first-gen R8. The Spyder ditches the previous adaptive rear spoiler, in favor of additional, smart-looking cooling vents across that rear deck. It also maintains the R8's lower "sideblade," available in carbon fiber or contrasting colors, that's a signature element of the coupe's design.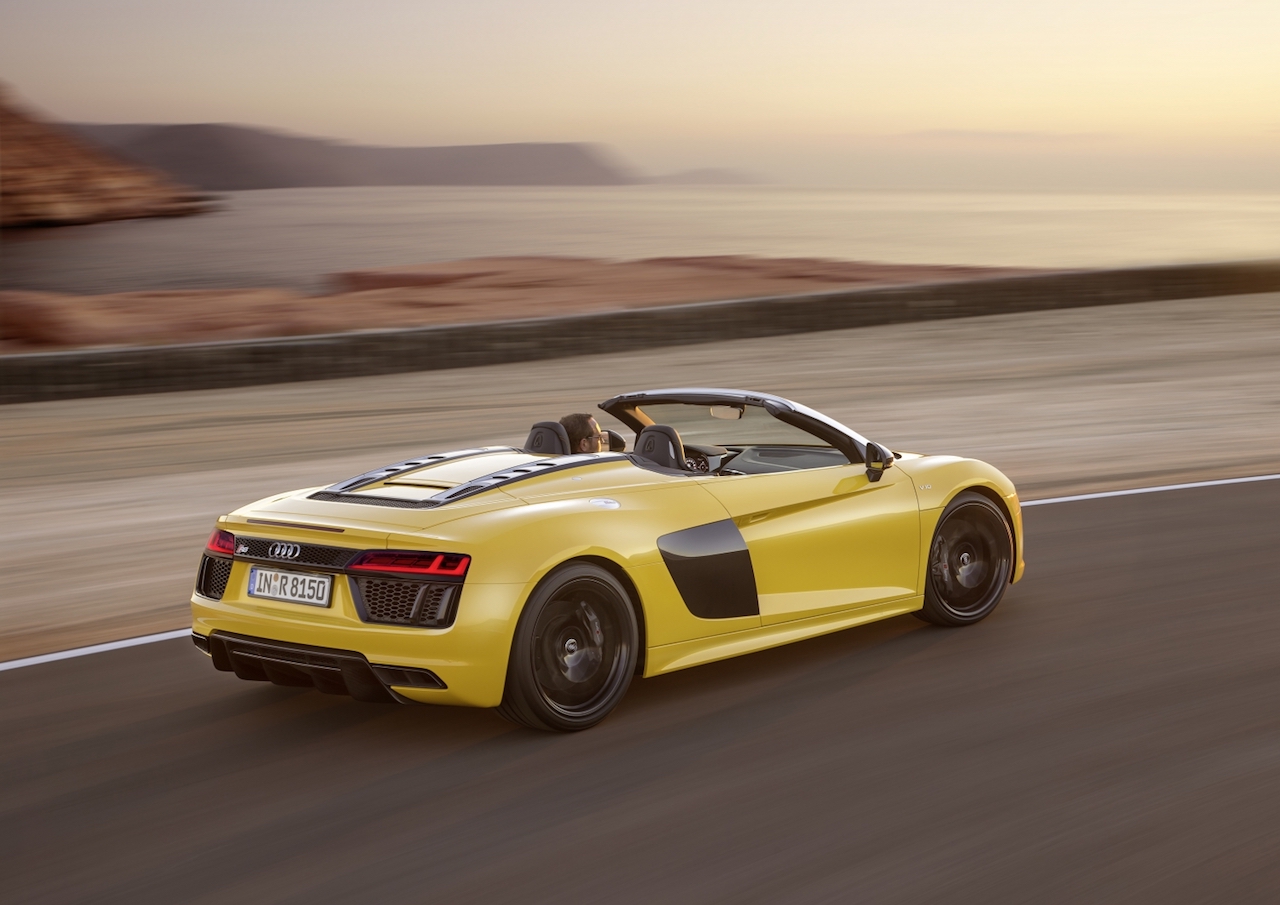 Audi
One can argue that Audi didn't push the envelope, or even much crease it, with the R8's second-generation redesign. That could be an issue for shoppers who want the latest, freshest supercar on their leafy block. Yet the original R8 was a virtual classic-on-arrival, the rare sports car design that earned a global consensus of beauty. To me, Audi's "ain't broke, don't fix it" approach becomes more defensible in that light. 
And you know who really gets the Audi R8? Women. As with an Aston Martin, woman know a classy, elegant sports car when they see it, one that doesn't mark its owner as some macho lout.
The Man (or Woman) on the Street falls hard for Audi R8
So call it the George Clooney of sports cars, but my Ibis White R8 showed no diminishment in its seduction skills: Onlookers wanted to gawk, chat, or both whether the Audi was at rest or on the make. One gentleman in an SUV came right out and said it, while I aimed a GoPro at the Audi in a state park. "Your car made me stop," he said, as though he had no choice in the matter.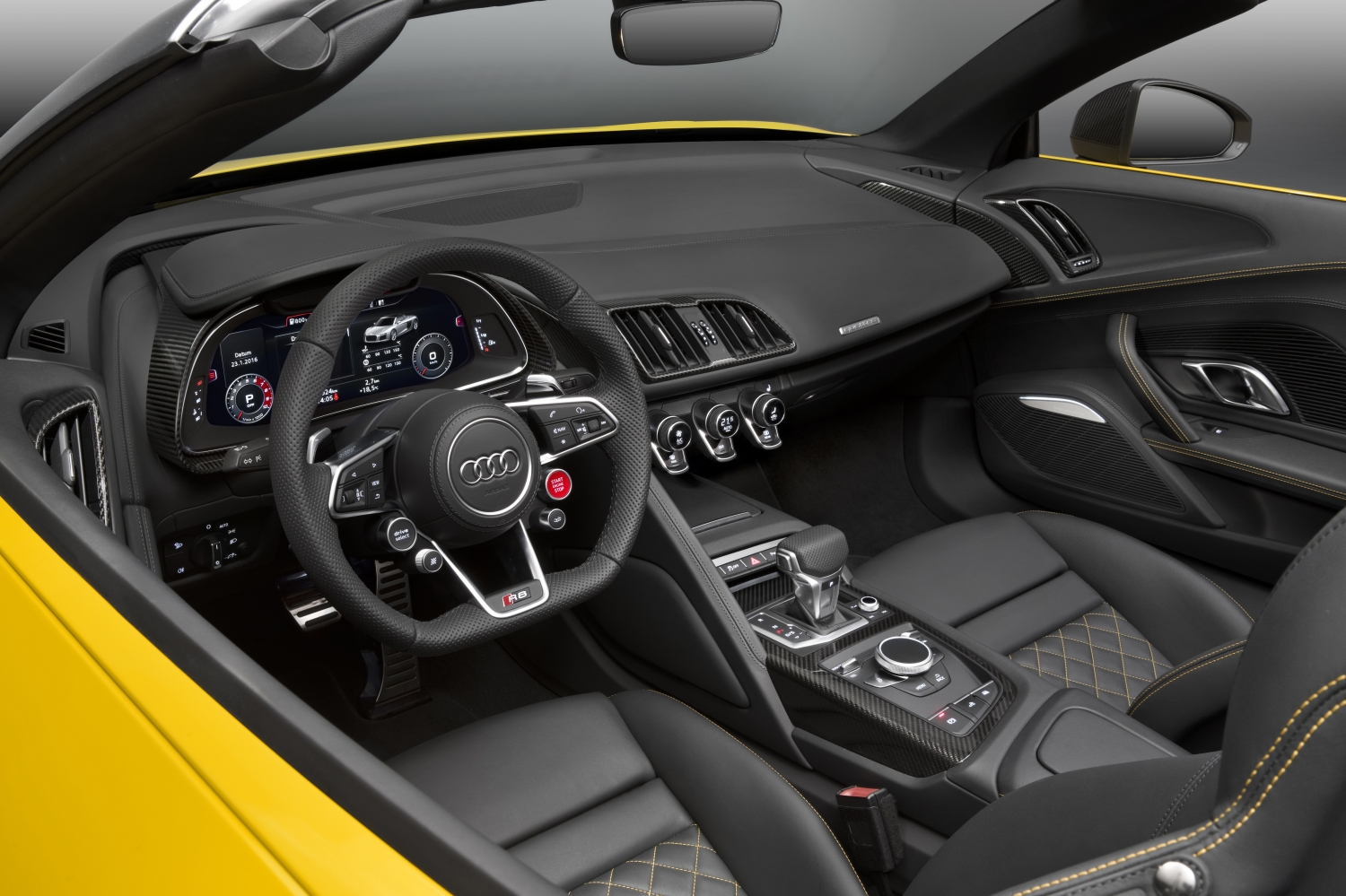 Cabin flaunts diamond-stitched Nappa leather, Google Earth maps and more, Audi
The Audi cabin is well nigh-irresistible as well. And it highlights the R8 (or original Acura NSX, if you prefer) philosophy that nearly every supercar competitor has come to imitate: The R8 looks expensive and exclusive, sure. But in some ways it's a familiar, comfortable, everyday Audi, a car you'd be happy to drive every day, and to service alongside your family Q7. 
Where the Lamborghini dazzles with splashy, Crayola-colored leathers and a more Forza-fantasy approach, the Audi keeps things simple, yet no less luxurious. The R8's interior "monoposto" design element, which resembles the curling rim of a very expensive flying saucer, nods to race cockpits—only clad in fragrant Nappa leather and gleaming metal. A full red diamond-stitched leather interior added welcome spice for a $3,500 pittance. For a more-significant $8,200, a pair of packages
slathered the interior with carbon fiber, along with the side blades and compartments for the engine and convertible top.
Snug fabric top opens or closes in 20 seconds, at speeds up to 31 mph, Audi
Controls are beautiful yet minimal, positively reeking of German engineering. Audi's 12.3-inch Virtual Cockpit driver's display, the Nvidia-powered wonder—including Google Earth satellite maps—remains the gold standard for not just supercars, but any luxury brand. Forward visibility is quite good, worlds better than the blinkered view from inside Benz's AMG GT. This being a mid-engine car, though, rear three-quarter blind spots are still substantial.
Two demerits: surprisingly limited fore-and-aft seat travel, especially for drivers well over six feet tall; and the lack of behind-seat storage, save for one stingy center cubby. Here, the McLaren 570GT and far-pricier 720S have scored a practical coup, with their useful luggage deck atop the mid-mounted engine in addition to the "frunk" ahead of driver and passenger. 
Audi R8 still isn't the sweetest handler in the supercar set
As with the Audi TT, lower-case "quattro" AWD gives the R8 a capital-"A" traction Advantage when weather threatens to sideline other sports cars. The latest quattro system gets an electronic multi-plate clutch that can can grab up to 100 percent of torque for the front axle. Unlike the first-gen car, notorious for fun-sapping understeer near the limit, this new version largely keeps its powerful, AWD Oz behind the curtain where it belongs. The R8 can still take curves at a breakneck pace, aided by gorgeous 19-inch Michelin Pilot Cup tires on five-spoke alloy rims; but the Audi now feels more rear-biased and neutral, and forges a stronger connection between man and machine. 
But if the Ferrari and McLaren 570S earn a 9 out of 10 for pure steering feel, and the AMG GT an 8, the Audi gets only a 7. My feedback is that the R8 still needs more feedback, more of those shivery, finger-and-forearm sensations when you're bombing a back road.
For fans, the Audi's other sensations will make up for any rack-and-pinion deficit. Like a Porsche 911 Turbo, the R8 remains a thinking man's supercar, even as it turns more heads than the Porsche. The Spyder version—its big-dog V-10 howling while turbo rivals are leashed—makes it harder to hear yourself think. In a good way.
 Lawrence Ulrich,The Autance's chief auto critic, is an award-winning auto journalist and former chief auto critic for The New York Times and Detroit Free Press. The Detroit native and Brooklyn gentrifier owns a troubled '93 Mazda RX-7 R1, but may want to give it a good home. Email him at [email protected]