Welcome to Critic's Notebook, a quick and off-the-cuff car review consisting of impressions, jottings, and marginalia regarding whatever The Drive writers happen to be driving. Today's edition: the 2017 Toyota 4Runner TRD Pro.
Cr-r-r-rick-ick-ick-ick-ick. The brakes chattered away as the engine growled to life, and suddenly, we were moving uphill. Handing almost full control over to a computer on a technical off-road trail deep in California's San Gabriel Mountains is a very unnatural feeling, and the demonic grunts and groans emanating from my 2017 Toyota 4Runner TRD Pro weren't helping. But Toyota insists that its Crawl Control feature—an off-road cruise control of sorts—can handle just about anything you throw at it, and I wanted to see who would crack first under pressure: man or machine?
As it turns out, neither. I wish I had a better story for you, but it ends with the 4Runner practically coasting over some deep, offset ruts and crawling its way up the ascent without drama. I won't lie—it felt like cheating. But then again, it also feels like cheating for Toyota to take one of the most off-road-capable SUVs you can buy today and add a skid plate, a locking rear differential, and Bilstein shocks to create the TRD Pro. What else can compete out of the box? Not much.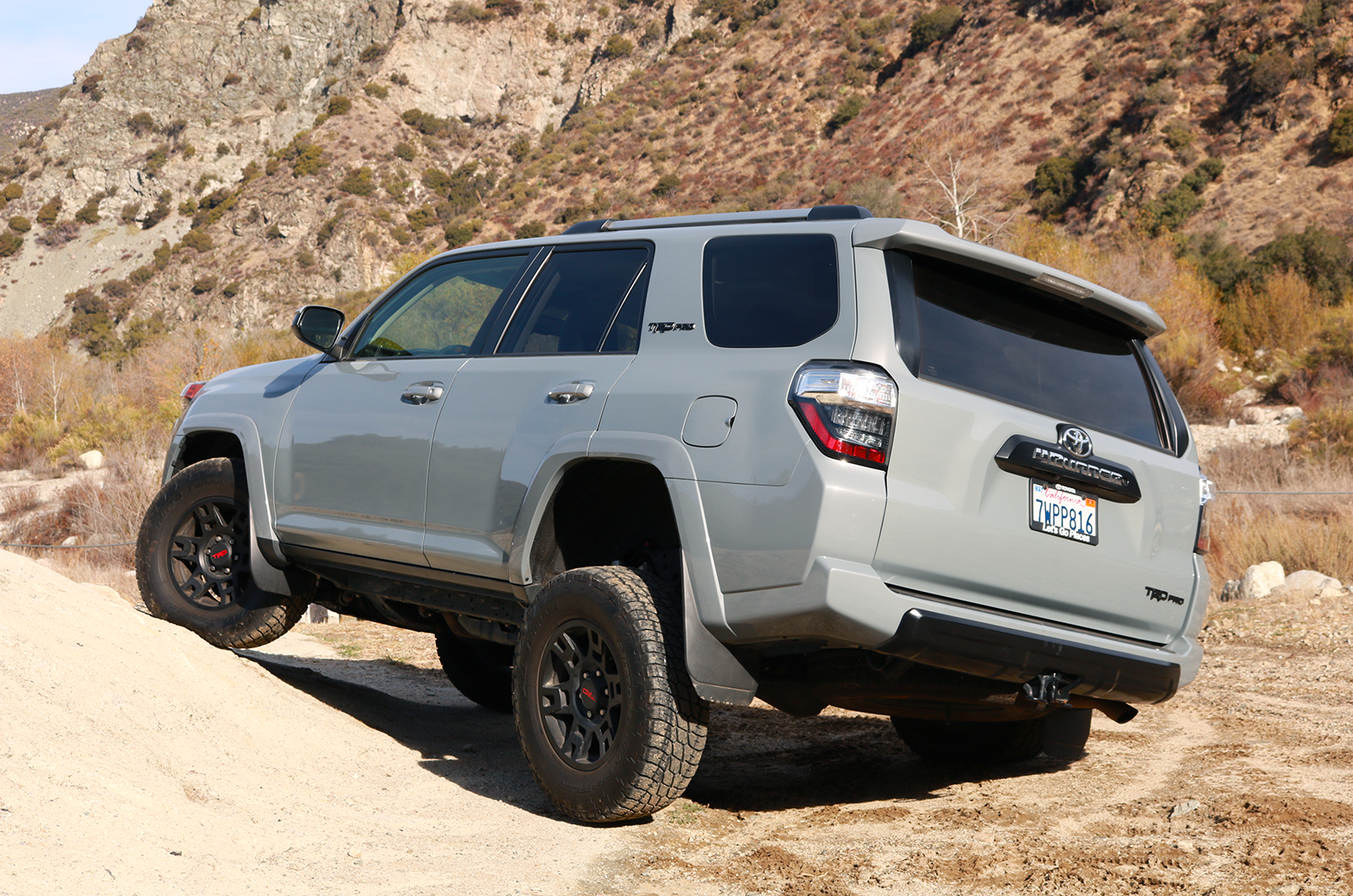 Kyle Cheromcha
They say no man is an island, but the Toyota 4Runner stands almost alone in today's sea of curvaceous crossovers and unibody SUVs that often trend more towards "sport" than "utility." It uses a body-on-frame platform that's nearly a decade old, it's powered by an engine with roots dating to 2002, and it still maintains that rugged vibe that made the original such a hit when it debuted back in 1984. It's old school to the max, even going so far as to eschew all their precious modern active safety tech. Heck, they'd probably ditch the backup camera if it wasn't required by law. 
Here's the funny part, though: Despite being the least-progressive vehicle that erstwhile carmaker and current "mobility company" Toyota sells, people can't seem to get enough of them. We bought a staggering 128,296 4Runners last year in America—a record for the model—and this year's sales are already outpacing 2017. Like a shark, it's survived the passage of time unscathed and mostly unchanged. Evolution? That's for things that haven't figured it out yet.
Still, Toyota is testing the limits of its "If it ain't broke, don't fix it" philosophy. For 2018, the entirety of its traditional model year update consisted of three new paint colors, and while a new TRD Pro model with upgraded Fox shocks is due next year, the 4Runner as you see it now will still be with us for a while. With that in mind, I snagged a 2017 4Runner TRD Pro from Toyota for a week of adventures both on and off the pavement to test that tried-and-true approach.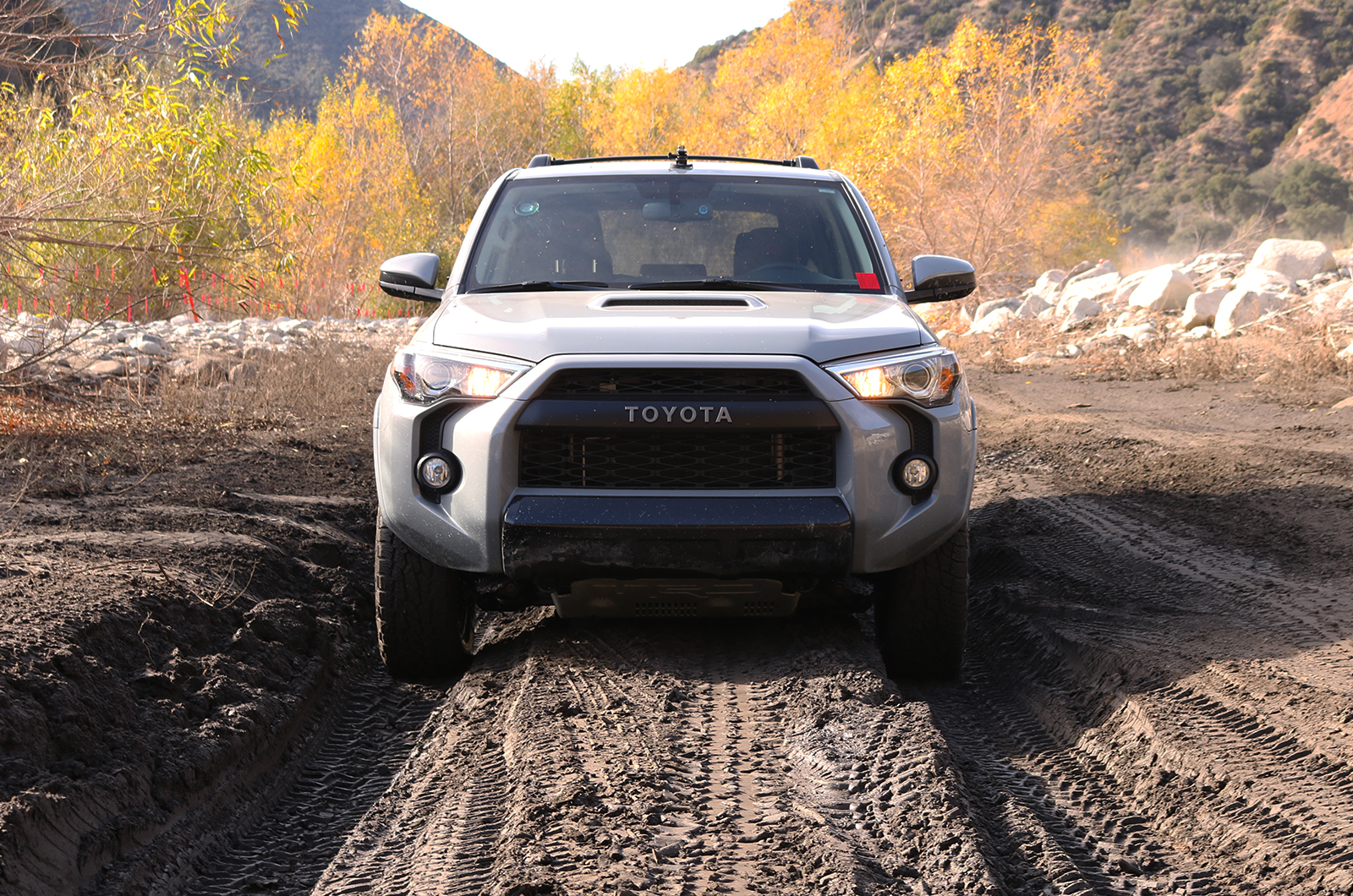 Kyle Cheromcha
The Pros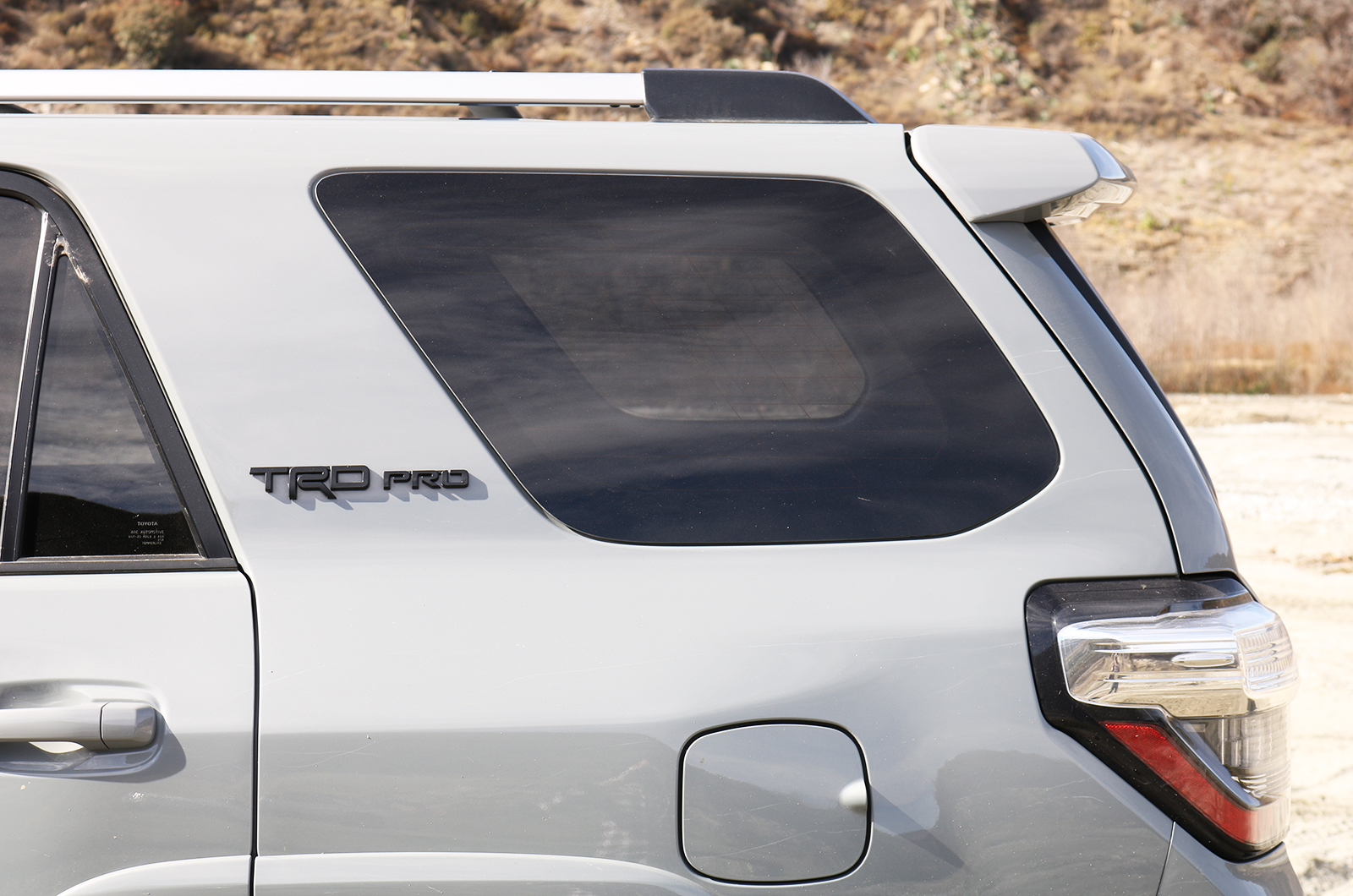 Kyle Cheromcha
The Cons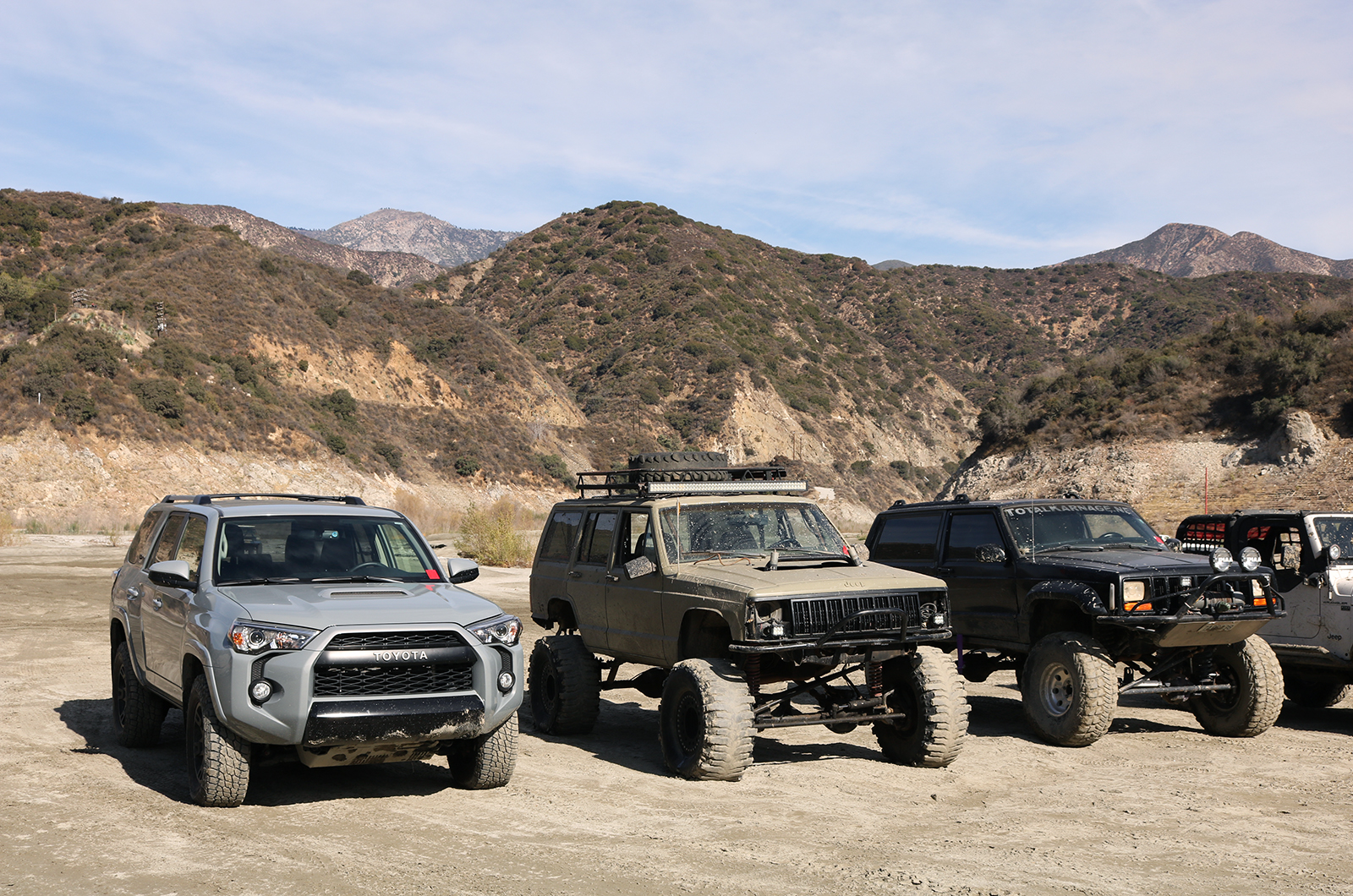 Making friends., Kyle Cheromcha
The 2017 Toyota 4Runner TRD Pro, Ranked
Performance: 4/5
Comfort: 3/5
Luxury: 2/5
Hauling people: 4/5
Hauling stuff: 4/5
Curb appeal: 4/5
"Wow" factor: 4/5
Overall: 4/5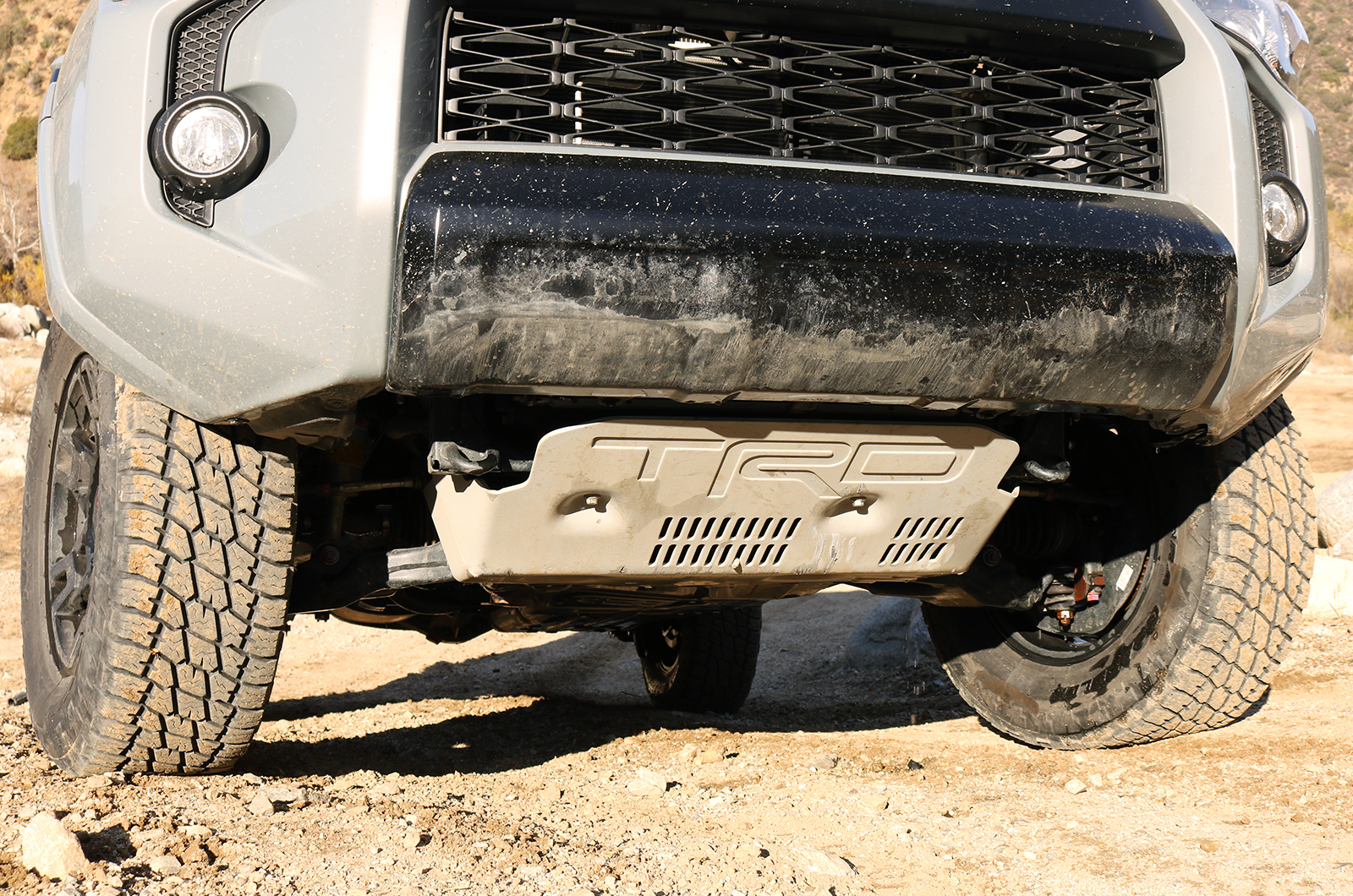 Skid plate did its job., Kyle Cheromcha
The Bottom Line
The Toyota 4Runner TRD Pro sits at an interesting spot in the market. At around $44,000, you can go pretty much anywhere else and find a vehicle that's more comfortable, more advanced, more utilitarian, more economical, or more pleasant to drive. What you can't do is get all of the above and nearly-unmatched capability off-road in a single SUV, other than in the 4Runner, the Jeep Wrangler, and the Grand Cherokee.
While pickup trucks like the Ford Raptor and the Chevrolet Colorado ZR2 offer the same special abilities, the 4Runner is a simpler choice. Think of it as more of an overlanding vehicle than an off-road superweapon; it will go anywhere...within reason. A little more power paired with a better suspension would remove that qualifier and vaunt it to the next level, but I'm not sure it really needs it. Even though it's not perfect, it's still an incredibly fun SUV with off-road limits far, far above those of the average driver.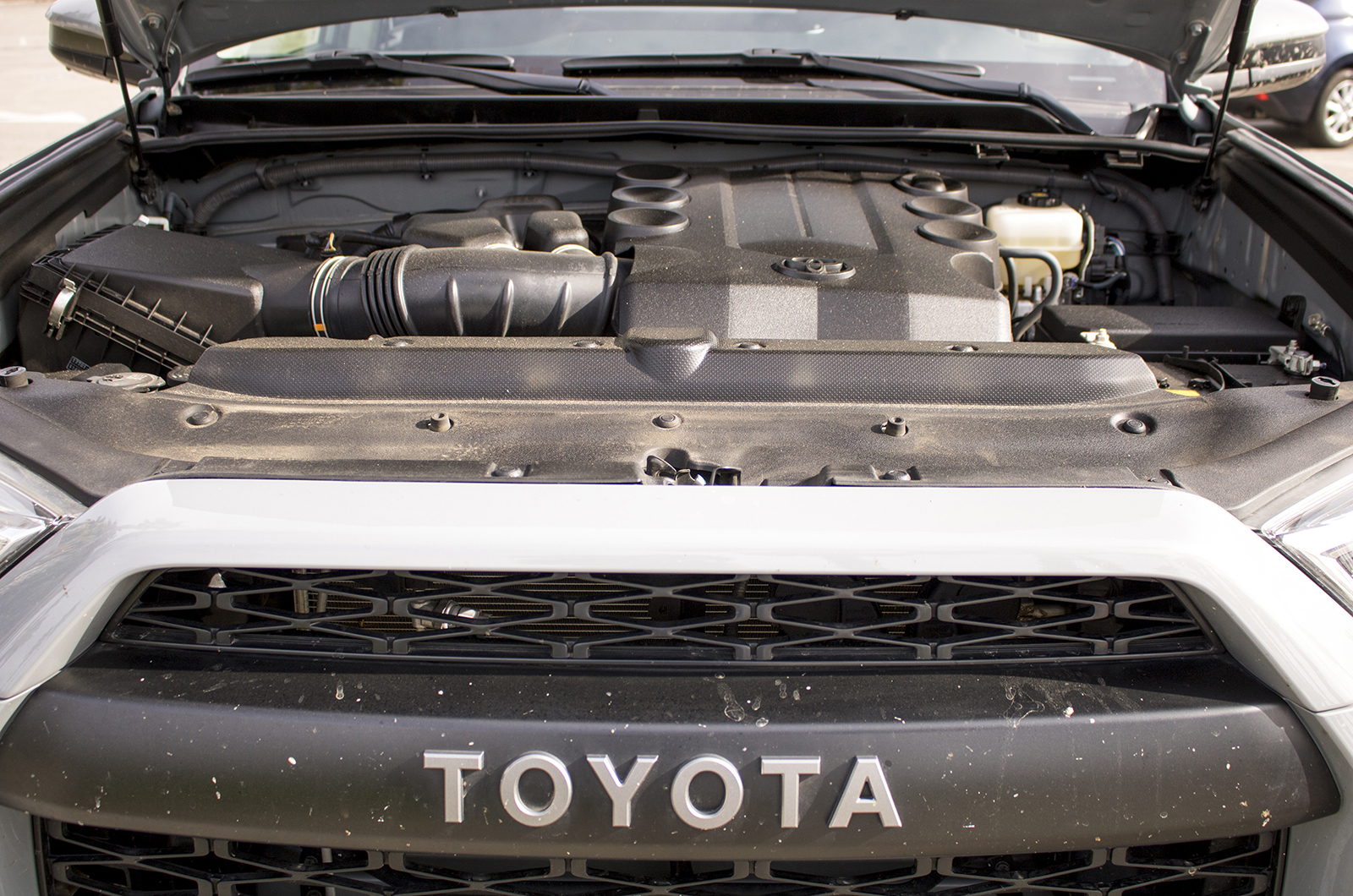 Kyle Cheromcha
And again, it obviously checks all the boxes for a lot of new owners out there, even if some might argue the market is artificially constricted by a tight supply of capable trucks. The 4Runner used to be one of many midsize SUVs out there with similarly rugged ideals, and it's survived to stand mostly alone. Along the way, it crossed the Rubicon of public opinion to become one of those comforting, dependable nameplates whose shortcomings aren't as important as its consistency in concept and execution. Toyota knows what's at stake here.
It certainly helps that they're all manufactured at Toyota's Tahara plant in Japan, which is the most computerized automotive factory in the world and the source of the famously reliable Lexus LS. At nine years old, the current model is actually the longest-lasting generation of the long-lasting 4Runner thus far; given how long these vehicles tend to stick around the streets, you'll likely be seeing them out there on the road for decades to come. Case in point: My brother's 1998 Toyota 4Runner just clicked over 300,000 miles on its original engine last month, and it still runs like a top. If it ain't broke, why fix (or replace) it?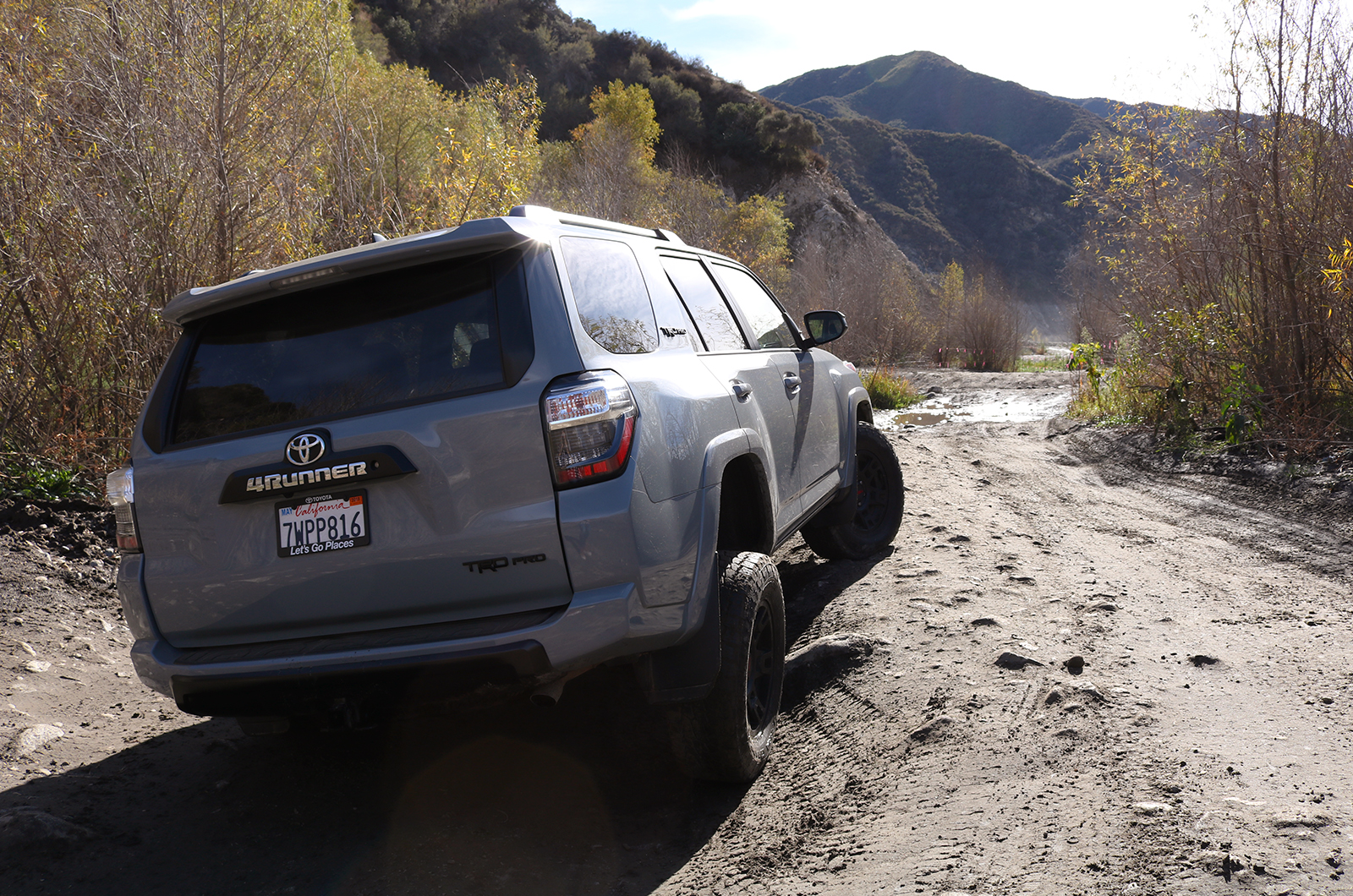 Kyle Cheromcha
The 2017 Toyota 4Runner TRD Pro, By the Numbers
Price (as tested): $42,400 ($43,794 including destination)*
Powertrain: 4.0-liter V6 engine; 270 horsepower, 278 pound feet of torque; five-speed automatic transmission; part-time 4WD with low-range transfer case and an electronically-locking rear differential
Fuel Economy: 17 mpg city/20 highway/18 combined
Approach/Departure Angles: 33 degrees/26 degrees
Ground Clearance: 9.6 inches
Cargo Capacity: 46.3 cubic feet, 88.8 cubic feet with the second row folded
Curb Weight: 4,750 pounds
Number of desert pinstripes acquired after a day of off-roading: 3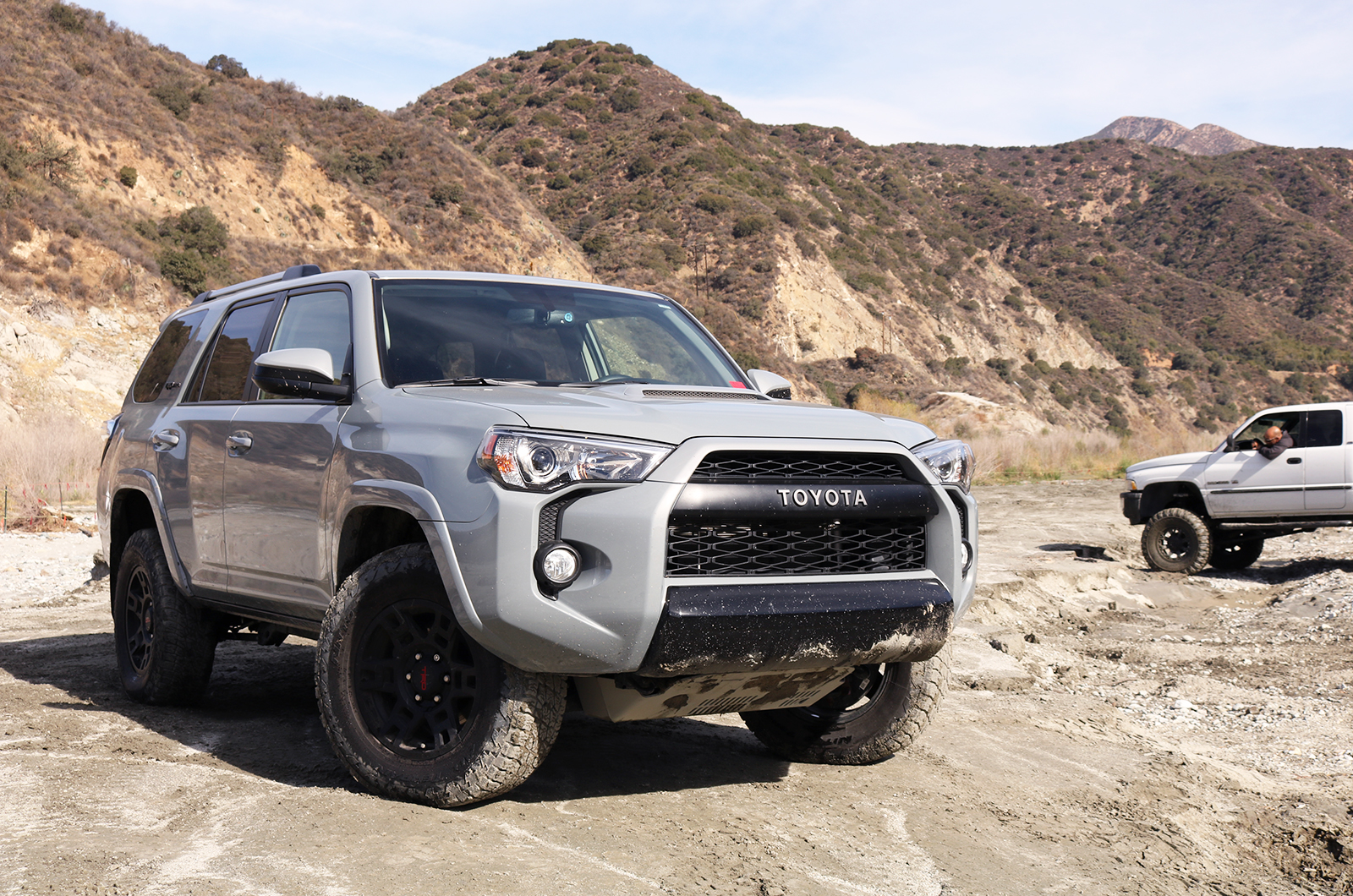 Kyle Cheromcha
*2018 models start at $42,875