If you want to piss off a BMW traditionalist, invite him to Spartanburg, South Carolina. Pull out a lawn chair, hand him a cold Höfbrau from Munich, and let him watch BMW SUVs roll off an American assembly line at a rate of well over 1,000 per day. That includes the third-generation, 2018 X3. BMW's smaller (but not smallest) crossover hails from the Palmetto State, where the BMW Group's largest global factory produced 411,000 X3s, X4s, X5s and X6s in 2016. One in six BMW's sold around the world is built here. 
And if you think that only Americans are cuckoo for SUVs, the Spartanburg facility exports to 140 countries. With one in three BMWs now flaunting an "X" badge, and additional X3 assembly lines coming online in China and South Africa, the global shift to SUVs continues apace.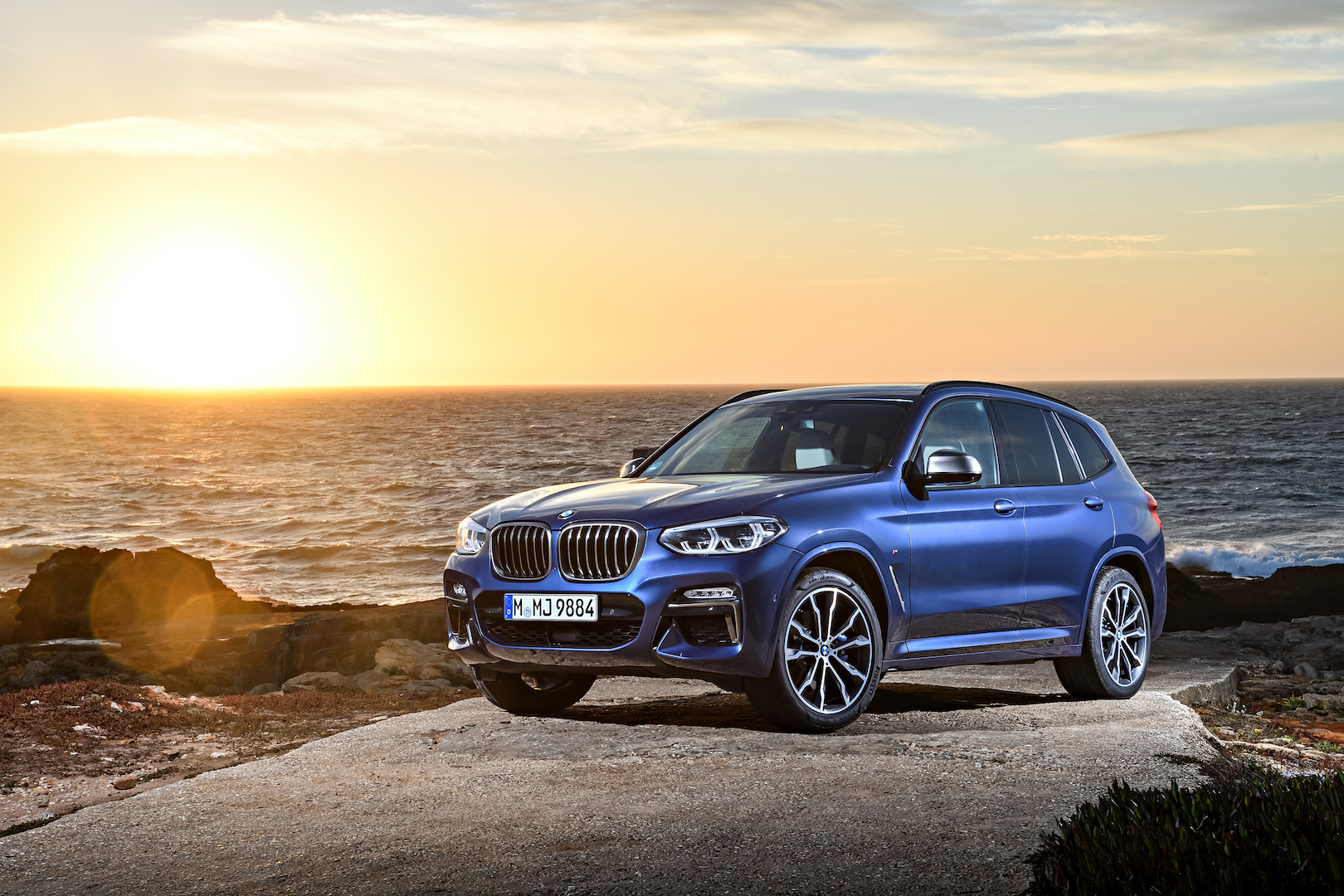 2018 BMW X3, in glittery "Phytonic Blue Metallic" paint, Uwe Fischer
As it takes the baton from the old model, this all-new X3 has some catching up to do with the stronger-selling Audi Q5 and even the upstart Mercedes GLC-Class.  And it mostly delivers the goods, including a modified version of the KLAR architecture that supports the 5 and 7 Series sedans; improved styling and aerodynamics; a less-brittle ride; and a needed infusion of luxury and technology.
Oh, you were wondering about performance? Look no further than the M40i model, the first-ever M Performance edition of the X3. This X3 xDrive M40i adopts the 355-horsepower, 3.0-liter inline six, with a single twin-scroll turbocharger, that shredded my socks off in the coupe-roofed X4 M40i. Yep, it's a barely detuned version of the spectacular engine in the M2 coupe, with 10 fewer horses.
Aimed at a more family-focused audience than the X4 version, the X3 M40i isn't as nakedly aggressive, including a slightly tamer suspension and exhaust note than in the near-Looney Tunes X4. But at a lusty 369 pound-feet, its M-engineered, closed-deck engine makes even more torque—identical to the M2's, and 26 more than the X4 version. Throw in a hyper-efficient, eight-speed automatic transmission, and you might swear, as I did, that there are closer to 400 horses under that rippling hood.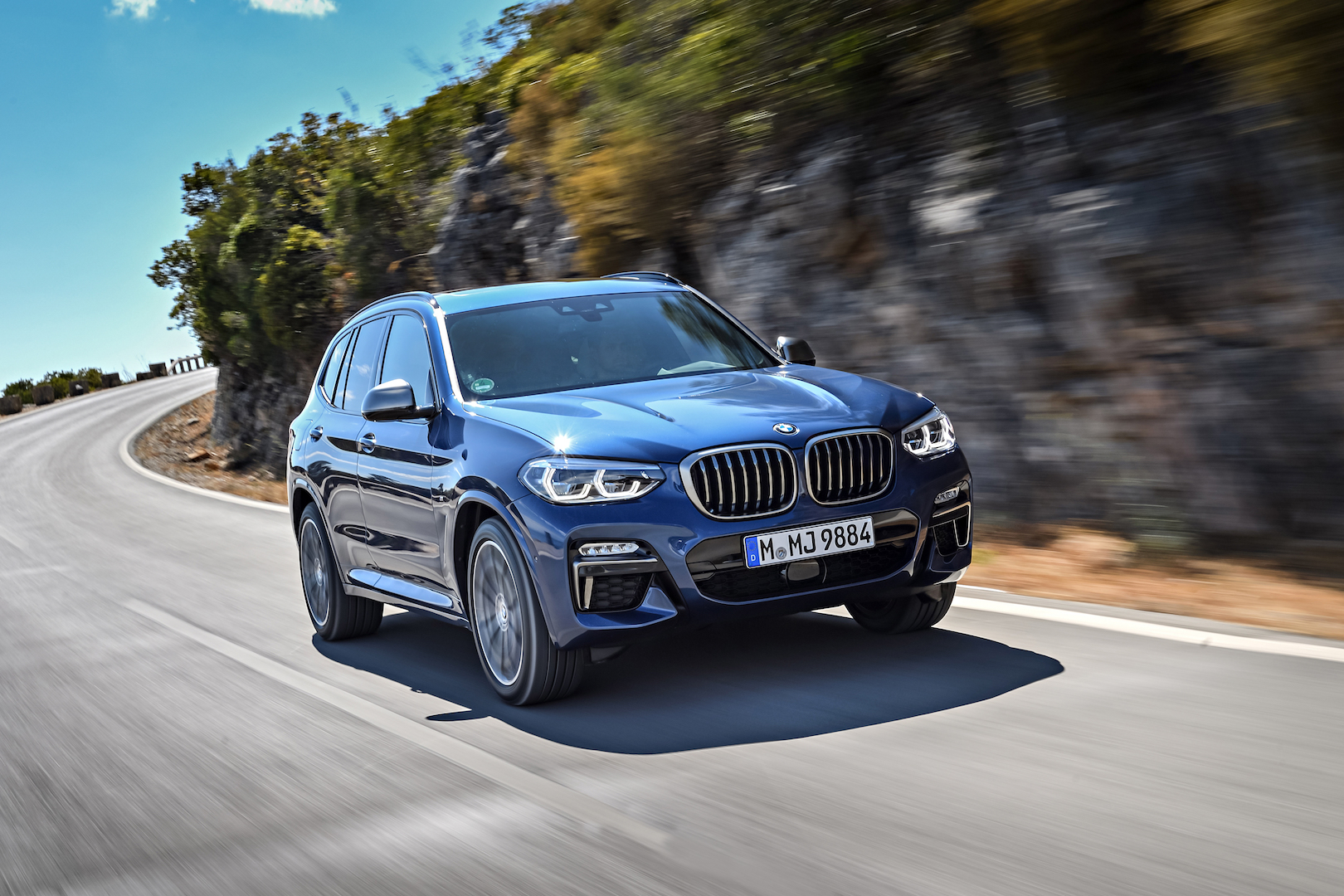 X3 M40i launches to 60 mph in 4.6 seconds, quicker than rivals from Audi, Mercedes-AMG or Jaguar, BMW
This X3 M40i isn't just quick, but downright, damn-the-torpedos fast. Capable, too, as learned when I rocketed the Bimmer north from Manhattan—over the (Harlem) river and through the woods—at a pace that would have done any sport sedan proud. The M40i scorches the 0-60 mile-per-hour run in 4.6 seconds,  which BMW says is quicker than any direct rival, and maxes out at 155 mph. It's a significant half-second faster to 60 mph than Jaguar's F-Pace S, despite the Jag's 380-hp supercharged V6. It pulls the same half-second advantage over Audi's SQ5, whose 3.0-liter turbo V6 generates 354 horses, one fewer than the Bimmer's 3.0-liter. 
These pocket Hercules are closely matched in other regards. The BMW costs $55,295 to start, $70 more than the Audi. But the BMW costs $5,500 less than the Jaguar, and nearly $2,000 less than another popular German choice: Mercedes-AMG's GLC 43, which supplies 362 horsepower from a bi-turbo V6. Despite one extra turbocharger, the Benz also trails the BMW, dispatching 60 mph in 4.8 seconds. In other words, if you're looking for a high-performance BMW at a fair price, the M40i fits the literal bill. Hell, you'll need a 360-hp Porsche Macan GTS to nip the BMW by a mere 0.1 second, and that Porsche is smaller inside and costs about $15,000 more, at $69,950. You might also take a flyer on Alfa Romeo's upcoming, 505-hp Stelvio Quadrifoglio, but that one will likely cost $75,000, minimum.
PTA-sponsored drag racing aside, most buyers will be well and fully served by the X3 xDrive 30i version at $43,445, especially when their calculators show $11,800 in savings versus the M40i. (Be aware that BMW has dropped a rear-drive starter model from the 2018 lineup). That X3 30i makes 248 horsepower and 258 pound-feet of torque, good for 0-60 mph in a zippy 6.0 seconds. Fuel economy is an excellent 22/29 miles per gallon in city and highway, two mpg better on both counts than the M40i. Next year brings a diesel-powered X3 xDrive 30d, with 261 horsepower, a fat 457 pound-feet of torque, and even better mileage, with a combined EPA mpg rating of about 30 mpg. I'm looking forward to driving that diesel X3, and seeing how far I can romp on a tank.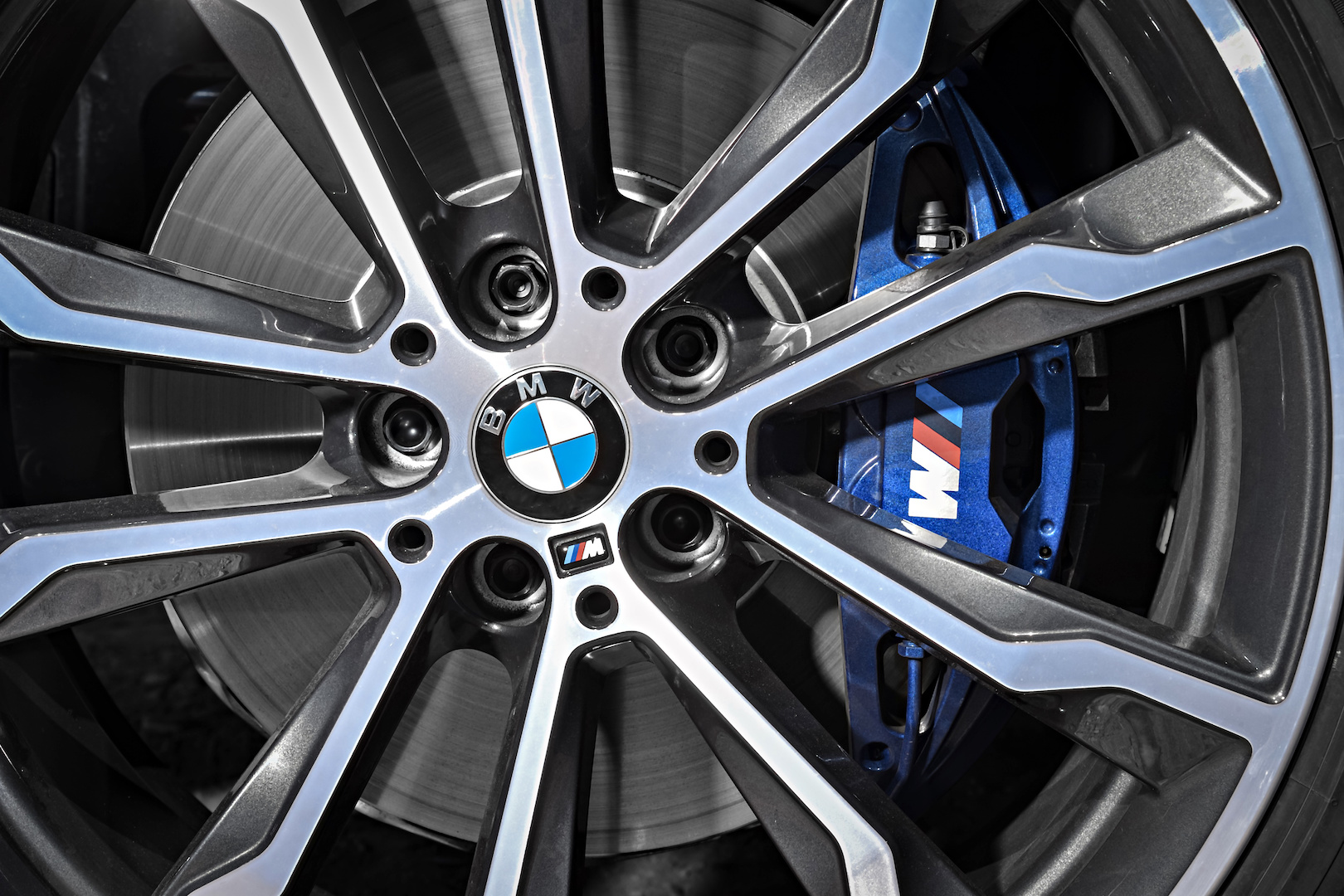 M40i gets upsized brakes with four-piston front calipers, here with 20-inch M alloy wheels, BMW
Every X3 enjoys a new chassis and body, including a 2.2-inch wheelbase stretch that's mostly given to back-seat space. The exterior redesign is subtle-yet-effective. This X3 looks more squat and purposeful, as much like a pumped-up hatchback as a traditional SUV. I like that the X3 looks streamlined and sporty, but is still recognizably a utility vehicle: It's not trying too hard to look all boy-racer. My M40i's lovely, 20-inch M alloy wheels (at $950) enhanced the bad-ass effect without unduly harshing the ride, though the available 21-inch alloys ($1,900) might be a different story. "Phytonic Blue" paint, for $550, is a hot new shade.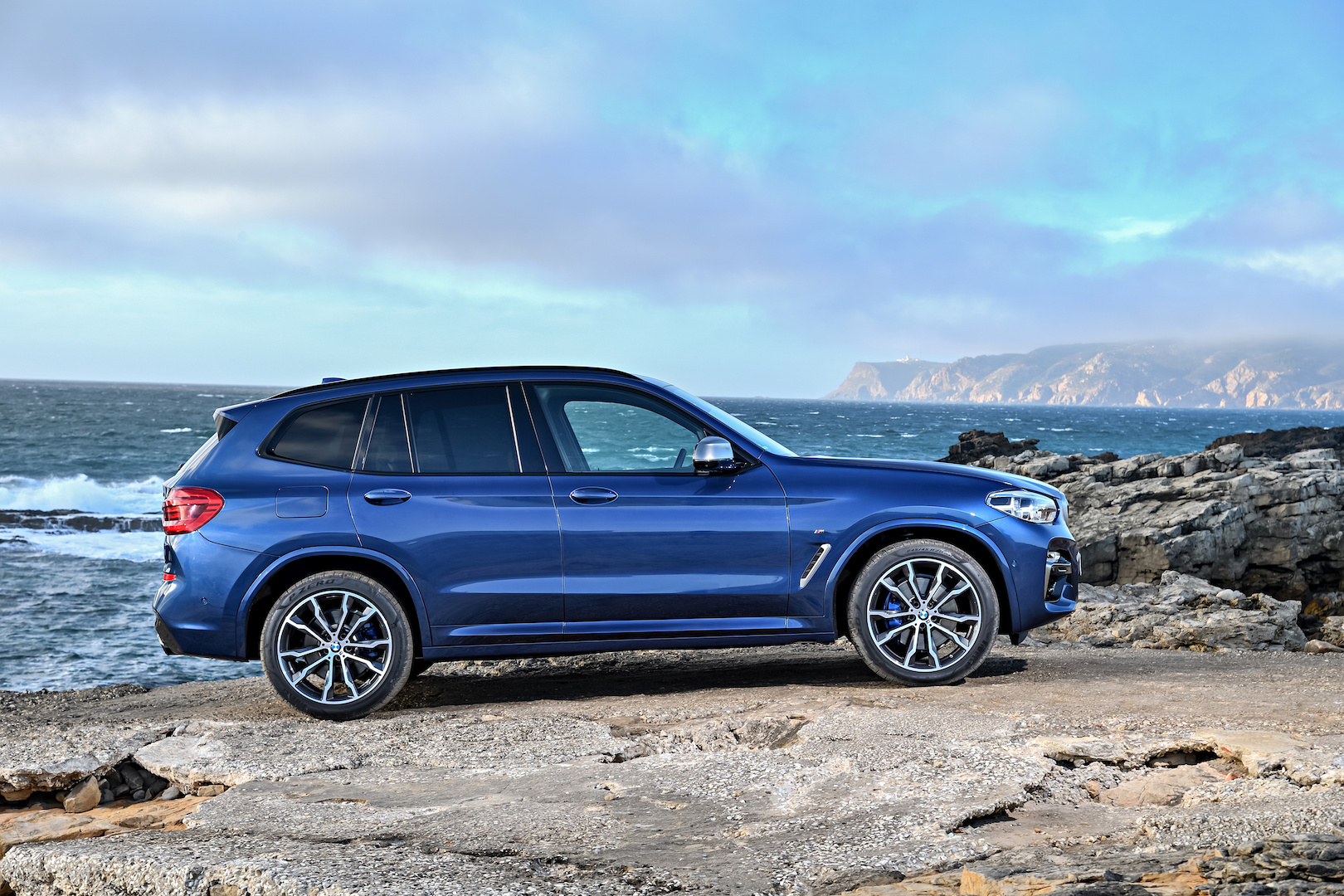 From the right angles, X3 looks as much tall hatchback as SUV. Handsome, too. , BMW
The M40i treatment continues with enlarged front air intakes, side skirts, chunkier fascias and "cerium gray metallic" bits. BMW cites a perfect 50:50 weight distribution between front and rear axles, and various elements—a nicely executed Hofmeister kink at the rear windows, the ultra-short front overhang—visually amplify that balance. BMW's new, corporate "three-dimensional" kidney grille looks sharp and correctly proportioned. That grille no longer joins up with the headlamps, which enhances its deep-dish effect.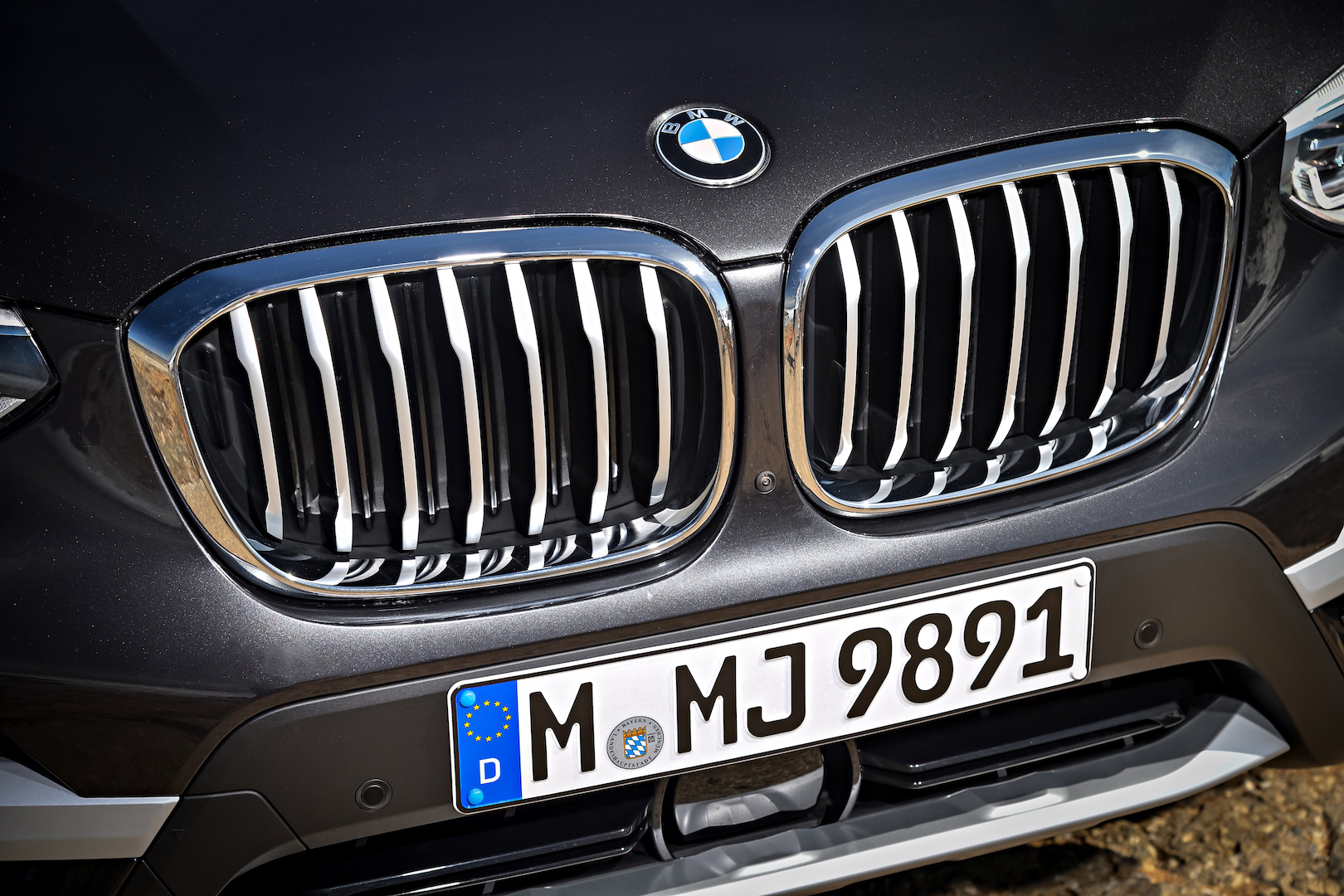 Not too big, not too small: New "three-dimensional" twin-kidney grille is tastefully done, BMW
The X3 interior gets its share of attention, including upgraded materials that would look at home in a 5 Series or other pricier BMW. The new cabin is bolder and less monochrome, with large swaths of geometric trim (in a choice of three woods or two aluminum treatments), ambient lighting and quality leathers, including the Cognac Vernasca version in my test car. Front or back, the seats are outstanding.
A striking 12.3-inch digital instrument cluster, part of a $2,550 executive package, reconfigures as you toggle through driving modes. The iDrive 6.0 infotainment and navigation system is solid, and can be controlled via a rotary console knob, the steering wheel, the 10.2-inch touchscreen, or a new, cloud-based Intelligent Voice Control. I didn't get to goof with it, but BMW claims it allows drivers to voice commands in natural, everyday language. Other optional goodies include wireless phone charging, wifi, and Apple Car Play; a panoramic sunroof that's 9.8 inches longer; and ventilated seats up front. BMW's outstanding head-up display, with its 75-percent larger viewing area, was on board my tester as part of a $2,950 premium package.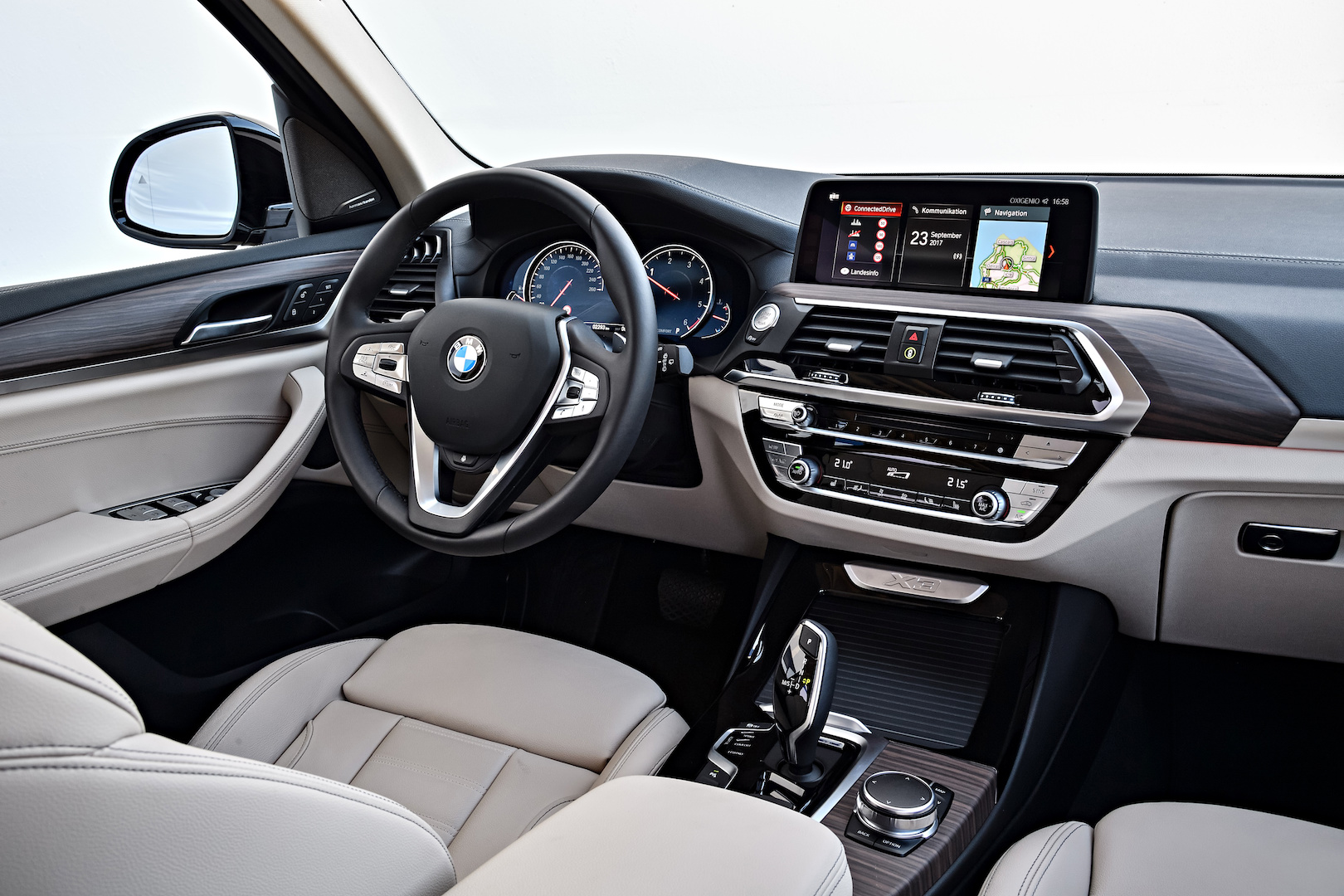 X3 interior now a better place to be, here with Oyster leather and matte wood, BMW
For all that, the cabin designs in both the Audi Q5 and Mercedes GLC strike me as more cohesive and contemporary: As I've complained before, there's a feeling of over-familiarity in too many BMW interiors, an adherence to long-running design themes that would benefit from a fresh eye and approach. Still, shoppers who don't hop from new BMW to BMW (like us jaded journalists) shouldn't feel gypped in any way.
That includes practicality, and off-road chops that would surprise even many owners: A smartly engineered AWD system, Hill Descent Control, eight inches of ground clearance, and the ability to wade through 20-inch-deep water. And like a Bubba von Bavaria, the X3 is BMW's first SUV to offer a trailer hitch, capable of towing a maximum 4,400 pounds.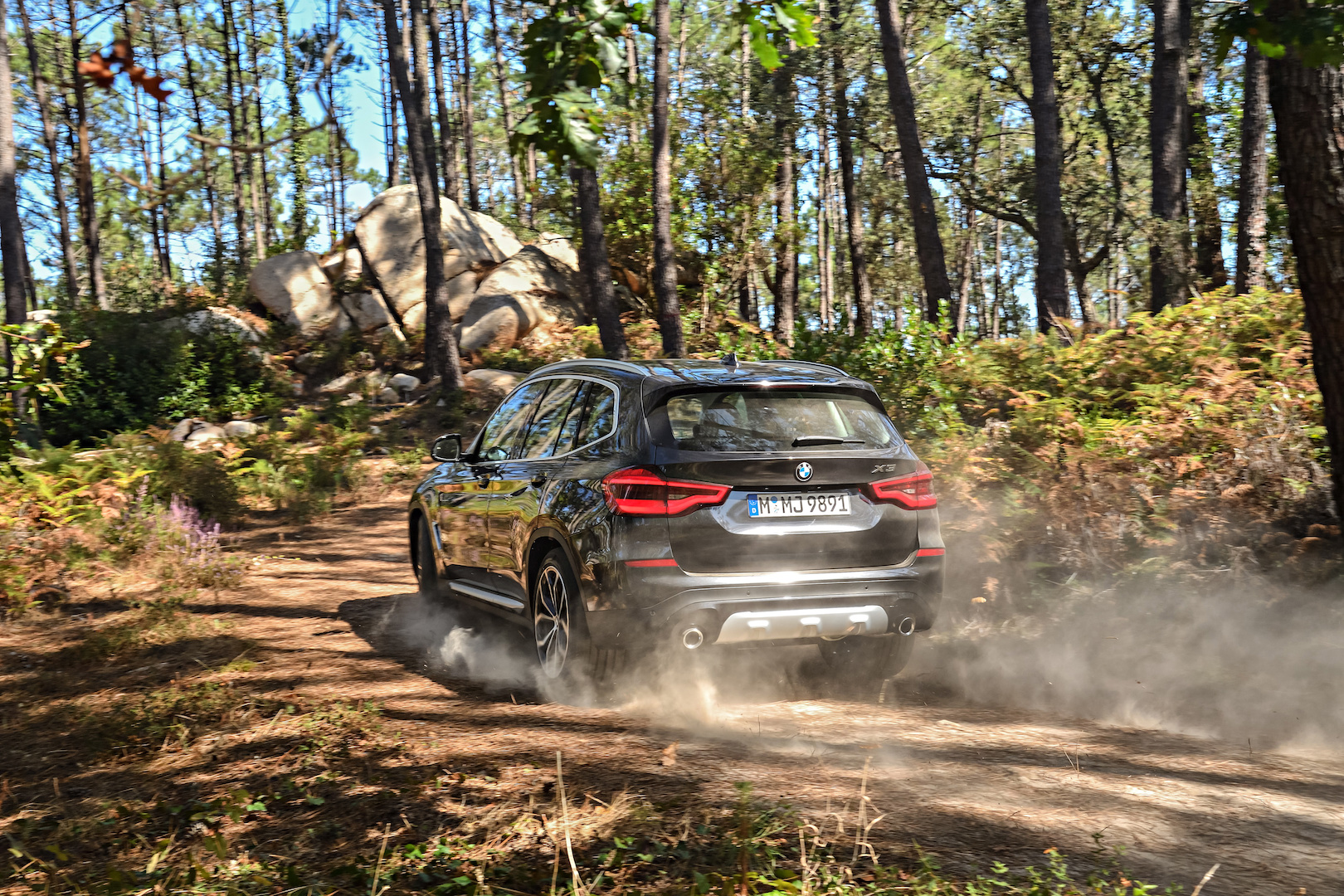 X3 can travel off the beaten path, even if you'd hate to get it dirty, BMW
As for space efficiency, the wagon vs. SUV debate is settled science, and it's a big reason—in addition to a higher driving perch and ease of ingress and egress—why Americans prefer SUV's by a runaway margin. Even Europeans are now fleeing wagons in favor of crossover SUVs that pack more useable space into a smaller exterior footprint. To wit: The X3 can swallow nearly 29 cubic feet of cargo behind its second row. That's 60 percent more than a BMW 3 Series wagon, nearly 50 percent more than a Volvo V90 wagon, and 30 percent beyond the roomy, Euro-market BMW 5 Series wagon—despite the Volvo and 5 Series being about 8.5 inches longer than the X3.  
Fold the rear seats, and the X3's 62.7 cubic feet of cargo space easily tops the Volvo's 54 cubic feet, and sneaks past the 5 Series wagon's 60 cubes. Those rear seats, with a 40/20/40 split, now recline in individual sections, and can be released and folded via a manual switch in the cargo area.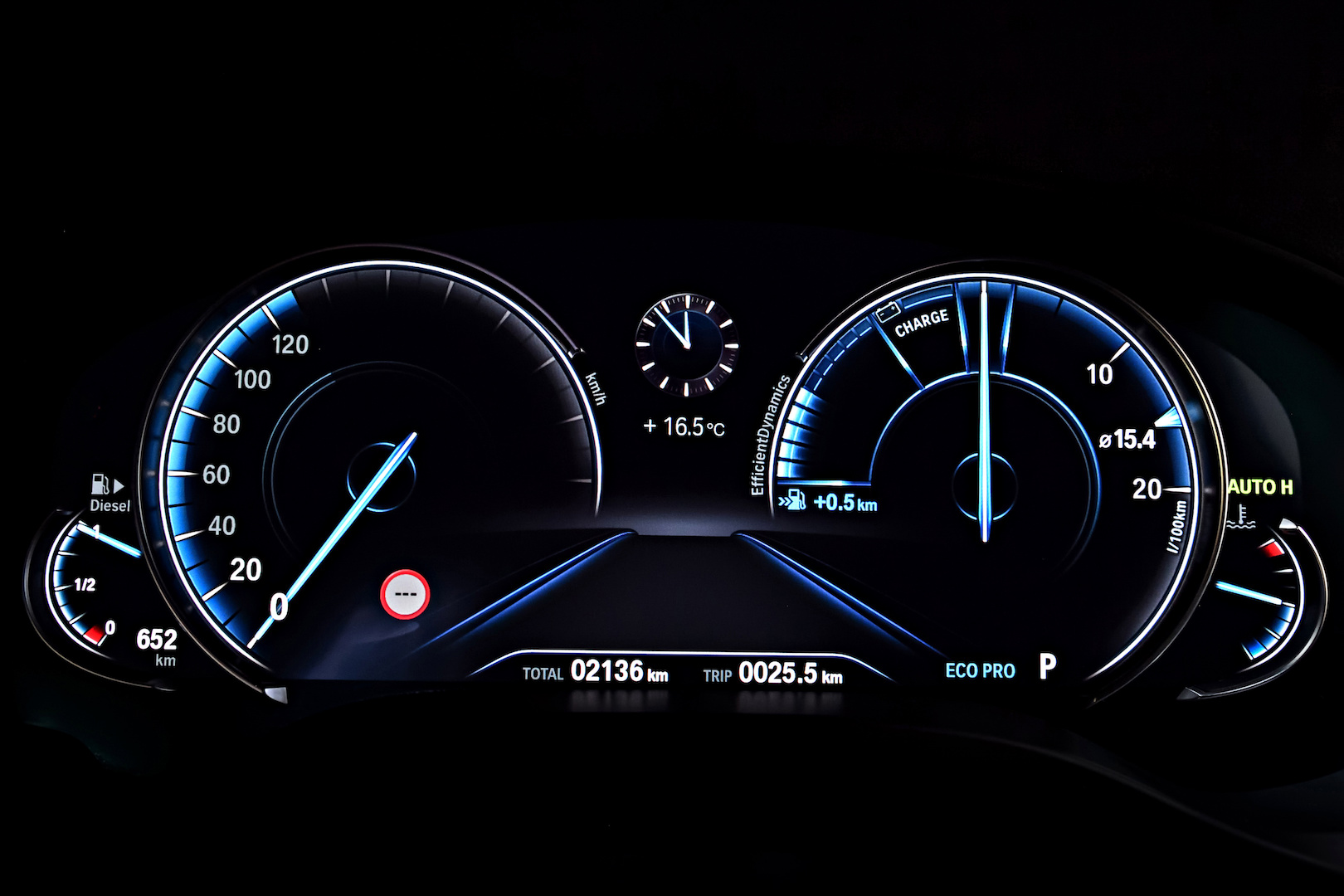 Reconfigurable digital gauges are a striking option, BMW
Now, I myself prefer strafing roads from the lowest possible altitude, and the Mercedes-AMG E63 S estate remains a wagon lover's dream car. But BMW's best SUVs, along with rivals from Porsche, Audi, Jaguar, Alfa Romeo, and even Jeep, prove that a raised stance is no longer an impediment to rocking performance. 
The X3 feels plenty quick with a 248-hp turbo four, so you can imagine what it's like with another 115 horses and 50-percent more displacement from a 3.0-liter six. "Glorious" about sums this engine up. Versus the previous-gen, six-cylinder X3 35i, the M40i's torque jumps by a healthy 23 percent, with 69 additional pound-feet. That torque emanates from a deeper well than the Mariana Trench, its peak holding steady from 1,520 to 4,800 rpm.
On the handling front, X3 engineers reduced critical unsprung mass with lightened, tubular anti-roll bars and aluminum swivel bearings. Front wheel geometry and axle kinematics are revised to boost straight-line stability and handling. The xDrive AWD system gets a stronger dose of rear bias. Card-carrying BMW enthusiasts should throw in a piddling $700 for the M Adaptive Suspension, which offers the firmest selectable setting of any X3. Overall, the rocky ride that plagued earlier X3's has been soothed, though not to the level of creampuffs like the Mercedes GLC-Class.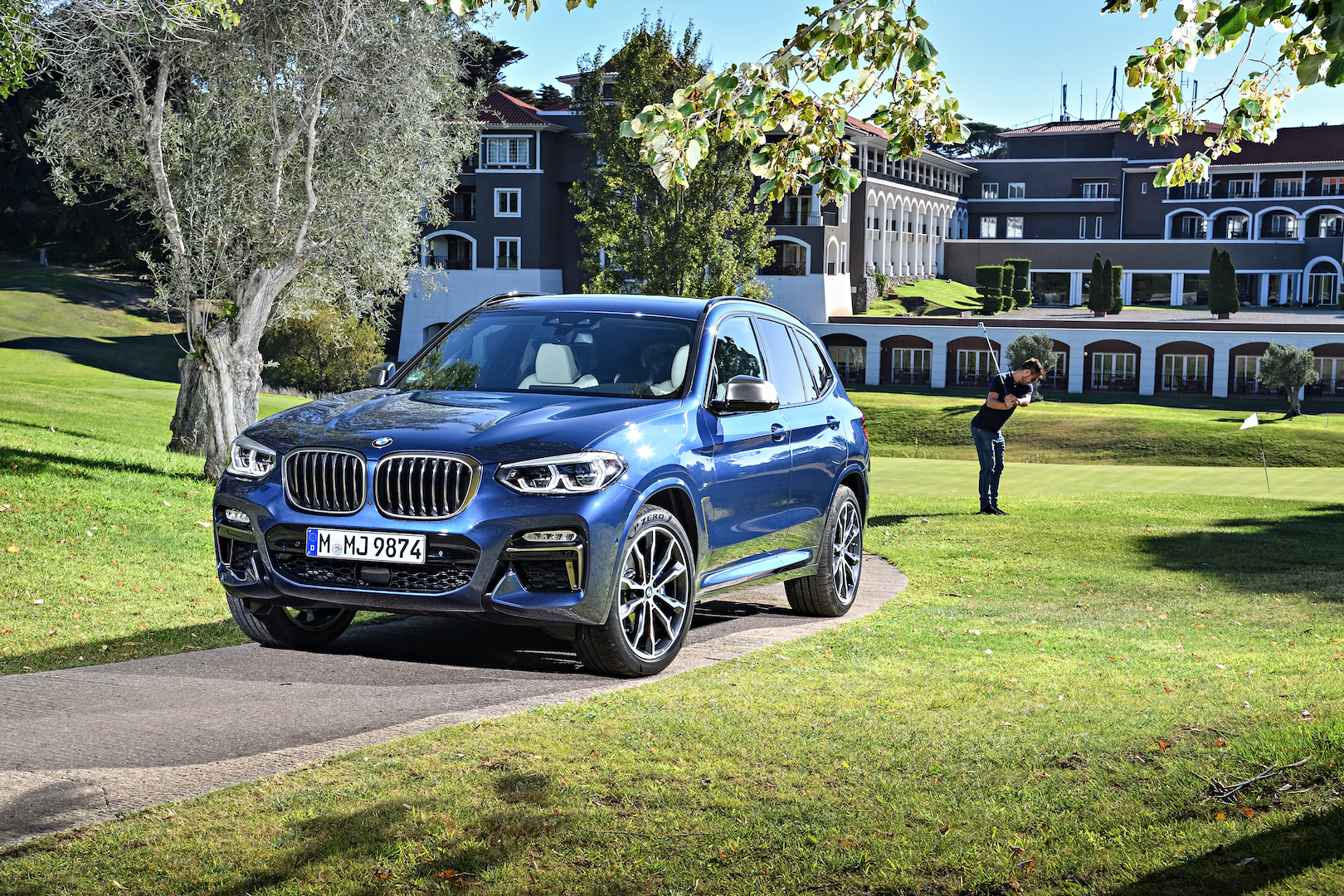 Just write your own punch line. , BMW
New electric power steering offers optional Variable Sport Steering (standard on the M40i), with a quicker ratio over roughly the first 90 degrees of steering angle. The system reduces the steering's turn from lock-to-lock—from hard a-port to hard a-starboard—by 25 percent, which lets the BMW dive-bomb corners like a sports car wearing platform heels. One gripe: The steering felt a bit too chunky and effortful at times, especially when I was maneuvering through snarled city streets. 
As in other new Bimmers, shutting off the X3's assorted safety nannies requires holding down a dashboard button for three seconds, every damn time you start the car. No complaints with the M40i's powerful, upsized brakes (including four-piston calipers and 13.7-inch rotors) up front) or the brilliant eight-speed, paddle-shifted automatic transmission, which adds a Launch Control function for moon-shot thrills.
A Sport Plus mode is also unique to the M40i, in addition to the Eco Pro, Comfort, Sport (and available Adaptive) settings of the X3 30i. Its spring rates are five percent stiffer up front, eight percent rear. With all Sport Plus systems go, this M40i rocked the rain-soaked countryside north of New York with the aggression and driver engagement that's been lacking in some BMW sedans in recent years. The body stays dead flat, the engine barks, the tires bite. And this driver said, "Woo hoo."  
It's a new level of power and performance for the X3, even as its luxury and practicality —making it that much easier to sell to a spouse or significant other who might say "Not on your life" to your honeyed pitch for, say, a Porsche or Jaguar SUV. Just go easy on the gas when you take your partner for a test drive, or you might blow your cover.
Lawrence Ulrich,The Autance's chief auto critic, is an award-winning auto journalist and former chief auto critic for The New York Times and Detroit Free Press. The Detroit native and Brooklyn gentrifier owns a troubled '93 Mazda RX-7 R1, but may want to give it a good home. Email him at [email protected].