Welcome to Critic's Notebook, a quick and off-the-cuff car review consisting of impressions, jottings, and marginalia regarding whatever The Drive writers happen to be driving. Today's edition: the 2018 Lexus LC 500.
They never make concept cars. It's right there in the name: concept. These phantasms of the future are built to showcase ideas, to get people excited, to hint at trends and techniques to come. They are explicitly not built to deal with the more mundane realities of existence, things like safety standards and production abilities and actual usability. After all, it's just a dream.
At least, it was, until we went all Peter Pan on Lexus and dreamed so damn hard about the stunning LF-LC concept car of 2012 that six years later, you can buy the 2018 Lexus LC 500—A luxurious, $100,000 grand touring coupe that looks virtually identical to its dog-and-pony show predecessor. Don't believe me? Take it from Toyota president Akio Toyoda himself. "We had no intention of turning it into a production car. But your positive reaction, as well as the reaction of our customers, changed our minds. We listened, and we made it real," he said at the car's official unveiling.
The Lexus LC 500 is indeed very real, and so very, very good. And its unbroken lineage may only be the second most interesting thing about it, because that hero-car-in-a-science-fiction-movie exterior hides a roaring naturally-aspirated V8 engine and rides on the company's new GA-L rear-wheel-drive platform. That's right, not only did Lexus build a ridiculously cool concept car, but it made a grand touring coupe with some of the most old-school underpinnings around. The sumptuous interior rivals anything from the European kings of the luxury game, while the fat, rumbling exhaust note is unlike anything that's come out of a Lexus tailpipe before—save for the LFA, of course. This must be what it means to not be boring anymore.
It's almost unbelievable that this is from the same company often derided for its middle-management snoozemobiles. And therein lies the rub: Ultimately, the LC 500 will be judged on whether it can help Lexus crack into the upper echelons of the luxury market. The stakes are considerably higher at that magic six-figure price point, where discerning buyers have different expectations of both the car and the brand behind it. In isolation, in the dreamy haze of conception, the car is a stratospheric home run. But to see just where it lands, The Drive borrowed a 2018 Lexus LC 500 for a week of fun in the Southern California sun.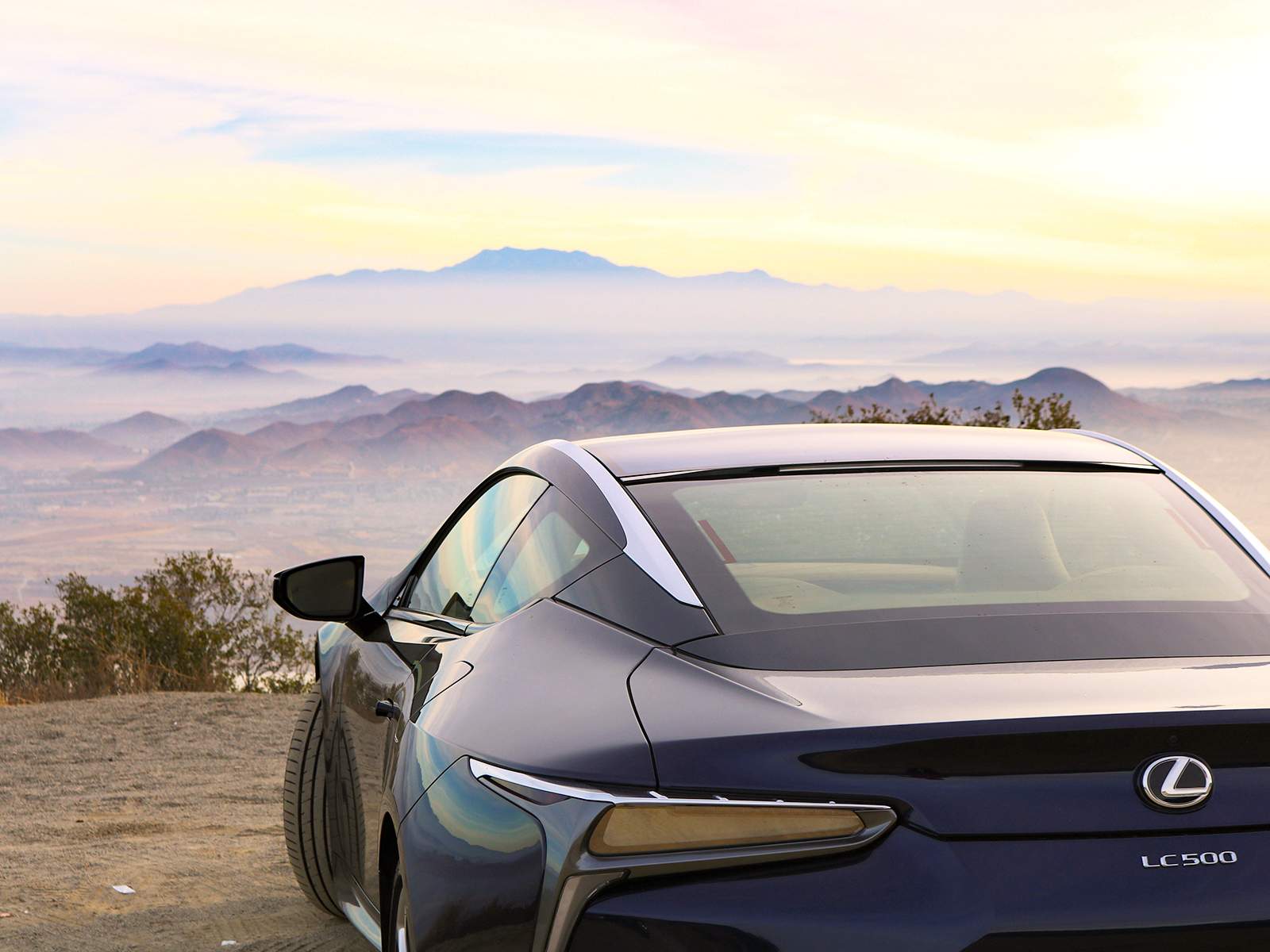 Kyle Cheromcha
The Pros
It boggles the mind how the much-maligned spindle grille can look so ghastly on the Lexus LX and so sublime here on the LC. Then again, that's what happens when you develop a car within a design language, rather than undertake a risky face transplant that has about the same failure rate in humans as it does cars. I digress. There are so many standout features on the LC 500's modern art museum of a body that it's hard to know where to start. The hood is low, long, wide; in profile, its graceful lines soar up and over a perfectly proportioned cabin. From an angle, the car's tapered midsection and aggressively-flared rear end really pop. Then there are the little touches, like the flush door handles, the infinity-mirror taillights, and the handsomely understated "LC 500" badge out back. The whole thing is totally outlandish, yet unimpeachably classy.
Whatever performance edge you lose by eschewing forced induction is immediately offset by the joy of having a giant, naturally-aspirated V8 engine at the beck and call of your right foot. The DOHC 32-valve mill puts out 471 horsepower and 398 pound-feet of torque, and while those numbers aren't going to win an arms race, what's far more important here is the sound and feeling it produces. Push it up to the 7,200 rpm redline—ideally in Sport+ mode, with the exhaust fully unleashed—and you're rewarded with a roaring sound that can send small children scurrying in fear, then running back in delight for another round. It's slightly less manic than an AMG exhaust, but only by a hair. And remember, this is a Lexus we're talking about. Without any silly turbos getting in the way, the free-breathing engine accelerates through its 10-speed transmission with a linear, sometimes violent efficiency.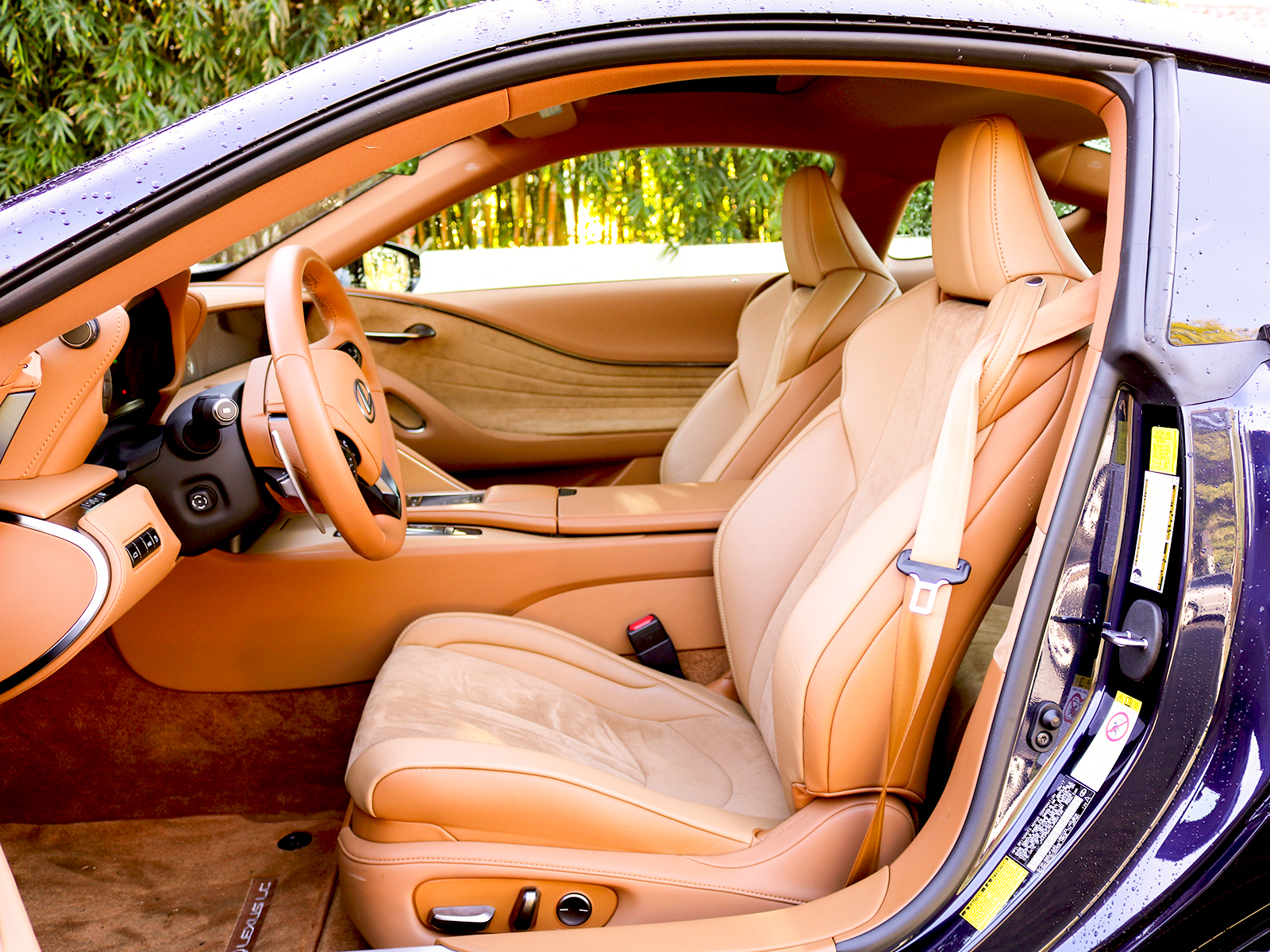 Kyle Cheromcha
If there's one thing Lexuses (Lexii?) are known for, it's comfortable cabins, but the LC kicks it up a notch by offering one of the coolest 2+2 interiors on sale today. Step inside and you're instantly enveloped in waves of rich, buttery leather and ripples of Alcantara that give the space a futuristic, swept-back vibe; however, Lexus wisely anchored the whole motif around a dash with plenty of clean, straight lines that provide order and structure to the proceedings. If there's one place the LC 500 feels like a bargain at $100,000, it's the interior. Everything feels special, from the solid aluminum switchgear, to the featherweight magnesium paddle shifters, to the way the tachometer physically slides across the gauge cluster to reveal more on-screen menus. Also, any car that has twin "oh shit" grab handles for the passenger gets extra credit in my book.
Despite its exotic demeanor, the LC 500 is surprisingly usable in both everyday driving and on an eponymous grand tour. It's not as demanding as a Jaguar F-Type, not as high-strung as an Aston Martin, and not as big as a Mercedes-Benz S-Class coupe. At low speeds, especially in Comfort mode, and it's almost possible to forget there are eight cylinders exploding a few feet in front of you, and the adaptive dampers keep your spine intact over bumps. Its relatively generous ground clearance means that delicate (and expensive) mesh grille will clear most slanted driveways without trouble. 
Simultaneously, few cars will ever make you think less about a casual five-hour jaunt for fish tacos in San Diego. The LC 500's incredible interior, sonorous engine, and sweeping driving dynamics all combine for one of the best grand touring experiences on sale today. An extremely low center of gravity helps boost its lively handling even further, while its beefy brakes are more than enough for an impromptu detour in search of canyon roads to carve. The car has the heart of an LFA, but the soul of an LS.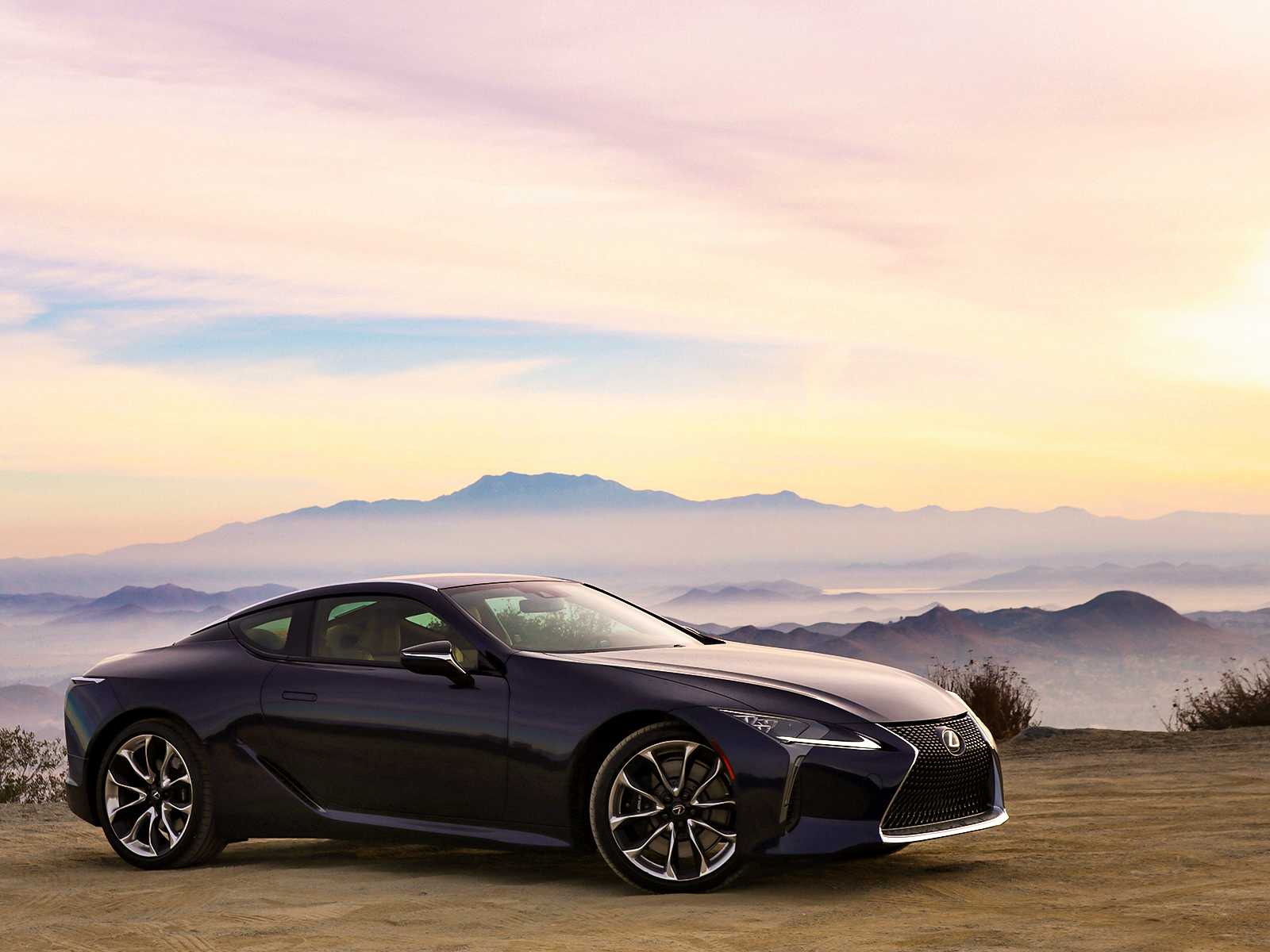 Kyle Cheromcha
The Cons
Several of this $100,000 car's (admittedly few) faults are tied directly to the fact that the Lexus LC 500 tips the scales at 4,378 pounds—just shy of a new Toyota 4Runner. You notice the weight, too; the car doesn't feel sluggish, but its heft does contribute to a slight tendency to understeer that holds you back a bit during aggressive driving. 
That weight also might explain the interesting fuel economy figures, which come in at 26 mpg on the highway thanks to the 10-speed's overdrive gears but plummet to 16 mpg around town. I was skeptical at first, but those numbers basically line up with what I saw. The thirst is real.
Its heavier feel also plays into its biggest problem: The rest of the market. Sure, the LC 500 feels more usable than most in everyday driving, and Toyota's famed reliability doesn't hurt either. But this car's approach might not prove a winner in today's world. It's quick and agile...but it's not really built for the track. And yes, it's got a thunderous engine...but its power specs fall short of the competition, and it's weighed down by all the creature comforts on board.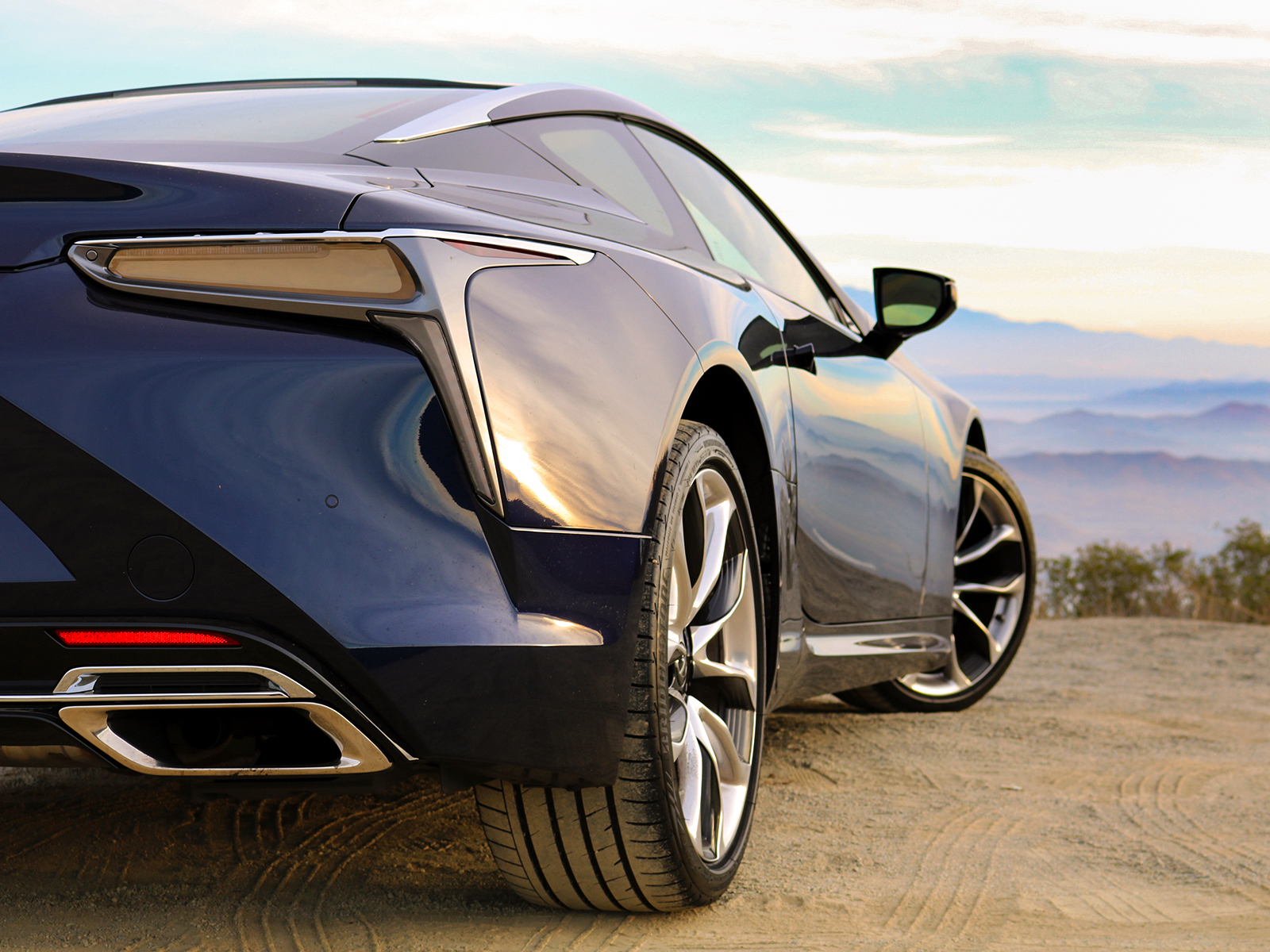 Kyle Cheromcha
As nearly every single review of a recent Lexus vehicle has ever noted, the touchpad-based infotainment is a vindictive chore to use at first. Thankfully, you do get used to it, and a haptic touchpad does make a little more sense than smudging up a touchscreen. But if legacy Lexus buyers are calling the company to bitch about the spindle grille, I can't imagine any amount of software updates and speed increases will make them happy with this setup. 
The trunk is laughably small for a grand tourer...though, since the back seats are effectively useless, you can always stash extra suitcases in the cabin. 
Finally, the LC 500 makes the same simple beep as every other Toyota product when you lock and unlock it with the fob. How hard could it have been to switch that out for your flagship model?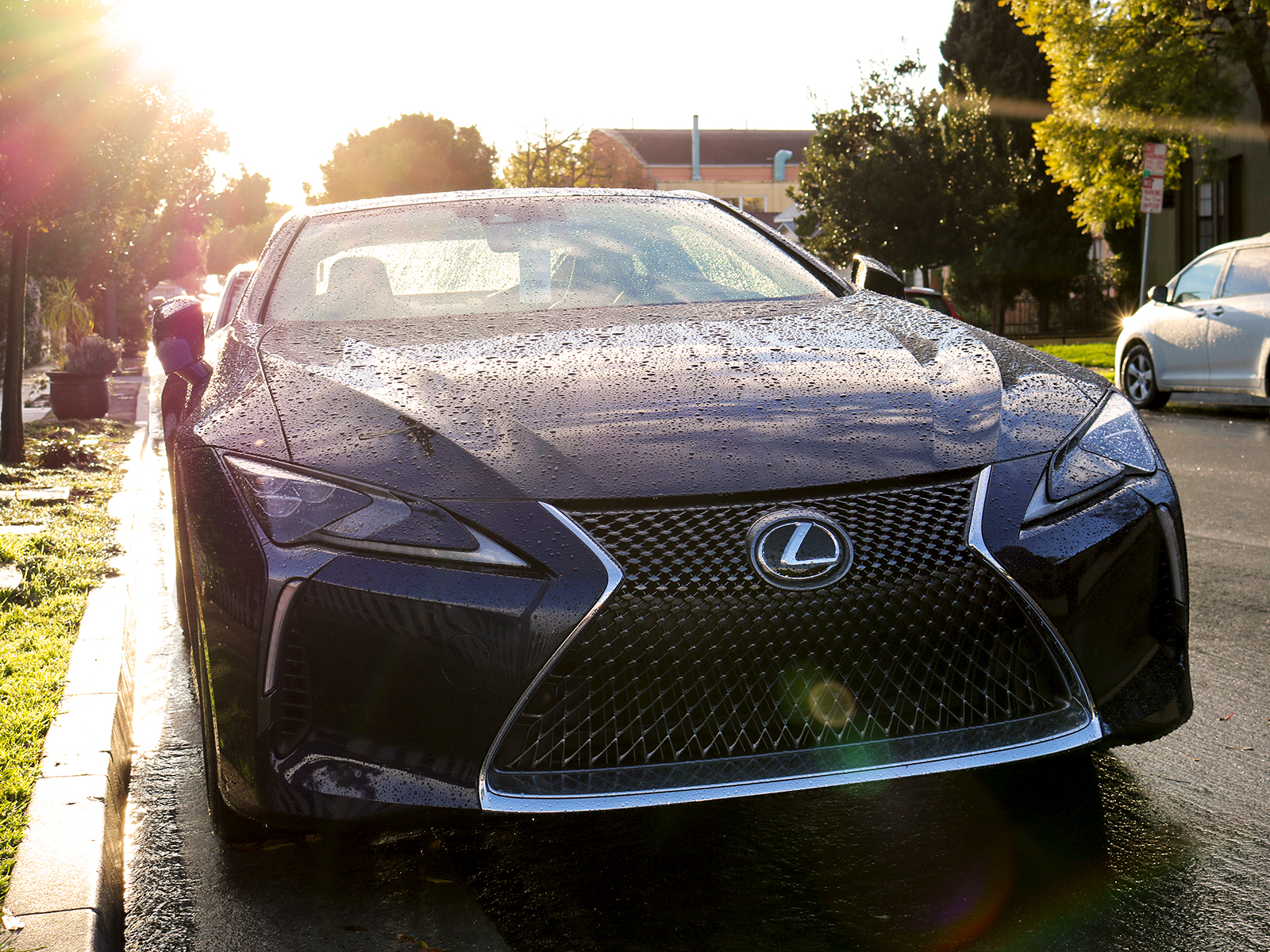 Kyle Cheromcha
The 2018 Lexus LC 500, Ranked
Performance: 4.5/5
Comfort: 4.5/5
Luxury: 5/5
Hauling people: 4/5
Hauling stuff: 1/5
Curb appeal: 5/5
"Wow" factor: 5/5
Overall: 4.5/5
The Bottom Line
The 2018 Lexus LC 500 may not be able to win a drag race or a timed lap against its rivals from Jaguar, Mercedes-Benz, or Aston Martin, but after a week in the driver's seat, I don't think that matters. It's hard to ignore the writing on the wall—the BMW 6 Series coupe, one of the cars it was originally designed to dominate, ceased production just as the LC was starting to roll out of the factory at Motomachi. But with a concept car body, that jaw-dropping interior, and an eight-cylinder chorus wailing away under the hood, it's just as hard to ignore what an incredible statement Lexus has made here.
It's worth noting that even though my tester was specced out to a hair over $100,000, it's not even the most extreme LC 500 you can buy. For an additional $6,000, the Performance Pack grants you a carbon fiber roof, rear steering, variable front steering, and a speed-activated rear wing. That won't transform the car into a Nurburgring slayer, but there's hope on that front, too: A "company insider" recently spilled the beans about a hardcore LC F model with a twin-turbo V8 reportedly in the works. I'd be remiss if I didn't mention the planned convertible as well.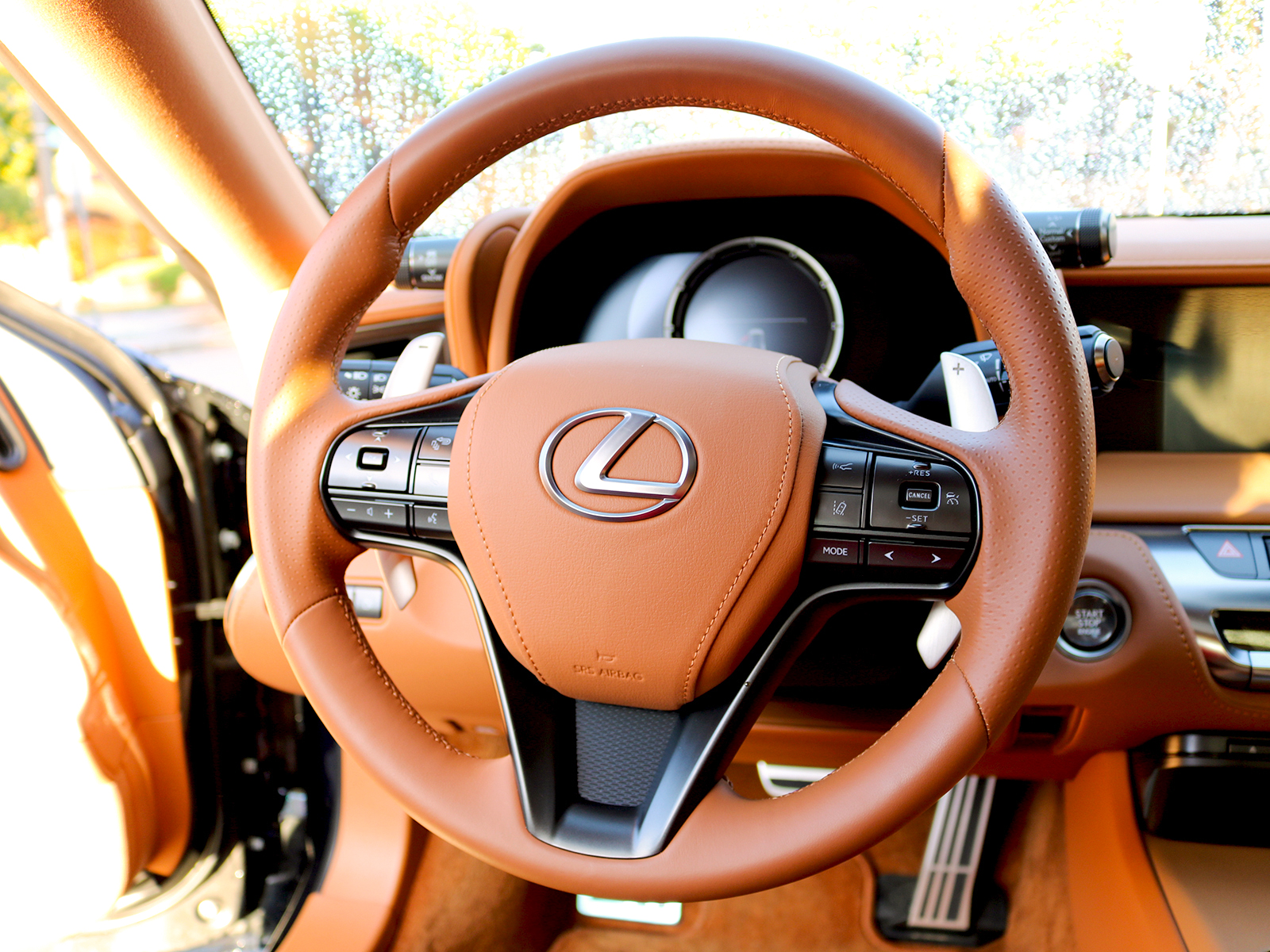 Kyle Cheromcha
Simply put, the 2018 Lexus LC 500 is an amazing machine. It's a triumph of futurism and a testament to progress; at the same time, its throwback approach to grand touring luxury makes it one of the most surprisingly old-school vehicles on sale today. It's easy to roll your eyes at Toyota proclaiming a new era of "emotional" cars, but it only takes a moment in the LC to understand that actually means something here. This is a car that connects with you, that talks to you with every rev and snap-like shift. It's a precious thing these days.
What it means for the company—and its quest to crack into the next level of luxury and performance—in the long run is less clear. All we have is the evidence in front of us: A solid platform, a clear and cogent design, and a pipeline full of interesting variants. And what can we say? The state of Lexus looks strong.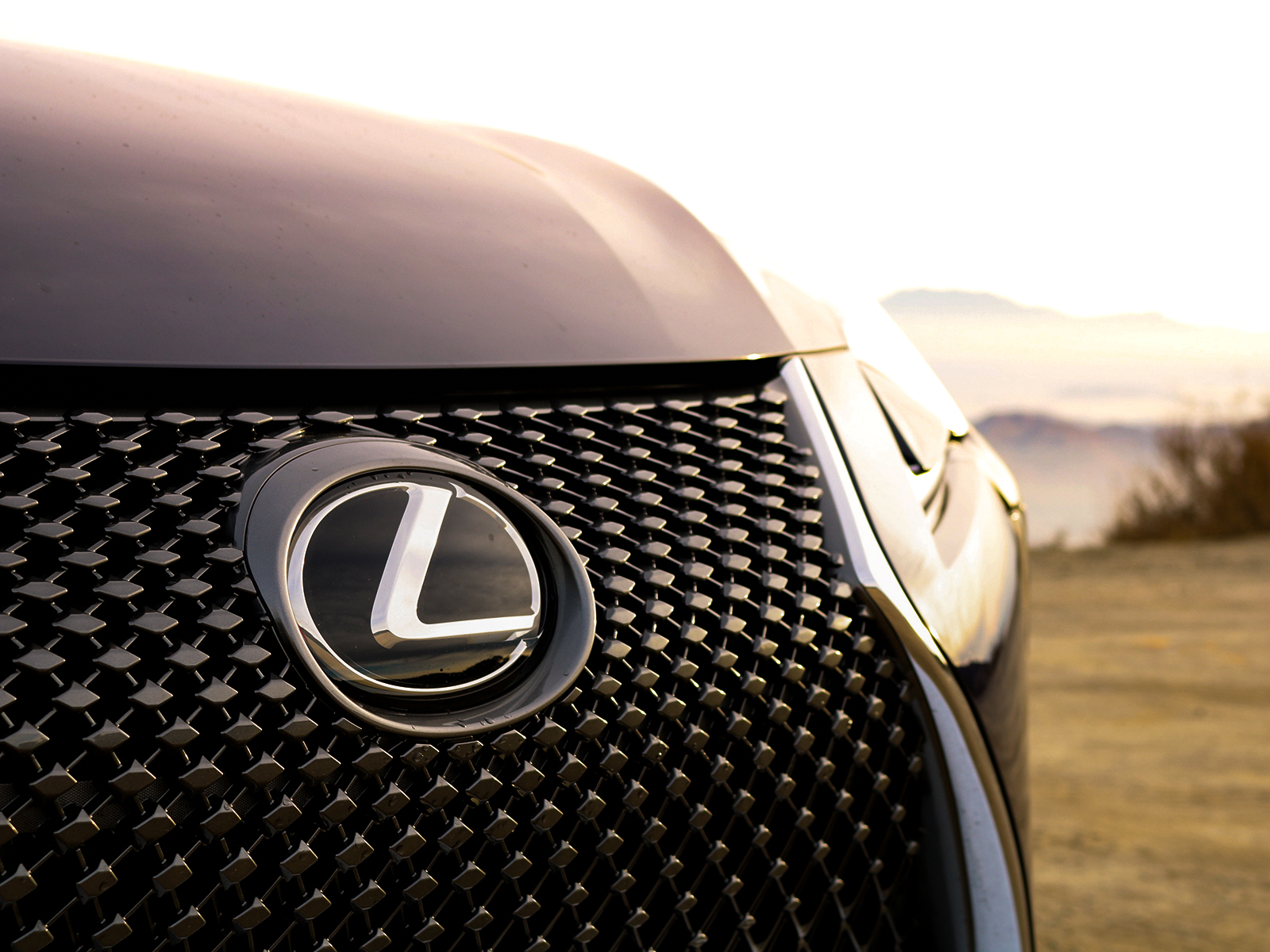 Kyle Cheromcha
The 2018 Lexus LC 500, By the Numbers
Price (as tested): $92,000 ($100,555)
Powertrain: 5.0-liter naturally-aspirated V8 engine; 471 horsepower, 398 lb-ft of torque; 10-speed automatic transmission; rear-wheel drive
Fuel Economy: 16 mpg city/26 highway/19 combined
0-60 mph: 4.6 seconds (Car & Driver Test)
Top speed: 168 mph (electronically limited)