Geiger Grade Road is a riotous stretch of Nevada State Route 341. It snakes north out of Virginia City, an old-west boom town turned tourist trap, and runs headlong into the Truckee Meadows valley. In the language of the indigenous Paiute tribe, "Truckee" translates to "Everything is all right." 
Hell yeah, it is. 
I'm in a 2018 Porsche 911 Carrera GTS coupe, scrambling from corner to corner, giddy as any reasonable adult should admit to being. If I could bottle this moment and sell it, I'd be as rich as the "Silver Kings" who made their mining fortune along the Virginia Range, whose snow-dappled Rocky Peak looms in the Porsche's rear-view mirror as I zig and zag toward Reno.
Beyond the highway, in the badlands of Storey County, wild horses frolic at watering holes, unaware they're about to be herded into a metaphor: 450 wild horsepowers is the GTS's top number. In both tune and output, it's equal to a new 911 Carrera S optioned with the $12,350 Powerkit, and it's just six horses shy of the madcap 2002 Porsche 911 GT2, which—like the car I'm driving—was two-wheel drive, turbocharged, and intoxicating.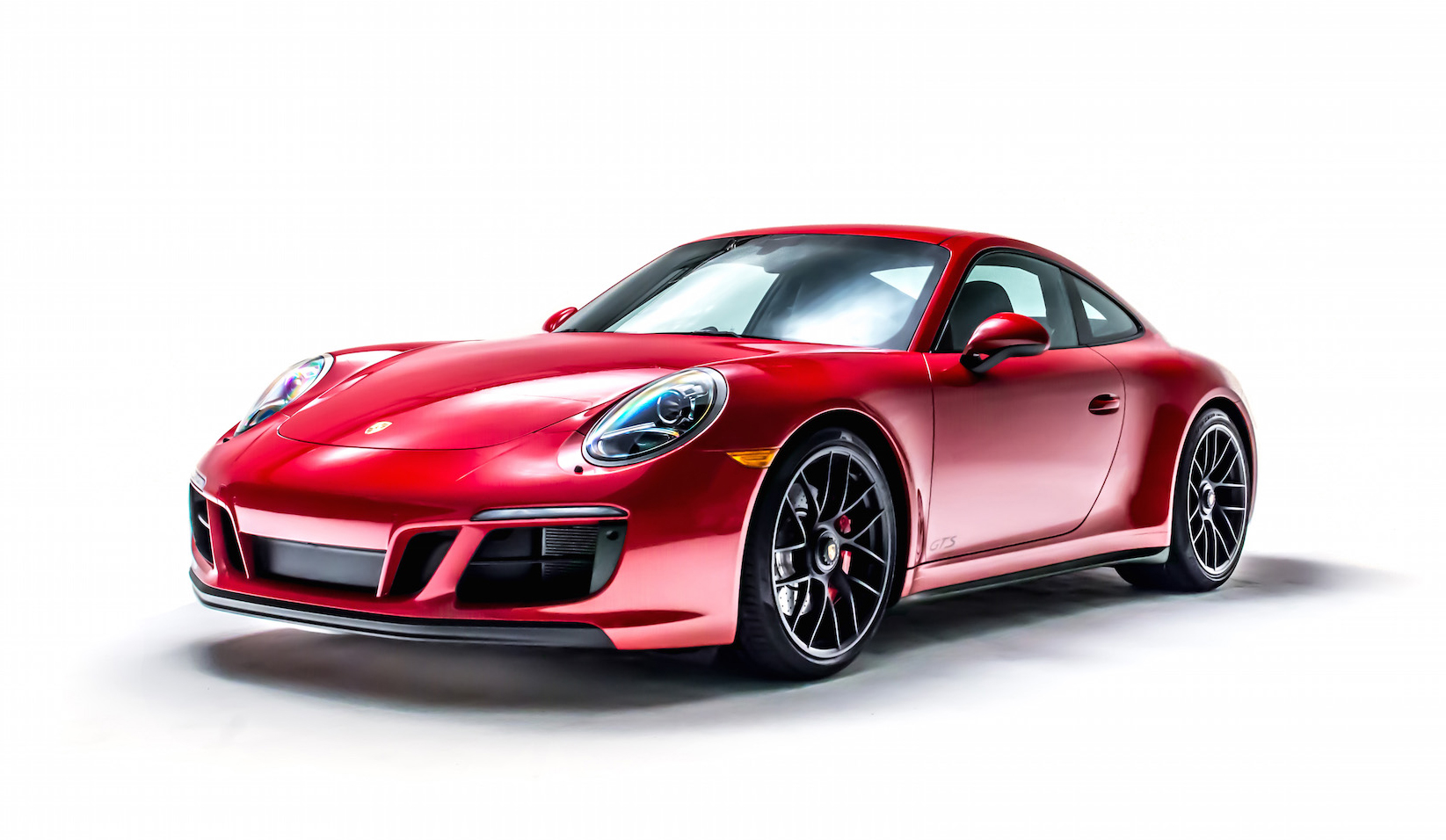 Porsche
In the Powerkit-stoked GTS, larger turbos and higher boost help create a 405-pound-foot torque bubble, which starts at 2,150 rpm and doesn't deflate until half-past six grand. Deep in its throes, the coupe accelerates like it's on the leading edge of a tsunami. The engine spins up to its 7,500 redline so naturally, its torque decay so progressive, not grabbing the last thousand "dead" RPMs feels like a first-order car crime. The 991.2-era engine may not reach the breathtaking sonic heights of the previous naturally-aspirated one, but your adrenal gland still gets a workout.  
For the past three Porsche 911 generations, the GTS has walked the line between value package and true 911 variant. Either way, the ethos is clear: Take a Carrera S, add a range of performance options, tack on a few exclusive elements like the 4S's 40-millimeter-wider rear track and Turbo wheels with center-locking hubs, keep the squishy road-car bushings in place, and sell it to drivers who want extra sharpness, but would rather not suffer the 911 GT3's hard-point racecar bits on their daily drive. Those hubs may be over the top, but who's got two thumbs and would stare at them for hours in the garage? This guy.
The GTS comes in most 911 flavors: Coupe, Cabrio, (both in two- and all-wheel-drive), and Targa (AWD only). The package includes the Sport Chrono pack and its quadfecta of drive modes: Normal, Sport, Sport Plus, and Individual. A Sport Response button emulates push-to-pass by enabling super-max acceleration for short runs. Sport PASM active suspension, which includes a 10-mm lower stance than standard PASM, is standard on the coupe models. Porsche's rear-axle steering is an option, which my test car had. The system's stability in fast sweepers and during heavy braking has been well documented, and it's the only option box I'd tick.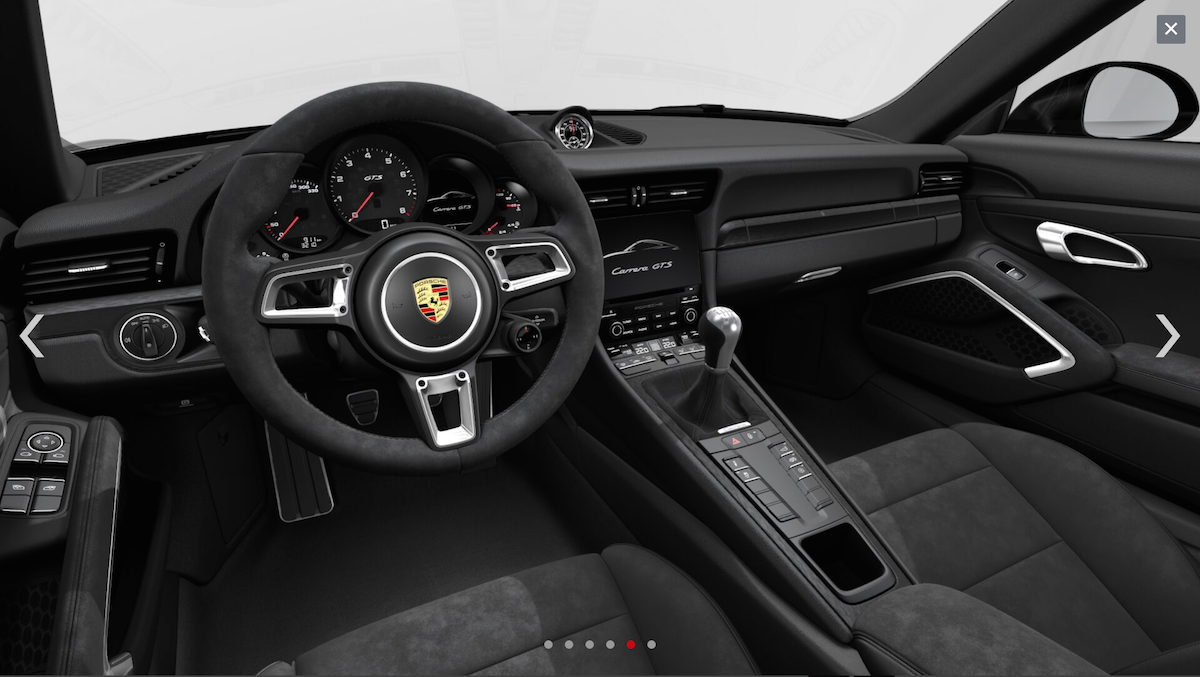 Porsche
It's astonishing how far regular sports cars have come in the past decade. A Carrera 4 GTS with PDK transmission (which is optional) now blasts from zero to 60, according to Porsche, in 3.4 seconds. The same car (with rear steer) can get around the Nürburgring in 7:26, quicker than a 997 GT3 RS 4.0. (On the optional Pirelli UHP rubber, the GTS will do it in 7:22.) Calling the $130,000-plus (with PDK) all-wheel-drive GTS a "regular" sports car may seem a bit twisted, but it's a lot of car for the money.
But it's the standard, rear-drive GTS coupe with seven-speed manual I'm enjoying. It's a different sort of car than the numbers-destroying 4S. With every tuneful up- and downshift, the old resentments that arose from Porsche ditching naturally-aspirated engines fall away. The cabin's been stripped of some sound damping material, so the wail and off-throttle pops from the standard Sport Exhaust sit higher in the mix, while the typical 911's mechanical resonator adds induction roar. Steering boost, while electronic, feels more precise and tactile than that from any of Porsche's peers, and the front end heads intuitively where it's pointed. The basic-black, Alcantara-trimmed interior is as deliciously minimalist. In Carmine Red, a $3,000-plus option, it's perfectly specced.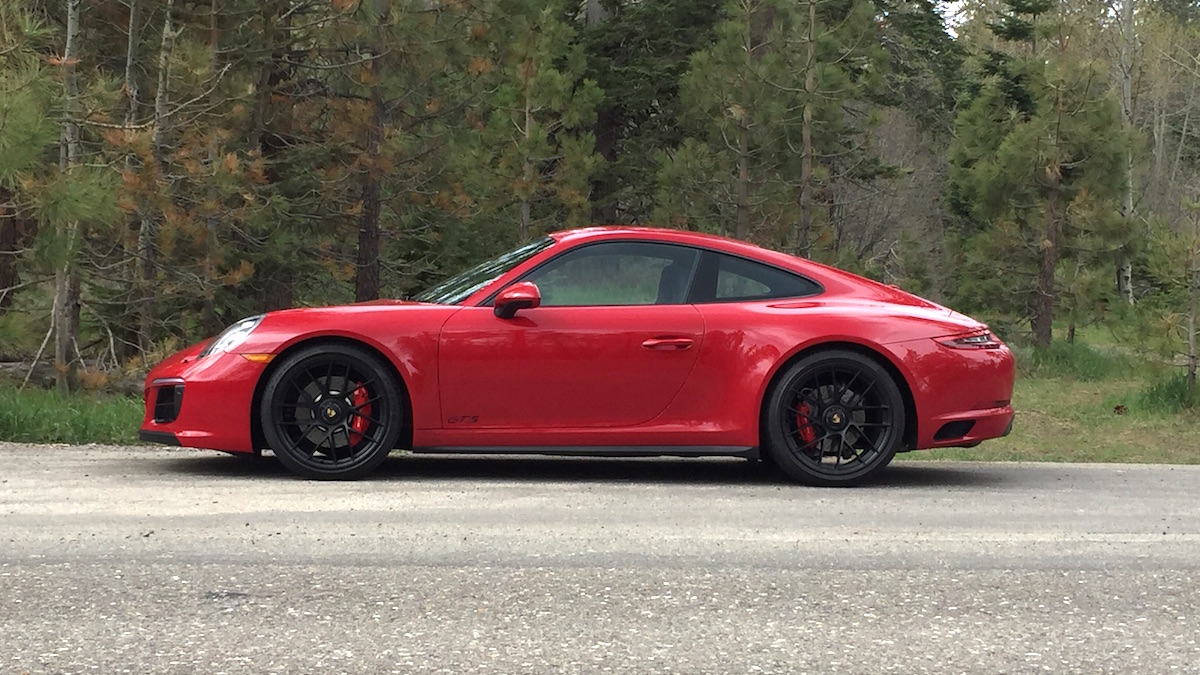 Mike Spinelli
While a few laps around any racetrack would likely reveal more, it's comforting to know, even in the abstract, that you can still buy a road car that tweaks the brain's pleasure centers with so little prompting. Packaging aside, the GTS feels like a distinct entity—one that delivers excitement, tactility and capability in equal measure.
As Route 341 unfolds, it dawns on me that Storey County, Nevada is also the home of Tesla's Gigafactory 1, an enterprise whose products stand in blunt opposition to the screaming, German clockworks urging me on through the hills. At this very moment, the factory is churning out battery packs that will change driving forever. The future looms ahead like a bridge collapse. But for now, everything is all right.
2018 Porsche 911 Carrera GTS
Price: $120,050 (base), $126,990 as tested
Engine: 3.0-liter twin-turbo boxer-six, 450 hp @ 6,500 rpm, 405 lb-ft @ 2,150-5,000 rpm
Transmission: 7-speed manual (as tested), 7-speed dual-clutch automatic (optional)
0-60 mph: 3.9 sec
Top Speed: 193 mph
EPA Mileage: 18 mpg city, 26 mpg hwy