Welcome to Critic's Notebook, a quick and off-the-cuff car review consisting of impressions, jottings, and marginalia regarding whatever The Drive writers happen to be driving. Today's edition: the 2019 Acura MDX A-Spec.
The 2019 Acura MDX A-Spec, By the Numbers
Base Price (Price as Tested): $44,300 ($55,795)
Powertrain: 3.5-liter V6 engine, 290 horsepower, 267 pound-feet of torque; front-wheel-drive with available all-wheel-drive; nine-speed automatic
EPA Fuel Economy: 19 mpg city, 25 mpg highway
Seating Capacity: 7
Cargo Space: 15.8 cubic feet behind the third row / 43.4 cubic feet behind the second row / 90.9 cubic feet behind the front row
Towing Capacity: 5,000 pounds
0-60 mph: 6.3 seconds
Quick Take: A sport crossover in name only, the MDX A-Spec is a missed opportunity for Acura.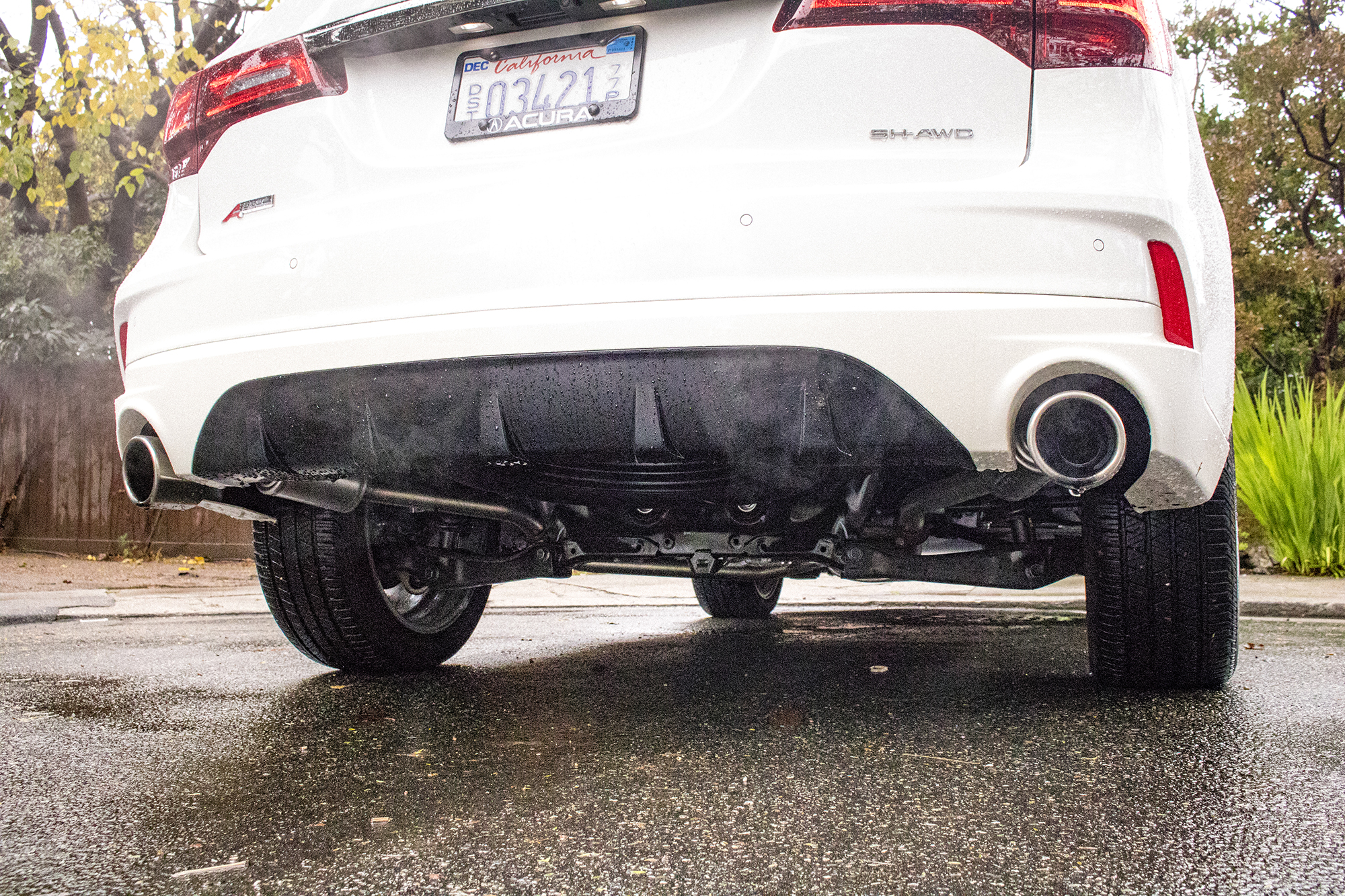 Kyle Cheromcha
Those who suffer from imposter syndrome—that nagging anxiety that despite everything you've accomplished, deep down you're just a big phony—should take heart in the existence of the 2019 Acura MDX A-Spec. Here is a vehicle appropriating all the visual cues we've come to expect from today's fast SUVs, wearing a $3,500 badge with a not-insignificant tie to Acura's performance heritage...and doing pretty much nothing to back any of it up. But therein lies the rub: It doesn't really matter.
That's partly because as it sits, the base MDX is a surprisingly sharp handler for a three-row crossover that shares a platform with the Honda Pilot. But it's also because performance-lite is what people want. Enthusiasts perseverate over Wusthof-edged family trucksters like the BMW X5 M or X6 M, but it's the Bavarian's more approachable and cheaper M Sport versions that move the mass market. Likewise for things like the Mercedes-AMG GLE63, the Range Rover Sport SVR, or even the Dodge Durango SRT. They're precious fun, not volume sellers for their respective models.
Still, many of their neutered versions also use key pieces of top-shelf tech to justify the alphabetic connection—a limited-slip differential here, a larger engine there. Acura doesn't have an in-house performance shop of the same stature...but it does have the NSX, a 573-horsepower hybrid supercar built right here in the United States. Yet it's the MDX Sport Hybrid that borrows the NSX's trio of electric motors to make it a truly engaging performance SUV; the gas-only A-Spec is content with flash like a red leather interior, 20-inch wheels, and dramatic dual exhaust pipes that do more to reaffirm our visually-driven nature than anything else. It's a long fall from the original 2004 Acura TL A-Spec, which ran with a suspension tuned by NSX chassis designer Makoto Tamamura.
And yet, the Acura MDX A-Spec is an easy car to like, a mix of impressive technology, genuine charm, and an unserious practicality. It presents a unique alternative to higher-end German alternatives, Japanese competitors like the Lexus RX, and loaded-out domestics like the Chevrolet Traverse High Country. Those of us with the time and inclination to kvetch about things like driving dynamics and brand heritage will undoubtedly find the MDX A-Spec's non-performance frustrating. But out in the real world, minus a few unusual quirks, it's a fine family crossover.
The 2019 Acura MDX A-Spec: The Pros
Non-hybrid versions of the Acura MDX come with but a single powertrain option: a 3.5-liter V6 good for 290 horsepower and 267 pound-feet of torque, connected to a nine-speed automatic transmission. It's buzzy in a good way, working itself up to a nice-for-a-V6 exhaust note once VTEC kicks in, and it offers a surprisingly competent 5,000-pound towing capability. The A-Spec package also forces you to select the company's Super Handling All Wheel Drive system, which backs up that delightfully kitschy name with impressive torque-vectoring abilities that can send up to 100 percent of the engine's power to the rear axle and further distribute it to individual wheels.
The MDX A-Spec handles like an Acura—which is to say, it's surprisingly light on its feet, if not as sharp as your long-since-departed '98 Integra. Its mid-corner confidence is boosted further by that SH-AWD system, which can overspeed the outside wheel in a fast turn to aid rotation. The effect is better seen with the help of the electric motors in the MDX Sport Hybrid, but it's noticeable even here on the gas-powered A-Spec, whose snappy launches were also bolstered by the addition of AWD. Braking is sharp, steering is engaging enough, and the power is usually there when you want it.
Safety tech also stands out in a segment where it very much matters. Dubbed AcuraWatch, the standard suite serves up adaptive cruise control, automatic emergency braking, lane keep assist, and auto high beams. Because the A-Spec also forces you to choose the $5,000 technology package, it also comes "standard" with blind spot and rear cross traffic monitors. Still, even the base MDX offers freebies that cost thousands of dollars on much of the competition, all of which work...as well as can be tested without purposefully crashing a press car.
The spec sheet lists the Acura MDX as having 68 cubic feet of seats-down cargo space, which would put it below rivals like the BMW X5, the Audi Q7, the Chevrolet Traverse/GMC Acadia, and even its platform-mate, the Honda Pilot. But Acura puts that figure above 90 cubic feet when you factor in the floor space between the first and second row and the extra underfloor compartment in the rear; you also won't feel nearly as guilty taking advantage of that capability, as the Acura's interior feels less fussy and far more usable than your average premium SUV. That's not to say it comes across cheap. "Sensible quality" is the modus operandi.
Between the sport bumpers, 20-inch five-spoke wheels, and red leather interior, the MDX A-Spec is a welcome visual break from the base model that tightens select areas to create a distinct persona. It works, mostly—taking in those fat exhaust pipes and taut bumpers in person, I keep thinking that it looked faster (or at least louder) than it really was. For a large and growing segment of buyers, that's all that matters.
The 2019 Acura MDX A-Spec: The Cons
Unfortunately, the speedy illusion is mostly shattered by the drive. Apart from a weird and annoying delay in the push-button gear selector, there's nothing really wrong with the MDX A-Spec's manners per se, but even in Sport mode, you never get the sense the powertrain is built for anything but everyday cruising. 290 horsepower and 267 pound-feet of torque aren't a ton in a car weighing over 4,300 pounds, and the lack of low-end torque is noticeable when the transmission misses its cue to downshift—which happens more than you'd like. Sharp handling can only do so much to counteract an engine that lacks any real fire in its belly and a gearbox tuned for the normies, not enthusiasts.
The red-leather interior is also tasked with distracting you from the MDX A-Spec's horrible dual-screen infotainment setup, which is as dated and inefficient as it looks. The bottom screen is a touchscreen for climate, audio, and other controls; the top box, controlled by the knob below the bottom screen, displays navigation, contextual menus, or the Apple CarPlay/Android Auto interface. Apart from the distracting sight of dueling LCDs, the upper screen is curiously low-resolution. The new Acura RDX has a center stack designed around a single screen and the company's True Touchpad setup, and it's only a matter of time before that makes its way to the MDX. Whatever you think about touchpads, they have to be better than this.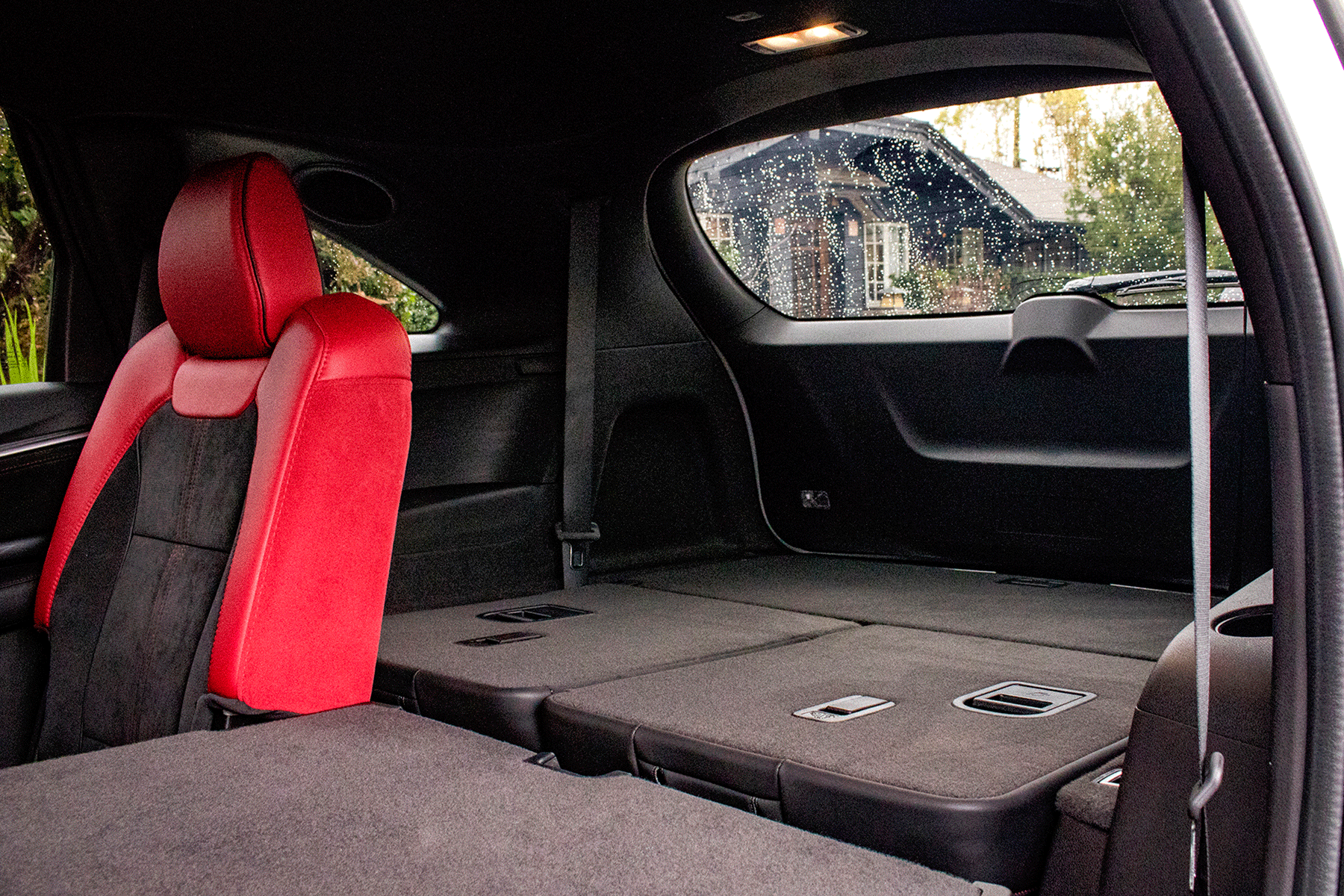 Kyle Cheromcha
Like most automakers, Acura has been experimenting with how best to offer all the optional features. It's settled on a single base model with a series of tiered packages—but the tree is twisted in strange ways. The $3,500 A-Spec package simultaneously requires the $2,000 SH-AWD system, and omits the adaptive suspension system found on $6,750 Advance package—which you can't equip on top of the A-Spec, either, meaning those buyers must go without extra goodies like a 360-degree camera, heated steering wheel, or second-row captain's chairs. Opting for A-Spec also means you have to select the $5,000 Technology package, granting navigation and a 10-speaker sound system, but you can't go further and get the $2,000 rear-seat Entertainment package.
Materials and build quality were both up to par, but overall, the interior is let down by that infotainment system and a few less-refined touches. The MDX A-Spec's automatic wipers seemed to work on a mind of their own during a rare rainy week in Los Angeles, rocketing to full speed upon slight acceleration and failing to adequately clear the windshield once moving. The dinky LCD screen nestled in the physical gauge cluster was another pain point for a $50,000-plus car, its low resolution a constant reminder of the dated design surrounding you (the interior has barely changed since the current generation launched in 2014). Sadly, the MDX A-Spec is neither fancy or sporty enough to help you forget that fact.
It probably doesn't need to be said, and it won't matter to most buyers, but there's no real soul here. I don't see Makoto Tamamura using this one as a blank canvas.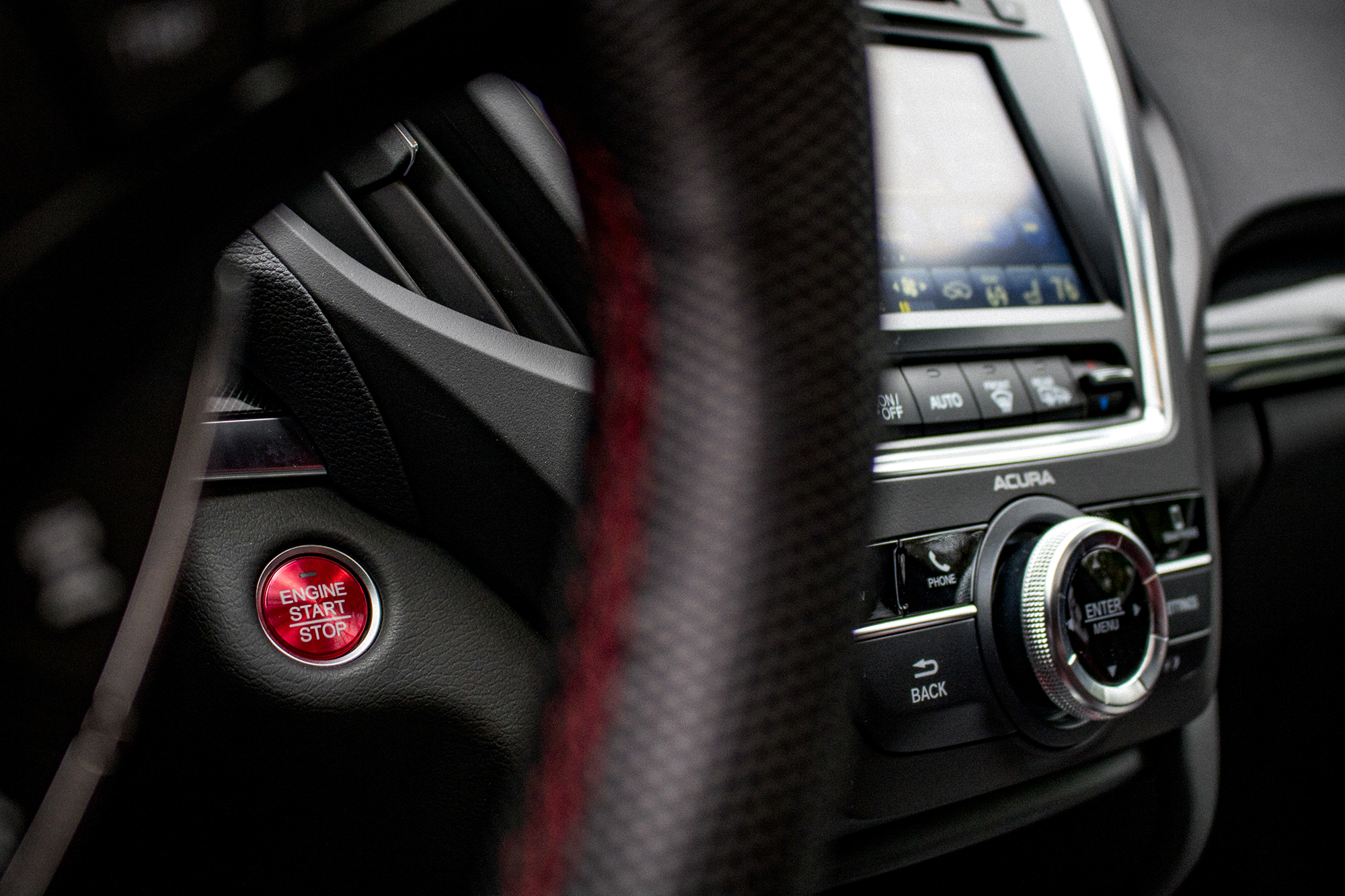 Kyle Cheromcha
2019 Acura MDX A-Spec, Value
Were the 2019 Acura MDX A-Spec to present itself as a true performance SUV, it would be dead-last in the value rankings. $56,000 for a tepid 290 horses and no mechanical gains over the base model? Hard pass. Even as a luxury crossover, the MDX still has some material shortcomings when compared to the refinement found in a rival like BMW, Volvo, Lexus, or even the also-dated designs in some Infinitis. Then again, the MDX also starts at thousands of dollars less with more standard features than just about any other entry in the three-row mid-size SUV segment. So from a pure content perspective, it delivers enough to be worthy of a second look.
And beyond that? Well, it depends on where exactly you place the most value. You can find something more exciting than the MDX A-Spec as equipped for $58,000. You can find something fancier. You can even find something more capable. But you can't find something that delivers enough on those fronts combined with that famed Honda reliability. A-Spec aside, which again does nothing to change the driving experience, there's a reason Acura touts the MDX as America's best-selling three-row luxury SUV of all time (whether it actually is depends on how you define the words "luxury" and "SUV"). It is worth noting that Acura's warranty doesn't provide the same free scheduled maintenance offered by other premium brands, though.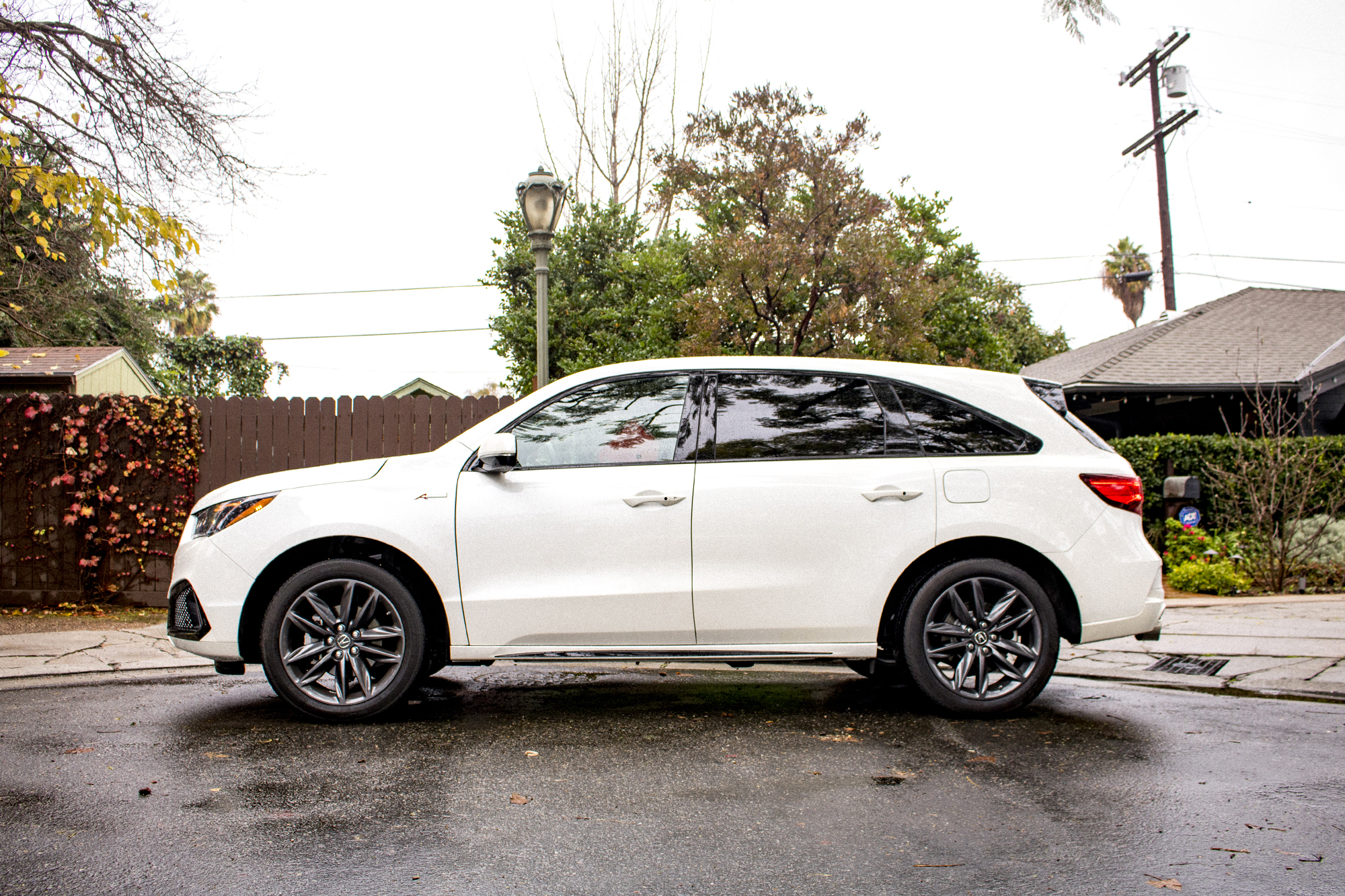 Kyle Cheromcha
2019 Acura MDX A-Spec, The Bottom Line
Just like life is too short to spend it worrying about whether or not you really deserve to be where you are, it's also too short to stress about an automaker introducing an appearance-only sport package on their best-selling SUV. If the 2019 Acura MDX A-Spec can go out there and present itself as a real alternative to premium performance utility vehicles like the BMW X5 or the Audi Q7—and more importantly, have people take it seriously—then so can you charge forward with a completely unearned yet totally deserved confidence. If everyone is faking it, then no one is faking it.
Along with literally tens of other people, I do think the MDX A-Spec is a missed opportunity for Acura to do something a little more savage with the form. A turbo, a tuned suspension, even a more distinctive exhaust note would have given the A-Spec that much more reason to exist, and casual shoppers that much more reason to buy it. But that "what if" doesn't define the Acura. Instead, it's another solid entry into the growing sport-ish class of crossovers.