Welcome to Critic's Notebook, a quick and off-the-cuff car review consisting of impressions, jottings, and marginalia regarding whateverThe Autance writers happen to be driving. Today's edition: the 2019 BMW X5 XDrive 4.0i.
The 2019 BMW X5 xDrive 40i, By the Numbers:
Base Price (Price as Tested): $60,700 ($77,525)
Powertrain: 3.0-liter turbocharged inline-six, 335 horsepower, 330 pound-feet of torque; eight-speed automatic; all-wheel-drive
EPA Fuel Economy: 20 mpg city, 26 mpg highway, 22 mpg combined
Seating Capacity: 5
Cargo Space: 33.9 cubic feet / 72.3 cubic feet with seats down
Towing Capacity: 7,200 pounds
0-60 mph: 5.3 seconds
Weight Distribution (Front / Rear): 50.1 / 49.9
Quick Take: The king of the affluent 'burbs gets better tech, a slight nip-and tuck, and an armored face.
The BMW X5 is so ubiquitous in the suburbs surrounding New York, aliens approaching the city from the north via Spuyten Duyvil once coined a phrase that translates loosely to, "Are those the fathers?" Naturally, this was a few years back, when aliens thought cars were Earth's sentient inhabitants. Nowadays, aliens know better, but they still love to recall the snafu in social settings. "Glorp, remember when you thought cars were people and the BMW X5 was the patriarch? Xleechz, that was a dumbbell mistake. Who wants Jell-O?"
I bring this up because so much has been said about the outer worldliness of the new X5's most prominent external feature: that huge kidney grille. My colleague, DC Comics aficionado Will Sabel Courtney, might say the new X5's grill looks like a mirror image of supervillian Bane's steely mug turned sideways. I, a serious professional automotive journalist with decades of experience, prefer a more sober-minded assessment: It looks like a prison for rogue android ninjas from no specific comic book universe. Either way, the development of BMW's kidney-shaped grill has taken a science-fiction turn in the past decade that's really freaking some people out. I'm fine with the direction—as are most aliens—as long as BMW designers don't decide to veer into the absurd.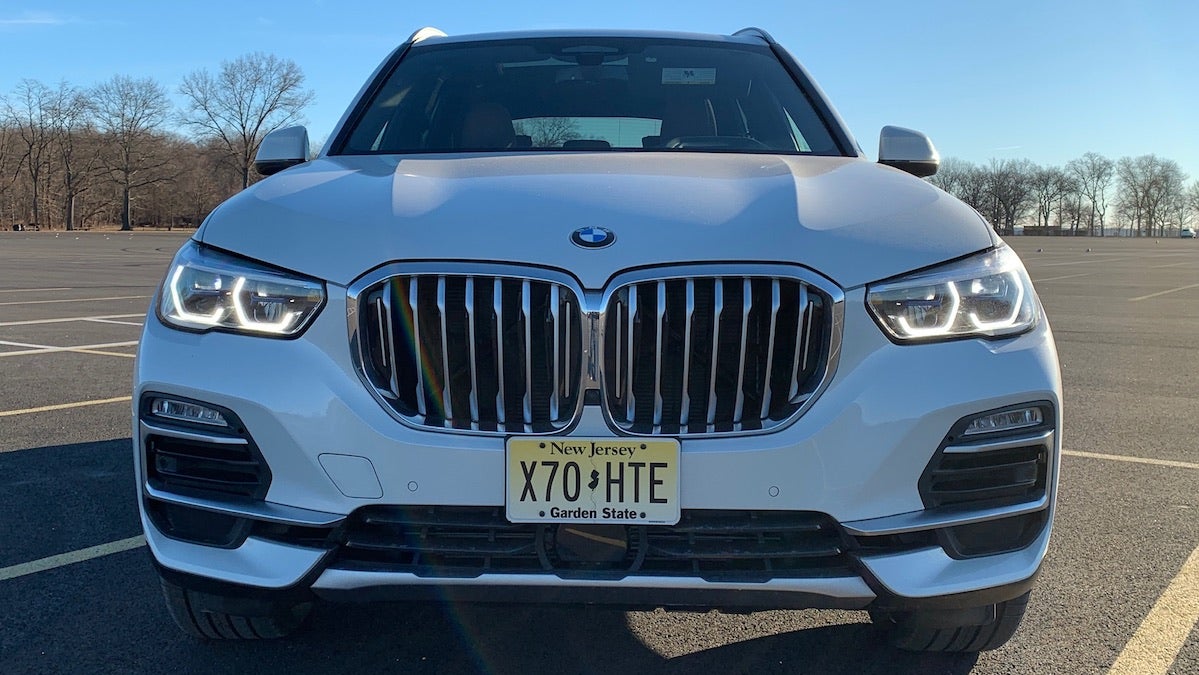 2019 BMW X5 XDrive 4.0i, Mike Spinelli
Nonetheless, the kidney grill isn't the only notable rewrite of the X5. Where the previous model's sheetmetal facets largely blended into amorphousness, the 2019 model sports new creases and surfaces that aid in developing its next-generation character. Like Clint Eastwood, whose wind-swept countenance defined "The Man With No Name" during his spaghetti-western years, the X5 gains a few new, eye-catching crags, including a rising visual accent over the quarter panels that accentuates the truck's width and a few extra facets at the rear that reduce the monolithic effect of the sizable posterior. It's a nice-looking truck with a sharp elegance that counterpoints the closely-competitive Porsche Cayenne's appropriation of sports car DNA.
2019 BMW X5 xDrive 40i: The Pros
Aside from a dilithium-powered warp drive, there's nothing like the pudding-smooth power delivery of a BMW inline-six. Remember when 5.3 seconds from zero to 60 was the domain of the 3,131-pound BMW M Coupe, and a 4,813-pound SUV was slower than sailing by solar wind? I do. Today, the X5 is quick enough that I'd skip over the pricier 50i; if I really needed more, I'd go straight to the 600-plus horsepower X5 M when it comes out.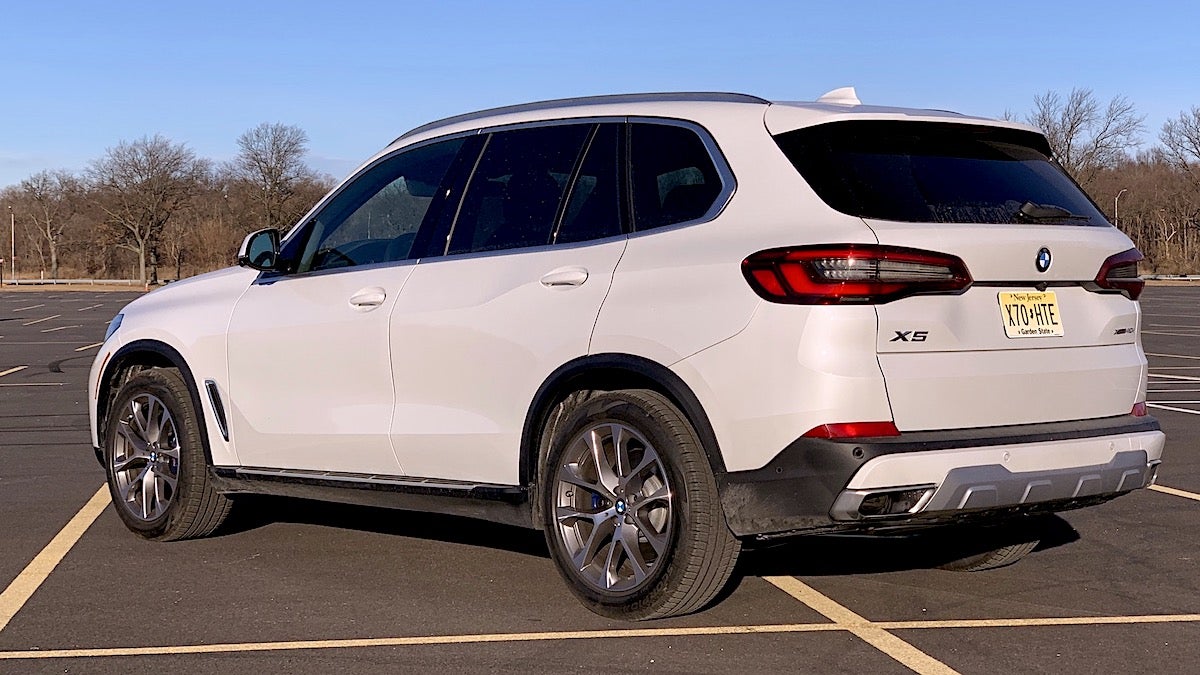 2019 BMW X5 XDrive 4.0i, Mike Spinelli
The X5's interior is spectacular. The upgraded Merino—which has nothing to do with sweaters, but is actually a grade of hide that comes in several new colors—looks and feels premium-grade. It's not that buttery leather of Italian sports cars of old; this stuff can actually handle the abuse of real life, which often includes real children barfing on it. The interior veneer looks flawless, and the analog controls feel substantial. Note to luxury carmakers: knurled aluminum may be relatively expensive, but it's lightweight, tactile, intuitive, pleasant to the touch, and makes even the most mundane switchgear feel like a night on the town.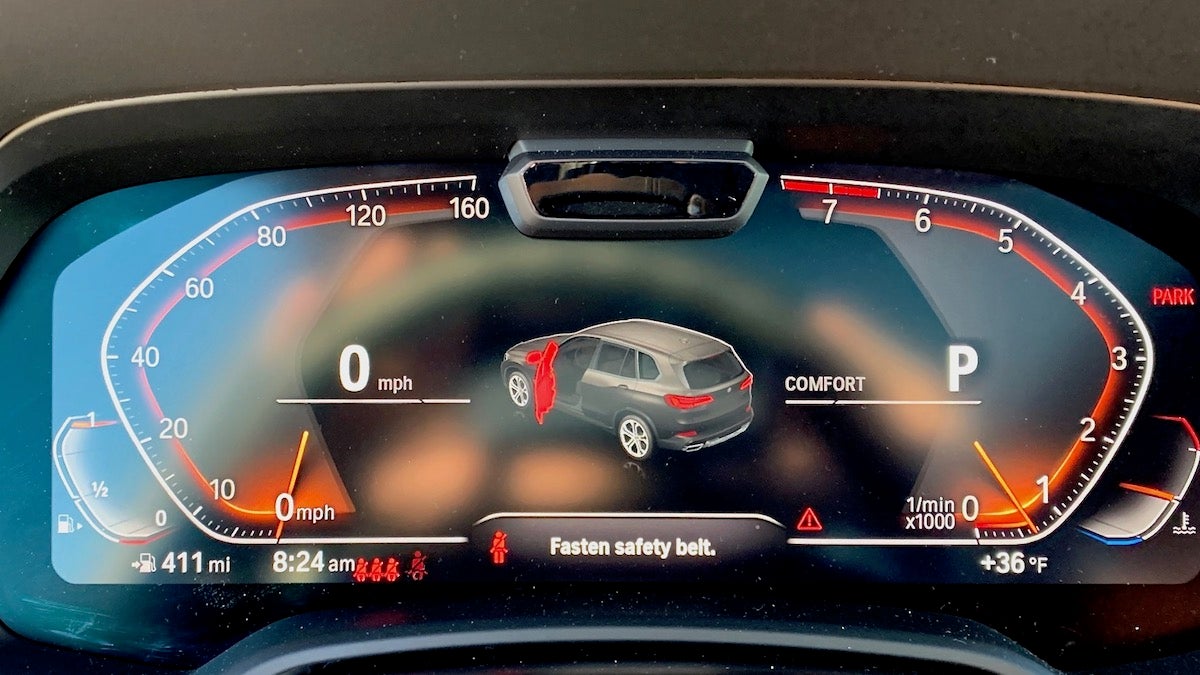 2019 BMW X5 XDrive 4.0i, Mike Spinelli
There's so much screen. Two 12.3-inch digital screens: one for the dash binnacle, and a second, canted slightly toward the driver, at top dead center. It's a small thing to note, but just the simple act of turning the huge screen toward the driver almost feels like a personal act of kindness on the part of ergonomics engineers. That, plus a massive 7.0-by-3.5-inches of head-up display, make situational awareness something of a, forgive me, no-brainer.
That's good, because there's so much content. Pages and pages of information, all configurable, and all accessible via a number of interface choices, from touchscreen to iDrive rotary control to gestures. Yet it's easy to stay in your smartphone universe, considering how intuitive BMW's Apple CarPlay integration is.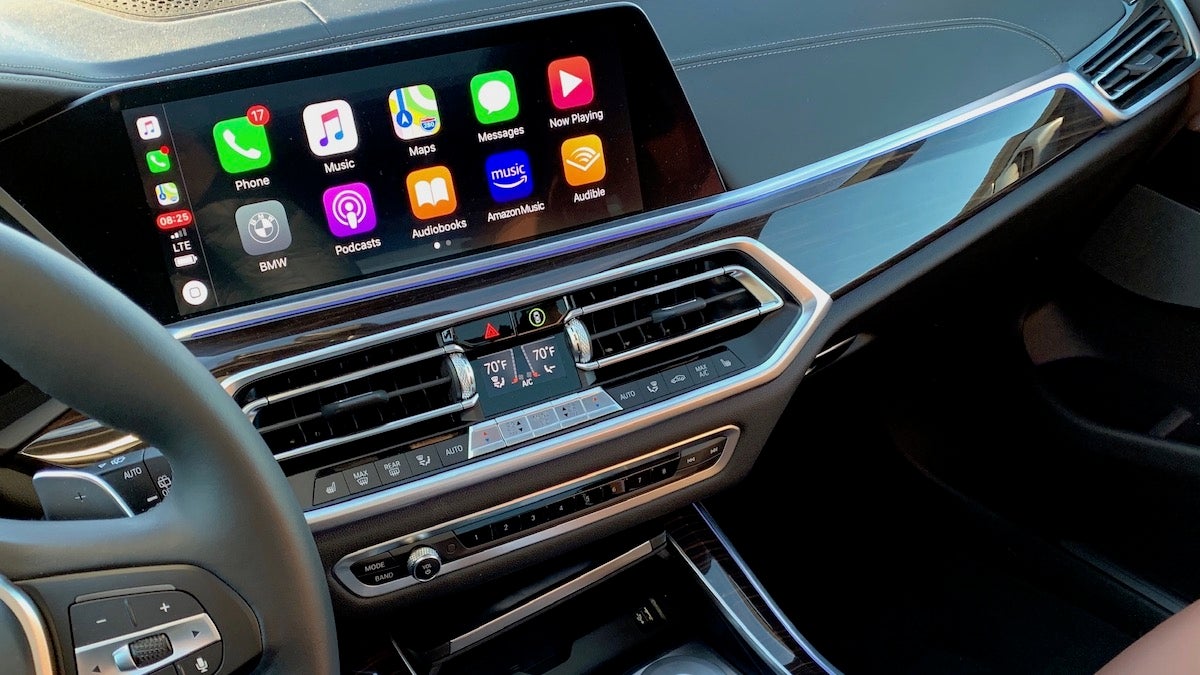 2019 BMW X5 XDrive 4.0i, Mike Spinelli
One clever bit of ergonomics is the single steering-wheel button for the X5's Level 2 driver assistance function, marketed as Active Lane Keeping And Traffic Jam Assistant. It's one button, with a steering wheel icon that matches the one on the dash screen that lights up green when the system is in effect. It's among the simplest-to-initiate systems of its kind, and among the most effective on the road.
2019 BMW X5 xDrive 40i: The Cons
Don't get me wrong. The $3,950 off road package—with air suspension at the front and rear, a rear electronic locking differential, and an array of terrain-specific traction control and stability settings—offers a wide feature set. But aside from giving dealers something new to service, is all this engineering muscle really necessary just to deliver X5 buyers itching to pull the trigger on that fire-road-accessible country house? Forgive me for thinking in 80-percent solutions like a grumbly Detroit accountant, but shouldn't humans, notwithstanding our devolving state of civilization, be above conceits like $100,000 off-roaders by now? I'm pretty sure quail hunters can afford to procure a side ride with long suspension travel and a transfer case.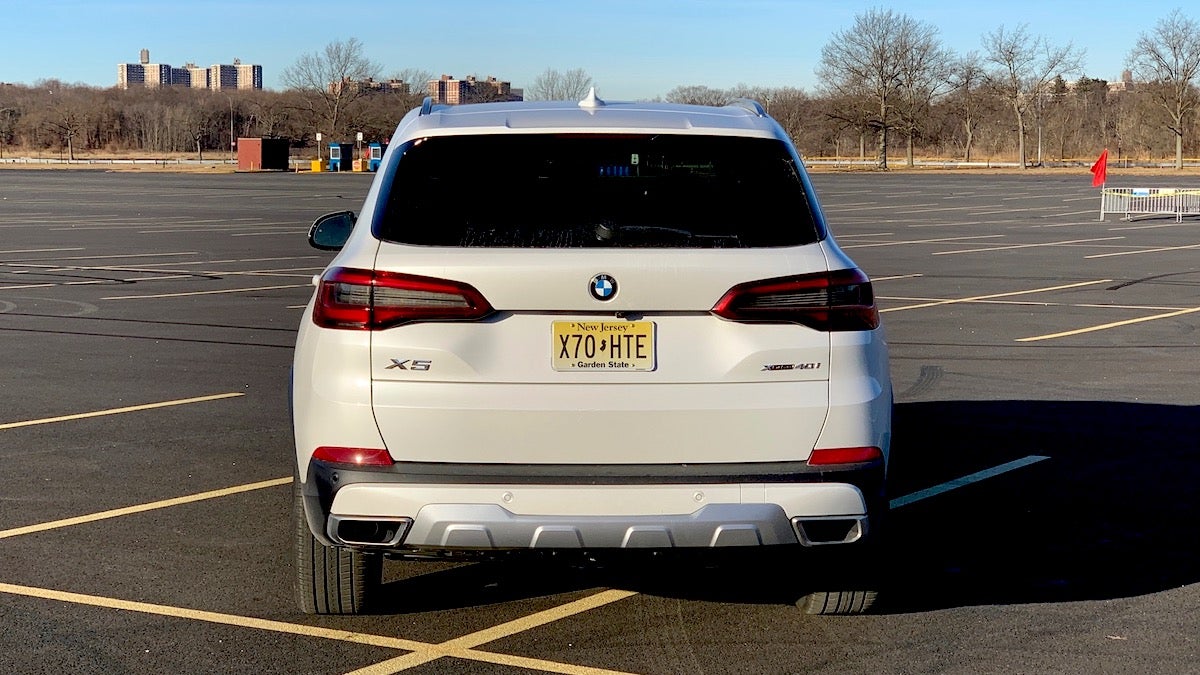 2019 BMW X5 XDrive 4.0i, Mike Spinelli
Like the 640i GT and the rest of BMW's high-end cars, the X5 excels in an area about which I continue to have misgivings: adherence to the isolation-equals-luxury maxim. It's the idea that the degree of luxury is defined by how removed from the environmental markers of driving a vehicle—the road, the engine, and the world outside—one is. And yet, faulting BMW for providing something luxury buyers say they value above all seems counterproductive. It's a paradox some aliens call "The Paradox of Kl3mme7zza," which translates loosely as, "Leave the gun, take the cannoli," a phrase aliens deciphered from one of our communications efforts in the 1970s, but which today, ironically, is outside our comprehension.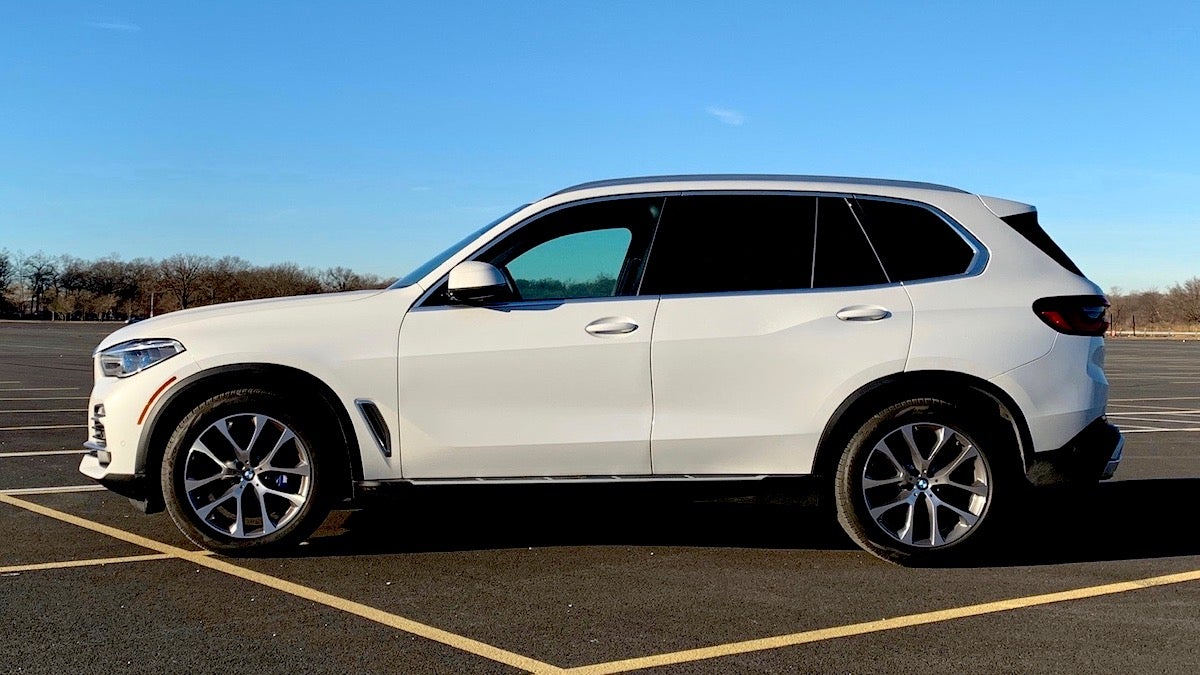 2019 BMW X5 XDrive 4.0i, Mike Spinelli
2019 BMW X5 xDrive 40i: The Bottom Line
No doubt, the X5 40i as configured is a pricey proposition at $77,525. But even a Jell-O-loving alien will tell you its combination of ride, design, technology, powertrain build quality, legitimately-good gas mileage, and yes, even moderate off-road capability make the X5 hard to match among six-figure luxury SUVs. It's not the kid-gloved driver's choice, nor is it the iconoclast's pick—but it does feel solid, refined, and coherent. And with all that taken care of, you'll have more time to focus on what to do when the aliens finally decide to take over.
Editor's Note: Mike Spinelli may have written this review while hopped up on cold medicine.