By nature, a motorcycle can never be boring. They're raw, savagely addictive things. All you want is more. But even bikes can lapse into formulaic funks, with similar (if not altogether identical) rides and styles spreading across the industry. And lately, we've found ourselves missing that distinctness of personality. Then Johnny Rotten showed up. Taking the form of the 2019 Ducati Hypermotard 950, it told me, "I'm not here for your amusement. You're here for mine."
Upon initial inspection, the latest Hypermotard is exactly like every other motorcycle on sale. Two wheels? Yep. Space for two? Yes, ma'am. Controls in the middle. That's a big 10-4. We can agree it's a motorcycle. But even from a distance, there's some welcome differentiation—that plague mask-stylized front is a dead giveaway of the bike's less-civilized approach.
The 2019 Ducati Hypermotard 950, By the Numbers
Base Price: $13,295 
Powertrain: 937cc L-twin cylinder engine | 114 horsepower, 71 pound-feet of torque | 6-speed sequential manual | rear-wheel drive
0-60 mph: Not released yet, but quick ​​​​
Top Speed: 176 mph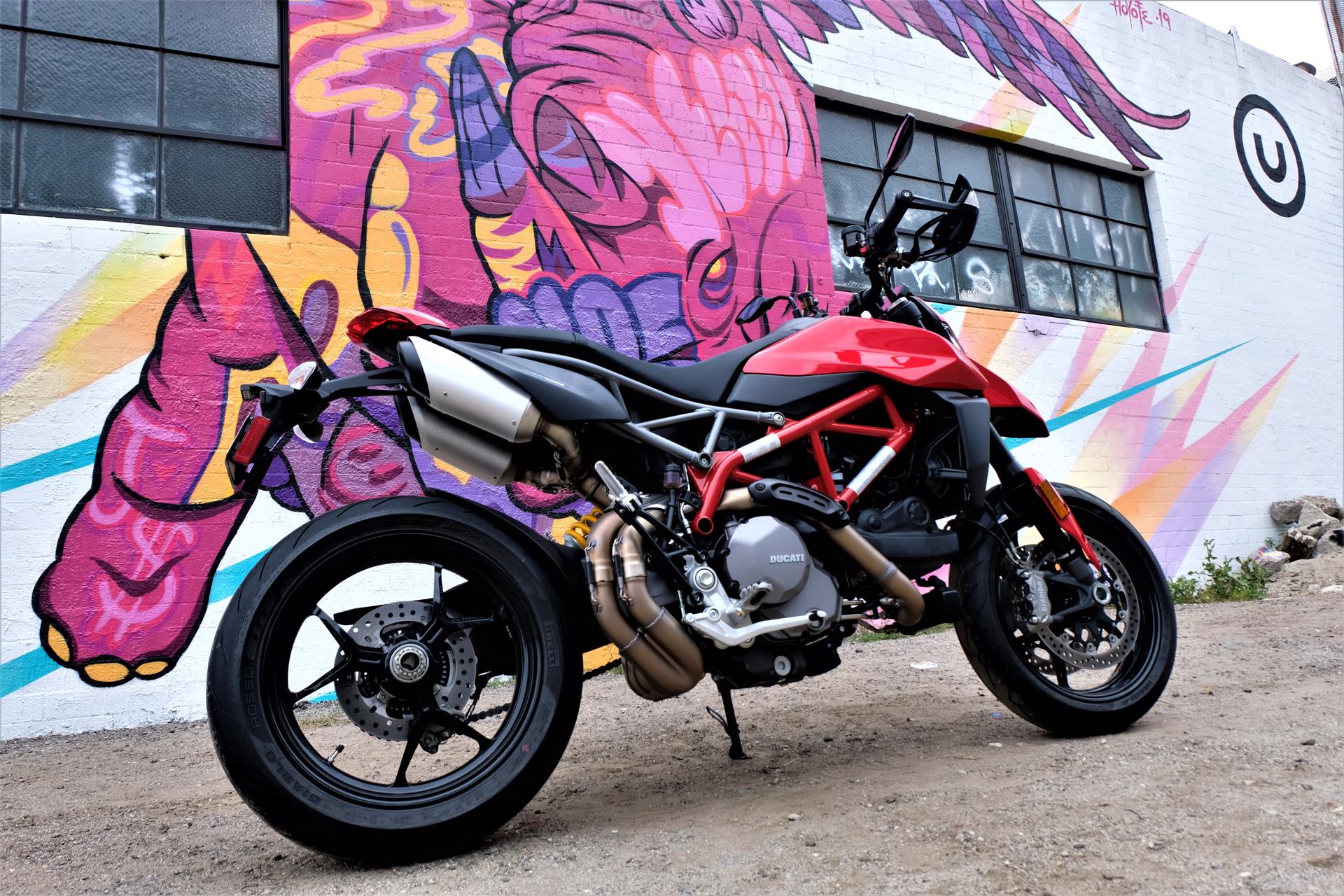 Jonathon Klein @Jonathon_klein
Crossing a right leg over the high seat—a welcome addition for someone standing 6'4"—there's a reckless current that radiates from your fingertips to your organs thanks to the forward-leaning seat. That inherent lightning sparks even before the 937cc L-twin cylinder comes to life and launches into a slow-build torrent of punk rock emotions. You'll want to unshackle yourself from the normalcy of convention and raise hell.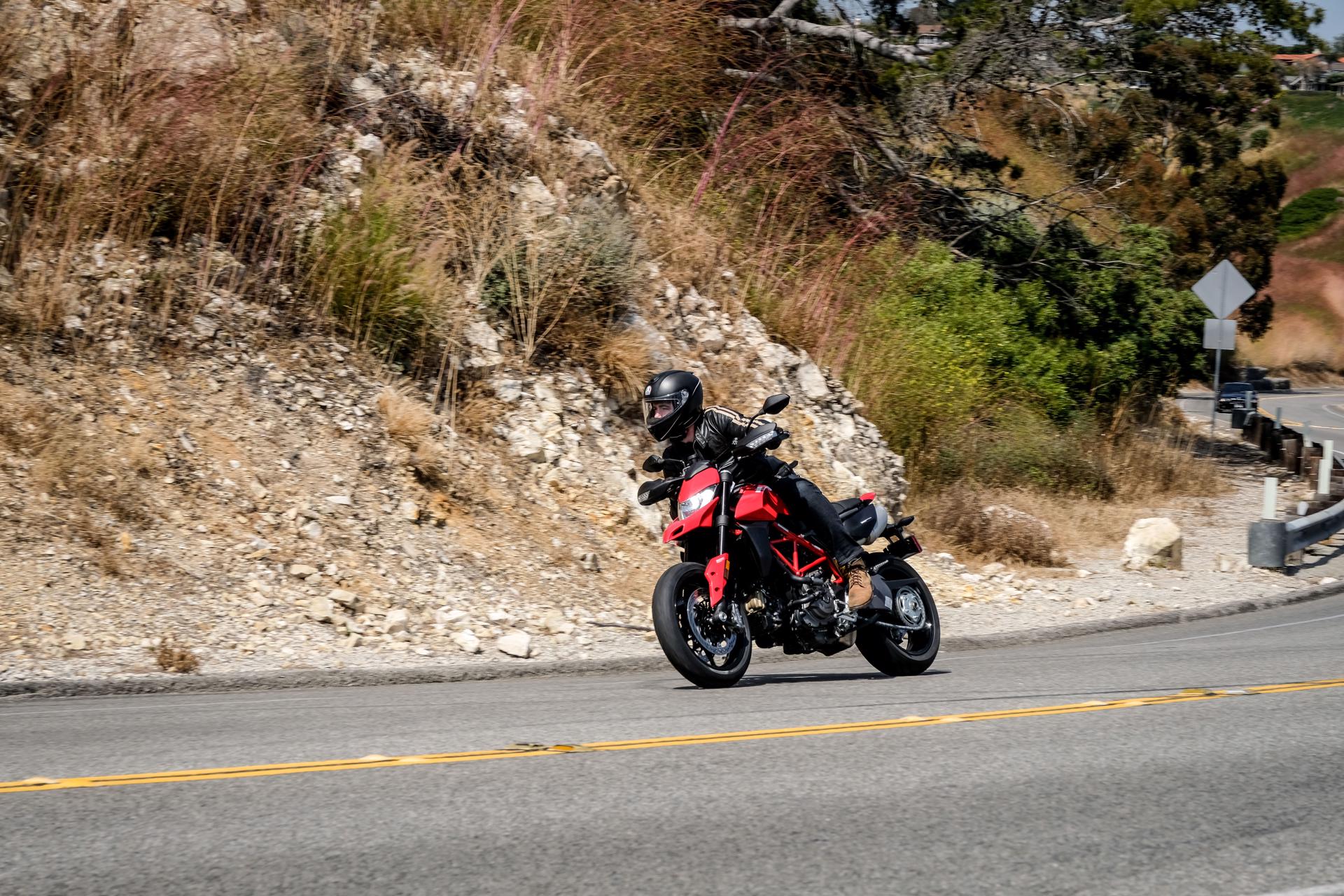 Sam Bendall @livemotofoto
The engine idles low, like a drummer stomping away at their double bass kit, hitting with an urgency that'll have you unconsciously tapping your foot and grabbing a handful of throttle. Inhibiting such delinquency right off the bat, Ducati's factory default settings provide a fully-enabled traction control, Ducati's Wheelie Control, and a milder engine map. 
Designed to introduce a learning curve to the Hypermotard's more aggressive punk character, the safety tech does its job. But it's in this Ducati's DNA to riot at CBGB, and within moments you'll turn everything off and crank up to full power. Only then does it evoke spontaneous giggles and prayers for empty highways, deserted streets, and Sin Shake Sin's Can't Go to Hell turned up to eleven.
In that Hooligan setup, the Hypermotard punches like its Ducati V4 S superbike sibling's 214 horsepower. Every crack of the throttle lifts the Hypermotard's front wheel toward the heavens, which is something you have to get used to.
Now, we've never been super comfortable popping a wheelie. We want grip. Grip equals speed. Speed equals control. Removing one of just two contact patches always seems improper. The Hypermotard doesn't care about such qualms, or the norms of society, and you quickly accept its view that We the People need some upheaval. The front wheel's fight against the man becomes a righteous cycle of throttle, wheelie, throttle, wheelie, throttle, wheelie—and you'll repeat it every chance you get.
The steel and aluminum trellis frame, similar to Ducati's Monster, is rigid and razor-sharp. The adjustable Sachs shocks and dampers are taut enough to drop a knee but soft enough for those repeat wheelies. Never once did I come down feeling like I was about to lose the front end, a major risk for any novice hooligan. And the apexes—oh, the apexes. Those of a certain height will understand that it can be difficult to fully lean into a corner without feeling like you're about to grind a hole in your leathers. Superbikes are for horse jockeys, but not the Hypermotard. The tall 34.2-inch seat, low center of gravity, and slightly upturned handlebars—along with the chassis, suspension, and brakes—make it feel balanced even if you're eligible for the NBA.
At the same time, the Ducati can become more respectable. More subdued. With a modicum of self-control, it's less a chain-smoking degenerate and more a member of civil society—like how Henry Rollins transformed himself from the debaucherous frontman of Black Flag into a television star, podcast host, and guest judge on the absolutely fabulous RuPaul's Drag Race.
In its more mundane settings, the Hypermotard is perfectly happy with donning a suit and being used as a normal mode of transportation—even punk rockers have to sometimes conform. Still, that's a societal mask. This bike would much rather show off its anarchy tattoos.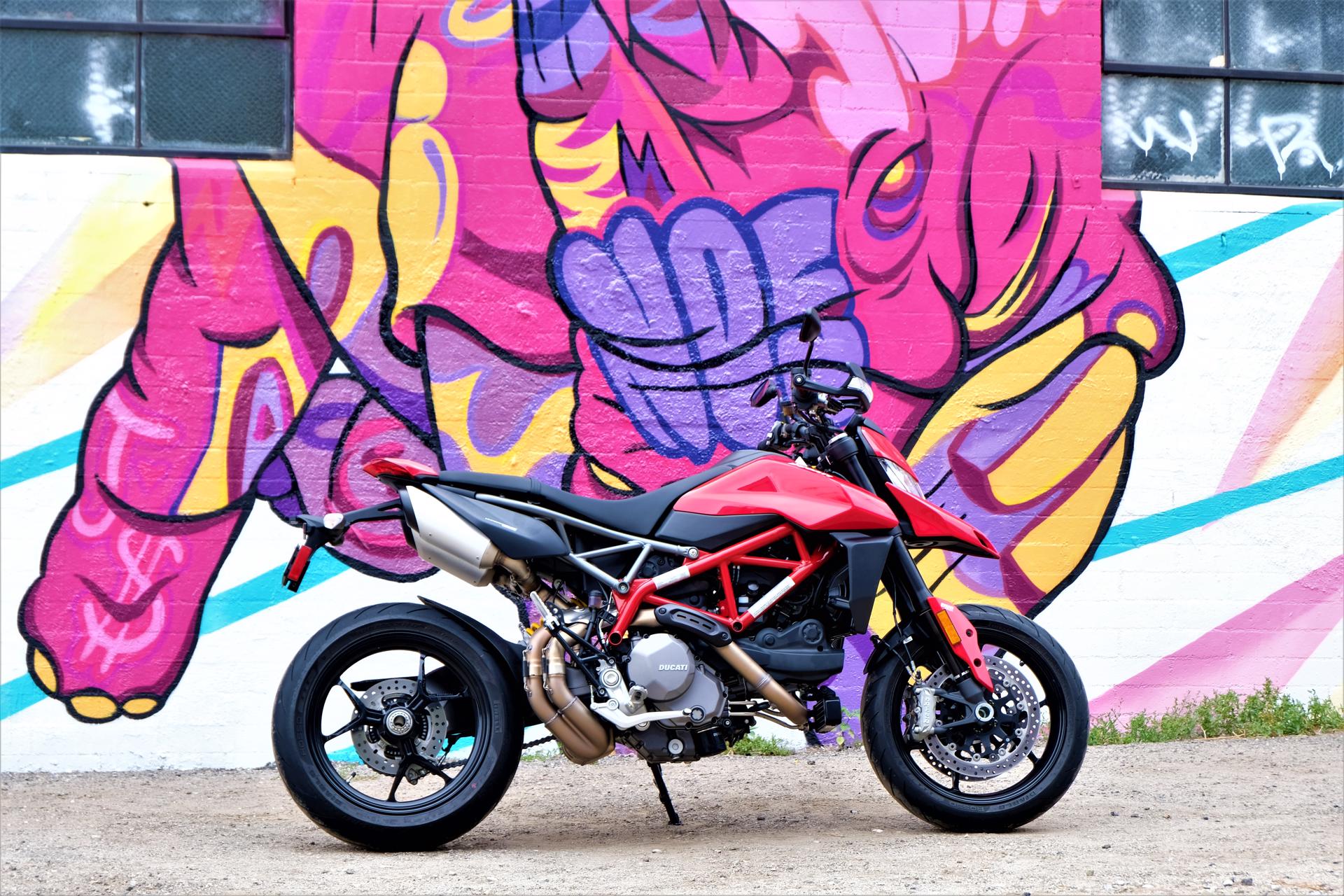 Jonathon Klein
Though it's fighting against the man, the ticket ain't cheap—the 2019 Ducati Hypermotard 950 starts at $13,295. But can you put a price on rebelling against the laissez-faire conformity that's slowly making the world a drier, more boring place? Where much of the resistance that spawned the original punk wave has aged out to become the man themselves, the Ducati Hypermotard is a rolling revival waiting to baptize the next generation of acolytes in the fires of rebellion. Fight the power—preferably with one wheel in the air.
Jonathon's Gear
Helmet: AGV Carbon Sportmodular
Gloves: Alpinestars Oscar Robinson
Jacket: Alpinestars Oscar Charlie
Jeans: Alpinestars Duple Denim with Kevlar
Boots: Thursday Boot Company President
Got a tip? Email the author: [email protected]