Welcome to Critic's Notebook, a quick and off-the-cuff car review consisting of impressions, jottings, and marginalia regarding whateverThe Autance writers happen to be driving. Today's edition: the 2019 Genesis G70 RWD 2.0T Dynamic.
The 2019 Genesis G70 RWD 2.0T Dynamic, By the Numbers:
Base price (Price as Tested): $34,900 ($44,895)
Powertrain: 2.0-liter turbocharged inline-four, 252 horsepower, 290 pound-feet; eight-speed automatic; rear-wheel-drive
EPA fuel economy: 22 mpg city, 30 mpg highway
0-60 MPH: 5.7 seconds (manufacturer figure)
Main competitors: Audi A4, BMW 328i, Alfa Romeo Giulia, Cadillac ATS, Jaguar XE, Lexus IS300, Mercedes-Benz C300, Infiniti Q50, Volvo S60, Tesla Model 3
Quick Take:
The Genesis Q70 arrives with a lot to recommend—from excellent chassis dynamics to a killer stereo—in a compact luxury segment facing upheaval if not outright crisis. Are we witnessing the sport-luxury sedan end of days?
Let not the plentitude of competitors in the list above fool you: Traditional compact luxury sedan sales can no longer be considered a forgone conclusion in the auto industry. The pace-setting BMW 3 Series has been losing ground to its sister SUVs. Mercedes-Benz C-Class sales, which peaked in the U.S. a half-decade ago, have since plateaued, as have Audi A4 units going out the door. Rookies like the Cadillac ATS and Jaguar XE have struggled to plink the merest dent into the market, the promising-to-enthusiasts Alfa Romeo Giulia is off to a slow start, and any real excitement left in the segment has been laser-focused on the Tesla Model 3.
Oh, hello Genesis G70.
Listen, don't fret. There's always room in our hearts for another good car, especially one with great chassis tuning. Once a dark art practiced by clipboard-wielding gnomes, vehicle dynamics engineering is now a commodity process. It must be. How else might we explain the recent onslaught of consistently well-tuned sedans like the Cadillac ATS, Jaguar XE, Alfa Romeo Giulia, and now the G70?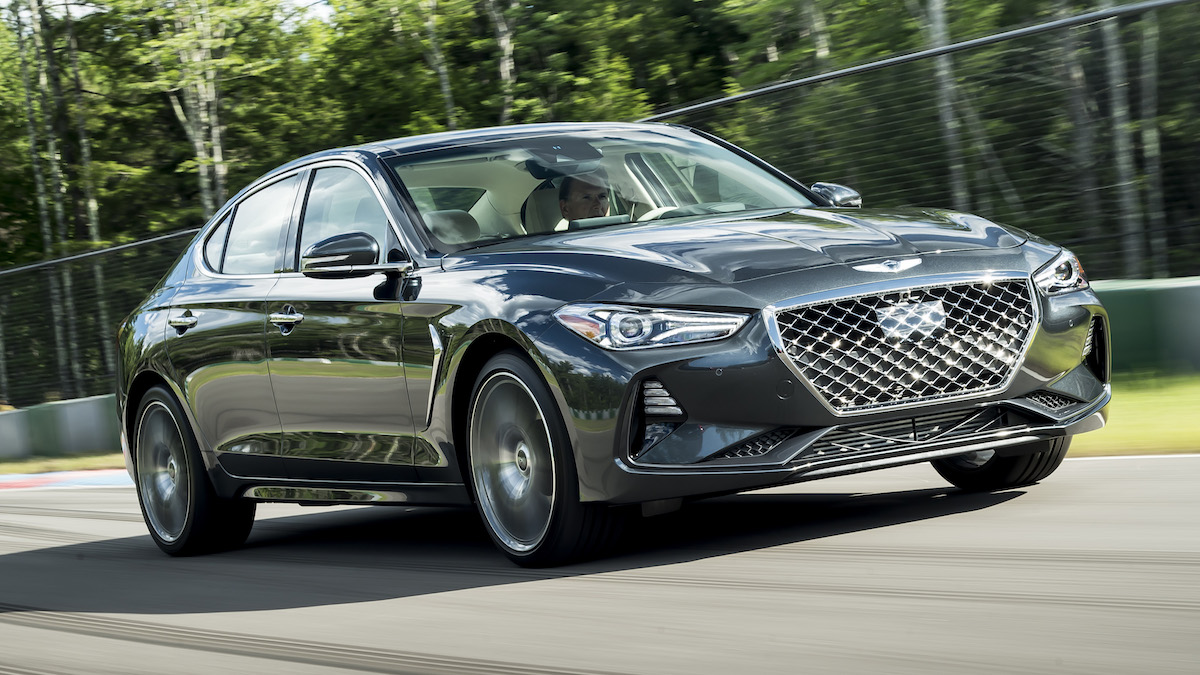 Genesis G70, Genesis Motor America
Each of these cars, in base-model spec, feels more agile, more alive, more willing to flirt with a randy driver than the similarly-equipped market leaders do. That's no accident. As the lead dogs have altered their tuning to accommodate "regular" drivers, leaving edgier stuff to their performance divisions or endowing buyers who spring for active chassis tech with a bone-rattling "sport plus" setting, the come-latelys have made "great to drive" a unique selling proposition for even their lowest-spec models.
Accordingly, the G70's chassis is its best feature. The passive-damping setup on the test car (active dampers are available on the V6 only) combines with typical front struts and rear multilinks. It's compliant on all axes without feeling wishy-washy, controlled without feeling over-hardened, eager without feeling manic. It's a mature, sophisticated calibration that doesn't make a driver wish for anything but twisty roads. "Sport" is the native mode for the G70 with the standard, passive chassis; "Comfort" merely adds unnecessary slack to the steering and powertrain. the steering is well-ratioed, with rack-mounted electric boost loading up on the natural side of artifice, but offering stellar on-center feel.
While forensic engineers may find specific similarities in architecture, Genesis reps are adamant in insisting the gear under the G70 isn't merely a shortened Kia Stinger platform, but a brand-specific build that's given the Genesis its own character. Indeed, it's agile, feels light on its feet, and begs for a track test. When that day comes, hopefully the track tester will come with the optional Pilot Sport 4s, which provide serious grip without the spine-jangling retort of some performance tires' sclerotic sidewalls.
While buttery and responsive, particularly as the revs build, the Genesis version of the posh, 2.0-liter turbo four just can't match the G70's chassis dynamics in feel, excitement, or dynamic energy the way, say, BMW's 2.0-liter might. The eight-speed automatic handles rev matching and gear-holding well, if not with high-performance car accuracy.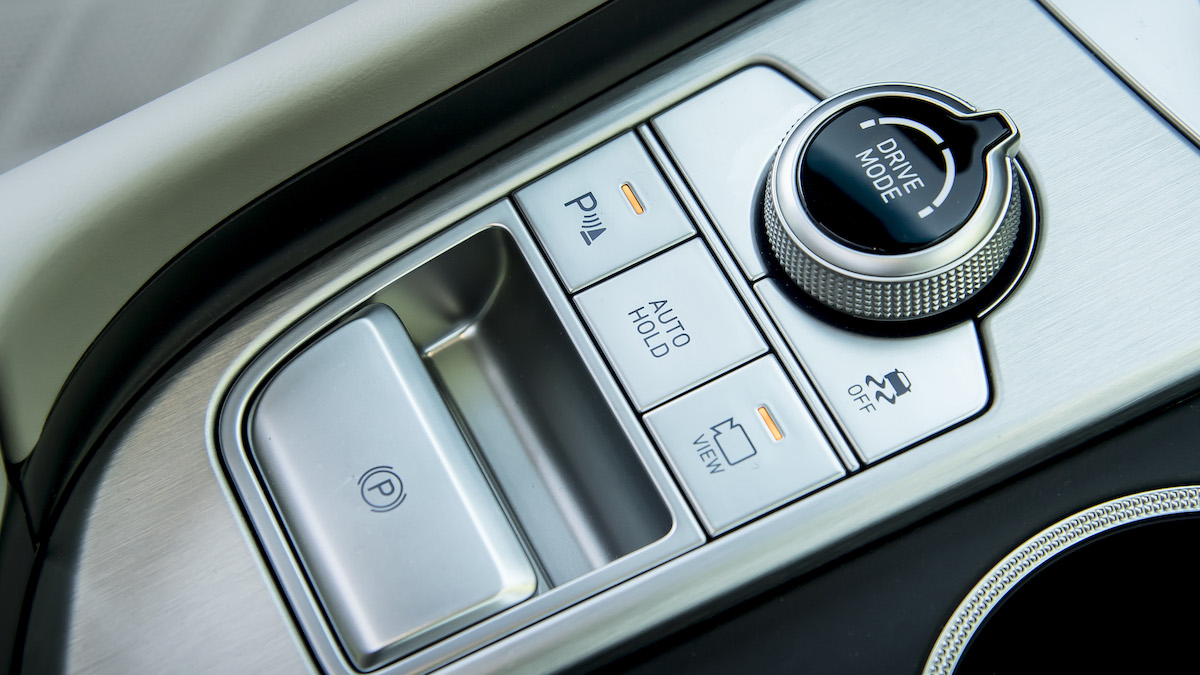 Genesis G70, Genesis Motor America
Looks-wise, the G70 is on point. It sorts out the modern scourge of lozenge-shaped sedans with judicious tailoring that eliminates the bulkiness plaguing modern BMWs and some Audis. Criticism might be lodged toward the huge chrome fascia-slash-maw, but that's a personal preference. And while calling the overall design "derivative" might be out of line, it does encroach on BMW's visual territory, even as Genesis has boldly taken the fight to Munich.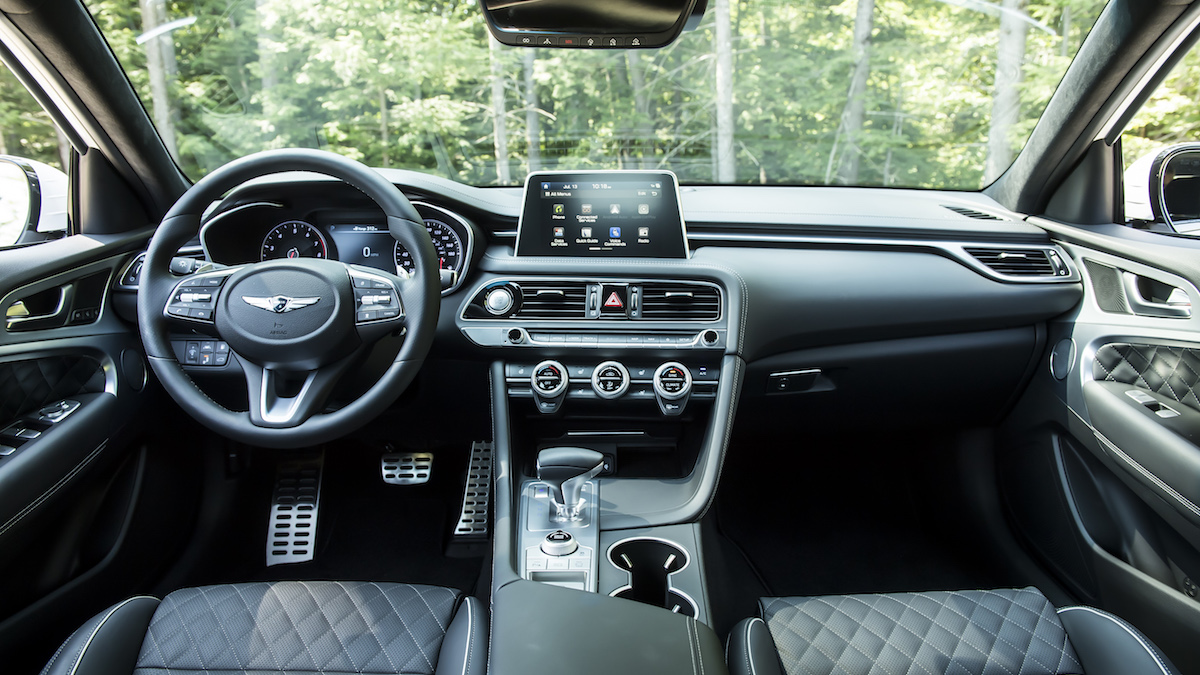 Genesis G70, Genesis Motor America
Interior design is from the minimalist school, with a nod to Audi's traditional simplicity and elegance. Seats covered in optional quilted Nappa leather look good and are both supportive and comfortable, while brushed metal trimmings are tasteful, though I'd prefer a less overtly metallic setting. An 8.0-inch infotainment screen, with an easy-to-orient user interface, owns center stage, and Android Auto and Apple CarPlay sub-screens are simple to initiate. An optional 15-speaker Lexicon stereo—part of a $5,000 package that includes navigation, power-folding mirrors, heated/ventilated front seats, LED headlamps, power tilt and telescopic wheel, and parking distance warning—sounds absolutely phenomenal. I'm sure side-by-side listening would reveal this system to be best in class.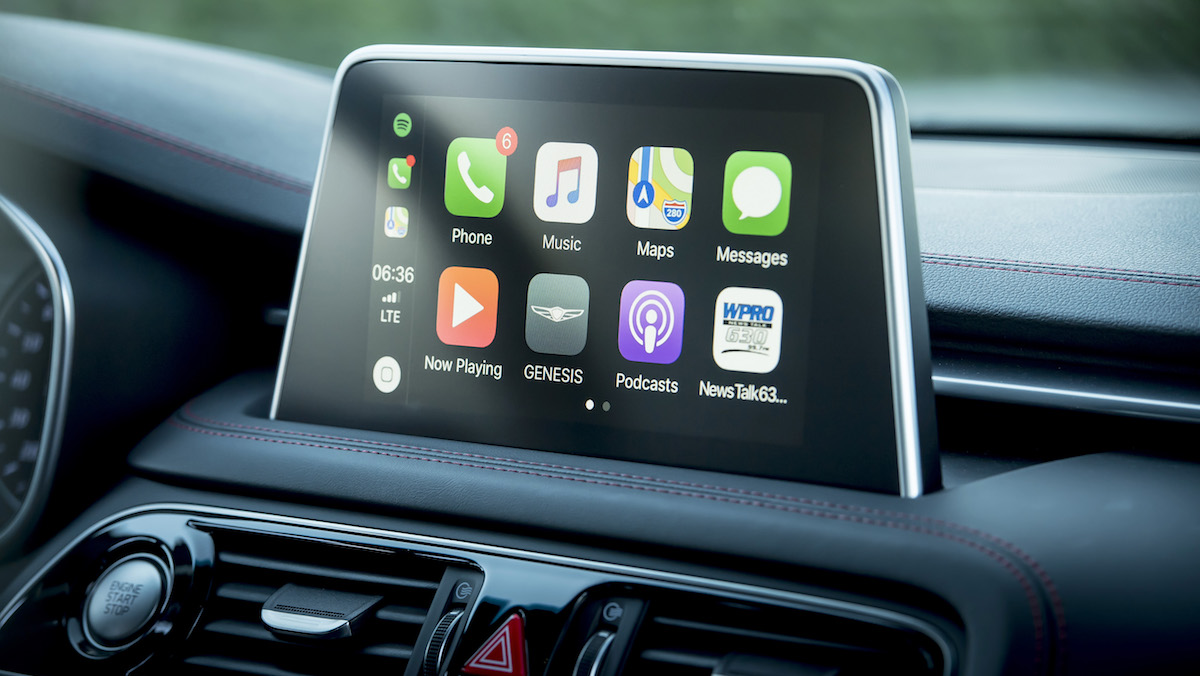 Genesis G70, Genesis Motor America
Overall, the Genesis G70 offers spry, agile handling (hamstrung from being a real performance play by its pedestrian engine) and offers a ton of value in this space. At around $5,000 less than a comparably equipped 328i and $2,000 less than a similar Audi A4, and with a full slate of safety and driver-assist systems standard, it's easy to recommend.
It may be entering a crowded arena, a desperate cage match that will determine which competitors won't survive (hint: most won't), but the G70 has a lot of what it will take to make a go of it. Oh, and you can get the 2.0-liter G70 with a manual. How many of those competitors still offer one of those?