When car designers and engineers start throwing the word "maturity" around, it usually means the model in question is ready for chamomile tea and a nice nap. But it doesn't describe some Lincoln-style snoozer for the 2019 Jaguar F-Pace SVR. That becomes clear on the French Riviera, where this wolfish British SUV rouses its 550-horsepower V8 and devours every bloody strand of some of the world's most splendid roads. 
Think of the F-Pace SVR as one of those freakish rookie linebackers that looks too big to move, but then chases down the quarterback and sends him straight into the concussion protocol—except the Jaguar won't leave occupants feeling like that flattened QB. That's where the "mature" part comes in: Jaguar, smartly, has kept the F-Pace SVR on the proper side of insanity. Yes, those 550 supercharged horses represent a 44-percent leap beyond the F-Pace S with its 380-hp V6. But this F-Pace will be as happy running interference for the family as it is with shaming run-of-the-mill sport sedans or SUVs.
As with its lesser-powered F-Pace stablemates, the SVR version doesn't scrimp on style. This is still one of the prettiest SUV's extant, one of the rare choices that doesn't feel like a parent's self-denying compromise in the name of household harmony. The Jaguar definitely looks the rakish part during our seaside stroll through Nice and St. Tropez. And its retuned adaptive suspension manages to spread creme fraiche over these ancient roads, despite the F-Pace's stiffer springs (30 percent up front, 10 percent out back), and optional 22-inch forged alloy wheels.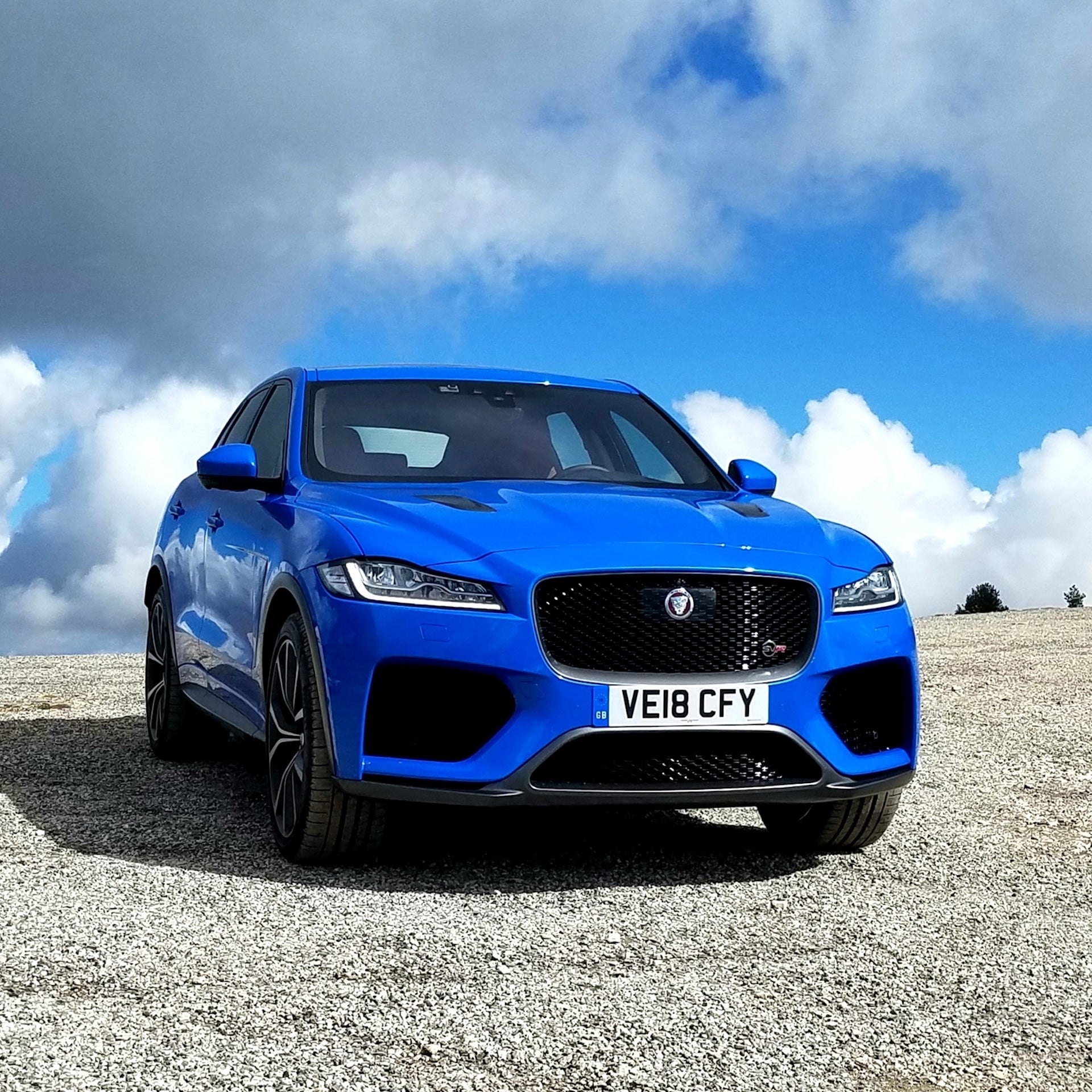 With 550 V8 horses, SVR brews up a storm, Lawrence Ulrich
Heading north into Provence and the Maritime Alps, our drive also takes in the bucket-list Route Napoleon. Here, the Jaguar mimics the progress of the eponymous French emperor in 1815, who marched this cliff-crazy path (then a series of mule and foot trails) with 1,200 loyal men to briefly recapture his throne after exile in Elba and a beach landing at Golfe-Juan. Overthrows, or overtaking, will be a snap in this SVR. Ross Restell, lead dynamics engineer for Jaguar's Special Vehicle Operations, cites a 4.1-second cannon shot from 0-60 mph, and a 12.3-second quarter-mile at 115 mph. A few SUV's are faster in a straight line, including the Porsche Cayenne Turbo. But by either measure, Restell notes, this F-Pace is a half-second quicker than the supercars that adorned his adolescent walls in the U.K.: The Lamborghini Countach and the Ferrari 512 Testarossa. The Jaguar also tops out at 176 mph, right in line with the 173-mph Mercedes-AMG GLC 63, the Alfa Romeo Stelvio Quadrifoglio (177 mph) or the Cayenne Turbo (178 mph). Owners might think about that when they're trying to avoid cracking eggs or bruising organic tomatoes en route from the grocery store.  
Jaguar F-Pace SVR is All About Balance, Including the V8 Sound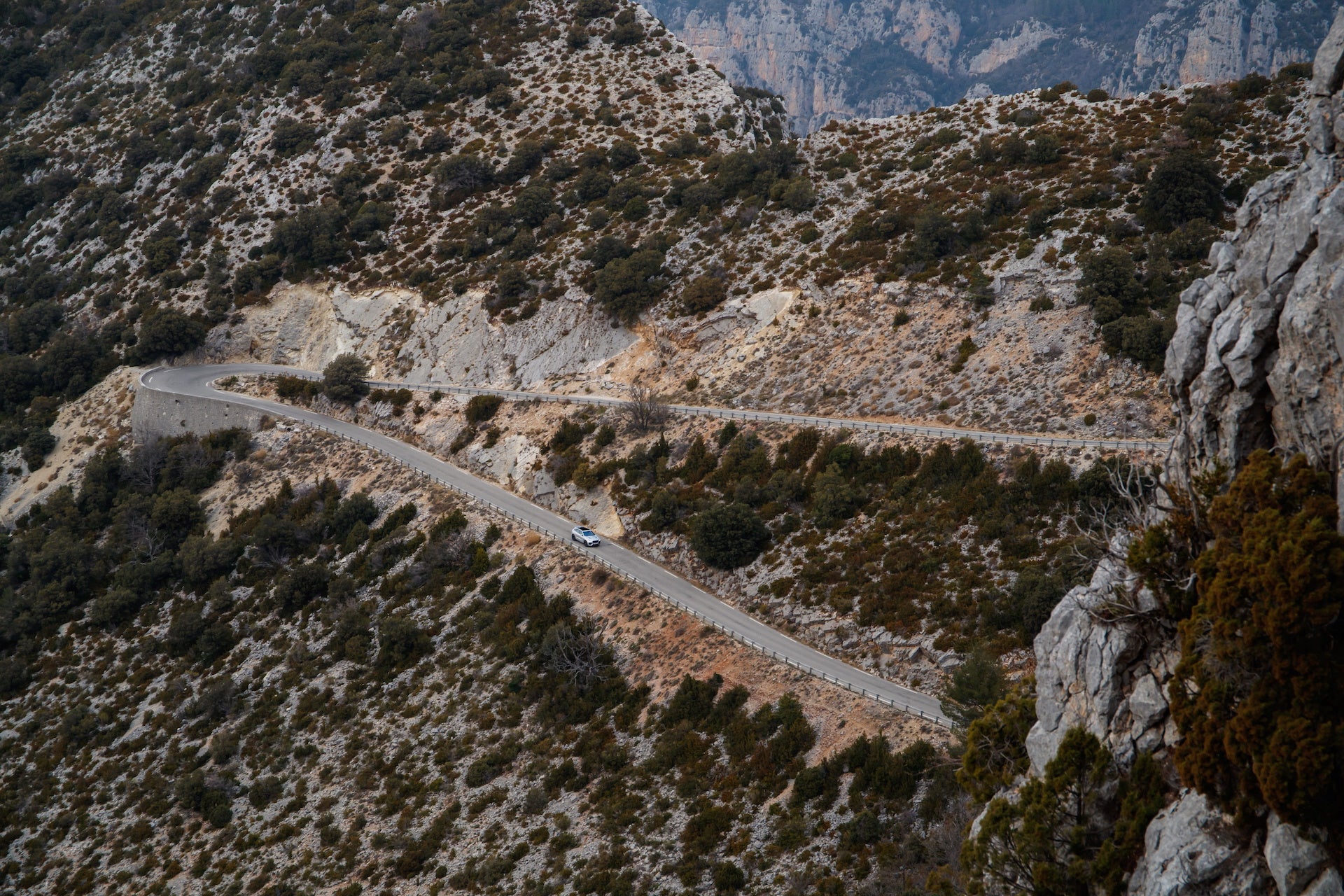 Yeah, this road should work, Jaguar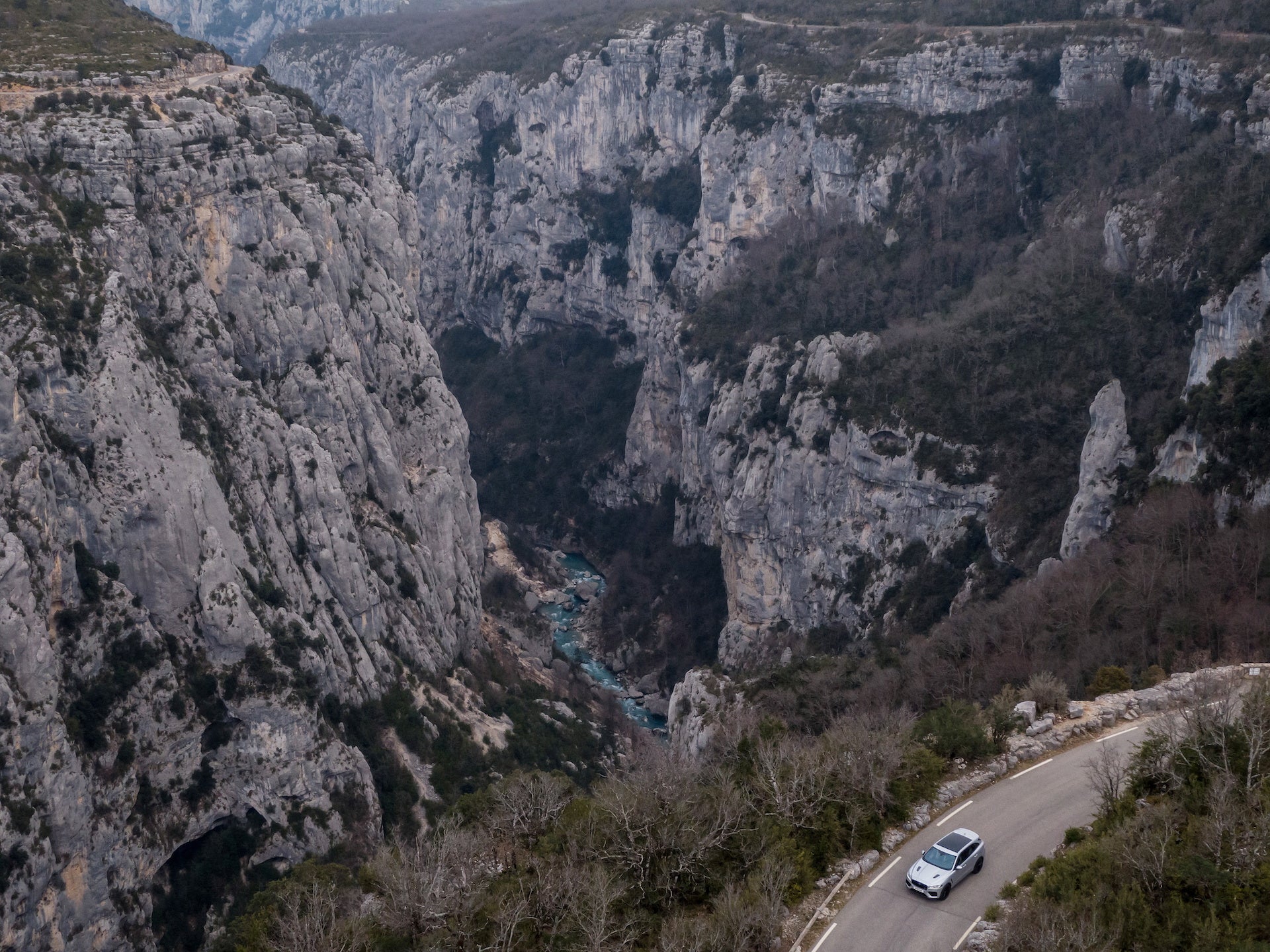 This one, too..., Jaguar
Fortunately, the SVR doesn't bruise my ears, thanks in part to a new, fully variable-valve adaptive exhaust in place of the industry's usual two-stage units. My ears had been cocked for just such an assault in light of the famous snap-crackle-and-pop of Jaguar-Land Rover's 5.0-liter supercharged V8, and the overwrought sound of SVO's previous effort, the Range Rover Sport SVR. Look, I like an unrestrained exhaust tune as much, or more, than the next guy. But that Rover SVR often sounded like a pack of Harleys was crammed inside, all amplified by the booming kettle-drum of that big SUV cabin. Jaguar clearly heard the complaints over the din: This F-Pace emits a throaty croon that seems soaked in rare Armagnac. The dual-pipe, quad-outlet exhaust emits the V8's beloved backfires on engine overrun, with the appropriate menace under hard throttle, but it never steps over the line into juvenilia. That exhaust system also increases gas flow and trims 14.5 pounds versus the standard F-type exhaust. 
The SVR's broad-shouldered bod adds larger front air intakes, hood vents to draw engine heat and reduce aero lift, slashing fender vents to cool brakes, side body moldings, a SVR roof spoiler and a reshaped rear bumper with four fat exhaust outlets. Inside, the F-Pace interior that seemed a bit middling in materials and workmanship—especially in light of fresher Jags like the reworked 2020 XE sedan that we also drove—adds enough new goodies to boost those impressions. A welcome pistol-grip shifter for the discreet eight-speed ZF transmission replaces the old pop-up rotary knob. New "Slimline" performance seats are clad in stitched-and-quilted leather, with SVR logos embossed on integrated headrests. An SVR steering wheel with aluminum paddle shifters fronts a 12.3-inch digital driver's display, and the cabin is awash in metal and carbon fiber. A choice of four contrasting-color interiors adds more visual pop. But the SVR doesn't yet adopt Jaguar's latest infotainment system, the Touch Pro Duo unit with its dual 10-inch stacked screens. Owners settle for a single screen with traditional analog climate controls below, but it's not a huge loss. 
Jaguar F-Pace SVR: A Surprisingly Practical Performance SUV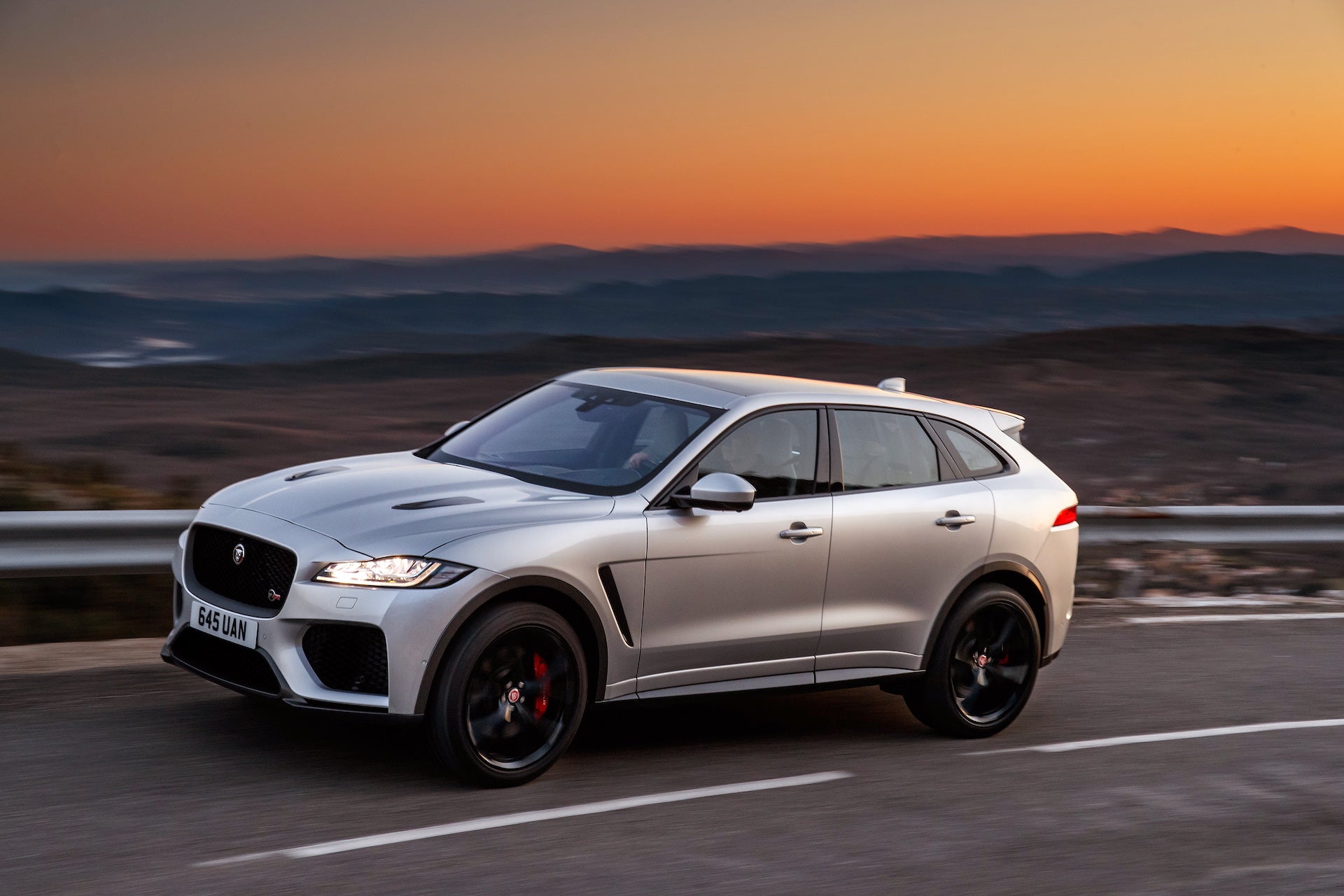 Jaguar
Every SVR review I've seen neglects to mention its practical edge versus the competition: C'mon people, this is still an SUV, after all. The Jaguar is Honda-esque in its efficient packaging relative to its tidy exterior footprint. That includes a notably wide cargo hold with a robust 33.5 cubic feet of storage behind the 40/20/40 split second row, whipping the Alfa Stelvio or Mercedes-AMG GLC 63 with their scrawny 18.5- and 19.4-cubes, respectively. Impressively, that critical behind-seat cargo space is 25 percent more than the Porsche Cayenne Turbo even though the Porsche is seven inches longer. A freaking Jeep Grand Cherokee Trackhawk fits barely more gear behind its second row than this Jaguar. Fold the second-row seats, and the 63.5-cubic-foot space again tops the Alfa, Porsche, Benz, Audi SQ5 or coupe-roofed BMW X6M. A square-roofed BMW X5M holds more stuff, but it's also about seven inches longer and two inches taller than the Jaguar—and looks like a family schlepper in comparison. Oh, and that X5M weighs 865 pounds more, at 5,260 pounds versus 4,395 for the F-Pace, a figure that also undercuts the Porsche by about 400 pounds. (The Alfa remains the class lightweight, relatively speaking, at just over 4,200 pounds). 
Our run from St. Tropez to the Alps showed off the sympathetic ride-and-handling balance that was a prime directive for SVO engineers like Restell, who led Lotus' vaunted vehicle dynamics team before coming to Jaguar. 
"What's the point of having an SUV like this if it's beating you up all the time?" Restell asked. "Or if owners don't want to live with it, put their kids and dogs in it?" 
F-Pace SVR Goes Hard on Road, (Relatively) Easy On Price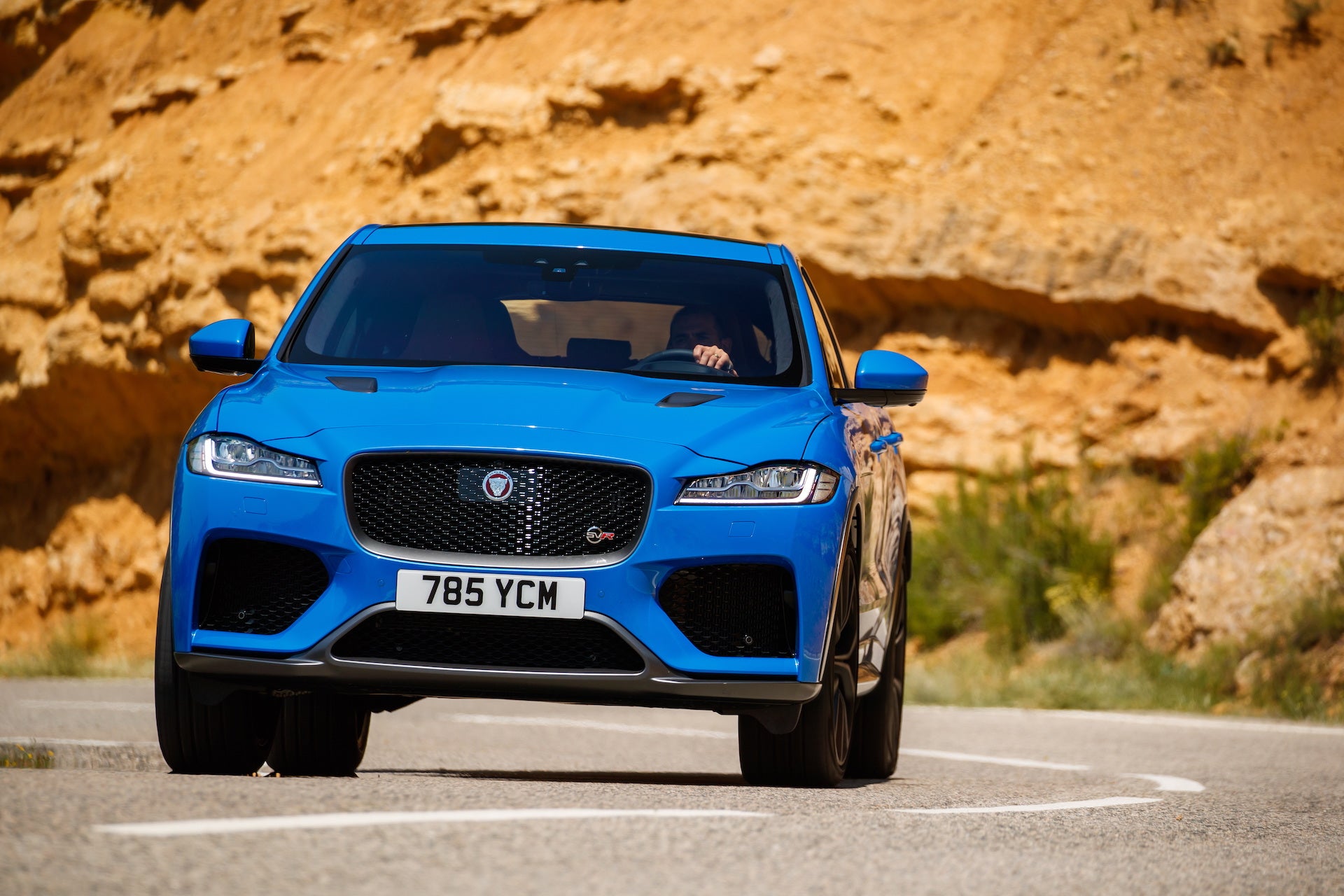 Jaguar hunts down 60 mph in 4.1 seconds, peaks at 176 mph, Jaguar
Kids and canines should be well entertained, as the SVR gets more-aggressive software programming for its transmission, suspension, electric steering, stability control, brake-based torque vectoring and rear-biased AWD system. Switch to Dynamic mode and the full monty of torque—a meaty 502 pound-feet—can power rear wheels alone until there's slippage. Internal damper hardware is all-new, with a 1 mm-larger rear anti-roll bar and retuned front-axle bushings. Jaguar claims a five-percent reduction in body roll versus the already prairie-flat F-Pace S. Brakes are crushingly strong yet a breeze to modulate around town or in heavy traffic—a far cry from the Alfa, whose touchy by-wire brakes make it maddeningly difficult to effect smooth stops in everyday driving. The staggered-size, 22-inch forged wheels trim nine pounds of unsprung weight versus optional 22's on the F-Type S.   
As it scales the craggy walls of the Alps, the Jaguar uncorks its best snarl and barrels from apex-to-apex with the confidence you'd prefer when the alternative is a Thelma and Louise ending. In a signature of today's digitally-enhanced, hot-rod SUVs, the Jaguar has more to give when grip and physics seem nearly tapped out; I can feel the various systems shuttle power fore-and-aft or side-to-side to let the F-Pace dig deeper and leap ahead instead of sliding wide. I'd say the Alfa Stelvio remains the king of pure SUV steering feel (no surprise), but the Jaguar's is solid, including a ratio that speeds up relative to how far you crank the wheel off-center.
In the midst of this SUV dogfight, the Jaguar costs less than you might expect for such a powerful, purebred cat. This F-Pace SVR starts from $81,015. That's a bit more than a Porsche Macan Turbo or GLC 63, but the Jaguar has decisively more room and power than either. (The Jaguar nearly doubles the Macan's rear cargo space). The F-Pace is priced virtually atop the 505-hp, V6-powered Alfa, its most-direct bogey. But to blend this much family practicality with V8 juice, you're looking at roughly $102,000 for a BMW X5M/X6M, $112,000 for a Mercedes-AMG GLE 63 S, or $126,000 (and rising fast) for a Cayenne Turbo. Jaguar may be late to the performance-SUV soiree, but it's a welcome arrival nonetheless. 
Lawrence Ulrich,The Autance's chief auto critic, is an award-winning auto journalist and former chief auto critic for The New York Times and Detroit Free Press. The Detroit native and Brooklyn gentrifier owns a troubled '93 Mazda RX-7 R1, but may want to give it a good home. Email him at [email protected].