Rumors that the 2020 Chevrolet Corvette Stingray lapped the Nürburgring in 7:28.3 may have missed the mark, but not by much because the official time is awfully close: 7:29.9.
General Motors snuck the time into the trailer of its documentary about developing the eighth-generation Corvette (which it will release in two parts over the next few months). During a tracking shot of the camera moving uphill toward the track's famous banked corner Karussell, the time can be seen overlaid on the tarmac, in a shade of white meant to make you mistake it for the track's infamous graffiti.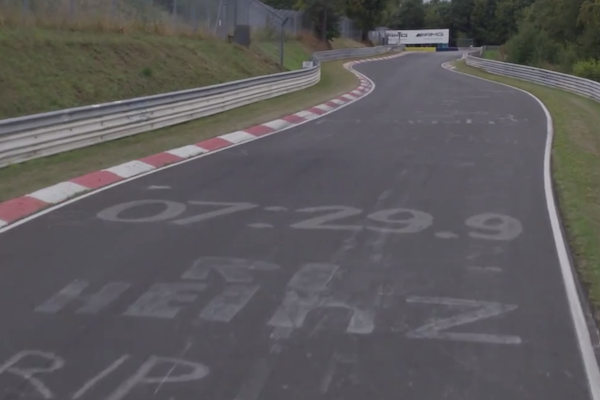 General Motors
A GM spokesperson confirmed to The Drive that Corvette Racing driver Oliver Gavin achieved this time during the C8's development at the Nürburgring in the summer of 2019. The car used was a prototype equipped with the Z51 Performance Package, which adds larger brakes, an electronic limited-slip differential, functional aero, and a performance exhaust that raises engine output to 495 horsepower and 470 pound-feet of torque.
While we already know the C8's 2.9-second zero-to-60 time—which is comparable to hypercars from a decade or two ago—this lap time doesn't mean much in a vacuum. The C8's stunning performance is better highlighted when compared to the other rides below.
7:04.0: 2019 Chevrolet Corvette ZR1 (C7) (Unofficial) 
7:13.9: 2017 Chevrolet Corvette Z06 (C7) (Unofficial) 
7:19.6: 2009 Chevrolet Corvette ZR1 (C6)
7:28.0: 2005 Porsche Carrera GT
7:29.6: 2017 Chevrolet Camaro ZL1
7:29.9: 2020 Chevrolet Corvette Z51 (C8)
7:32.0: 2015 Audi R8 V10 Plus
7:38.0: 2011 Ferrari 458 Italia
7:59.0: 2005 Chevrolet Corvette Z51 (C6)
Despite a 155-horsepower deficit, the new Corvette nearly equaled the time of the fastest Camaro that's ever been sold, and triumphed over many cars that cost several times as much. Performance like this ought to whet your appetite for what the C8 will do when GM gives it more power in the form of the upcoming Z06, which is expected to feature an overhead-cam V8 with a flat-plane crankshaft. Rumors allege this engine could produce 600 or more horsepower, and that the chassis it powers will brandish aero even more extreme than that of the C7 ZR1.
Seeing as a Corvette prototype has been spotted in what looks like benchmark testing against a Porsche 911 GT2 RS, we have nothing but sky-high hopes for America's affordable supercar. Until GM decides to let the world know if it'll hit it out of the park with the Z06 or ZR1, however, we'll get plenty of practice twiddling our thumbs.
Got a tip? Send us a note: [email protected]