A supercar should always mean blistering acceleration, extreme G forces, a bit of discomfort, and, perhaps, a relentless admiration and/or deep loathing from the general population. But from behind the wheel of a Lamborghini, these things are all amplified by a factor of 20.
What I discovered after spending an entire weekend alongside Lambo's latest open-top super bull, the Huracan Evo, wasn't how blindingly quick, stunningly loud or impeccably precise it is. Or even how it masters the art of inflating its driver's ego. The Evo's best trick is actually how quickly it gathers people's attention.
Forget influencers. Drive around town in a bright blue convertible Lamborghini, and rest assured, you'll be the next big thing on TikTok within a matter of minutes.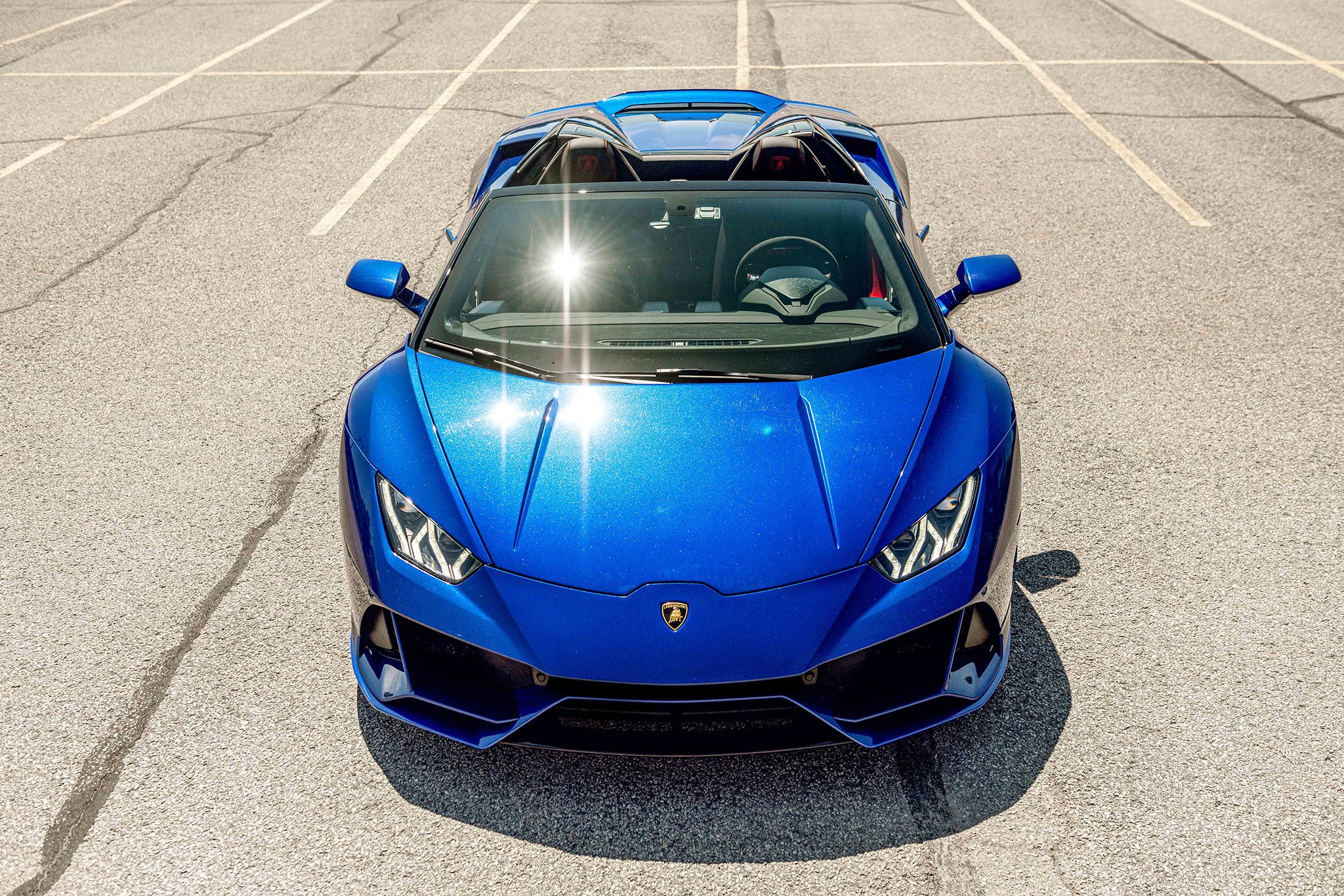 Guillaume Fournier
2020 Lamborghini Huracan Evo Spyder, By The Numbers
Base Price: $287,400
Powertrain: Naturally aspirated 5.2-liter V10 | 7-speed automatic | all-wheel-drive
Horsepower: 631 horsepower @ 8,000 rpm 
Torque: 443 pound-feet of torque @ 6,500 rpm 
Passenger Capacity: 2
Curb Weight: 3,750 pounds
The Promise: The wildest Lambo yet.
The Delivery: Everything you expect from a Lamborghini and more.
What's An Evo?
While the Evo name may remind you of a certain Mitsubishi that once tore up rally stages, it's actually how Lamborghini wants everyone to call the Huracan now. Since the 2020 model year, all Huracans (Huaracanes?) are Evos, which precisely means that: a careful evolution of an already emotional supercar, or if you prefer, the first real refresh for Lambo's baby supercar.
I say emotional, because the Huracan's original mission, or any Lamborghini for that matter, was never about top speeds or record-setting lap times. The company's ethos instead focuses on drama, striking looks and a colorful soundtrack meant to stir your soul nd live in your memories forever.
But then, one morning, Lamborghini woke up and decided it wanted to take on rivals Ferrari and McLaren in the numbers war. Just like that, in a "screw this" moment, Sant'Agata downright smashed the Nürburgring lap record for a production car with the Huracan Performante, a more focused version of the Huracan at the time. The Performante set a time of 6 minutes, 52 seconds, no less, putting Lamborghini back in the spotlight as a brand that could back up the inevitable stares on Ocean Drive with real performance.
The Evo effectively carries over this newfound vigor by utilizing the Performante's engine as standard equipment; in this case, a performance-tuned 5.2-liter V10 (then again, is there such a thing as a non-performance tuned Lamborghini engine?), that cranks things up from an already excessive 602 horsepower to a downright gut-wrenching 631. Torque was also slightly bumped from 413 to 443 lb-ft.
Paired to a seven-speed automatic gearbox, this mid-mounted jewel of natural aspiration will not only rev to a stratospheric 8,500-rpm redline, it allows the all-wheel-drive Evo— roofless or not—to launch to 60 mph in just about three seconds flat.
Perhaps even more impressive is the claimed 10.5-second quarter-mile time out of the box, or, lest we forget, the 202-mph top speed. Remember, this is Lamborghini's entry-level sports car.
The Evo makeover opens up the Huracán's face courtesy of a new bumper with integrated splitter and enlarged air intakes. Lamborghini says those intakes actually improve aerodynamic performance. The car's rear fascia also gets the Performante treatment with high-mounted sports exhausts, an integrated spoiler, and a rear diffusor that also increases downforce. New wheel designs help the Evo stand out as a meaner, fresher Huracan.
Inside, not much changes except for a slight reshuffling of available color and fabric combinations, as well as updated digital displays. I'm a personal fan of the Forged Composite surfaces, a kind of superhero carbon fiber texture only Lamborghini could have conceptualized. It looks like marble, and gives the car a uniquely expensive look and feel.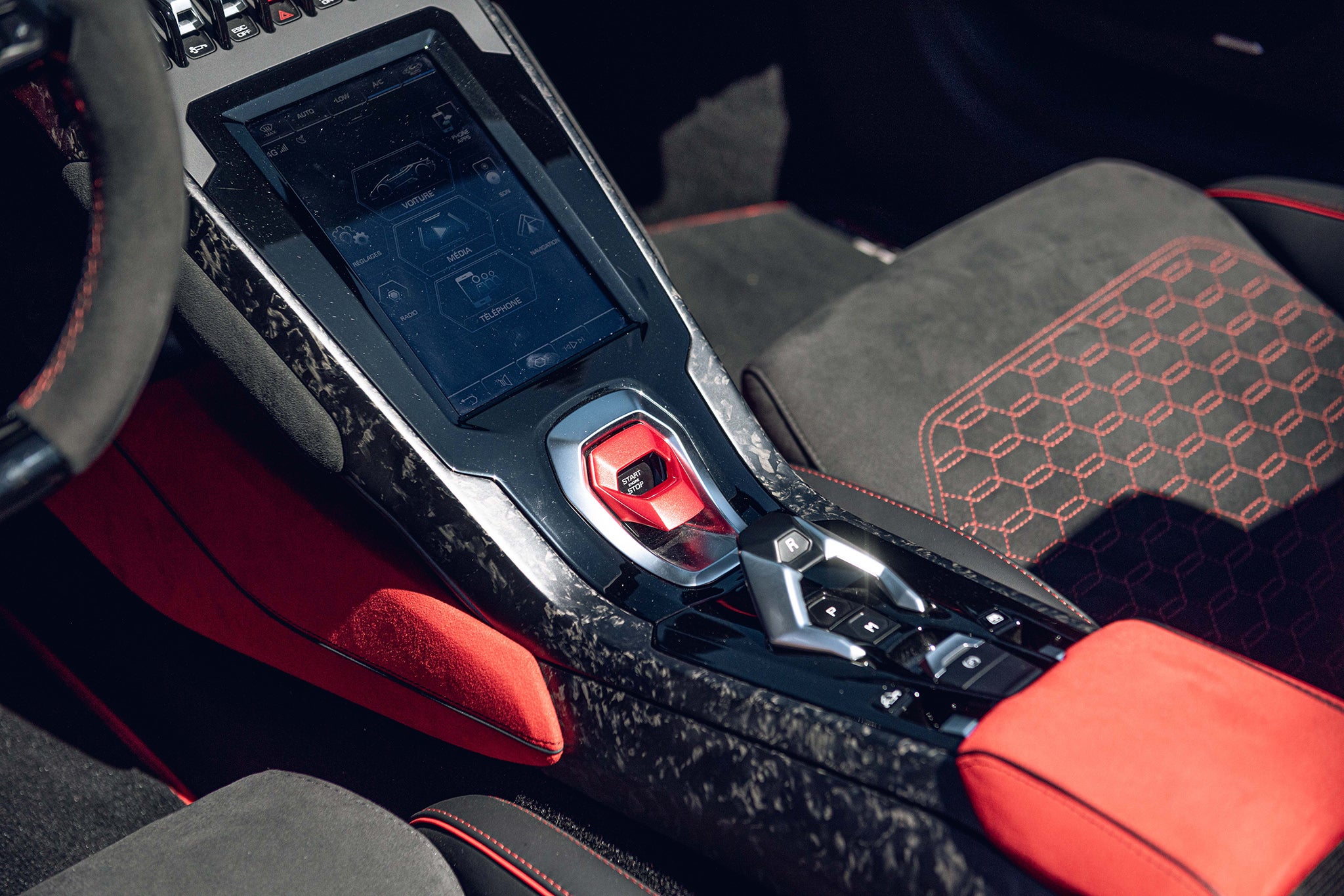 Guillaume Fournier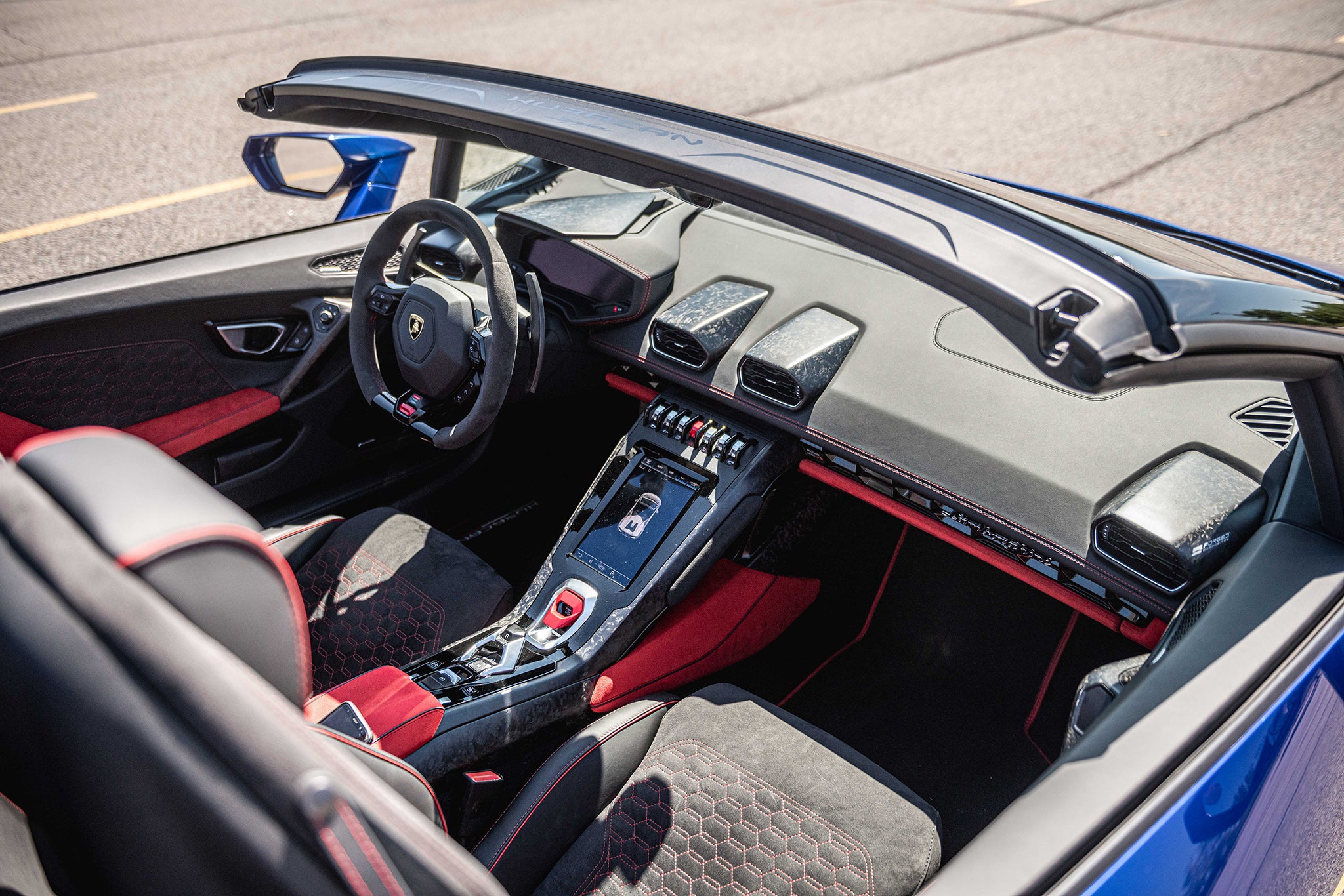 Guillaume Fournier
The most substantial cabin update though is Lamborghini's all-new in-house infotainment system, which ditches the old Audi-sourced MMI-styled interface for a much cleaner touch-screen unit. The system comes with an 8.4-inch screen and Android Auto/Apple CarPlay compatibility.
Let's Geek Out A Bit
I promised myself I wouldn't flood my readers with endless bits of technical information, as I figured a Google search or two can take care of that for you. But I do feel the need to waste a bit of internet ink telling you about the car's charismatically named Lamborghini Dinamica Veicolo Integrata (LDVI) supercomputer.
Lambo's quite proud of this gizmo, and with reason, as it funnels all sorts of data to a central processor to optimize the car's performance for any situation. The car basically analyzes your habits and their environments and then sets itself up accordingly.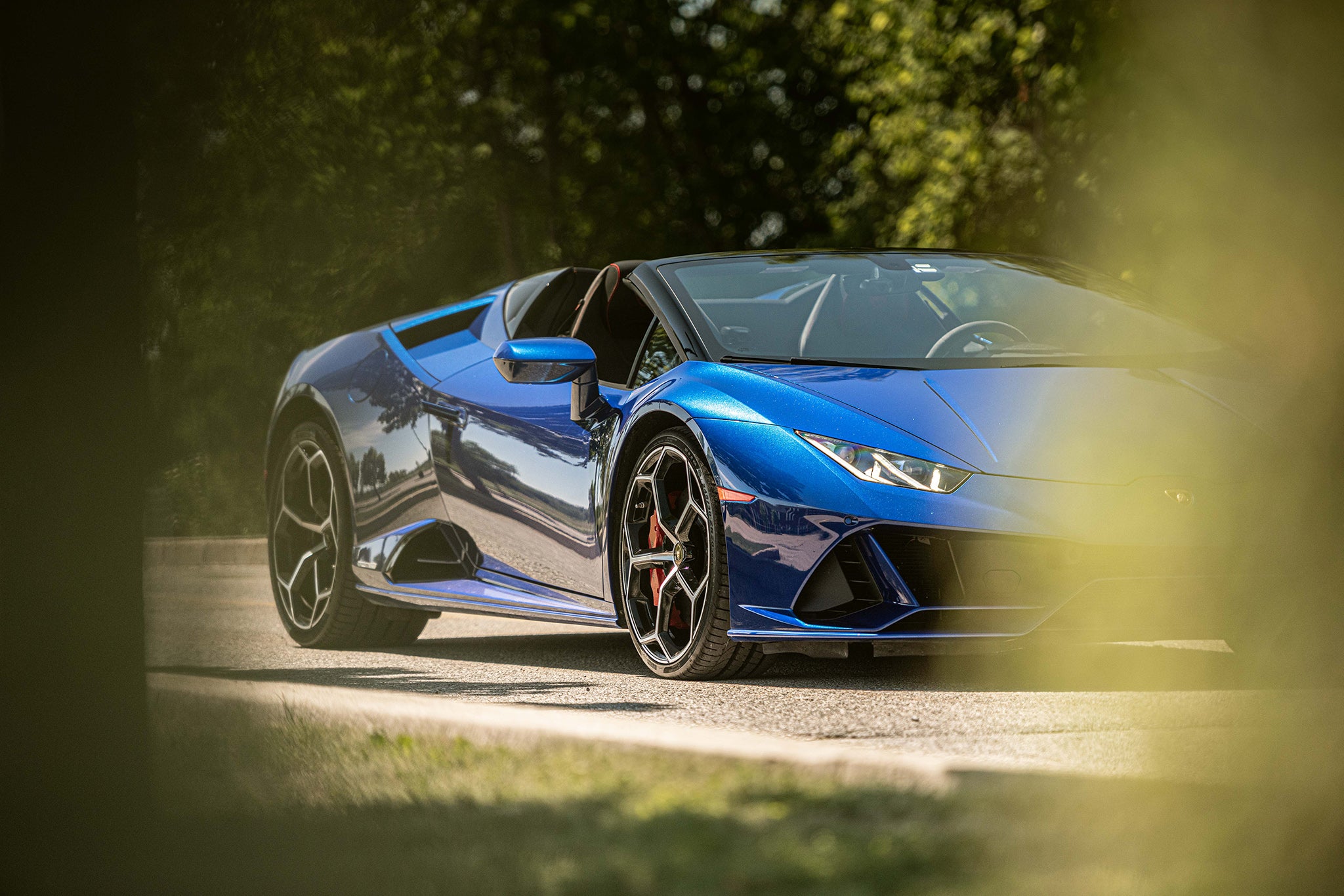 Guillaume Fournier
For instance, it can adjust rear-wheel steering (yes this Lambo has a rear-wheel steering system like an old Honda Prelude) so it can better work alongside the brake-based torque vectoring system, and adaptive dampers for improved nimbleness. The car basically anticipates what's coming next.
Even more remarkable is how it memorizes your favorite drive modes, like whether you prefer driving it in manual or automatic mode. The Evo even scans how your feet operate its pedals so it can better react to your future inputs.
Does it work? It's honestly hard to tell when you're hanging on the steering wheel for dear life, but it sure makes driving a 630-HP supercar a whole lot easier.
The Supercar Face
I didn't feel exactly fit for this Lambo Spyder. Don't get me wrong, I'll take open-top motoring during the summer months any day, and the absence of a roof considerably improves the Huracan's headroom, or lack thereof. Makes the fantastic engine sound louder too.
My issue with the no-roof situation is that everyone, and I mean EVERYONE, stares at you, to the point where the experience becomes somewhat embarrassing. My girlfriend absolutely hated this car for that precise reason—"Can you drop me off a little further, I don't want everyone to see me climbing out of this thing"—she'd tell me as we'd run a few errands.
People's reactions to this thing are downright fascinating, and at times a little worrying. Mind you, the current pandemic context certainly doesn't help. In a world where people are struggling financially and, well, dying, seeing a douchebag pass by them in a nearly half-million-dollar sports car surely garners reactions. It felt very strange to be in this thing right now, even if I didn't actually own it.
At least, people are generally happy when they spot a Lamborghini. Smiles are targeted right at you, from both men and women. Automotive enthusiasts are quick to send you the usual positive nod or thumbs up movement. Children go downright berserk, while teenagers peep at you through the lenses of their Instagram stories.
Such strong attention forces you to remain awake while manipulating the beast. My movements suddenly become calculated, from exiting the car, fueling it, filling its tiny frunk, or leaving the gas station. The last thing I wanted was to become the star of the next "watch this idiot crash his Huracan" video onThe Autance. I want to write for this site, not be on it.
Just like an online influencer, bystanders stare, follow and are quick to judge when you're driving a Lamborghini. They gather around, ask questions, and at times act a little silly. Strangers suddenly feel comfortable approaching you, curious to find out who you are and why you, of all humans, deserve to drive such an extravagant device. Your privacy is now a thing of the past.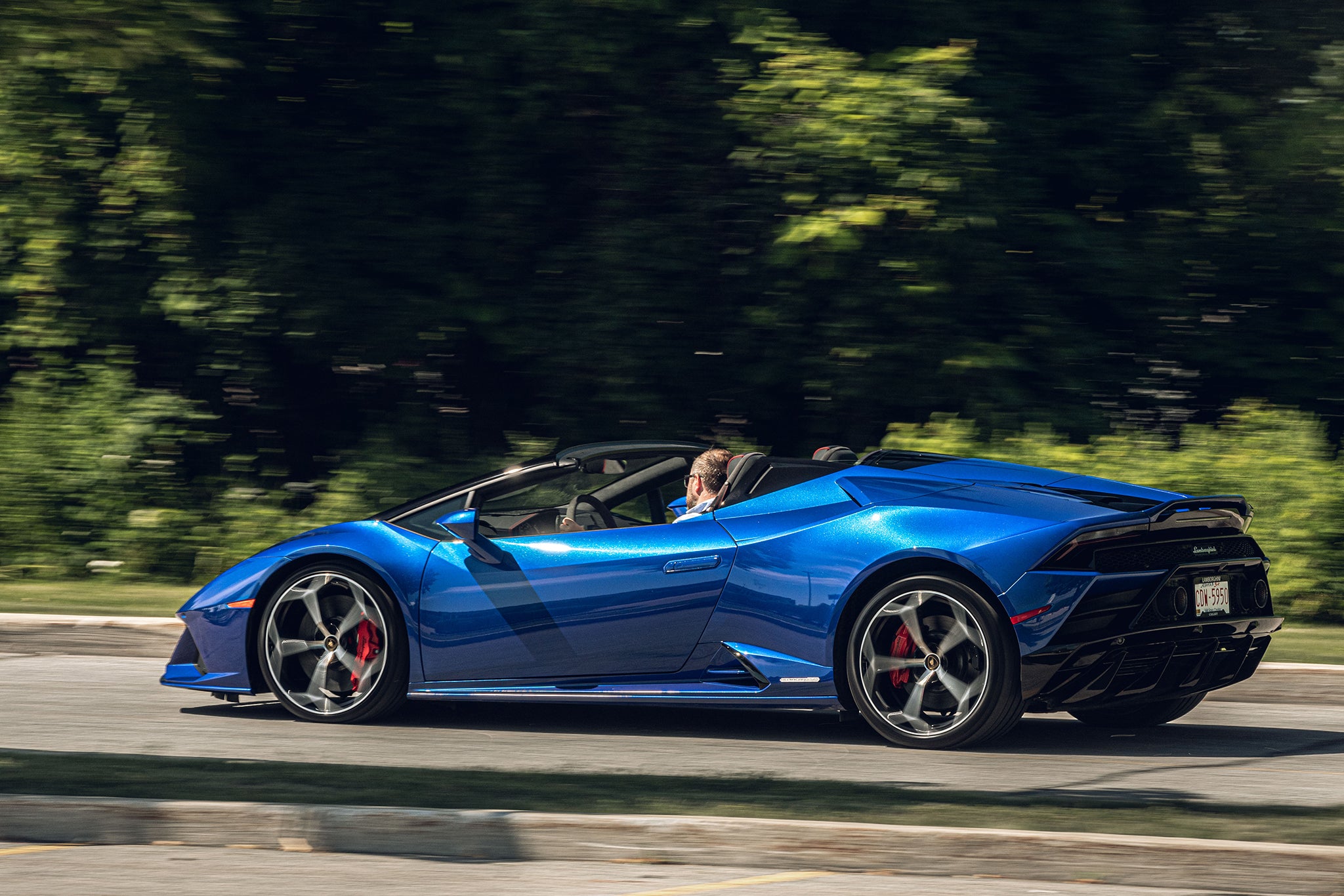 Guillaume Fournier
"How much?" was the question I got the most, to which the words "more than you can afford, pal" would spin around tirelessly in my mind.
The Autance
This eventually had me wanting to leave the city. So I did exactly that. After garnering more attention than a Hollywood star and destroying my back on Montreal's god-awful streets, I hit the road into the countryside in an attempt to explore what this rocketship was capable of.
That said, I will say that the Evo's adaptive suspension is rather superb when set to Strada mode, the car's most toned-down setting. Cracks in the pavement, bumps, and uneven roads don't mess up your spine that much, which is great. There's actual compliance in the way the Evo takes on a hole in the road.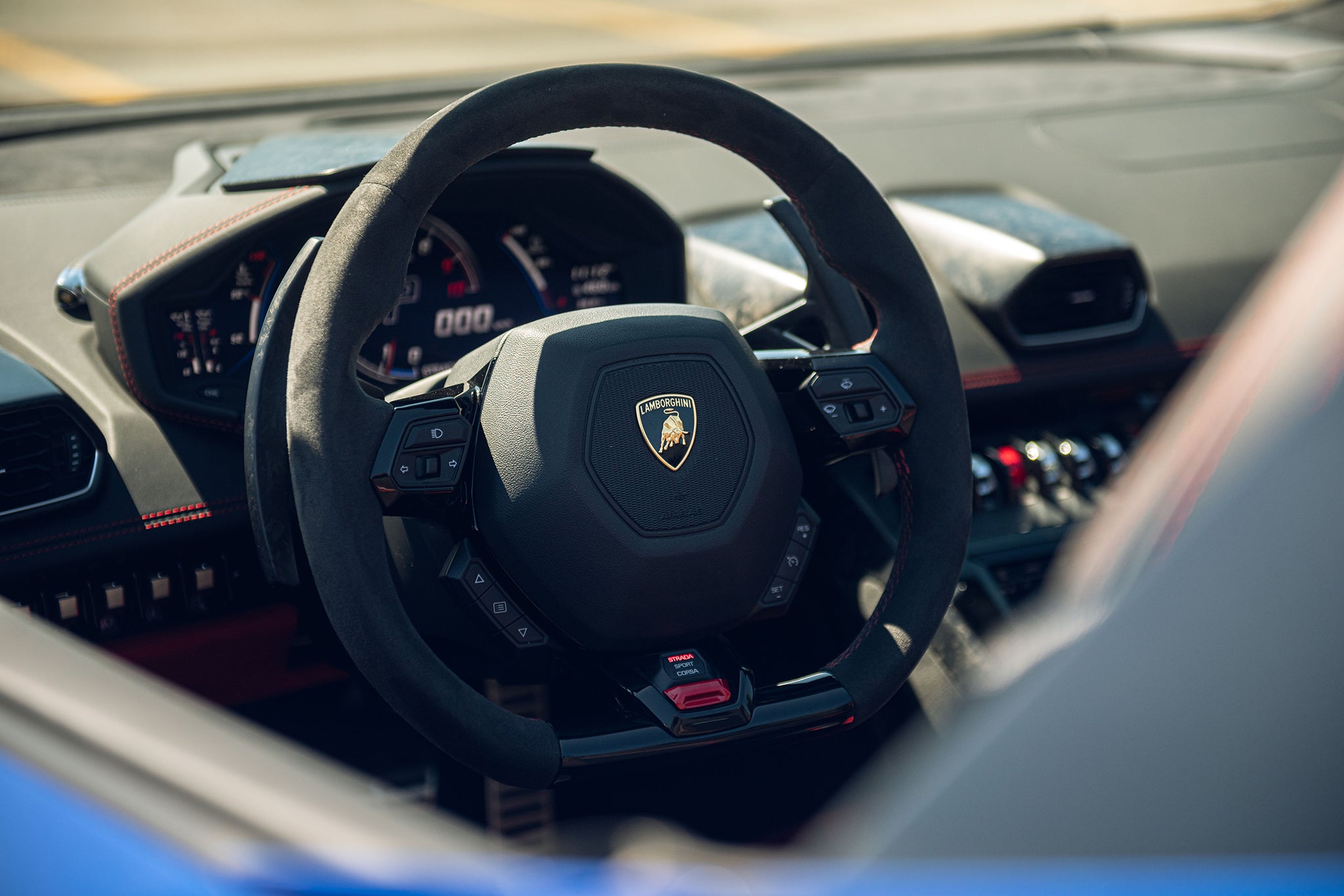 Guillaume Fournier
Also, I found myself extremely thankful for nose-lift technology, as raising the front suspension is a much simpler affair here than it is in a McLaren. The only thing the Huracan asks of you is to pull on a toggle switch, versus McLaren's confusing cruise control-like stalk. 
Unfortunately, the Evo's daily driveability kind of falls apart when attempting to find a comfortable seating position. Perhaps if I was a tiny Lamborghini test driver like Valentino Balboni, I'd fit comfortably in the Huracan's seats, but as a six-foot-tall, 230-pound poutine-loving Canadian, the car's snug cockpit meant my enormous balding head was sticking out from over the windshield and my knees were kissing the steering column.
Legroom is bad, especially for tall people. The car's pedals are annoyingly shifted towards the right. The Huracán's interior is a tight space with no cupholders and not much in the way of storage space. Its seats aren't the most comfortable, either. Their odd shape and hard bottom make you feel like you're sitting in a scissor position. Kills the back.
Somehow though, all of that quickly dissolves as you set the Huracan Evo to Sport mode, allowing the car to rapidly firm up its dampers and open up some exhaust valves to let the ten-cylinder sing. Plus, Lamborghini engineers made sure to program a sharp throttle blip when Sport mode is engaged, so the cars behind you know shit's about to get real.
Sport mode is where the sweet spot is, or what my Lamborghini rep likes to call the "fun mode." In Sport, the exhaust note is considerably louder. Crackles and pops are prominently more apparent during downshifts. The car is stiffer overall, but things remain somewhat compliant. The car's traction control system provides the right safety net to explore the car's potential, but still keeps things in check if you dare flirt with its rambunctious character.
Lamborghini says Sport mode was designed to be playful and let the rear end kick out more. Since I didn't drive the car on a track, it was impossible for me to test those drifting claims.
And then there's Corsa mode, where the Evo fires its heaviest artillery. Corsa transforms the Evo into a relentless performance tool capable of fantastic and at times, frightening things. In Corsa, the transmission defaults to manual mode, traction control is dialed back even more, and launch control is unlocked. The car's suspension, all-wheel-drive system, differentials, and rear-steering system are all set up for ultimate grip and control. The car will even tuck the rear wheels in for optimal cornering grip at high speeds.
Hold down the left paddle shifter—which sits on the steering column, the way God intended it—and the Evo urgently hands you over the ideal gear, allowing that V10 to spew out one of the most stirring internal combustion symphonies you can find on a modern automobile. In a world where turbochargers and electrification rule over all, the satisfying bellow of a normally aspirated engine feels like a relic of a more interesting past.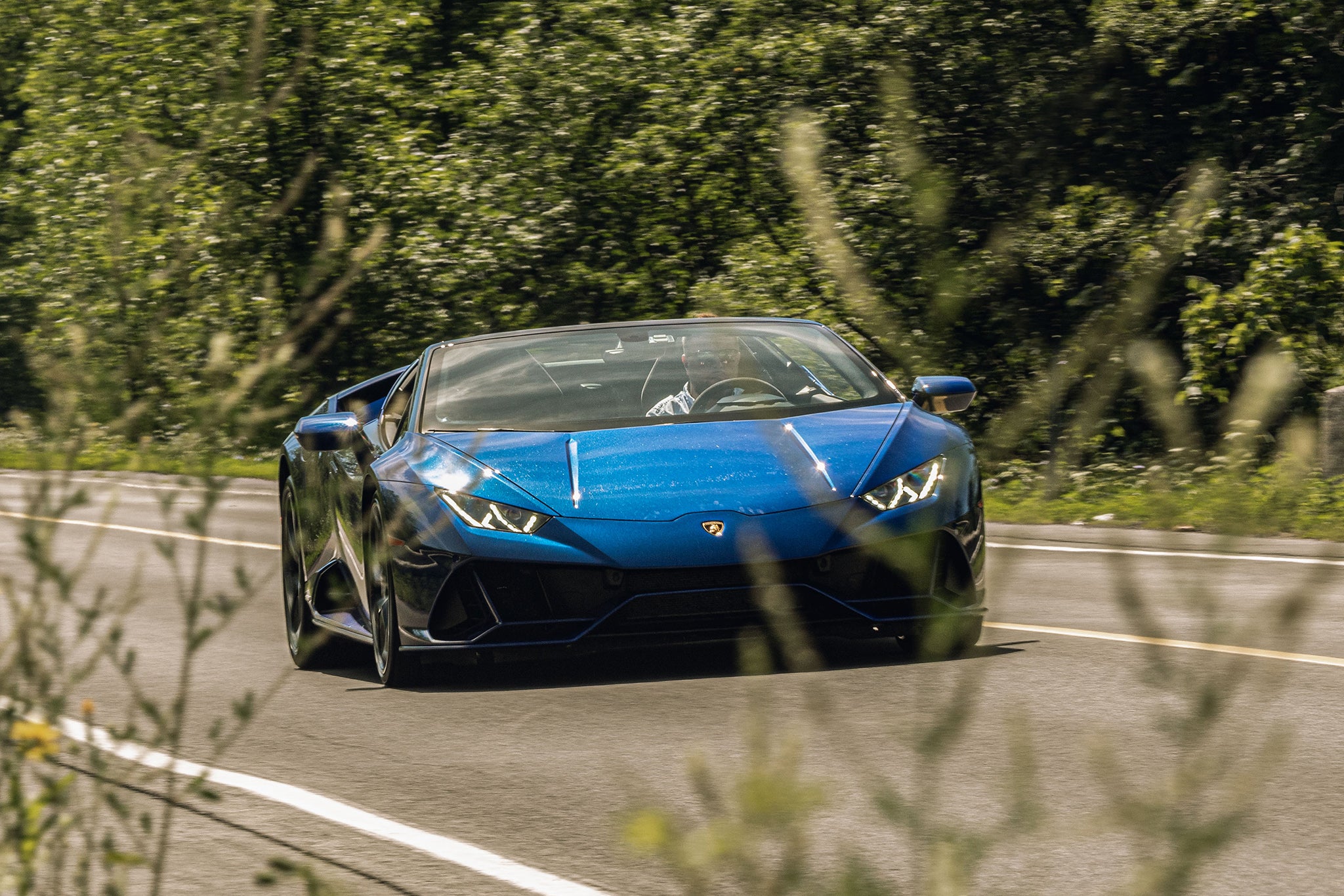 Guillaume Fournier
Hit the throttle, and Lambo's open-air tub jolts forward in the same kind of dramatic velocity as a speed bike. The engine shrieks its way to redline in a violent concerto of high-pitched decibels. Revs climb so fast you barely have time to realize you're bouncing off the rev limiter.
Time to shift. Click. Go. I was back on the throttle. Everything was now a large blur, the wailing 10-cylinder had my ears ringing, and whatever hair I had left was now a hairy patch on the pavement behind me. All hairs on my body were up, my pupils were dilated, and my palms were firmly clenched around the Alcantara-wrapped steering wheel. It's like that famous scene in 2001: A Space Odyssey, except all of the time. 
I'm not going to say how fast I ended up going in the Evo, but I will say that it's fascinating how a speedometer suddenly renders itself irrelevant when your automobile has the ability to time warp to your next destination.
Perhaps where the Evo impressed me the most wasn't how fast it covered ground, but rather how it delivered that speed. In the Huracan Evo Spyder, performance is a wind-filled opera-like theatre act where your sensory receptors get cranked up to eleven. Suddenly, my face, the one everyone could see, had transformed into 5-year-old me on the Christmas morning I got my first Nintendo.
But while its stinking performance, outrageous character and ego-inflating abilities got me more excited than a fat kid facing a birthday cake, what I actually admired the most about this Italian masterpiece was how much happiness it brought to people's lives while I had it.
Launching to 60 mph in less than 3.0-seconds is fun, yes, but seeing a kid live one of their deepest fantasies, in this case sitting inside a real-life supercar, warmed my heart the way no other automobile could. It's the kind of aura only a Lamborghini can still generate.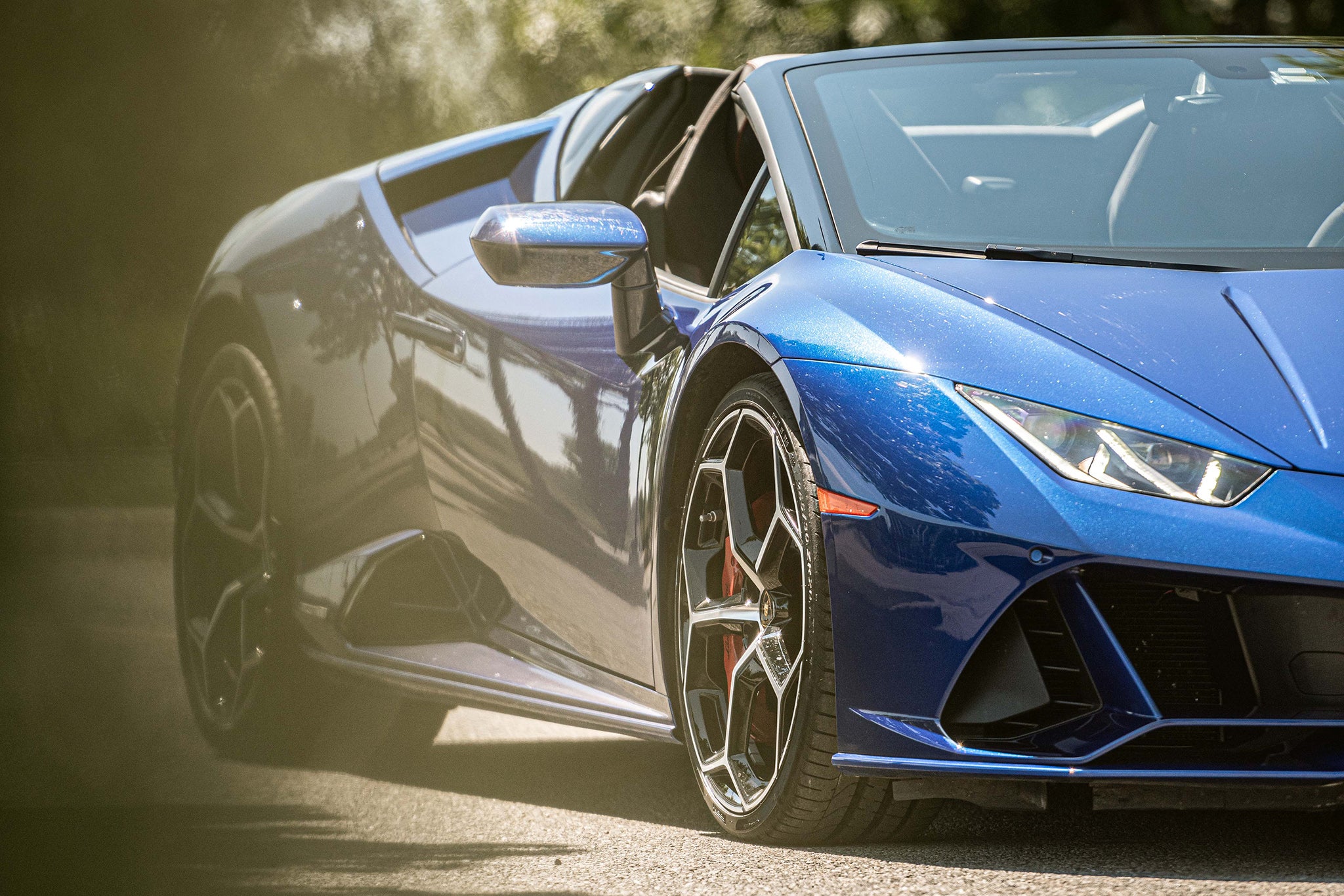 Guillaume Fournier
William Clavey is an automotive writer based in Montreal. His work has appeared onThe Autance, Jalopnik, The Car Guide and more. He runs claveyscorner.com.