This is how Daimler went about it. Not with gullwing doors, not with cameras and screens for mirrors. Not with hucksterism. The people who brought you the very first carbon-spewing thing recognizable as a modern automobile back in 1888 approached their first production electric car with the methodical rationality we love ascribing to ze Germans. The 2020 Mercedes-Benz EQC was to take its mission seriously. 
As a result, the EQC is first and foremost a quality automobile. There's a physical heft to it (curb weight: 5,500 pounds) calling back to Benz tanks like the old W116. It makes little show of electrification, borrowing heavily from the gas-powered GLC in design and engineering. Its dual-motor powertrain is alluringly silent thanks to fanatical NVH work. It does not claim to drive itself. Now, It's tempting to poke Mercedes for hewing conservative as competitors take bigger risks. That would miss the obvious accomplishment here: The BEV segment might skew high-end, but the 2020 Mercedes EQC is the first that can truly be called a luxury car.
Really, its electric promise is simple. Driving it should be as easy, comfortable, and convenient as a gas- or diesel-powered Benz. A few days in rainy Norway this spring testing the EQC 400 4Matic revealed the first two gauntlets as cakewalks. It's convenience—that old bugaboo—where questions over range, charging in America, and even useful ground clearance loom larger.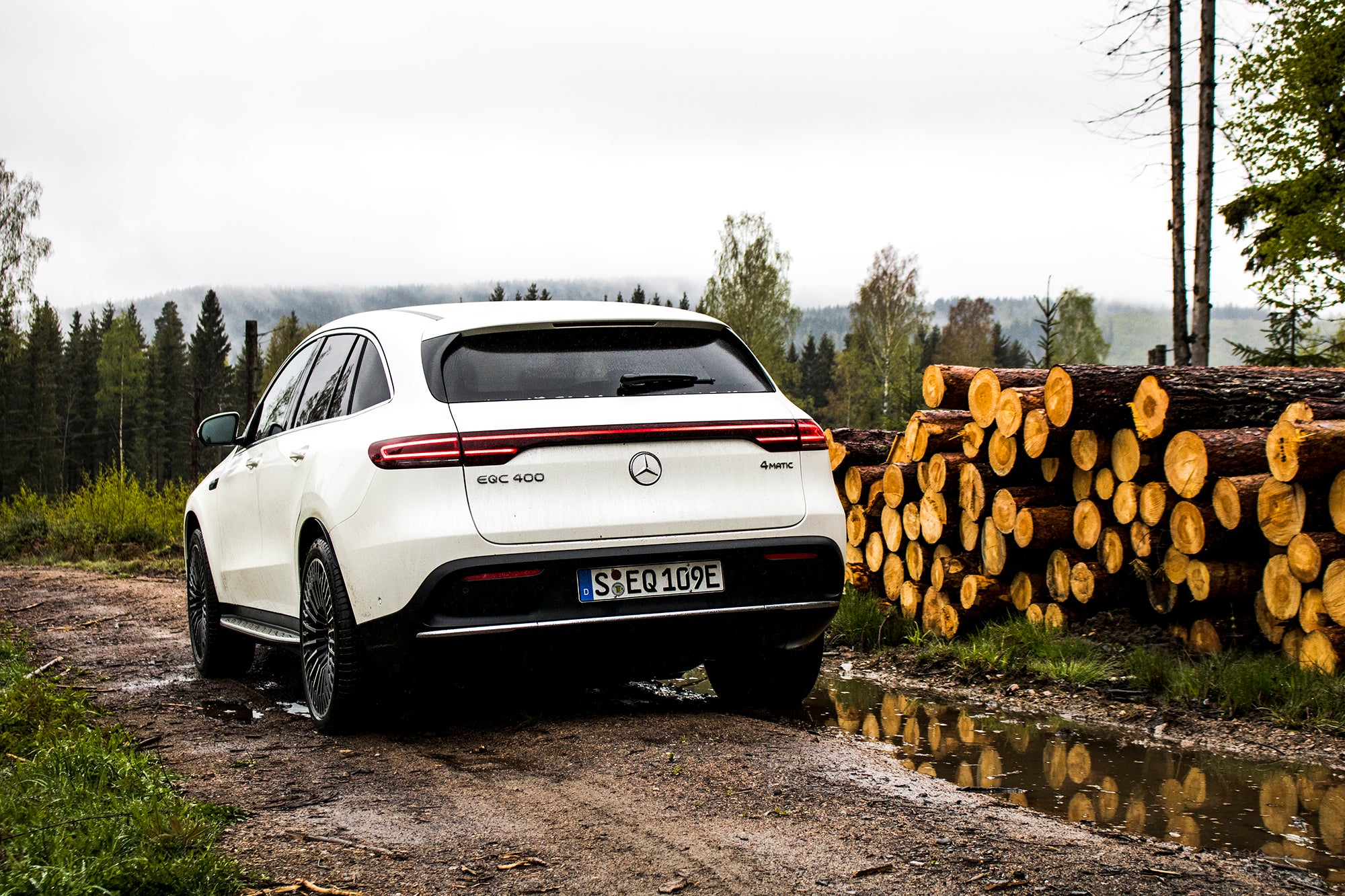 2020 Mercedes-Benz EQC 400 4Matic, Kyle Cheromcha
The 2020 Mercedes-Benz EQC 400 4Matic, By the Numbers
Base Price (as Tested): Not released
Powertrain: Two asynchronous electric motors and an 80 kWh lithium-ion battery | 402 horsepower, 561 pound-feet of torque | Single-speed transmission | All-wheel drive
EPA Range: Not released
Seats: 5
Cargo Space: Not released
0-60 mph: 4.8 seconds
Crossing Over to Electric
Call the Mercedes-Benz EQC conservative, call it a concession, call it the most obvious decision in the world. But don't call it a GLC. Like the Stay Puft Marshmallow Man in Ghostbusters, Mercedes' first serious electric car takes the form of a crossover because it's what we the people can't get out of our heads. It uses the GLC/C-Class MRA platform, yet Mercedes engineers say the EQC only shares 15 percent of its parts with its gassy cousin.
Dimensions are also tweaked; it's 4.1 inches longer than a GLC despite sharing the 113.1-inch wheelbase, and 0.2 inch narrower and 0.8 inch shorter in height. Overall it wears a clean design that manages to be classy and slightly boring at the same time, saved by a few fun elements like the front light bar and blue accents capping the faux grille, an AMG appearance package that tightens up the lower fascia, and a lineup of seven interesting wheel options. The long hood looks like it could hide an engine—and that's exactly the point.
"It can't be a totally new design. It has to be another face for Mercedes," one of the designers told us. "It's not here to say, 'I'm the first electric car.' It's saying, 'I'm the first for Mercedes.'" That focus on a subtle shift in perception rather than complete reinvention explains two interesting product decisions on the EQC: the lack of a front trunk, and the charging port location. Pop that long hood and you're greeted with a gleaming slab of black plastic. And while most EVs have the charge port up front at the driver's door for convenience, Mercedes opted for the traditional fuel filler location on the right rear fender. There's a clear intention for people to physically interact with the EQC no differently than they would a traditional Benz.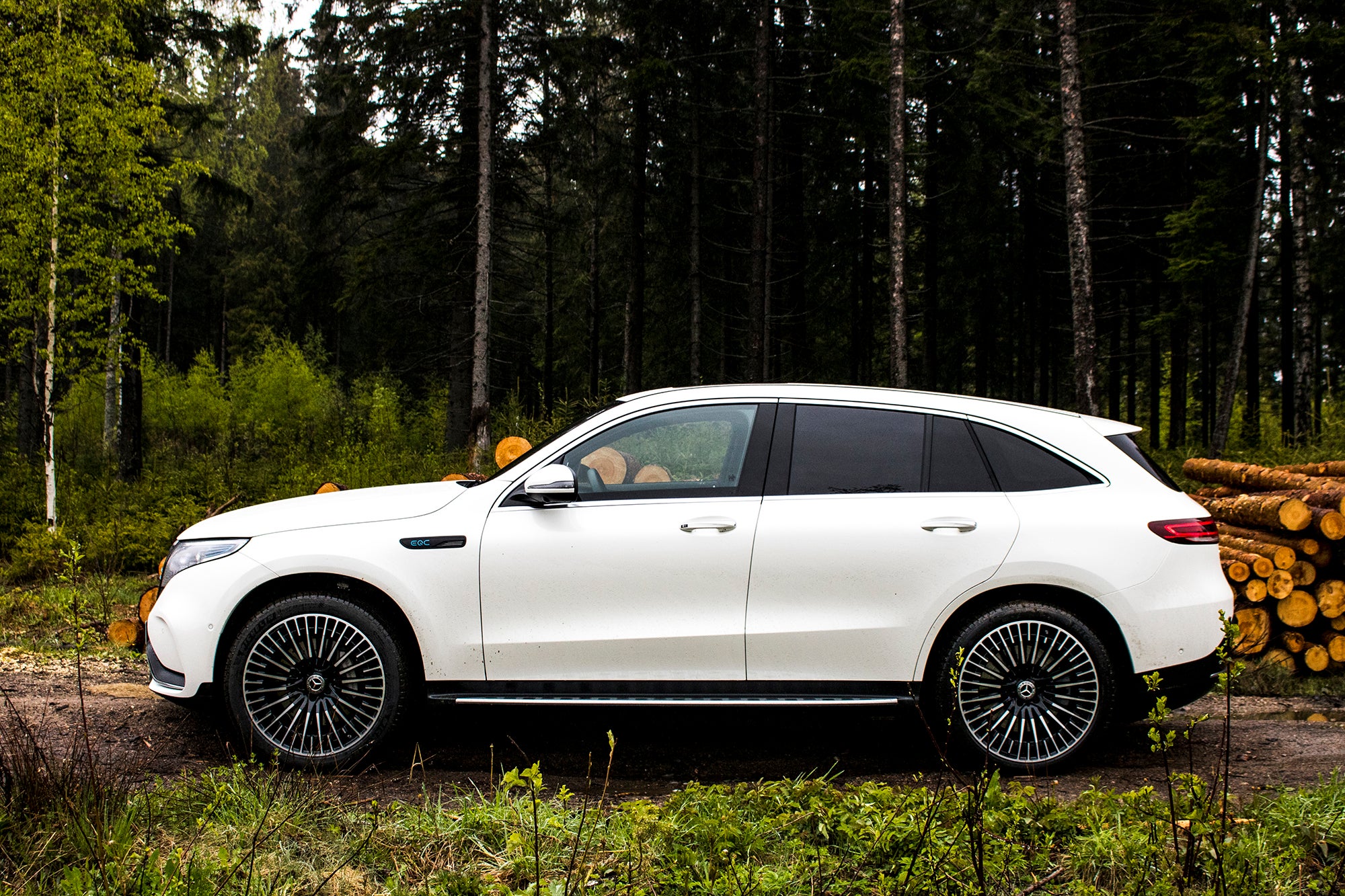 2020 Mercedes-Benz EQC 400 4Matic, Kyle Cheromcha
The First Luxury EV
That spirit of "Mercedes, but electric" continues in the five-seat interior, whose contours and comforts were mostly mapped out in the GLC. You'll recognize the center console, dashboard, and ten-mile-long MBUX screen. But a little parts-bin raiding is always welcome at a company that does cabins as well as Mercedes, and the EQC's is a wonderful place, comfortable and smart with just a kiss of the usual "Hey, stupid, you're driving an electric car."
Okay, so the rose gold accents and ribbed metal trim are cool, the latter of which is supposed to mimic a computer heatsink. It's not world-changing, but it's fancy in a way that no other EV can match right now and a softer, plusher place than the taut Audi E-Tron. Build quality is expectedly miles above Tesla and even Jaguar. Important specs like cargo space and second-row legroom haven't been released yet.
The EQC is not without its requisite tech treats like augmented-reality directions, where the front-facing camera projects an image of the upcoming maneuver on the infotainment screen with giant arrows suspended in space like a virtual will-o'-the-wisp. MBUX also packs a few extra features to make adjusting to electric life a little easier. Its navigation system has been updated to include a range overlay on the map, a drunken circle-blob whose edges are defined by the car's state of charge, available roads, and even the topography. Only the E-Tron has such a feature right now. It's a convenient, casual way to see how far you can drive at any given moment, far less of a chore than entering a specific destination and waiting for the computer to calculate any charging stops.
But the car makes that part easy too; in Europe, with the Ionity charging network (and hopefully one day in America, with whatever we cobble together), the system will monitor intended charging stops along your planned route and adjust if they fill up. Europeans can even activate the charger itself and pay for their electrons through the infotainment system. Hey, there are benefits to early adoption. Both lane-keep assist and adaptive cruise control are available as part of a Driver Assistance Package, but there are no self-driving promises being made with this car. This is all about getting people on board with electricity—the tricky stuff will come later.
E-Power in the EQC
Power unfurls from a pair of asynchronous electric motors, one fitted to each axle, drawing energy from a 1,400-pound, 80 kWh lithium ion battery to push a combined 402 horsepower and 561 pound-feet of torque. The split between the two is varied, running in near-FWD mode around town and going mostly RWD in spirited situations, though it can't push power to individual wheels and will rarely run in 100 percent rear-drive mode.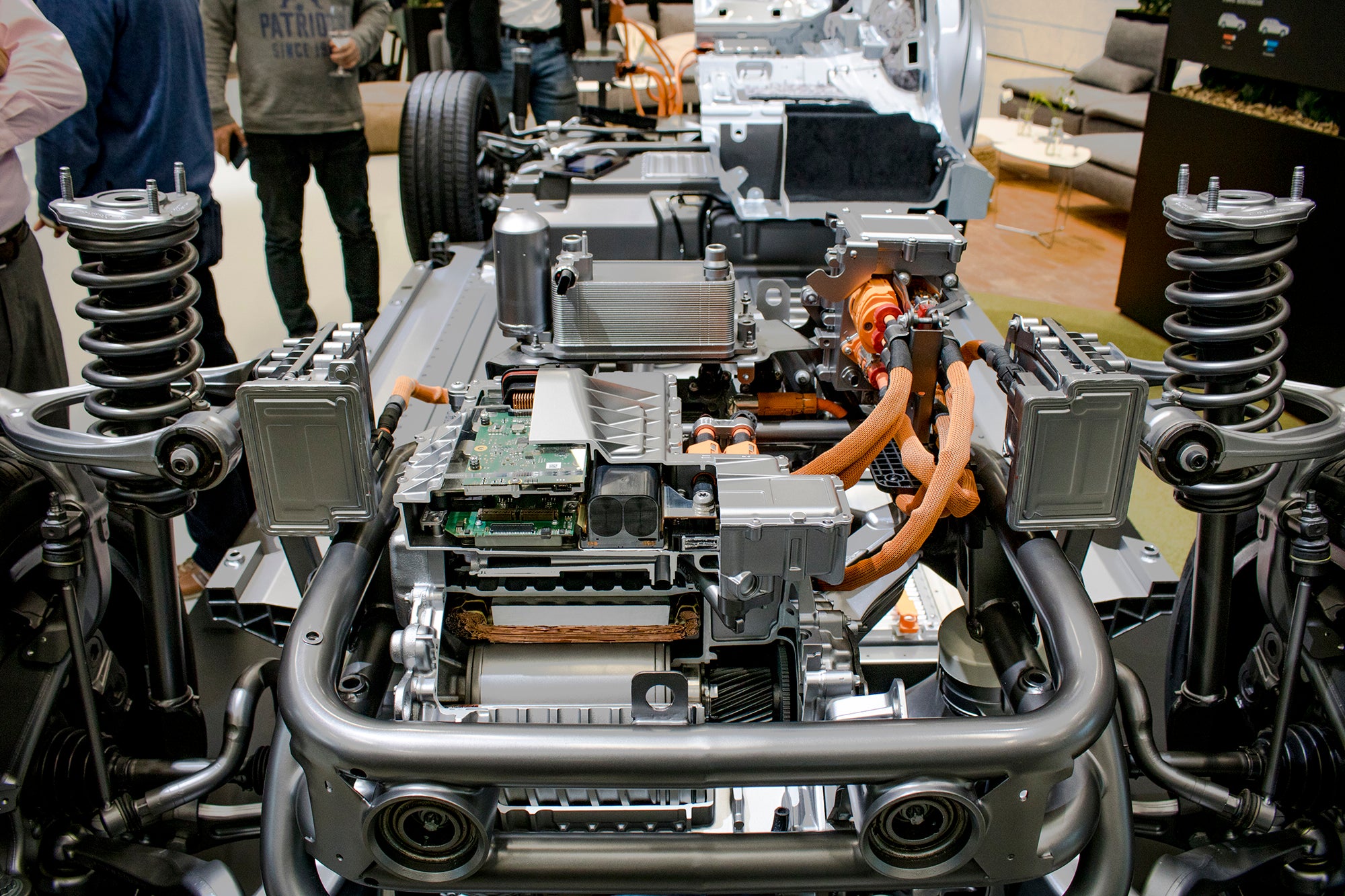 Motor cutaway, Kyle Cheromcha
The motors are supplier part "co-developed" with Mercedes, according to engineers. With off-the-shelf parts usage in electrics set to reduce the number of standout differences between automakers, EQC engineers were quick to argue that there's still some Daimler magic in the battery-motor mesh. That may be, but to these ears, the EQC's real trick is its silence.
Electric cars are often described as noiseless; the fact is EV drivetrains are doing plenty of whirring and whining. Nowhere was this more apparent than in the hushed EQC, where the NVH team isolated both drive units under two layers of rubber and stuffed acoustic foam in every cabin vent they could. Behind the wheel, a complete lack of sound (save for wind and tires) is immediately noticeable. The car just slides forward with zero hint of the work being done. It sounds like a stupid little thing, but it's fairly magnificent to behold—especially when you jump on the accelerator en route to its claimed 4.8-second 0-60 mph time and 112 mph top speed.
Such antics will do a number on the range, which Mercedes pegs between 277 and 293 miles on the generous NEDC test cycle. The always-lower (and more realistic) EPA number will likely land in the 220-240 range. But even that will look like a flight of fancy in cold weather, when Mercedes is predicting the range will drop to around 160. "It's physics," EQC development director Michael Kelz said flatly.
Fortunately, the EQC aims to preserve as much energy as possible with a Max Range mode that creates a haptic feedback point on the accelerator to stop you from flooring it and wasting a few precious percentages. Nanny-state enfants will be glad to know you can still kick your way through it. Five levels of regenerative braking encompass traditional automatic-style coasting and true one-pedal driving that claws back energy at every single opportunity. There's even an auto mode that will draw on GPS and sensor data to adjust the regen strength according to the road at hand.
These are all welcome backstops, because charging remains the weak point. On the optional 240-volt/32-amp wallbox, it will take 10 hours to go from 10 to 100 percent, and even 110 kW fast-charging stations will need 40 minutes of optimal conditions to go from 10 to 80 percent. Neither are anywhere near the speed and convenience offered by the Tesla Supercharger network. The EQC also won't be able to take advantage of the 350 kW gushers being built by VW-funded Electrify America.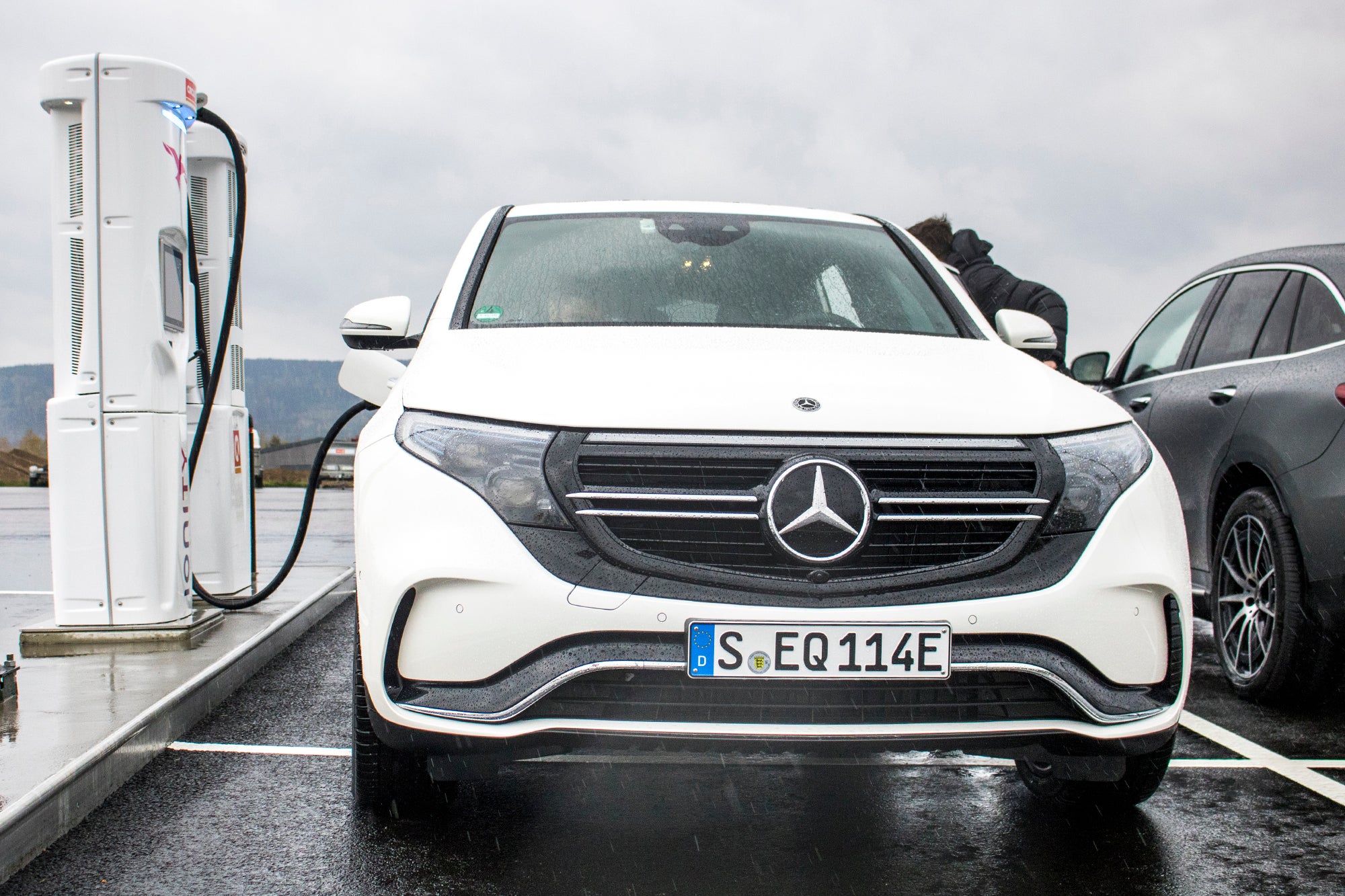 2020 Mercedes-Benz EQC 400 4Matic, Kyle Cheromcha
Driving the First (Serious) BEV Mercedes
Throughout a long loop around the Norwegian countryside mixing highways, rural B-roads, and microscopic European city streets, the 2020 Mercedes-Benz EQC remained an extremely comfortable and occasionally zippy driving partner. The combination of coil springs up front and air suspension in the rear delivers a supremely soft ride—almost to the point of excessive body roll. It's quick, not sporty, and the high curb weight translates as a reassuring, localized gravity on the road. Good thing the electric powertrain is a prodigious font of instant torque and off-the-line acceleration; that high-4's 0-60 mph time feels accurate, but I'd wager it's just as quick from 0-20 as most anything with an AMG badge on the trunk.
When it comes to handling, neither braking nor steering are remarkable enough to inspire any epic paeans or autocross imitations. They're simply standard-issue mid-lux CUV stuff. A few annoyances include the weird fisheye side mirrors that produce more of a funhouse effect at the edge than any extra usable visibility, a less-than-Herculean HVAC system, a piddling and non-adjustable 5.1 inches of ground clearance, and a Germanic insistence on following conventions that results in the one-pedal driving mode being named "D Minus Minus"—which, it should be noted, is too aggressive in its bite. 
But the biggest warning sign might be my experience with charging. It was a cold spring day in Oslo, with pouring rain and temperatures hovering in the low 40s. I hopped into an EQC with about 50 percent battery and was instructed to make my way to a nearby public charger to test it out. Unfortunately, the 20-minute journey wasn't long enough for the battery's preconditioning system to heat up and reach a temperature sufficient for fast charging. I ended up plugged in for 30 minutes to go from 44 percent to 70-ish. It's physics, as Kelz says—and the car's Achilles heel in America, where EV buyers looking for convenient public charging above all would still be better served in a Tesla.
The Future Awaits
More than anything else, the 2020 Mercedes-Benz EQC is a bridge to...somewhere. The working plan is to grow the EQ name and apply it to 10 all-electric models that are due out over the next decade—kind of like how Audi started with the original Audi Quattro and eventually broke out the nameplate to brand their entire all-wheel-drive lineup. But before we get there, Daimler is trying to avoid the logistical headaches encountered by companies like Tesla by training up their dealer techs and lining up parts availability for maintenance. Ideally, every Mercedes dealer in the U.S. will be certified to service the car by the time it rolls onto our shores next year.
That's the EQC in a nutshell: it's the future, but it's not futuristic. It's an electric car that you can get in and feel the secure backing of over a century of engineering experience. In many ways, from its evolutionary design to its so-so range, the EQC is a small step for Mercedes. But if they really get it right, especially on the service side, it just might end up as one giant leap for electric cars.
Got a tip? Email the author: [email protected]