I swear if I have to read that this goddamned long-body luxury Jeep has "earned its seven-slot grille" one more time, I'm going to smash my MacBook with an ax.
Jeep has finally dropped the new fifth-generation "WL" Grand Cherokee, first in L (for long, ha!) three-row seven-passenger form, and later in the normal five-passenger configuration. The current fourth-generation Grand Cherokee has been around for the better part of eleven years, remaining incredibly popular throughout its run and keeping itself fresh with updates, an optional 707 horsepower supercharged Hellcat engine, or a 392 cubic inch Hemi V8, while being luxurious and comfortable at a decent price. The new Grand Cherokee L sought to and seemingly succeeds at furthering this trend, and my fellow writers across the industry were no B.S. impressed by the new large Jeep SUV. Just stop talking about the fucking grille, OK?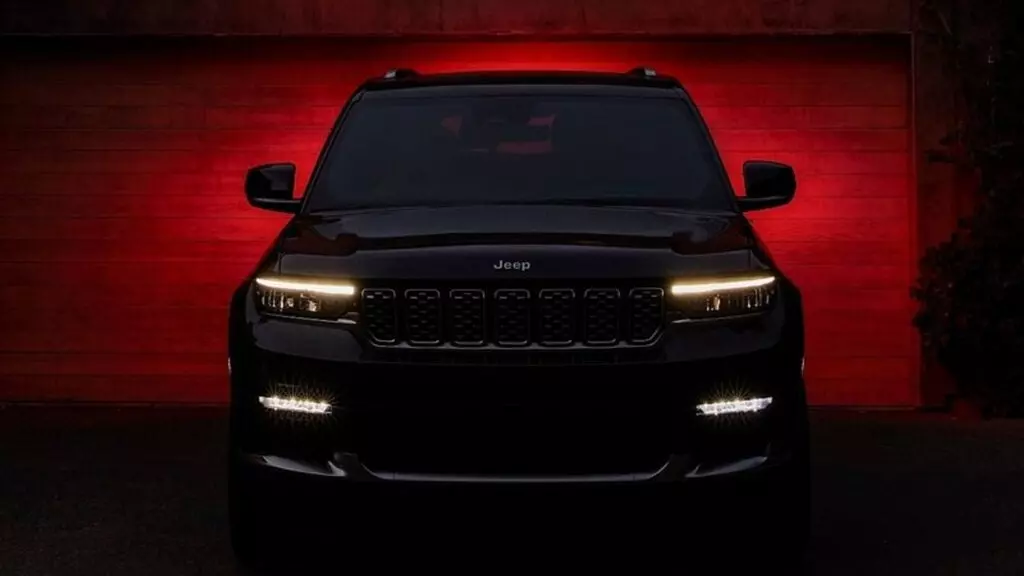 For this Review Rundown I looked at a bunch of articles and videos by our friends across the industry to get some different perspectives and info on what the 2021 Jeep Grand Cherokee L is really like. I came away with high hopes for the smaller Grand Cherokee, and respect for the work that was done to keep the Grand Cherokee L on its market-upward trend. It's marginally lighter than the previous generation standard-wheelbase model while being around 15 percent more rigid in all areas, 13 percent larger overall, and offers an extremely decent mix of tech and mechanical tricks for impressive trail capabilities. It's still motivated by the good ol' 5.7-liter Hemi V8 engine and the 3.6-liter Pentastar V6, no turbos here. Will we see another Trackhawk in the future? I sure hope so.
Here's the Scoop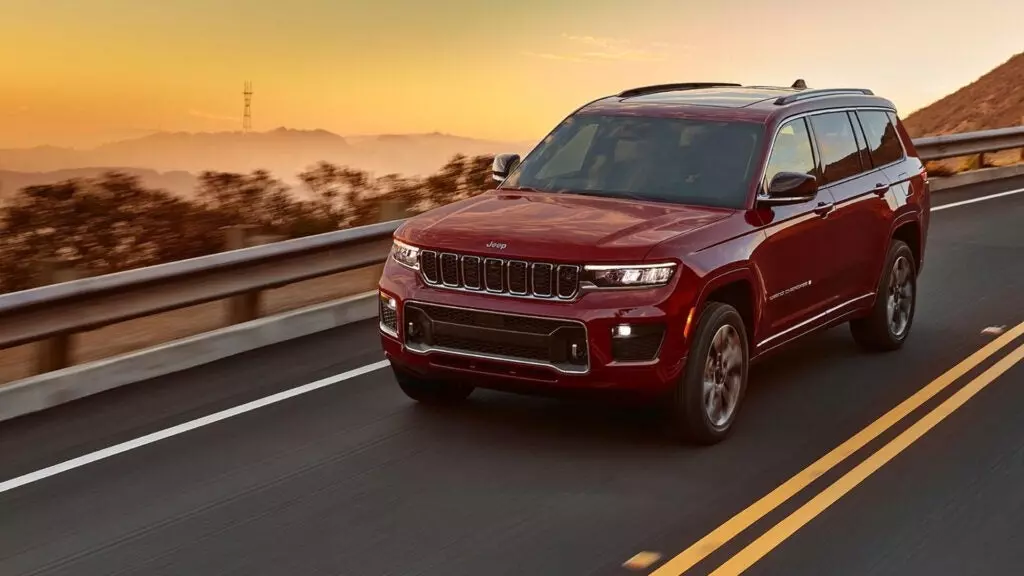 Jeep's people have had eleven years to listen to consumer input, smooth the wrinkles, and apply what they've learned to this new Grand Cherokee L. Major engineering changes are minimal, with most of the development effort seeming to have been focused on keeping this new Grand Cherokee lighter and more rigid to complement the refinement of the interior and suspension. No new engines were introduced for the truck, keeping it simple and proven, while the drivetrain was updated for more off-road capability on the higher-trim Overland models with a true 2.72:1 low range transfer case and electronic limited-slip differential standard on V8 models.
A new three-link dual wishbone front suspension aids steering sharpness and directness with a virtual steering axis, basically a clever way of designing the ball joints to bring the steering axis closer to the center of the tire. 
The interior seems to be where the new Grand Cherokee L truly shines. Where everything else is par for the course engineering for the luxury off-roader SUV class, the interior single handedly makes the higher trim 2021 Grand Cherokee L a real value proposition against other luxe trucks, but it doesn't do the same downrange. Higher V8 trims can be optioned with the 19-speaker 950W McIntosh stereo, beautiful "Palermo" leather seats with quilting, and waxed walnut wood trim to make for what is described as an incredibly upscale interior space in the neighborhood of $60,000. The caveat: the savings don't trickle down (they never do). V6 models have a reportedly large gulf in interior materials quality for not much less money, on average a $5,000 price jump to get a decent interior. This problem is classic Stellantis, with Ram trucks exhibiting similar price weirdness that seems to encourage buyers to spring for the higher monthly payment.
Now that you've got some context for what you're looking at, let's hear about it from the pros.
On Interesting Tech and What's New for 2021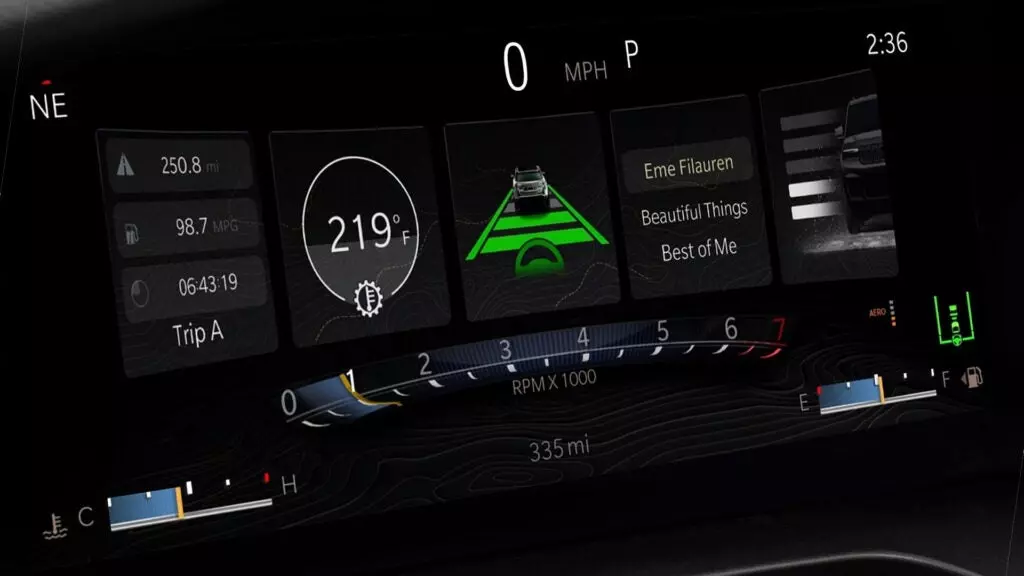 One of the headline bits of tech for the Grand Cherokee L is new SAE Level 2 driver assistance with capacitive touch sensors on the steering wheel to detect fingers, instead of a torque sensor or driver monitoring camera. Apparently, a hands-free version is coming in late-2021 or early-2022. For now, it's just glorified lane keep assist and adaptive cruise control. The interior is totally refreshed with a 10.25-inch LCD gauge cluster and two infotainment screens available depending on trim level; there's an 8.4-inch touchscreen or a 10.1-inch touchscreen, and available McIntosh 19-speaker stereo, along with 12 total USB ports (a mix of USB-A and USB-C).
The refined air suspension dubbed Quadralift has normal air springs paired with adaptive dampers for maximum control over suspension frequencies and character. It sits at a normal 8.5-inch ground clearance (the same as a 2005 Subaru Outback) and can be raised 1.8 inches up or down. When paired with the Overland package, a true low-range transfer case helps the Jeep be as capable as any other Grand Cherokee, and helps it earn the trope-tastic phrase of "earning the seven-slot grille." 
On-road, a new three-link dual wishbone should help steering directness and sharpness, along with a re-tuned electric power steering to make the big Jeep drive friendlier. An aluminum hood, tailgate, and cast aluminum shock towers keep weight low in places that count, adding to the on-road credentials of the Grand Cherokee L. Slightly larger brakes finish the treatment with reportedly good pedal feel. Unfortunately, the truck doesn't come with a built-in trailer brake control but does have trailer-sway mitigation. The V6 powertrain gets a slight update with the E-Torque 48V mild hybrid system, and both engines are mounted 1.6-inches lower but are otherwise unchanged.
Peter Holderith for The Drive — "Inside, it's refreshing to see Jeep make a car that feels this modern and works this well after producing the previous-generation Grand Cherokee for 11 whole years. (Though, you could argue that was enough time for Jeep to really hone in on what worked and what didn't work.) The 2021 Grand Cherokee L scans as brand new, and this is especially true on the inside. The interior of this car wasn't the most high-design thing out there, but it looked modern and had nice, upscale wood detailing, which was optional. Also optional were the heated and cooled massage seats, a welcomed feature. But the lower, flatter beltline that gave the cabin an open, almost airy feeling is standard.
For an extra $1,995, the car I drove had driver aids available like lane-centering that kept you nicely in the middle of a lane and radar cruise control, which was seamless and simple to use. With four distance settings to choose from, a simple button to turn it on or off, and smooth braking and acceleration, it was a hands-on system. Thankfully it was touch-sensitive as opposed to pressure-sensitive, and very responsive at that. If you keep your hands off the wheel for too long, the vehicle will softly jerk the brakes, letting you know it's time to get back to driving."
John Beltz Snyder for Autoblog — "This one screen does a lot more than just control audio functions and in-car apps. Depending on how the L is equipped, it also serves as a display for camera feeds like parking cams, a rear seat monitor and, most importantly for us today, a forward-facing trail camera. You can also do such diverse things as monitor pitch and roll when off-roading, adjust the upper and lower interior ambient lighting, or display the retro-looking digital decibel meters in the McIntosh premium audio system. Even better, it's quite customizable, with different pages, widgets and shortcuts. The 10.25-inch digital instrument cluster, likewise, can be customized. It can display navigation right there in front of you, and also serves as the display for available forward night vision. There's also an available head-up display to provide information without having to take your eyes off the road.
But while the driver's seat is the best seat in the house — especially when equipped with the available massaging front seats — the rear two rows aren't bad, either. The vehicles we sampled all had the six-seat configuration with second-row captain's chairs. They can be heated and ventilated, and offer their own climate controls and storage console. Importantly, the chairs themselves tilt and slide far forward to provide a wide entry into the third row."
Craig Cole for CNET Roadshow — "This Jeep's on-road performance is admirable. Acceleration is brisk, especially with the Hemi. And thanks to a range of NVH improvements — things like acoustic glass, special door seals and enhanced active noise cancellation — the Grand Cherokee L's interior is always serene. The available air suspension enhances dynamics and improves off-road performance by allowing the body to be raised several inches. The vehicle's ride quality is soft, even when fitted with 21-inch clodhoppers that come in the $3,000 Summit Reserve Group options package, yet body roll is minimal when pushed through corners. The steering is light but reasonably precise, which makes the Grand Cherokee L feel smaller than it actually is."
On Size and Practicality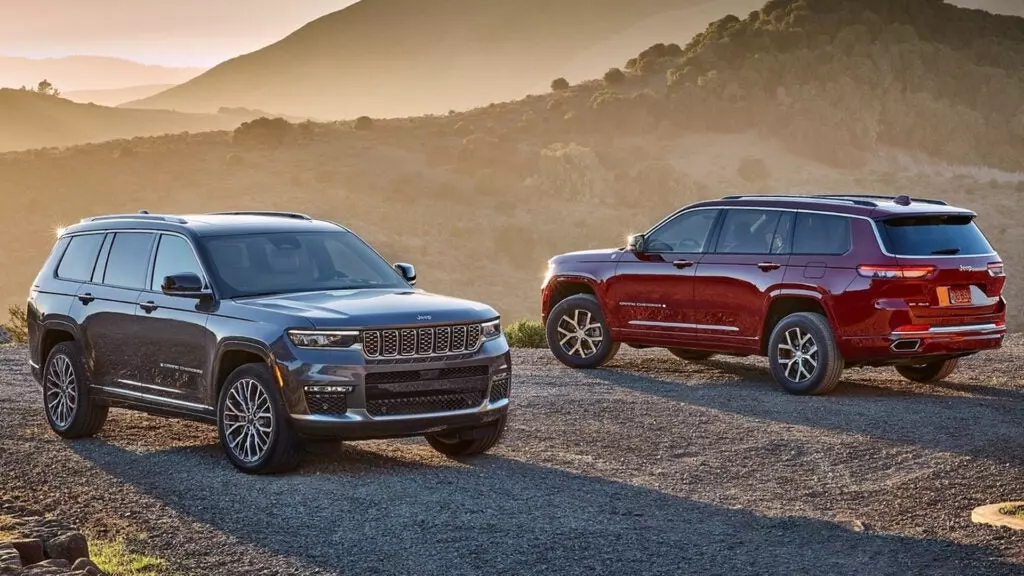 The Grand Cherokee L grows by 13 percent overall for a more spacious interior, is longer by 15.1-inches overall, and the wheelbase grows by seven inches. This all contributes to a positively cavernous interior space with generous increases in interior volume all around. While the third row is technically measured as the smallest in class, it was measured with the sliding second row furthest back in its seven inches of travel. With some adjustments, optimal passenger comfort for everyone can be achieved.
The new Grand Cherokee L also uses an old-fashioned manual second row folding mechanism for third row access, a pro or a con depending on the buyer. All testers noted that it was reasonably easy to access the third row.
Frank Markus for MotorTrend — "The third-row's 32.6 cubic feet of third-row space rank near the bottom of the midsize three-row class, below the Nissan Pathfinder (33.7) and above the GMC Acadia (32.6), Toyota Highlander (30.4), and Mazda CX-9 (29.9), but that measurement is made with the sliding middle-row seats at the back of their 7 inches of travel. The seat feels plenty spacious when the middle row is moved to give a couple of those inches back."
Brandon Turkus for Motor1 — "Compared to the current two-row Grand Cherokee, the wheelbase grows 7.0 inches. Hell, the gap between the axles is 1.9 inches longer than you get on a Durango. And overall, the GCL is 15.1 inches longer than its predecessor and 3.1 inches longer than the Dodge. The results in the cabin speak for themselves – this is a big-ass box. Every Grand Cherokee L boasts 159.1 cubic feet of passenger volume, or more than the Hyundai Palisade, Chevrolet Traverse, and new Nissan Pathfinder.
That results in a third-row that feels genuinely usable for adults. To prove it, we watched a 6-foot-4 Jeep engineer clamber into the L's third row, where he was able to take advantage of best-in-class third-row headroom. And despite Jeep listing only 30.3 inches of leg space in its rear-most seats (2.2 inches less than the Durango and down on much of the competition), his knees weren't too close to the second row, nor too high up in his chest, and the footwell was adequate.
Getting in back was easy, too, thanks to a middle row that comes standard with "tip-and-slide" seats – automakers don't list the aperture size for getting into the third row, but if they did, the Grand Cherokee would probably be the best in class."
On The Interior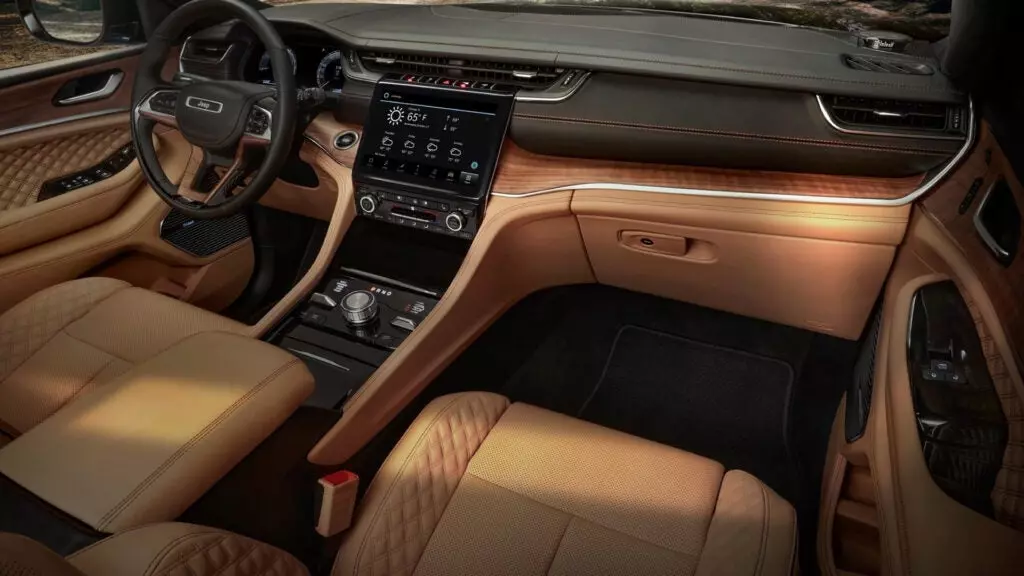 The interior of the new Grand Cherokee L was a standout point from what I read across the industry. Aesthetically, it looks fabulous, and that's all I can evaluate from my screen. Touch, feel, sound, texture, that's for the pros to tell you about. I'd love to try that 19-speaker McIntosh stereo, though, and give the audiophile perspective on it. 
Tyler Duffy for Gear Patrol — "Stunning. I don't often lead off a review discussing a vehicle's interior. But the inside is the value add for the Grand Cherokee L and what will distinguish it in a crowded segment. Jeep wanted the Summit Reserve trim to match up with any car interior on the market. And, outside of Rolls-Royce and Maybach, Jeep can credibly make that claim.
The Summit Reserve features hand-wrapped and quilted Tupelo Palermo leather, a step up from the lesser Nappa and Capri leathers offered on lower trims. Jeep pairs that with a trim-exclusive open-pore Waxed Walnut wood. As impressive as the material quality is the detail and texture with almost every button and knob. You stop and ponder the incredible craftsmanship that went into integrating the start button into the wood panel. Then you realize Jeep put that much effort into a feature obscured by the steering wheel no one will ever see."
Frank Markus for MotorTrend — "The top-shelf Summit Reserve strives for Bentley-level grandiosity with diamond stitching on the door panels and the bolsters and of its perforated Palermo leather seats, waxed walnut wood veneers on the dash and door panels, and an over-the-top 950-watt, 17-channel, 19-speaker McIntosh sound system. And sure, it falls short of the Bentley benchmark with middle-row seats that must—sigh—be manually folded and slid to access the third row and in the quality of some plastic materials low on the dash and door panels, but let's recall that this model tops out at less than $70,000.
We spent most of our drive time in the base Laredo model, which opens at $38,690 with rear drive or $40,690 with AWD, having climbed directly out of an example of its three-row sibling from Dodge, the Durango GT ($40,795 to start). The much newer Jeep instantly came across as the quieter, suppler-riding, and more refined of the two. Yes, the instrument panel upper surface is a soft-touch molded material, as in the Dodge, and the cloth seats whisper "Emerald upgrade at the rental counter," but there is cut-and-sew trim on the dash and armrests, and the standard features content is reasonably grand: fully digital and reconfigurable 10.1-inch instrument cluster, adaptive cruise control with lane assist, and collision braking assist with pedestrian detection. The 8.4-inch standard infotainment screen gets a big black frame to remind you of the available 10.1-inch upgrade, and its pixel density is about half that of the larger screen's, but it still looks bright and crisp and displays loads of information."
Craig Cole for CNET Roadshow — "I'm not totally sold on the Grand Cherokee L's exterior styling, but designers knocked it out of the park with this Jeep's interior. The layout, materials, comfort and tech are all primo. The range-topping Summit model comes with lovely Nappa leather or super-premium Palermo cow hides if you nab the Summit Reserve package. You can also get beautiful open-pore wood accents and even Berber floor mats. A familiar rotary shifter is standard equipment, though its metal construction and artfully milled edges make this dial feel like a piece of jewelry. A suede-like headliner is offered, too, as is a 19-speaker McIntosh audio system. In higher-end models, this Jeep's interior is luxury-car nice, enough to give vehicles like the Acura MDX and Lincoln Aviator a run for their money."
Mark Phelan for the Detroit Free Press — "The Grand Cherokee L's extra length improves space in the second row of seats — 2 inches of extra legroom — as well as creating the new third row. The standard bucket seats — bench optional — slide up to 7 inches to adjust legroom.
In addition to the usual console between the front seats, an optional second-row console has cupholders and storage. Passenger space benefits from subtle tailoring of the dash and doors to increase interior width without making the vehicle broader.
Headroom benefits from a climate control system that replaces ceiling mounted vents with face-level ones in the window pillars. A big dual-pane sunroof that opens above the roof rather than between roof and headliner also increased headroom. An available "family view" camera provides a bird's-eye view of the passenger compartment to referee squabbles and spot lost toys. The matching available 360-degree outside view provides the same perspective for parking."
On Road Refinement
The big Jeep has reportedly great on-road manners, with the upper-trim and offroad models benefiting greatly from the air suspension, while the interior and great sound insulation keep it quiet on long highway drives.
Chris Davies for Slashgear — "Happily the adventure abilities don't impair how refined the big Jeep is on normal roads. I spent my time in the Overland mid-range trim, with the V8 engine option, and came away impressed with how refined the Grand Cherokee L feels. 
It's compliant but not squishy, partly down to Jeep's efforts to keep curb weight about the same as the smaller outgoing model. That same stiffness that leaves the SUV so capable on the off-road course also leaves it stiff and reassuring on asphalt: there's no body twist to unsettle or leave those in the third row feeling seasick.
With the V8's 357 horses it's fast but not especially sporting. The engine sounds distant and muffled; there's none of the hearty grunt that eight cylinders typically aim for. Straight-line speed is ample and the refined tuning means there's minimal body roll come the corners, but even in sport mode the Grand Cherokee L feels focused on comfort."
Peter Holderith for The Drive — "It's equally interesting how having all of these rugged features translates to on-road performance. The air suspension is one of those "have your cake and eat it" features, where it helps with off-roading but also improves the ride on paved surfaces. The off-road attitude of the Grand Cherokee L melts away on a paved surface. The vehicle's handling was about as tight as it can be on the road for an SUV of its size and comfort, power from the 5.7-liter V8 enabled easy merging and passing on the highway, and the steering had a fair amount of feel. The off-road features exist in addition to a normal, luxurious SUV. Modern technology dictates that you don't really have to compromise when you want a vehicle that's reasonably good at two distinctly different things.
Highway cruising is where the truck really shone but it was pretty good around town as well, despite its size. The lowered beltline meant good visibility and the car has a slew of cameras, including one for the digital rearview mirror."
Brandon Turkus for Motor1 — "Perhaps most impressive, considering its weight, is how well the Grand Cherokee handles. The suspension is a multi-link layout at all four corners, while the Overland and Summit come standard with a QuadraLift air suspension that can change the ride height by as much as 4.2 inches and can swing 1.8 inches up or down in just seven seconds. Engineers retuned the power steering system and fitted the air springs with adaptive dampers, while the engine sits 1.6 inches lower in the bay, for an improved center of gravity. Lastly, an electronic limited-slip differential is available on Hemi-powered models.
All this work means that the Grand Cherokee is a darn bit of fun in the bends. It's as light on feedback as you'd expect of a three-row crossover, but the ultimate cornering ability and its willingness to carry speed into corners is surprising. The steering is tight and direct, with a well-sized deadzone that makes highway driving easy and corner carving predictable."
On Off-Road Capability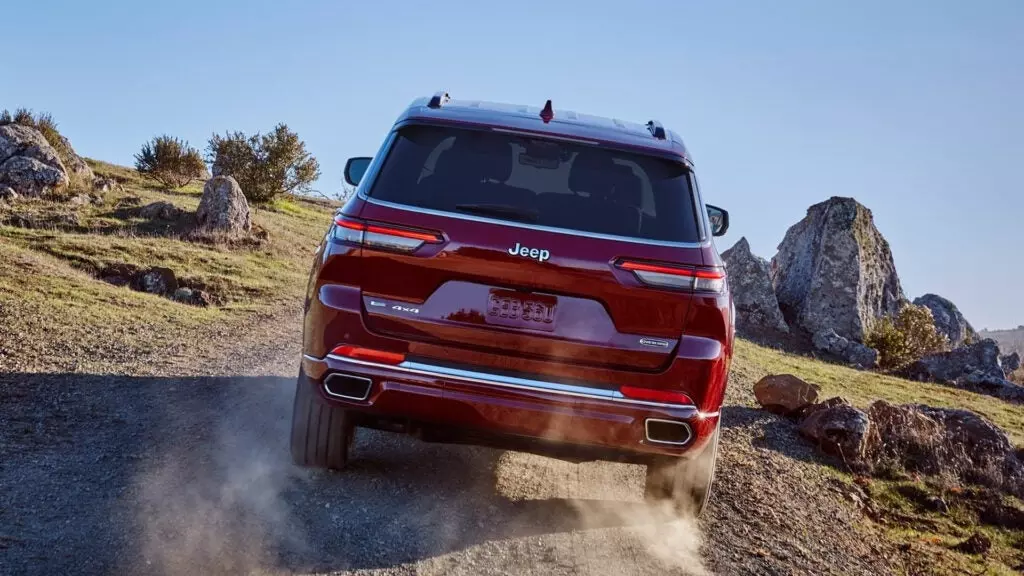 I lost track of how many times reviewers opened up with a quip about that goddamn seven-slot grille. But it does the new Jeep is up to the task of driving off-pavement, having a Trail Rated badge, and yes, those seven slots. According to everyone, this isn't just a mall-rated hulk of a road truck, with highlights including a 24-inch wading depth, and an optional true low-range transfer case.
Frank Markus for Motor Trend — "On paper, ground clearance measures about the same as with the previous two-row Grand Cherokee, with the new L trailing only slightly in approach, breakover, and departure angles. With the standard steel suspension, these measures drop by 5.6, 0.8, and 2.5 degrees, but an Overland aired up on its tippy toes narrows those angles to differences of +0.3, -0.2, and -3.5 degrees.
All three available transfer cases employ active front-to-rear torque distribution with a front-axle disconnect for improved fuel economy. Stepping up to the Limited 4×4 adds the Selec-Terrain system, which has five modes to tailor various functions to different conditions (auto, sport, rock, snow, mud/sand). The Overland gets standard Quadra-Trac II, which adds a 2.72:1 low range and hill-descent control and Quadra-Lift air suspension for 4.2 inches of height adjustability. The most serious bushwhackers will add the Off-Road Group to get 18-inch wheels with off-road tires, skidplates, and Quadra-Drive II, which adds an electronically actuated limited-slip rear differential (Summit models also get Quadra-Drive II, but with less off-road-optimal 20- or 21-inch wheel-and-tire packages).
With ample spotter assistance, we traversed stacks of logs and an aggressive rock pile that most civilians would never attempt in a $60,000 SUV, making extensive use of the skidplates. We also crossed a frame-twist field that placed diagonally opposed wheels at a 24-inch height difference. The articulation and traction were impressive, especially given the unaggressive looking tread of the Michelin Primacy XC All-Season tires."
Chris Davies for Slashgear — "Jeep is, understandably, keen to prove its new model is no pretender when it comes to the rough stuff. The result was an off-road course tougher than any luxury SUV will ever face in typical use: jagged and haphazard rock piles, unruly log piles, and chassis-testing twist fields. As I crept adeptly through with the aid of spotters I concluded it was a textbook example of overkill – Jeep happily agrees that basically nobody will use those capabilities in practice – and evidence of just how useful the front-facing camera is, even if owners only ever use it to avoid parking lot curbs."
Craig Cole for CNET Roadshow — "Crashing over rocks on a particularly gnarly section of off-road course at Stellantis' Chelsea, Michigan proving ground makes me appreciate the available high-strength steel skid plates, which shield delicate underbody componentry from rough terrain. Bashing into and scraping along boulders causes me to wince in pain, though the spotters never bat an eye and neither does the Grand Cherokee L. Helping tailor this SUV's behavior to various conditions, the Selec-Terrain traction-management system has five modes: auto, sport, rock, snow and mud/sand. Hill-descent control automatically checks the Grand Cherokee L's speed, even in reverse."
Peter Holderith for The Drive — "Off-road, the Grand Cherokee L was pretty impressive, although the course was pretty carefully curated to avoid some of the harsher obstacles. That's not to say it was a cakewalk. One obstacle was a steep incline made up of loose rock, which seemed to be something of a challenge for the truck. It slipped on some of the slicker features and the nature of the ever-changing surface introduced some unpredictability the four-wheel-drive system had to manage aggressively, moving torque to the wheel with the most grip. Conversely, a 30-degree cambered slope other vehicles in the segment might not want to touch gave the Jeep little trouble.
Overall though, its off-road performance made me confident of the truck's abilities whether or not I would ever actually need them. If I needed to head into the wild in the future, I wouldn't worry about it, the truck had a slew of features at my disposal to prepare me for it."
Review Context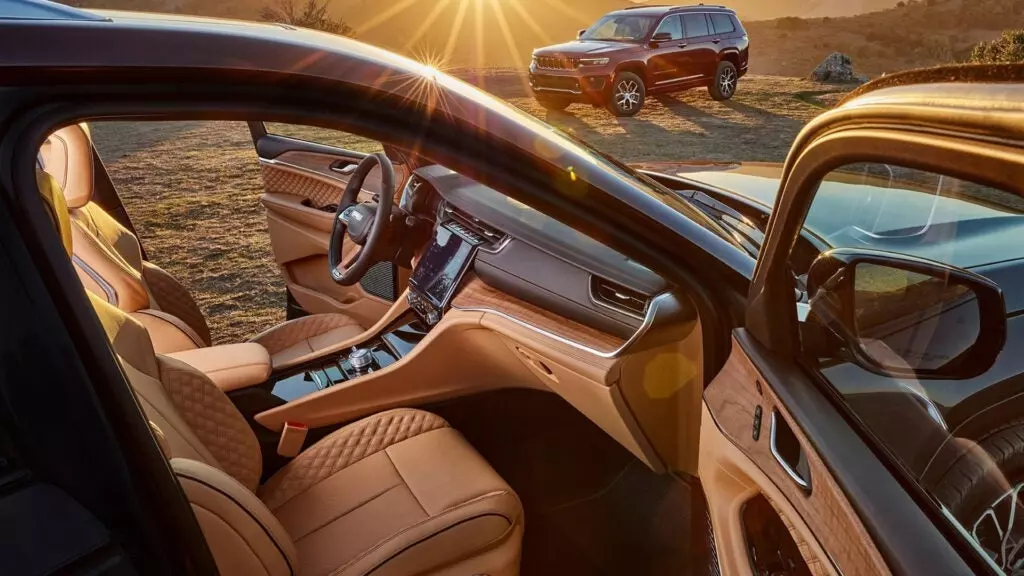 All of the reviews for the 2021 Jeep Grand Cherokee L seemed to have been conducted in a mixed way, but most seem to have been done at a predetermined course at the Chelsea Proving Grounds outside of Detroit, on and off-road, set up by Jeep for the press drives. Some publications seemed to have gotten some extra time alone with the Jeep, but generally, they were evaluated on similar courses. These trucks aren't quite on sale yet, so they are likely pre-production models. Hopefully, more detailed drives from longer loans will come soon.