Shortly after taking the wraps off of the Mercedes-AMG GLS 63, Stuttgart is revealing another special GLS of a very different flavor: The 2021 Mercedes-Maybach GLS 600 4Matic. And while the AMG variants are all about the driver, the Maybach exists to cosset the minds and bodies of the privileged few who get to ride in the sumptuous backseats. If the AMGs can be described as a GLS with a lot more engine, this version is a GLS with a lot more bells, whistles, and chrome.
To start, Maybach's first SUV features air suspension which works with E-Active Body Control to keep road undulations outside of its occupants' purview. The ultra-luxe GLS also gets the company's first "Maybach" drive mode which configures said suspension bits as well as the drivetrain to deliver maximum rear-seat comfort.
Stepping inside, the Maybach GLS has been blessed with dark wood trim that Merc says has been aged for at least 10 years. The Maybach SUV can be had as a five-seater but real ballers will want to order it with four thrones. With the middle-rear seat deleted, it frees up room for the GLS' fixed center console which houses an MBUX tablet to control the HVAC, what's playing on the Burmester High-End 3D Surround Sound System, and the heated, cooled, and massaging seats. There are also little tray tables that fold out to let its occupants conduct important business, exchange unencrypted emails with their Bilderberg buddies, or pen their next Grammy-winning bop. (Youths still use that word, right? Bop?)
In between the two reclining back seats is also a fridge with dedicated space for champagne bottles. The car can even be had with its own, matching champagne flutes because when you roll in the back of an SUV Maybach, every day is apparently worth celebrating. The GLS can even cover up any lingering musks of fine wine, Kobe steak, or drive-by poverty with a dedicated interior fragrance which MB's press release describes as "white osmanthus blossom, floral and light, rounded off by a gentle leather note and spicy tea." Leather, tea, and flowers? Sign us up.
When the big Maybach arrives at its destination and its doors are opened, the ride lowers by 25 millimeters and an illuminated, anodized aluminum running board silently presents itself like a well-behaved butler. If its owner bothers to look back at it, they'll be treated to an SUV positively doused in chrome. It's got chrome all over its face, surrounding the windows, on the door handles, on the roof racks, on its rear bumper, and rear diffuser. Mercedes says it all "lends dignity and elegance to the profile" but we think it's nothing short of overkill.
That being said, I rarely visit McDonald's these days without a coupon in hand, so what do I know?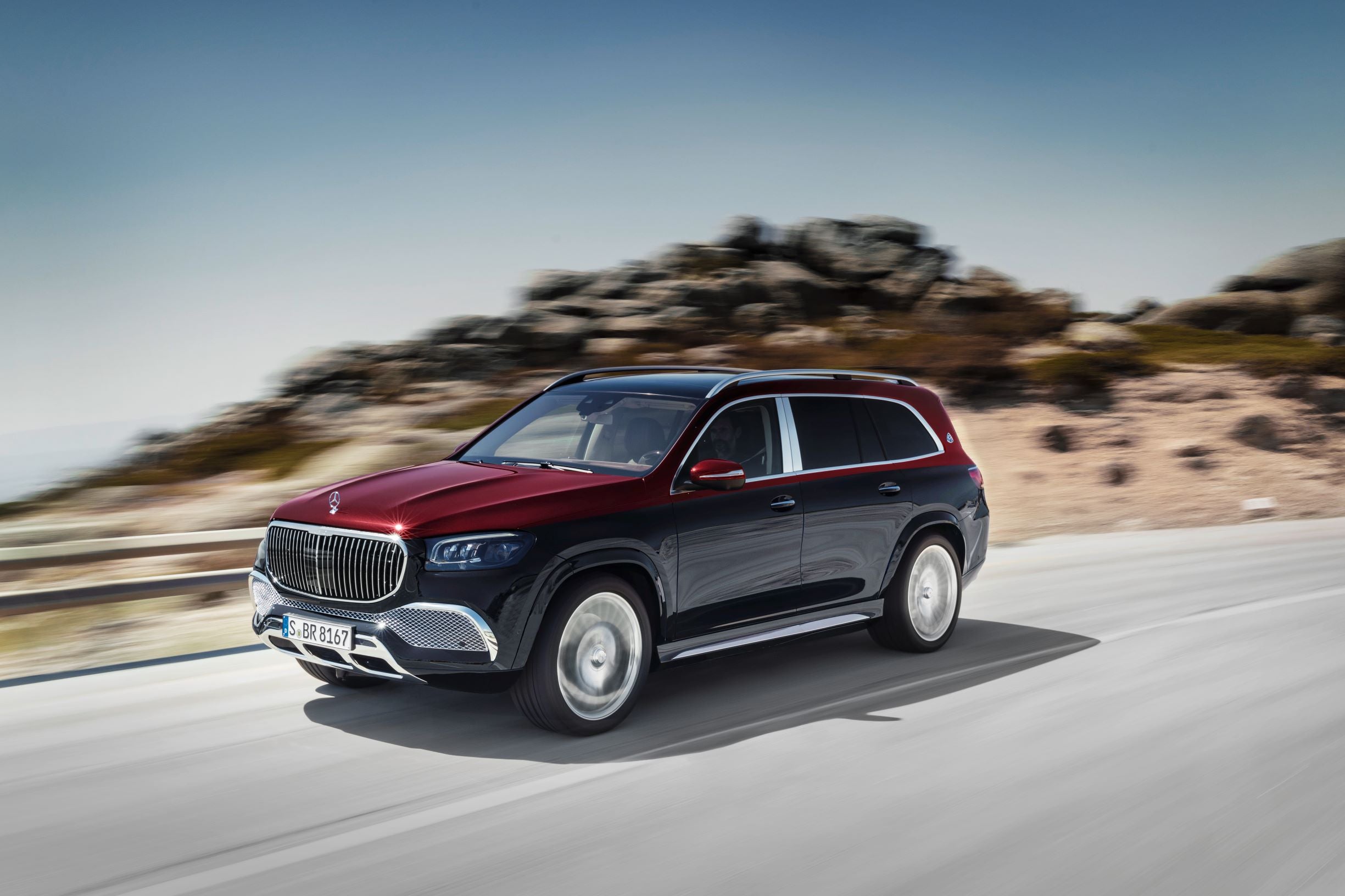 Daimler AG
Apparently, the Maybach GLS is the first-ever SUV to get the small Mercedes-star hood ornament instead of the big Benz grille badge, so that's neat. Customers can choose from eight different two-tone paint combos and either 22 or 23-inch wheels. It's powered by 4.0-liter biturbo V8 producing 550 horsepower aided by a 48-volt EQ Boost mild-hybrid system—but as far as most owners are concerned, there might as well be an unemployed Liberal Arts graduate on a treadmill stuffed under the hood.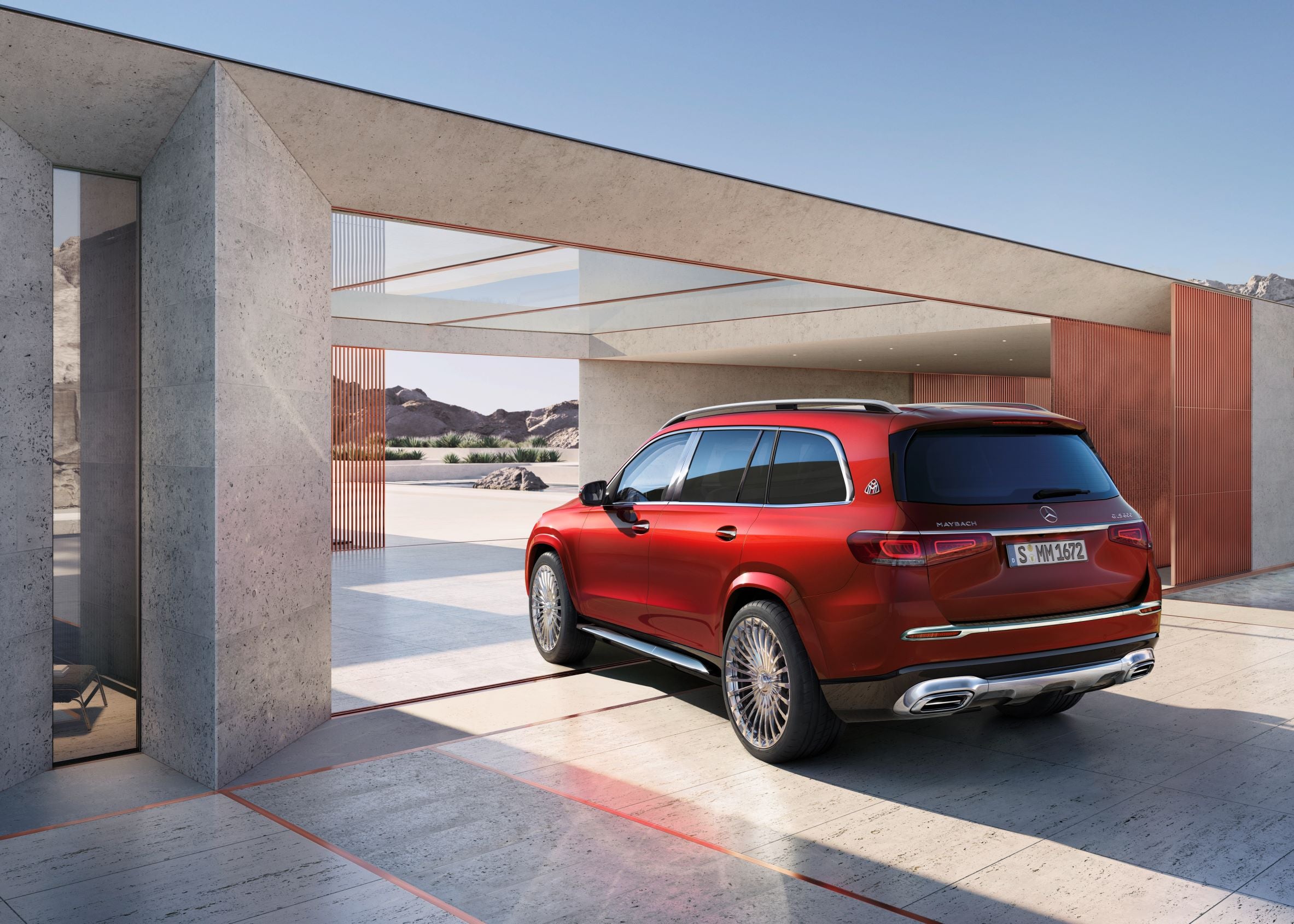 Daimler AG
Despite it being announced during this year's Los Angeles Auto Show, the 2021 Mercedes-Maybach GLS won't actually be on display at the L.A. Convention Center. It will, however, be present at the Guangzhou International Auto Show in China kicking off later this week; a fact that should tell you all you need to know about this car's main target market. 
Buyers still spending USD instead of RMB can look forward to seeing the Maybach GLS go on sale in the second half of 2020 for a price that's yet to be officially announced. A previous report has, however, pegged the Alabama-built GLS to be the most expensive American-made car at around $200,000.