If the length of the 2021 Land Rover Range Rover P400 HSE Westminster Edition's name (and its price tag) doesn't make it clear, allow me to confirm, the vehicle is incredibly luxurious and opulent. Supple white leather throughout, beautiful interior accents, heated and cooled seats, the best quad-climate control system I've ever experienced, a very cozy air-suspended ride, and a strong sense of being fully isolated from the outside world. But the real Rover party trick is supposed to be about bringing that plushness into the backcountry, so that's how I tested it.
Besides the SUV's boxy shape and decades of brand marketing behind it, the thick rubber floormats were the only aesthetic element that really hinted at this vehicle's abilities off the pavement. As a car enthusiast in general and the owner of an old-school straight-axle Land Rover myself, my question was naturally: Modern Range Rovers are so well-equipped with luxury and amenities, but are they still well-equipped elsewhere?
I grabbed two buddies one early Sunday morning and set out for Hungry Valley SVRA to find out.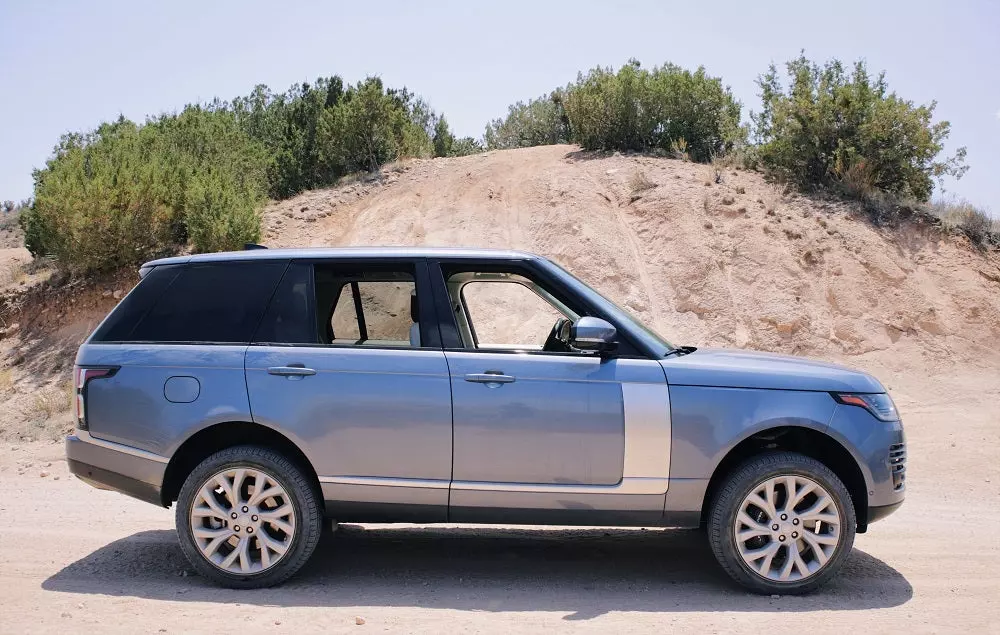 When we arrived, we promptly went about hitting up a couple of trails we'd enjoyed at this fine state park before. The Rangie (people love saying Landy, Rover, LR, etc… I gotta mix it up) didn't think much of the bumpy, washboard gravel trails we took it on. Neither did it when these trails included quite steep, high-tilt banking. With its EAS (electronic air suspension) set to Off-Road (that lifts the vehicle noticeably) and selecting the Terrain Response 2 system's Grass/Gravel/Snow mode, the big truck cruised along quite happily, having plenty of clearance and still providing a nice, soft ride.
Land Rover's Terrain Response 2 is the company's name for a suite of driving modes that enable better off-road-ability. Instead of being thoughtful with the throttle and brakes, this form of electronic traction control puts in the work. Though selecting between high and low gears still requires shifting to neutral, but more on that later.
The Grass/Gravel/Snow setting includes a Low Traction Launch feature. So when you put your foot down, it slowly and tenderly applies power to certain wheels to maximize traction on loose surfaces. It felt awkward at first, but worked like a charm. Elsewhere in intuitive off-road tech, the head-up display included a Slope-Assist icon, which helped me gauge how much pitch and roll we were experiencing as we experienced some above-average grades.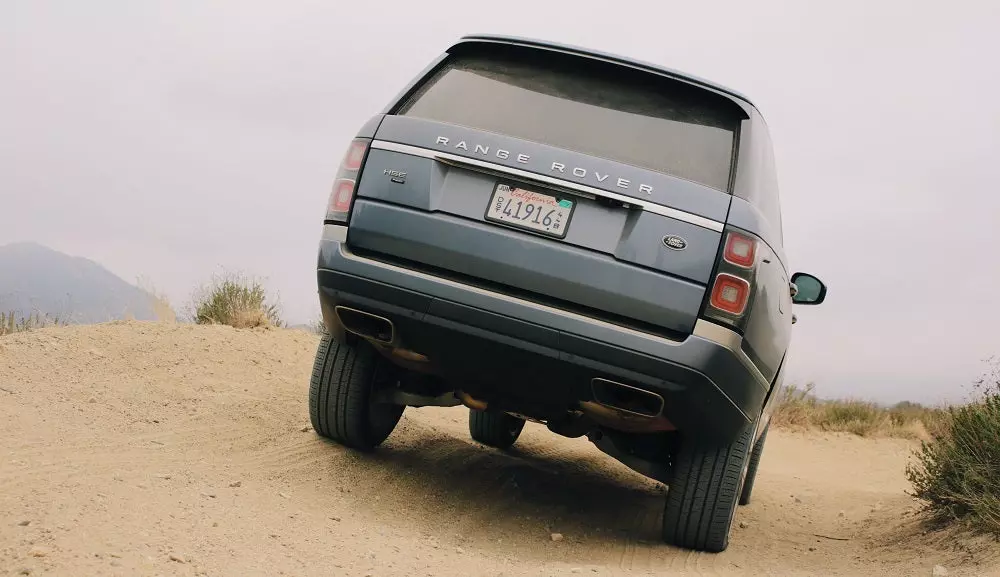 While lumbering along trying out its various modes, we sat in opulent, climate-controlled comfort while SiriusXM's First Wave provided some pleasant, relaxing new-wave tunes. Quite the stark contrast from nearby dirt bike riders and side-by-side mobbers getting covered in dirt and dealing with the less-than-ideal weather conditions. It seemed like we got some puzzled looks; I'm guessing it had been a minute since they'd seen a well-optioned, brand-new Range Rover in these parts. If ever.
At the end of one of these circuitous gravel trails, we decided to give the truck a quick taste of a gnarly ascent. In front of us was a small hill with a pretty steep grade. First thought: how hard could it be?
We had all-season road tires, which would put this Rover at a major disadvantage over rough terrain. These SUVs leave dealer lots on that kind of rubber because, well, the worst conditions most owners see is a little rain. But all-seasons are optimized for fuel economy and road handling. The advanced traction control system would really have to work hard to compensate for the tires' lack of grip. We had all the traction control and electronically-controlled differential magic in the world… and would need it. After shifting to neutral and selecting Low Range (conveniently conveyed on the button as a mountain), I shifted back to drive, the Rover automatically locked the differential, and we went at it.
It scrambled up the hill without any issue. In fact, I barely had to give it any gas. Albeit, we had to be careful heading down the other side; not just to avoid destroying some kid ripping around on a dirt bike, but to also ensure that it wasn't a scary, sheer drop that awaited us. Luckily, it was the same degree of elevation change as the way up.
The Rover's good climbing behavior carried on while coursing up and down some fun, single black-diamond climbs and descents. Its traction control plus 396 horsepower and 406 pound-feet of torque made short work of any brutal incline's especially-gravelly deck. The P400 in this Range Rover's name refers to its engine: a mild-hybrid, turbocharged 3.0-liter inline-six engine. Or, more specifically, that engine's output (400 metric horsepower). Though, this is the sort of mild hybrid system that helps with getting off the line rather than boosting fuel economy. Having driven the Defender P400, I can attest to it having beastly acceleration. This Rangie weighs 400 pounds more, but these figures were still plenty ample for its size. 0-60 mph only takes 5.1 seconds.
Descent control was so fun; without touching the gas or brake, you can feel the ECU go to work sliding the rear tires a tad, applying brakes where necessary, and just making the whole experience very easy and re-assuring.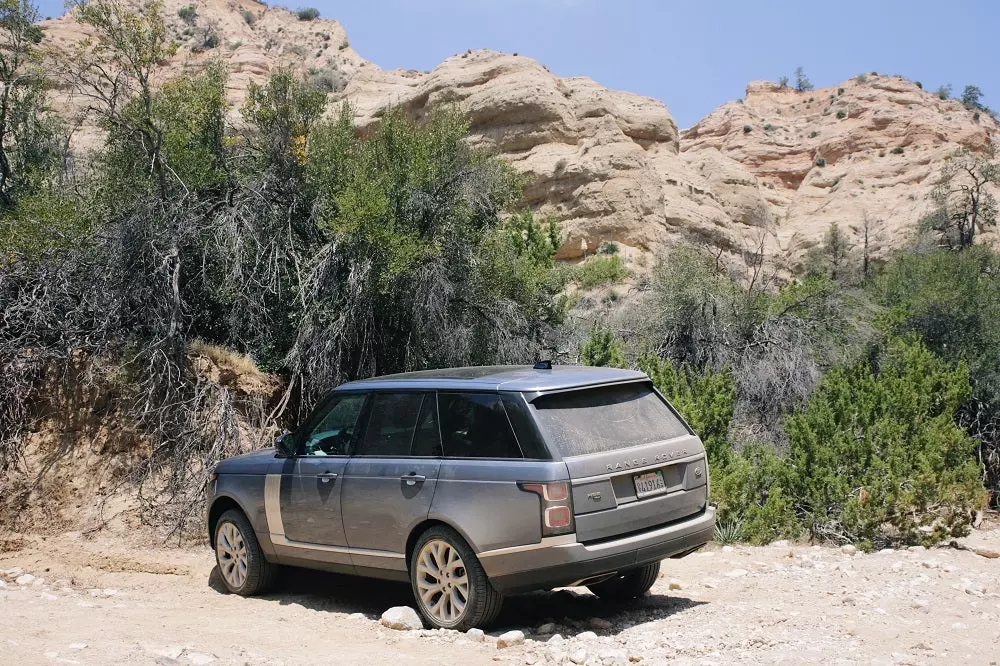 We decided to head up one path to reach another fun climb, though this one looked especially circuitous. It looked like it might be a little narrow, but surely we would be fine.
My God, how wrong we were.
This trail turned into a proper rock garden. Meaning, the whole surface was nothing but big rocks, ready to pop one of the Range Rover's tires if we weren't careful enough. Or, carve up its underside. We were equipped with a pretty substantial skid plate underneath and good clearance, but these rocks were pretty intimidating. Though luckily, based on where we were on the map, or at least where we thought we were, this would be a temporary inconvenience.
My friends got out to help direct me and move some stones out of the way. The Rover's Terrain Response 2 system had a Rock Crawl mode, too, which I quickly toggled. This softened up the ride a bit, as well as adjusted the differential to help the vehicle climb over some of the trickier bits. It was a hair-raising half-hour to the top… where there was no sign of another trail.
Did we misread the map? Or was the rest of the trail only accessible via dirt bike? Were we even supposed to be there? It seemed like… no. Regardless, our only choice was to turn around and head back down. Luckily, we were at least somewhat versed in which parts to look out for, but it was another very, very stressful half-hour of rock crawling. It'd been a minute since I'd experienced a cold sweat like that.
We finally reached the bottom, and I'm happy to report, unscathed – no new pinstripes on the paintwork and all four tires still inflated. Once we caught our breaths we continued on to do a few more bits of trail before calling it a day. Suffice to say, I never want to drive up another rock garden again, regardless of the vehicle I'm in. The brutal ascents and descents were a piece of cake, and I'm sure actual, big-boulder rock-climbing would've been less stressful, too. At least the chance of destroying a tire would be far, far more minimal in these scenarios.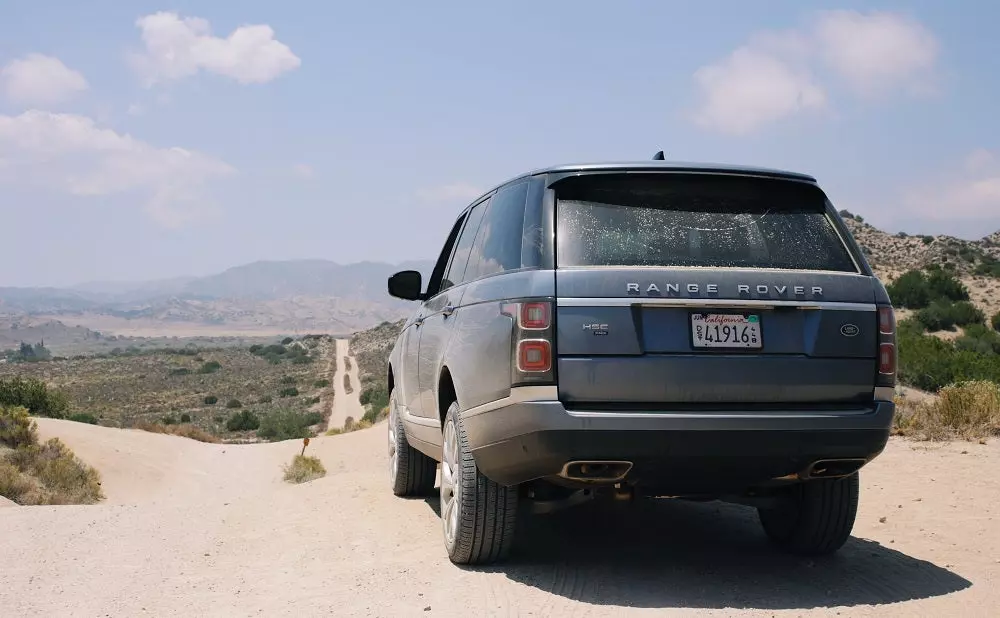 The thing about modern Land Rovers is they're all made of unibody construction. For all intents and purposes, this offers better structural rigidity and lower curb weight than the way 4x4s were traditionally made: with a body attached to a steel frame. People often discount unibody as lacking in toughness and capability, and yeah, everything else being equal a robust frame can usually take more of a beating before becoming undrivable. But realistically, most luxury SUV owners are unlikely to drive that destructively. And even if you were to take this Range Rover way off the road map, its impressive traction control and camera system would help it get through just about anywhere the vehicle would physically fit.
The Range Rover held up on our desert off-road park test loop just fine; we were only rolling on wussy all-seasons, yet the Range Rover absolutely wiped the floor with what we threw at it. It's truly wild what modern traction control systems can do in this day and age. Aspects of off-roading that used to be all driver skillset manual transfer box shifting, like in my Discovery 1, is now turning a dial and having the ECU figure everything out. Sure, a significantly higher degree of off-roading might demand the all-around underbody toughness of sturdy, steel frame rails. But for the most part, the ability to keep everything underneath tucked away and protected, and increased articulation from independent multi-link suspension at all four corners with active air suspension is quite potent in the 2021 Land Rover Range Rover P400 HSE Westminster Edition.
It's also a testament to the brand: no matter how bespoke, fancy, opulent, or high-end the Range Rover nameplate gets, Solihull still engineers and builds them to stand up to some pretty brutal environments. This certainly makes me wonder how this big, comfy brute would fair with a set of actual off-road-ready, all-terrain tires. I'd sure like to find out someday. Maybe even turn it into a Car Autance group test.