It's impossible to launch a mainstream-aimed electric vehicle like the 2021 Volkswagen ID.4 without attracting comparison to EV segment leader Tesla. Unafraid of being measured alongside the Tesla yardstick, however, VW will mirror Tesla's early-adopter incentive scheme, and offer three years of free fast charging to everyone who buys its electric crossover.
Drivers of the ID.4 will be able to cash in on this perk at Electrify America stations; a growing network of fast-charge kiosks backed by multiple automakers. Nationwide, Electrify America has 470 operational stations with over 2,000 chargers, many of them along a recently completed route between Los Angeles and Washington D.C. Electrify America plans to continue expanding rapidly across America, and pledges to have some 800 stations and 3,500 chargers online by the end of 2021. Some of its chargers are capable of ultra-fast 350-kilowatt fast-charging, though the ID.4 is anticipated to accept a significantly lower wattage of 150 kW.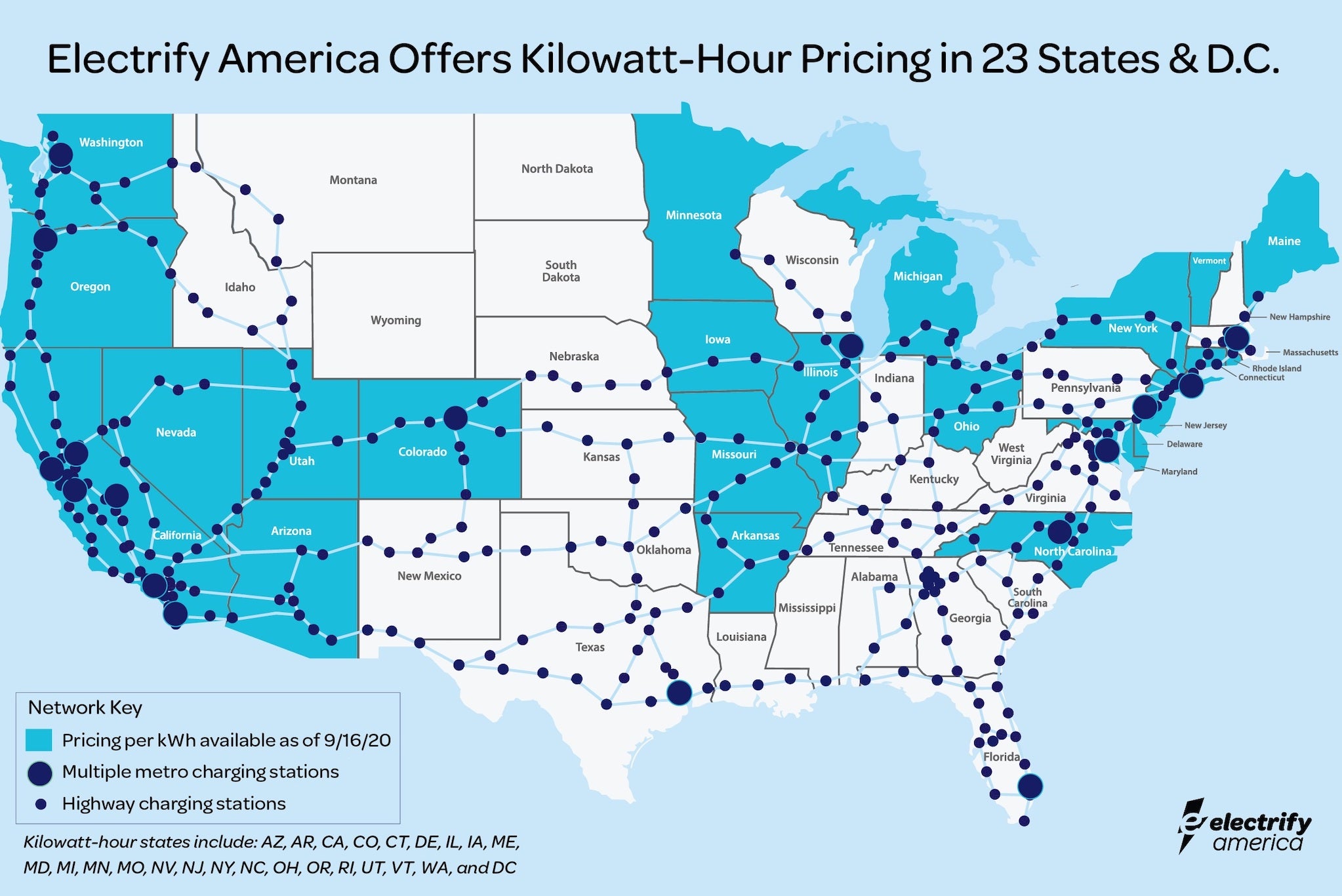 Electrify America's network map, Electrify America
This wattage matches the maximum output of Tesla's Supercharger V2, which can be found at many of Tesla's 888 operational U.S. Supercharger stations per Supercharge.info. Assuming each network's construction rates remain the same, Electrify America could match, if not surpass, Tesla's network coverage by early 2024. By that point, ID.4 production is expected to be in full swing at VW's Chattanooga, Tennessee plant, which will help the automaker reach the ID.4's targeted sales volume—half a million vehicles annually according to Caradisiac.
By comparison, figures published by EV Volumes suggest Tesla's volume seller the Model 3 is on track to fall short of 300,000 sales in 2020. Perhaps this is the limit of the Model 3's mass appeal, or perhaps it's simply the ceiling of the EV market today. Whether this proverbial town is big enough for the two of these companies (or their many competitors) will be decided in the coming years.
Got a tip? Send us a note: [email protected]