"Holy fuck, this is good," I whispered to myself as my right foot leaned more heavily into the 2022 BMW M5 CS's throttle pedal and its thunderously effective V8 pushed me back into its delightfully racy carbon buckets. Reining it in ever so slightly with those massive carbon-ceramic brakes and flicking it into a corner way more quickly than I should have, I realized it was all still child's play for the gorgeously green super sedan. 
After more than a few minutes of glorious, uninhibited hoonery, my hands were sweating. Exactly how long they'd been doing that, undoubtedly gumming up the fluffy Alcantara steering wheel, remains a mystery. But what I do know is that unnoticed perspiration is always a sign that one is having a good time. It was a surprise, given how underwhelmed I was with the car on which the CS is based.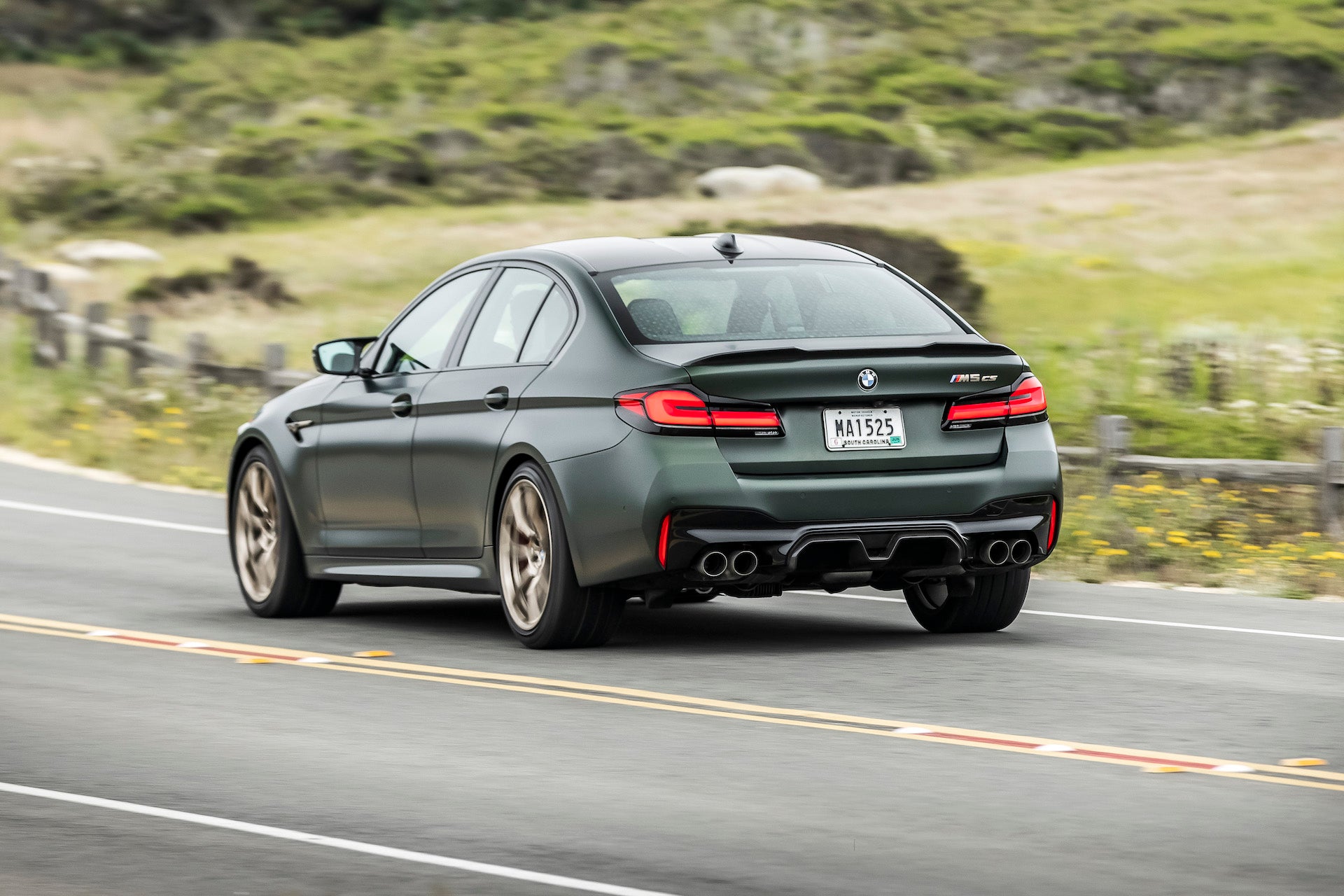 BMW
2022 BMW M5 CS Specs
Base price (as tested): $168,380* CAD ($173,280 CAD)
Powertrain: 4.4-liter twin-turbo V8 | 8-speed automatic | all-wheel drive
Horsepower: 627 @ 6,000 rpm
Torque: 553 lb-ft @ 1,500 to 5,950 rpm
0-60: 2.9 seconds
Top speed: 190 mph
Curb weight: 4,114 pounds
Seating capacity: 4
Cargo volume: 14 cubic feet
EPA fuel economy: 15 mpg city | 21 highway | 17 combined
Quick take: Throws down like a sports car, hustles like the most powerful M car should. A high point for internally combusted luxury sedans as a genre and what the M5 Competition should've felt like.
Score: 9/10
*All prices in Canadian dollars unless otherwise noted.
In BMW M5 hierarchy, you can get your base M5, spice things up a bit with the option of the Competition Package, or go all out with the CS. To the bemused outrage of every BMW fanboy with little grasp on how analogies and opinions work, I concluded my review of the technically accomplished, yet perplexingly dull M5 Competition last year by calling it "the world's fastest Honda Accord." Fortunately, this isn't a criticism that can be leveled at the lightened and tightened M5 CS because, just like that other boxy Bavarian with CS in its name, BMW's most powerful production car to date is an absolutely sublime driving machine. 
Before we get into all of that, though, I'd like to address the way the car looks. Gold wheels and accents on dark, matte-green paint sound like the sort of color combo that shouldn't work on a car like this, but it does. Holy hell, it does. The shape itself is beautifully chiseled and dignified, sporting noticeably sharper carbon jawlines than the doughier-looking Comp, while the colors are just subtle enough to not come off as cartoonish. The wheels are a delight, as are the yellow DRLs that make it look maliciously serpentine, and the bulgier hood that's got the letters "M5 CS" etched onto its carbon underside. This is easily the best-looking vehicle BMW makes right now and a solid contender for the best-looking sedan on sale today. 
(Side note: Other than Frozen Deep Green, you can also get this car in Frozen Brands Hatch Grey. You shouldn't, though.)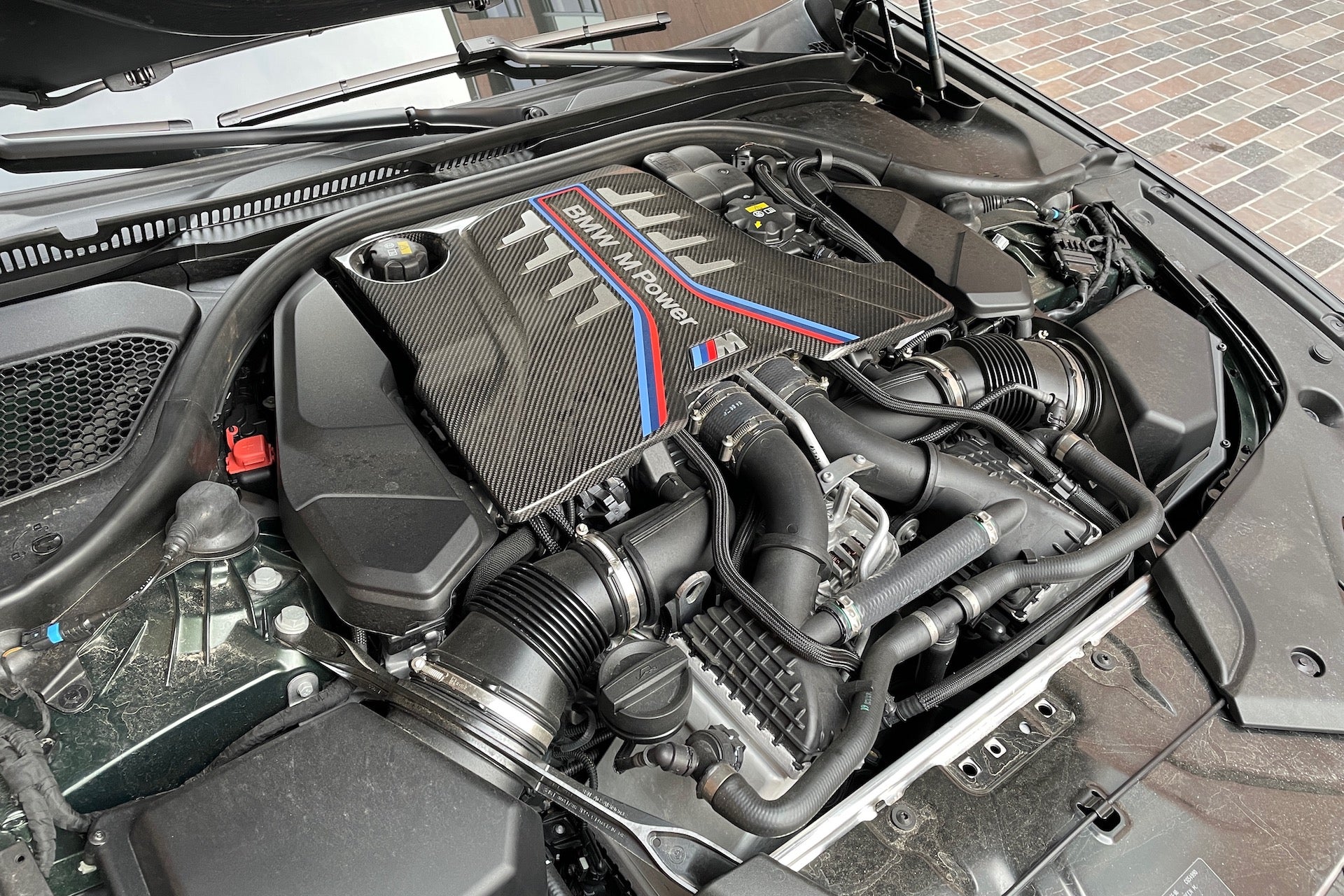 Chris Tsui
Judging by how different the M5 CS feels to drive compared to the Competition model on which it's based, you'd think the engineering changes involved would be more drastic than they are. But they aren't. Not really. To create the CS, BMW shaved off 230 pounds of weight thanks to the select use of carbon fiber reinforced plastic and less sound deadening, while the M5's mighty 4.4-liter, twin-turbo S63 V8 has been tuned to 627 horsepower, 10 more than the Comp. (Although, in typical BMW fashion, there's a solid reason to believe the automaker could once again be engaging in spec-sheet sandbagging with underrated official hp figures.) Until the 750-horse XM comes to production, this is the most powerful street car BMW has ever built.
Sixty mph arrives in 2.9 seconds, 0.2 secs quicker than the M5 Competition, while top speed is unchanged at 190 mph. Just like the Comp, the M5 CS is all-wheel drive, with rear-biased Sport and pure-rear drive modes selectable via the 12.3-inch touchscreen that sits atop the dash. Springs and dampers were retuned to compensate for the weight loss and carbon-ceramic brakes are standard equipment. 
Just like how I suspect BMW habitually underplays its cars' power figures, I feel like differences between this car and the regular M5 Comp are more extensive than the company lets on because, as a driving experience, the M5 CS is a transformative change for the better. It's a significantly edgier drive. Throttle tip-in is more aggressive. The acceleration is even more jaw-dropping. With everything set in its sportiest configuration, the M5 CS's inputs became supercar-level immediate, rendering the entire car into an extension of my hands and feet. 
There's genuine feel, too, coming through both the steering wheel rim and the satisfyingly communicative ride. Said ride is indeed slightly jigglier than that of the M5 Competition, which means some will likely find it a little much for daily driver duties. But I think it's fine, especially for a special, high-high-performance edition like this.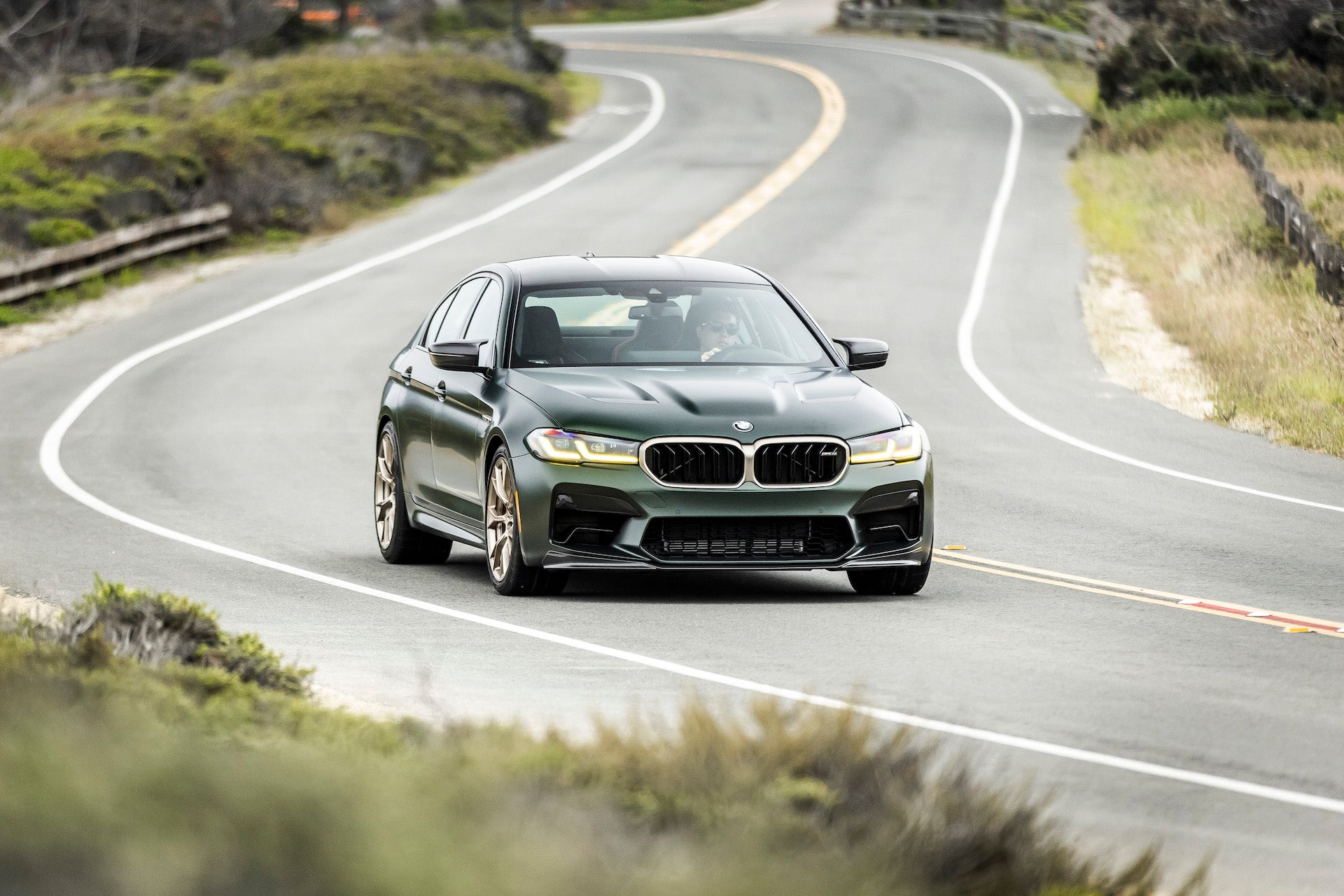 BMW
Let loose down an empty backroad, the big Bimmer sedan balletically changes directions like a bona fide sports car, reacting to minute adjustments in steering and throttle instantaneously and with great response. BMW may have shaved a couple of hundred pounds from the Comp here, but the CS still tips the scales at a fairly hefty 4,114 pounds. Behind the wheel, though, it feels lighter. Thanks to relatively feathery-yet-precise steering, a delightfully tight-feeling chassis, and super-sticky Michelin Pilot Sport 4S tires, the two-ton CS magically feels almost as agile as a stock Subaru BRZ to hustle down a backroad. All the while being one of the most brutally quick sedans this side of a Tesla Model S Plaid. 
The standard carbon-ceramic brakes—which apparently don't fade as easily and weigh 51 pounds less than the ones on the Comp—are admittedly a little jerky at low speeds and take a little getting used to, but they scrub off speed capably in "BMW M situations"—what I call "if a cop sees this, I'm going to jail" situations. They're noticeably more sensitive than the Comp's brakes, but part of me wishes the pedal travel was made even shorter for an even harder core, race car personality.
Paddle-operated shifts of the eight-speed feel a tad snappier while still being impeccably smooth, and the 4.4-liter V8 here was actually quieter than in the red Competition M5 I tested—although that car had an optional and frankly too-loud titanium exhaust fitted, which probably explains why. The M5 CS's electric flap-controlled, stainless steel-tipped exhaust also surprisingly does not deliver any of the burbles, pops, or bangs that have become so popular with modern performance cars. Depending on personal preference, this can either be seen as a downgrade in aggression or the refreshing removal of a gimmick. But given how happy the CS made me so far, I'm gonna go ahead and lean towards the latter. 
Remarkably, this car's specialness is not limited to just high-speed shenanigans, either, because even when it's simply snaking around parking lots, puttering around town, or cruising down the highway in full Comfort mode, the M5 CS operates with an analog energy and pep not present in the M5 Competition's Comfort mode. The steering feels less corrupted, its throttle edgier, its touchier brakes less standard-issue.
The M5 CS features the same, ridiculous-looking bucket seats found in the new M3 and M4 that are quite good at holding you in place. Here, however, they're present in the rear row as well and, as a result, this car is a four-seater. The driver's seat also lowers further than the Competition's throne, giving you that hunkered-down feel that was missing in the lesser M5. As another cool, seat-related quirk, BMW has embossed an outline of the Nürburgring on all four headrests. Just in case any of your passengers dare to assume that is just a garden-variety M5. 
Despite its status as a lightweight, carbon-laden special edition, the CS retains most of the tech features and creature comforts you'd expect out of a six-figure luxury sedan. The Harman Kardon audio sounds more than alright, iDrive and the accompanying head-up display are crisp to behold, and the seats are heated. The steering wheel, however, was not heated nor were the seats ventilated. Oh, and, unlike the Comp, there's no cubby underneath the center armrest. Perhaps that's where BMW has hidden the magic dust that makes this car such a joy to drive. 
As-tested, the M5 CS costs $173,280 CAD and, in the U.S., starts at $142,995 USD. It is, by no means, an inexpensive proposition. Although to be fair, it's only about 20 Canadian grand more than the M5 Comp I tested. And—based on seat-of-the-pants thrills alone—is probably worth a lot more.
Among the European competition, the M5 CS goes relatively unmatched. Despite their abundance of power, until Mercedes-AMG comes up with a Black Series equivalent of the E63 S or Porsche goes all GT3 with the Panamera, the M5 CS is a bit of an anomaly. Refreshingly, things change when you look at what the Americans have to offer. Based on what Kristen Lee has to say about it, the much cheaper and manual-optioned Cadillac CT5-V Blackwing may just be the closest rival the M5 CS has in terms of visceral, super-powered, big luxury sedan thrills while maintaining track capabilities and focus. This is a combination even the Dodge Charger Hellcat lacks. 
In summation, the M5 CS is a car that retains most of the regular M5's livability but is several magnitudes more exciting to pilot. Unquestionably sharper but simultaneously more graceful on a backroad, this is a BMW M5, unfiltered. While the Competition version behaves like a butler, obediently but passionlessly serving up speed when it's requested, the CS has a bit of an agenda of its own. It doesn't just serve, it goads you on.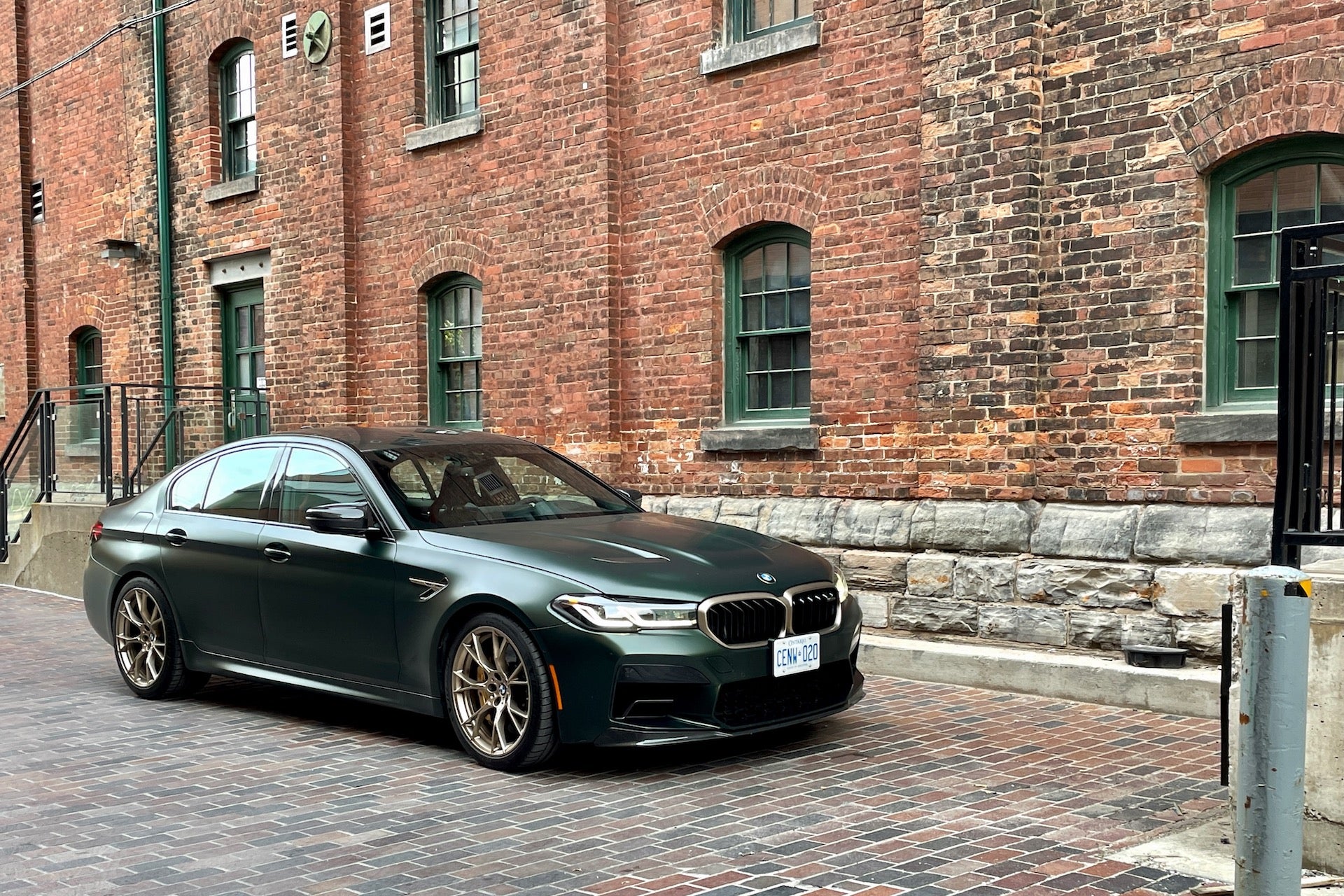 Chris Tsui
In fact, it very well might be the best sedan I've ever driven. Yes, the legendary E39 M5 was simpler, more compact, and had more pedals but, as a complete package, the new CS is just... better. Heresy, I know. It also makes my disappointment in the current M5 Comp even greater. Because I now know what that same powertrain and platform are capable of with some tweaks.  
BMW has absolutely done this on purpose. It knows what it has with the CS and has chosen to charge accordingly. On the one hand, I'm glad to see that BMW still does, in fact, know how to build a good M car but, on the other, it frustrates me to know that it's opted to reserve the good stuff for only its most well-to-do and well-connected clientele. Not only does this car cost a whole lot of pretty pennies—it's more than $30,000 more expensive than the Competition—but only about 1,000 will ever be made. BMW refused to confirm how many of those are earmarked for the U.S. but, for what it's worth, Canada is only getting 25.
Sobering marketplace realities aside, though, the M5 CS drove how I wanted the Competition to drive in its most performance-oriented setting. Alert, masterful, and daringly, almost unbelievably good. It is a more-than-worthy bearer of the vaunted M5 name. If making your peers look a bit shit is secretly one of life's great pleasures, then the M5 CS is having a ball.
Got a tip or question for the author about the M5 CS? You can reach him here: [email protected].