Road safety is evolving quickly, especially as roads crumble, people become more distracted, and the average car on U.S. roads becomes larger and heavier. In response, the Insurance Institute for Highway Safety (IIHS) has upped the demands of its side impact tests and retested current compact cars. While some fared well, the trio of the Subaru Crosstrek, Impreza hatchback, and Impreza sedan didn't hold up as well.
The IIHS tested a brace of small cars including the Mazda 3 sedan and hatchback, the Nissan Sentra, the Toyota Corolla sedan and hatchback, the Honda Civic sedan and hatchback, the Kia Forte, and the aforementioned Subarus. Of all the cars, only the three Subarus and Forte achieved a "poor" rating. The two Mazdas earned a "good" rating, while the rest of the field got an "acceptable" score in the new test.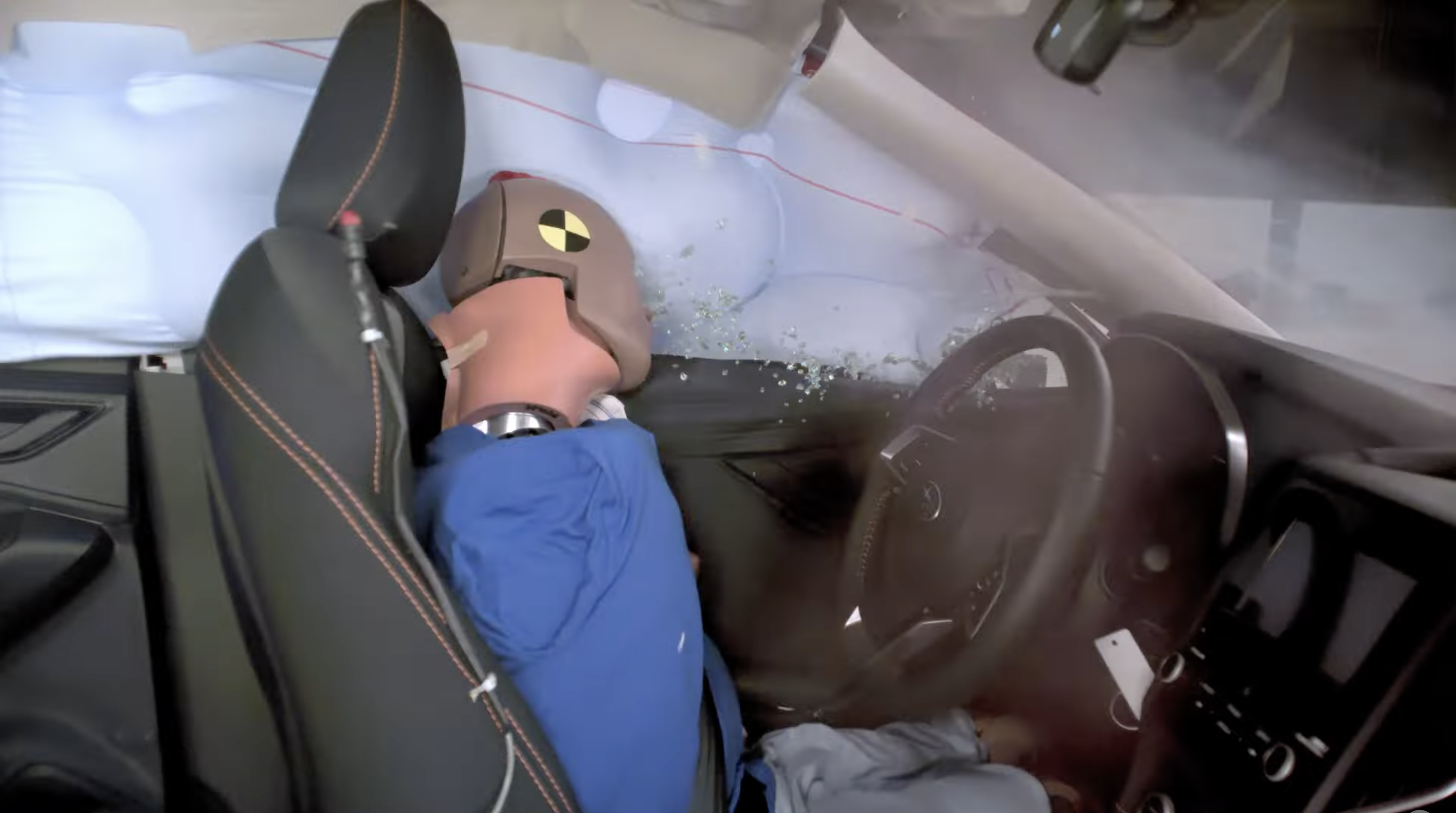 Interior view of the 2022 Subaru Crosstrek side-impact crash test. IIHS
For the new side-impact test, the IIHS generally upped the difficulty of the test by using a simulation of a heavier, taller vehicle to replicate real-world conditions more accurately. Instead of the previous 3,300 lb test car at 31 mph, the new test uses a 4,200 lb behemoth at 37 mph. An extra 900 lbs and six mph of kinetic energy are a lot more than before, and this test has the potential to make a big difference in crash safety. 
In the case of Subaru's "poor" rating, the IIHS cites a few reasons. "There was more substantial intrusion of the B-pillar and interior door panels into the occupant compartment, encroaching on the survival space and contributing to a relatively high risk of torso injuries for the driver and rear passenger." In the previous test, the Crosstrek earned a "good" rating.
As this test matures, more automakers will adapt to it. For now, it's early days. But seeing how adapting the test to an SUV-equivalent vehicle makes such a difference to cars that scored well in the previous test shows the progress left to make, and the danger that SUVs pose to everyone in smaller cars.
Got a tip? Email [email protected]