As a childless millennial, I'm mildly terrified of small kids. Not just financially (though, that, too), but I never know what to say to them, and mostly fear something uncontrollable happening if they're left in my care. The 2023 Hyundai Palisade can't help with the first two fears, but it exists to pacify the third, reassuring us adults that we are, in fact, capable of making responsible decisions—and making us feel pretty dang special about it, too.
This SUV will warn you against leaving kids in the car, chide you via a smartphone app if you still manage to leave kids in the car, and tell you who's unbuckled in the back so you can scold them. There's even an in-car parent intercom. Seriously, kudos to Hyundai for knowing its audience. I've never driven a car this centered on children, and that includes the hand-me-down minivans my fraternity brothers owned. True, these are all features that modern minivan owners will be familiar with. But if you find that a minivan cramps your style, Hyundai is here to help.
Hyundai and Kia have been hitting home run after home run lately, delivering hits like the Ioniq 5 and Kia EV6 (our Best EV of 2022, if you haven't heard) that are redefining the automakers as quality, cool brands. It only makes sense that that excellence would trickle into their bread-and-butter three-row crossovers, and the refreshed 2023 Palisade is set to change more perceptions and make a lot of families' lives easier.
2023 Hyundai Palisade Review Specs
Base price (Calligraphy AWD as tested): $36,545 ($52,610)
Powertrain: 3.8-liter V6 | 8-speed automatic | front-wheel drive or all-wheel drive
Horsepower: 291 @ 6,000 rpm
Torque: 262 lb-ft @ 5,200 rpm
Seating capacity: 7 or 8, depending on trim
Ground clearance: 8 inches
Curb weight: 4,389 pounds
Cargo space

Behind second row: 45.8 cubic feet
Behind third row: 18 cubic feet

Towing capacity: 5,000 pounds
Off-road angles: 18.5° approach | 21.2° departure
Fuel economy

FWD: 19 mpg city | 27 highway | 22 combined
AWD: 19 mpg city | 25 highway | 21 combined

Quick take: The revised Palisade is a legit luxury SUV for the person who values convenience over flash.
Score: 8.5/10
The Basics
The three-row Palisade is Hyundai's largest SUV, coming in above the Santa Fe. It's been around since 2019 but recently received some styling and luxury upgrades for 2023. The mid-tier, blacked-out XRT trim is also new this year.
The Palisade's facelifted front end looks more squared off, with a wider, rectangular grille with lots of chrome (or black trim, in the XRT's case) and upright LEDs pushed further toward the car's edges. This makes it look wider than before, although it remains the same size. In the rear, reverse and fog lights join a single lower light bar. Overall, it's a cleaner look and a reminder that less is often more when it comes to mid-cycle updates (looking at you, Jaguar F-Type.)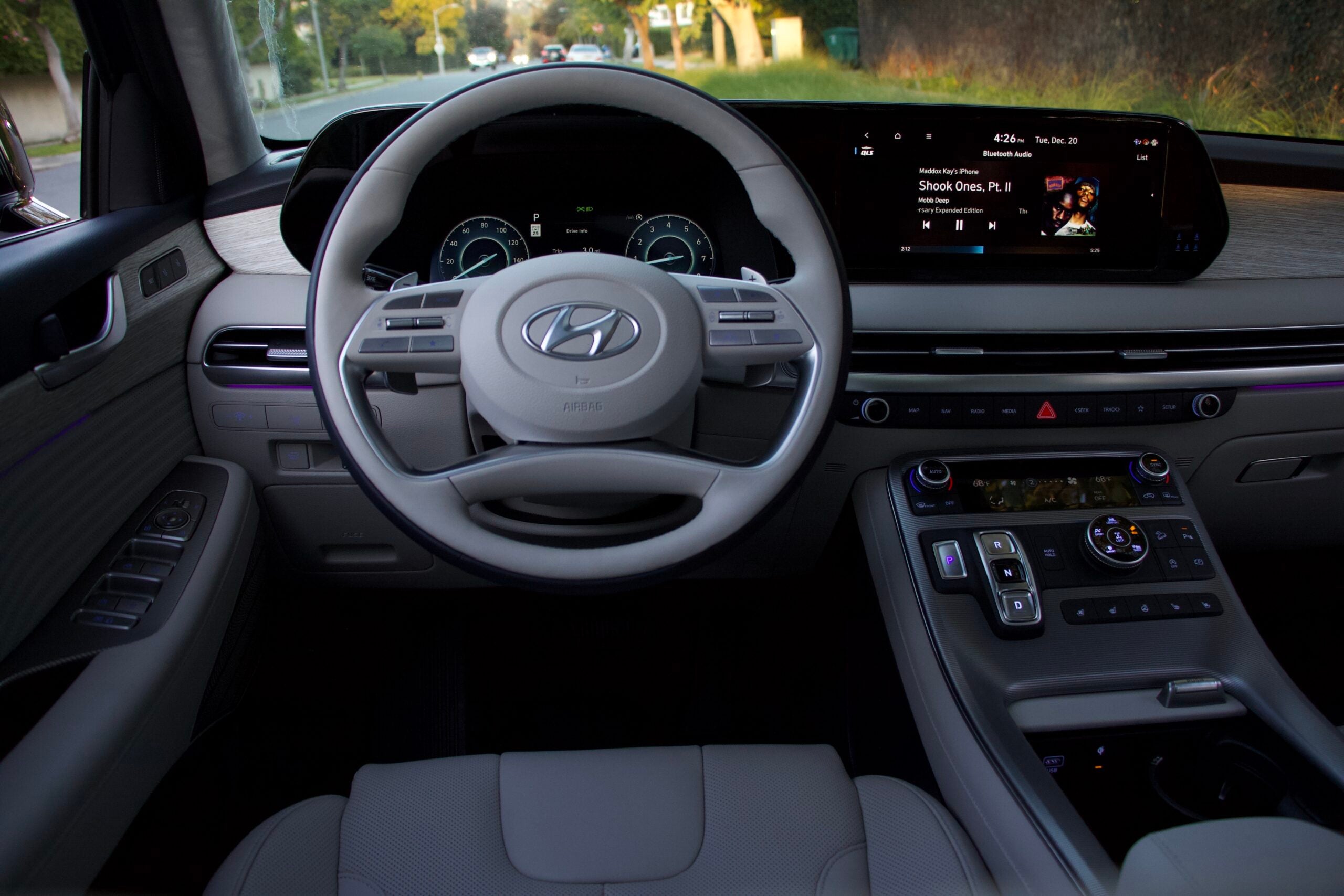 Maddox Kay
Inside, it's much the same story. A new four-spoke steering wheel frames the digital gauge cluster, and the 12.3-inch screen's dash integration is smoother than before. Android Auto and Apple CarPlay are standard. Second-row passengers get either a three-seat bench or dual captain's chairs, depending on trim level, and the third row is a bench.
The Palisade rocks the same 3.8-liter naturally aspirated V6 and eight-speed automatic as before, and you can choose front- or all-wheel drive.
Driving the Hyundai Palisade
Driving the Palisade is, in a word, reassuring. A raft of active safety features, smooth driving dynamics, and a commanding view of the road conspire to say, "Relax, I got this." Though it's a large SUV, accurate steering, huge mirrors, and clear sightlines meant that multistory parking garages were the only places the Palisade felt its size. I had no problem parallel parking or navigating city streets. Handling is confident, too, with respectable body control and steering effort that builds naturally. This isn't a canyon-carving review, but the Palisade had no problem keeping a reasonable pace through mountain sweepers, and its steering and chassis told me enough about what was happening that things didn't feel sketchy. While temperatures hardly dipped below 60 degrees during my week with the car in LA, I have no doubt that on proper winter tires, it would be a great way to get to the ski mountain or Grandma's house in the sticks.
Hyundai's 3.8-liter V6 powertrain is the least premium part of the Palisade. It gets up and goes, but I wish it was a bit more effortless. Peak power and torque arrive at 6,000 and 5,200 rpm, respectively, and it works hard to pull you up to speed. I want to hear triple downshifts into V6 screams when I'm passing in the new Nissan Z, not in a three-row SUV. As my colleague Kristen Lee pointed out in her review of the mechanically identical Kia Telluride, a turbocharged four-cylinder with a hybrid system would generate more usable torque and increase efficiency for the daily driving owners. 
The Palisade is packed full of driving aids and safety features that take the stress out of schlepping. When setting off, the car chimes and vibrates the brake pedal if you're in reverse and something rolls by behind you. Okay, not revolutionary—we've all seen car commercials, right—but it's well-executed and helpful, especially in a larger vehicle or with backseat distractions. Another example of thoughtful design is the Palisade's blind-spot camera, which comes on in the cluster every time you put on the turn signal. Now, we should all be checking our mirrors, but I found it helpful to have a second set of eyes for bike lanes and curbs when street parking, and I think buyers will agree. Why don't more cars do this?
Hyundai's Highway Driving Assistant 2 adaptive cruise control is seriously impressive stuff. With the system fully activated, it controls steering, speed, and distance from the car in front using radar. It'll even change lanes for you if you flick on the turn signal and it's safe to do so. On a rush-hour drive home on the 101, the Palisade drove me from highway entrance to exit—a distance of about 30 miles—without real intervention. I kept my hands on the steering wheel as required, but the car asked nothing else of me, even as speeds ground from 80 mph to a standstill. I phoned a friend via Bluetooth and let the seat's Ergo Motion quasi-massage function work out my kinks. It was one of the most relaxing drives I've had. The system doesn't promise everything, but it does what the box says: This is what a highway driving aid should be. Implementation is everything, and there's a thin line between a car you trust and one you have to babysit.
The Highs and Lows
The Palisade's new grille and LED design draw parallels to a Range Rover. The top trim, "Calligraphy," even sounds suspiciously like "Autobiography." It's clear to me what Hyundai is trying to do here: Build a full-fledged luxury SUV for semi-regular folks. It works. Light wood paneling and cream-colored leather give the test car's cabin an airy, pleasant vibe, even as I considered which jeans I was wearing and whether they'd leave any dye bleeding. It's smooth and quiet on the highway, easy around town, and smart when it comes to tech.
The third-row headroom was slightly cramped for me, and the car's start-stop fuel-saving feature could've been smoother. On the other hand, I'm 6 feet 2 inches and have yet to meet a start-stop system I liked. While we're nitpicking, can someone please explain to me why a three-row, non-performance SUV has a sport mode that changes the instrument cluster into fake, digital carbon fiber? It's 2023, and digital displays can show whatever we want. Why are we recreating "lightweight" materials in a 4,500-pound SUV? Let's have some creativity, folks.
Hyundai Palisade Features, Options, and Competition
The 2023 Palisade comes in five trim levels, each offering Hyundai's HTRAC all-wheel-drive system as a $1,900 option. Base SE trim includes the 3.8-liter V6, front-wheel drive, a 12.3-inch touchscreen with navigation, seating for eight, and 18-inch wheels for $36,545 including freight. The tester was the top-of-the-line Calligraphy AWD model, which starts at $52,395. Add in carpeted floor mats for $215, and you're at a total of $52,610. The elegant Moonlight Cloud paint and Beige (read: cream) interior are no-cost options, though I'd think twice about light leather if I were toting tots with this thing. On that note: Limited and Calligraphy trims get second-row captain's chairs but lose the middle perch, decreasing total seating from eight to seven.
Taking a look at the competition, Hyundai's smaller Santa Fe ($35,660 starting MSRP) gets better gas mileage and offers a hybrid model, the new Honda Pilot ($39,150 starting MSRP) has even more space, and the uber-favorite Toyota Highlander ($36,420 starting MSRP) will last 18 billion years with just oil and tire changes, according to your cousin Steve. Dodge's Durango ($38,495 starting MSRP) is still kicking and has the highest tow rating in the class, if that's something you're concerned with. Kia's Telluride ($35,890 starting MSRP) is practically identical feature-wise, so it comes down to which design you prefer and who's offering better incentives on a given week.
Sustainability
The Palisade's fuel economy is firmly in the "okay, not great" camp. I averaged 18.1 mpg over 250 miles of mostly city driving, which slightly trails the EPA's city rating and the car's main competitors.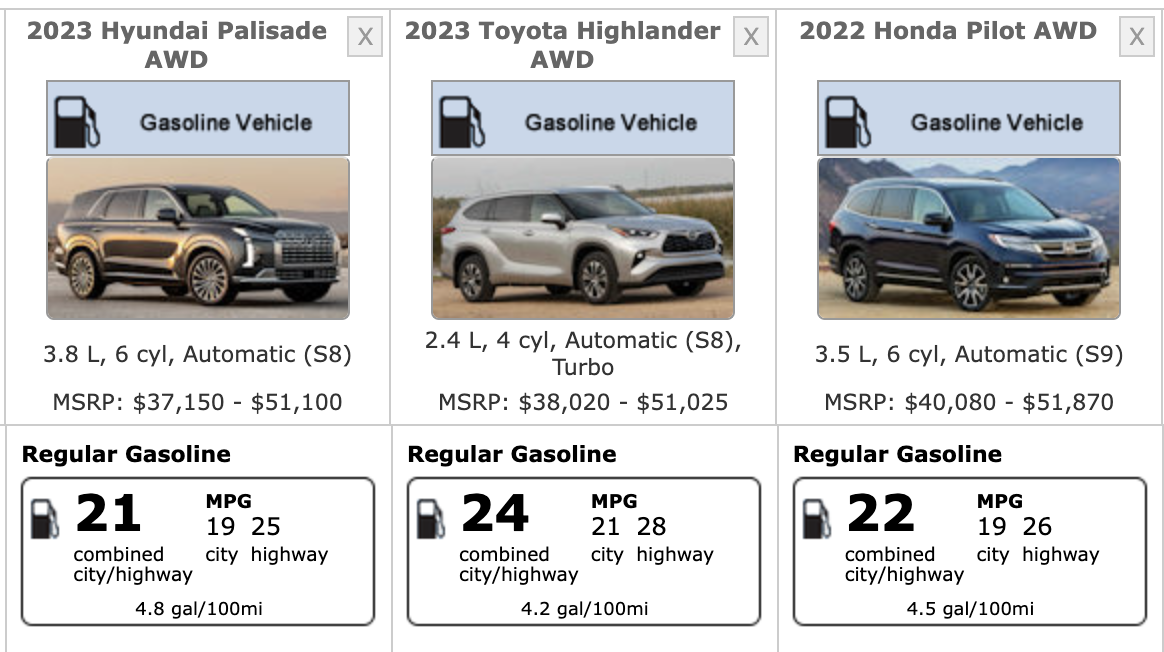 EPA
Value and Verdict
On a by-the-yard basis, it's easy to make the value case for a base Palisade. It's almost the same price as the Santa Fe and offers significantly more space. North of $50,000 for the loaded Calligraphy I drove is a lot of money, but the interior and the driver aids were worthy of the price tag. As an alternative, adding the $4,950 Premium Package to a Palisade SEL gets you Highway Driving Assist, the active safety tech, heated second-row seats, heated and ventilated first-row seats, a Harmon-Kardon sound system, and a heated steering wheel—for about $8,000 less than the Calligraphy. You'll miss out on the massaging seat, fancy leather and wheels, and Remote Smart Park Assist, but the value is hard to argue with.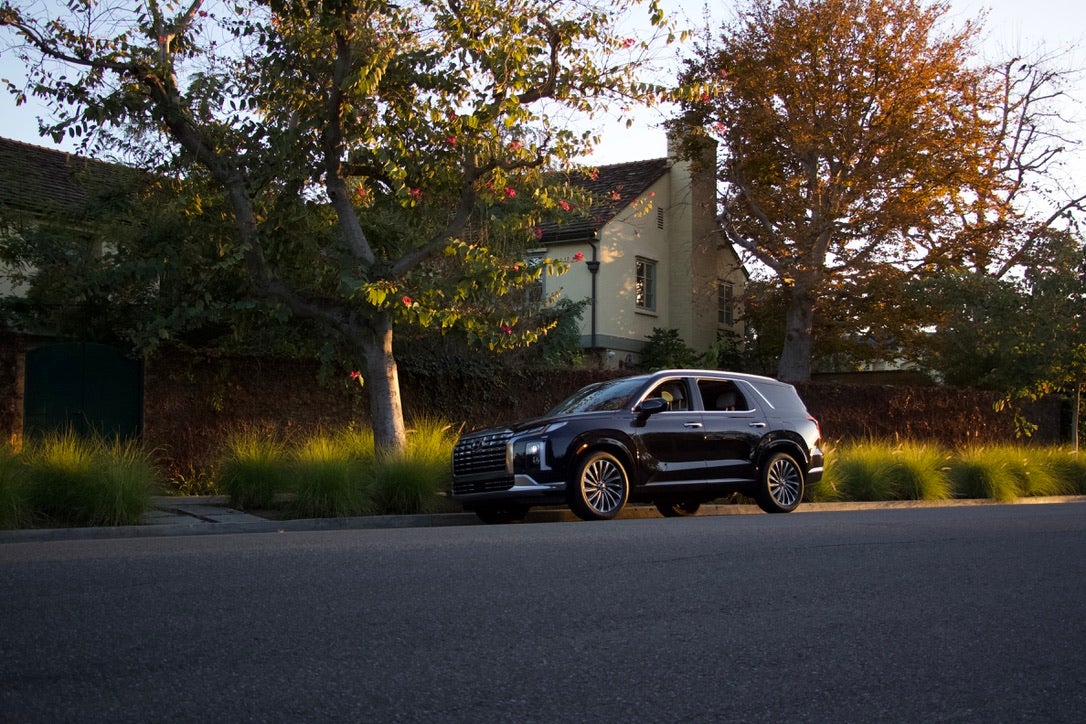 Maddox Kay
If you're considering a 2023 Hyundai Palisade, odds are you'll be happy with it. It's a handsome, premium vehicle that melds to your lifestyle, and not the other way around. Engine and efficiency gripes aside, the Palisade in top trim is every bit as legit as a Lexus or BMW. I can't guarantee it'll make you a better parent, but it might help you be less stressed between all the errands along the way.
Got a tip? Email [email protected]