Until today, General Motors had only shown off the 2024 Chevrolet Silverado EV in CGI renders—not in photos of actual trucks. That changed with a tweet from General Motors CEO Mary Barra, who has given the masses their first look at a real Silverado EV prototype in testing, revealing a handful of small details about the upcoming electric pickup truck.
The photo, taken at GM's Milford Proving Ground, depicts what appears to be an early Silverado EV Trail Boss undergoing off-road testing, albeit without the body cladding that'll be found on the final product. Like the 2022 GMC Hummer EV, the Silverado EV hides a big underbelly with plastic cladding, which tracks given both are based on GM's Ultium platform, and store their batteries in their floors. In a sense, they're the same truck with different emphases, the Hummer's being off-roading, and the Silverado's on-road utility.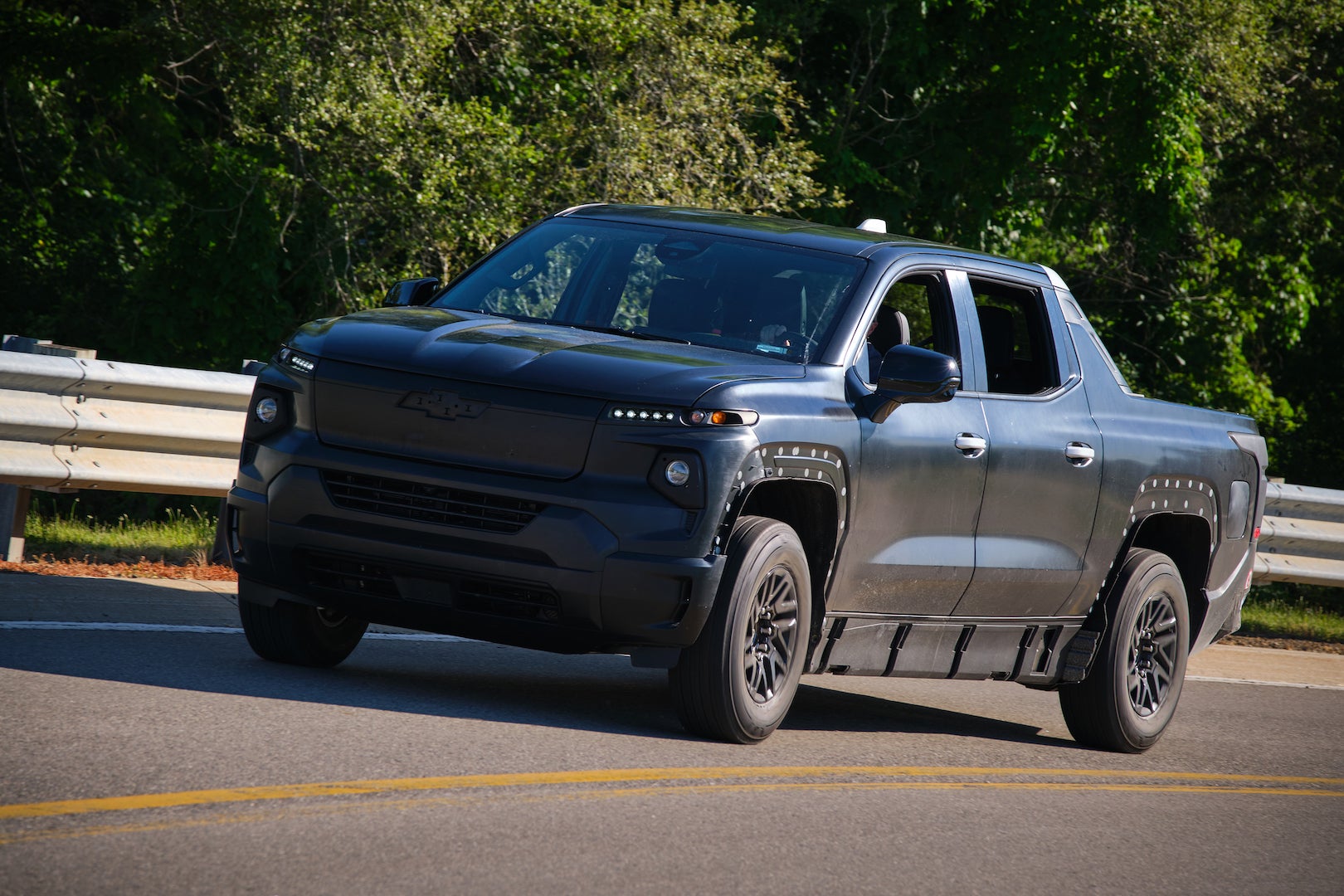 Pre-production 2024 Chevrolet Silverado EV, potentially a Trail Boss | Chevrolet
Relative to the Hummer EV, the Silverado EV has longer, lower front and rear overhangs, which presumably reduce drag, contributing to the truck's targeted 400-mile range. Rather than the range-maximizing model, however, this Silverado's tires and wheels would suggest it to be a prototype Trail Boss, as the wheels resemble those shown off in a GM render in January. As the legacy Trail Boss features smaller wheels for extra sidewall, these are almost certainly not the promised 24-inchers, though they are still sizeable without a doubt.
The 2024 Chevy Silverado EV promises to do things differently than the existing selection of electric trucks, with extreme range and up to 20,000 pounds of towing capacity... eventually. It'll include GM's clever Multipro tailgate, as well as a folding "midgate" that can extend its effective bed length to over 10 feet. Payload, though, won't be a point of pride, as it'll remain a shrimpy 1,300 pounds. That's 700 less than the 2022 Ford F-150 Lightning, or 200 less than the comparatively tiny Ford Maverick hybrid. Deliveries are planned for fall 2023, with prices for base models hovering near $40,000. With a reservation book six figures deep, though, it's unlikely we'll see a Silverado EV sell that cheap for years.
Got a tip or question for the author? You can reach them here: [email protected]