Set to arrive in U.S. dealerships later this year, the 2024 Mercedes-Benz GLE brings several interior, exterior, and mechanical upgrades to one of the best luxury SUVs on the market. Now offering a fully electrified lineup and a new plug-in hybrid variant, the GLE SUV and Coupe aim to stay relevant in an extremely competitive segment.
Perhaps the biggest surprise for the incoming model is Mercedes' focus on off-road technology. GLE580 models will now offer an "Off-Road Engineering" package, which consists of a few hardware and software tweaks that allow the GLE to navigate off-pavement expeditions.
Drivetrain
ALL GLE models now feature a 48-volt mild-hybrid system and an integrated starter generator, something formerly reserved for EQ Boost-equipped Mercedes vehicles. This gives 350, 450, and 580 models the ability to briefly run on electric power when auto start-stop feature is enabled. This also adds another 20 horsepower and 128 pound-feet of torque to the combustion engine (21/184 in the 580).
The 350 retains its 2.0-liter turbo-four, which produces 255 hp and 295 lb-ft of torque. The 450 sports a 3.0-liter turbo inline-six with 375 hp and 369 lb-ft, while the 580 keeps its 4.0-liter twin-turbo V8 with 510 horsepower.
The new plug-in hybrid GLE400e pairs its 2.0-liter turbocharged four-cylinder with an electric synchronous motor and battery, producing a total of 381 horsepower and 479 pound-feet of torque. Mercedes did not reveal the 400e's electric driving range but specified it's equipped with an 11 kW AC onboard generator, as well as an optional 60 kW DC charger.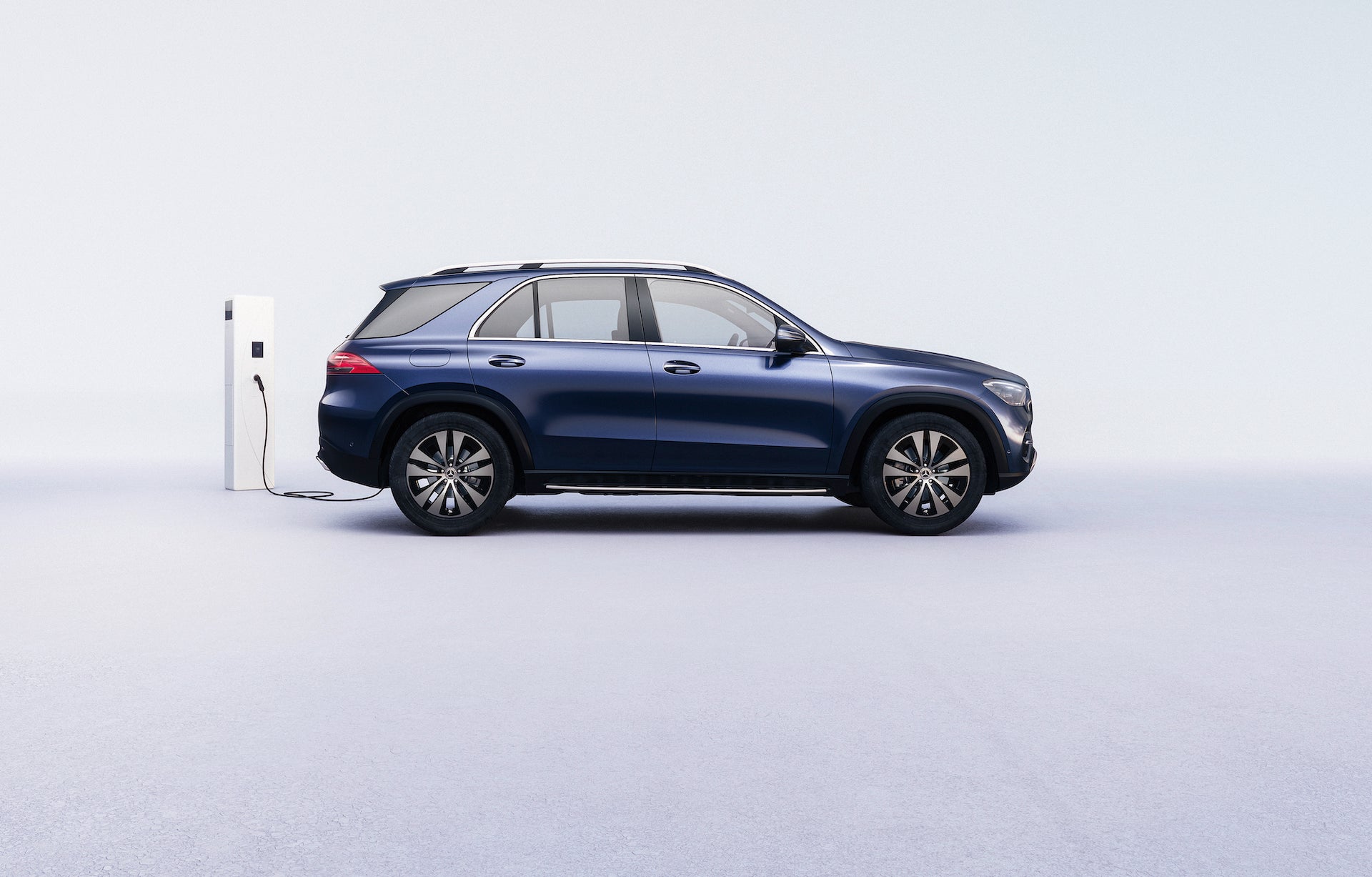 Mercedes
Off-Road and Towing
The Off-Road Engineering package for the 580 features an "underride guard"—likely a sort of skid plate under the engine—and the ability to raise its suspension a full 1.2 inches for higher ground clearance. That's it for hardware tweaks.
In terms of software, there's a new Off-Road driving mode, in which the MBUX screen shows gradient, roll angle, compass, and steering angle for the driver to better navigate trails. The mode also utilizes 360-degree cameras to allow a better view of the car's surroundings. And like the Land Rover Defender and GLC, the GLE now features an "invisible hood," which essentially allows the driver to see "through" the car while approaching a steep hill or obstacles.
There's also a new Trail Route Planner, which helps create a travel route off-road even when pulling a trailer. The system takes into consideration the trailer's width, height, and weight (and other restrictions) to properly select which route can be taken by the driver. It also features a new, optional trailer assist system that works in conjunction with the rear camera. It regulates the steering angle of the GLE while maneuvering in tricky conditions at speeds of up to 3 mph, such as when going uphill or backing up.
Design
You'd have to look very closely to notice the design changes of the new GLE Class. A new front bumper switches things up a bit from the previous model, and it's the same story with the new headlights and taillights, which feature revised DRL patterns. The 580 as well as AMG models get upgraded grilles and other visual enhancements to set them apart from the lineup. Two colors, Twilight Blue Metallic and Manufaktur Alpine Gray, are new for 2024, as are two new 19- and 20-inch wheel designs.
Inside, the new GLE gets an updated steering wheel with sensor surface buttons to control the driver and infotainment screens. This is the same steering wheel and button system that's been used in the newer GLS and S-Class models for a couple of years now.
Other interior upgrades are relatively minor, with chrome trim now found in the vent bezels and other areas throughout the cabin. The premium Burmester surround-sound system now offers Dolby Atmos and a customizable sound setting. The 204 GLE also runs on the newest version of MBUX.
Mercedes-AMG
AMG ups the ante with the GLE53 and GLE63 S, featuring more aggressive body styling and upgraded interiors. In the drivetrain department, however, the AMGs offer more power, torque, and a more raucous driving experience.
The 53 retains the 3.0-liter, turbo inline-six but gives it a 54-hp bump for a total of 429 ponies. The 63 S, meanwhile, gives its 4.0-liter twin-turbo V8 a thunderous 610 hp. Both retain the EQ mild-hybrid system, which is good for a 21-hp boost.
Pricing and exact release date will be available later.
Got a tip? Email us at [email protected]