There are lots of times where a situation may come up that you will need to use a car in transporting items that have odd shapes which may not fit into the trunk. On such occasions, placing the items on the roof of the car is your best alternative.
Roof racks play a vital role in such cases as it makes it easy to put the items on the roof. It does not only ensure they hold the items firmly to the rack, but also prevent any discomfort due to a reduction in the space for the occupants.
Below navigation menu is prepared to help you to have an overview of our article. We also prepared a comparison table to give you a detailed and informative comparison between each kind of car roof rack.
1. What Is A Roof Rack?
A roof rack is s set of bars which are attached to the roof of a vehicle using a hook, bolts or fitted directly from the manufacturers. They are connected to the roof so they can be used to carry heavy items without damaging the body of the roof. They are important especially when the object to be transported is irregularly shaped.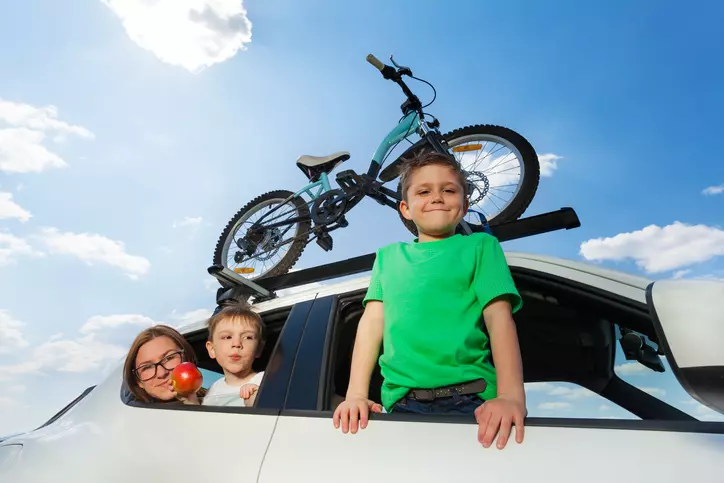 Roof racks are of different types, but they all have fitting pieces, gear mounts, towers, support brackets, rack feet, and crossbars as the major components. Everyday items which we usually transport on roof racks are bicycles, luggage, and outdoor sporting equipment like a kayak.
2. Is it Legal to Overhang Loads on Your Vehicle? 
Placing loads on the roof of your car and transporting them does not make you a law breaker. There are no laws against overhanging loads, so it is legal.
One thing you should take note of is that "you must secure your load and it must not hang out dangerously" according to the Highway Code. This means you may be stopped if you don't adequately safeguard the load on the roof. There will also be consequences for this action.
You don't want the load to go beyond a 1m gap from the roof at the front and the back of the car. The sides of the cargo should not be more than 200mm from the edge of the car.
You should also be careful if the vehicle is registered as a commercial fleet which is controlled by the Federal Motor Carrier Safety Administration.
Another important thing to take note of is driving with load overhanging at night. For a situation like this, what you need is a light shining on the load so that other road users can take note of it when driving close as far as 200m away.
3. Why You Should Buy A Roof Rack?
There are lots of reasons why you should purchase a roof rack and if you don't have any idea on the importance, read below.
●    It helps protect the roof finish when transporting items
● Using a roof rack contributes to preventing you from impeding on the space available for the passengers inside the vehicle
●   You get to increase the carrying capacity of your vehicle when you add the roof to the trunk
●    To ensure there is clear visibility for the driver when he needs to look behind
●    It is ideal for cars with trunks that cannot fit in any meaningful load.
There are some vehicles which come with a roof rack, like an SUV, which does not require an additional purchase of a roof rack. A pickup also doesn't need the roof rack since the trunk is much wider than that of a regular car.
While this may be true, there may be cases where you need to encroach on the roof space when using a pickup. In such situations, it won't hurt if there is a roof rack attached.
4. What Can You Carry With A Roof Rack? 
There are lots of things you can use a roof rack to carry and most of the time it is for items with irregular shapes.
Here is a list of what you can carry on your Roof Rack:
●    Kayaks, canoes, and gear for water sports
●    Bicycles
●    Mattresses
●    Snowboards and ski
●    Luggage
●    And any large cargo.
Although it is great to know that you can carry almost anything on the roof of your car, there are limits to what you can, or rather, what you should carry. This is because excess loads can either damage the vehicle or cause the roof to cave in.
5. How Many Types of Roof Racks Are There?
There are lots of various kinds of roof racks available, and the difference in construction is as a result of the roof's design. Some common types of roof racks available include:
Bare Roof Rack
For this kind of roof rack to be used for a vehicle, there should be no rain gutter, rail, or attachment points on the roof.
 This system is simply placed on the roof of the vehicle and is connected to the door frame with a hook to secure it. It is quite familiar with newer car models, and it is arranged using a rubberized hook, the rack fit and kit, and a crossbar.
Fixed Point Roof Rack
If a car is designed while considering a customer fitting a roof rack to it, the manufacturer may decide to create threaded holes with which you can attach the roof rack.
This will require a fixed point roof rack to be connected to these holes using the correct size of bolts or screws. Most fixed point roof racks usually come with a rubberized pad which has holes drilled into it, rack feet, and the crossbar for the rack.
Raised Side Rail Roof Rack
 A side rail is a type of roof rail that runs parallel to the length of the car. In a raised side rail, there is space between the bottom of the roof rail and the roof.
What this implies is that you can get a good grip on the rail if you wrap your hands as there is space for the hand to go round the rail. It usually consists of the rack feet and cross bars.
Flush Side Rail Roof Rack
 This is another type of side rail roof, and the flush is used to imply that there is no space between the bottom of the rack and the roof of the car.  The rails are also parallel to the length of the car.
In this roof rack, trying to get a grip on the rail may not be possible as the space between the bottom of the rail and the roof is not wide enough for your hand to fit in. It does not mean there is no space.
 It just means it is not very wide. Unlike the raised side rail, there is an additional component in this type of side rail roof which is the hardware kit. It contains a specialized device which is used to connect the rack feet to the rail.
Rain gutter roof rack
There are also other types of roof racks which are no longer common. An example of this is the rain gutter which allowed people to fix the roof rack in the gutter. The channel used to come on the roof of the car and is often seen in old models of different vehicles.
There is also the factory pre-installed roof rack. In most cases, these roof racks cannot be removed from the vehicle. It is sometimes known as factory bars.
On a truck, an alternative to a roof rack is also installed. This is called the bed rack. This is different when compared to the roof rack, and the height of the frame can be adjusted so space below can be used for other items.
6. What Are the Best Roof Racks for Carrying Particular Items? 
Apart from the roof rack, some items require the attention of a specified carrier to convey it from one place to another. Listed above are some of them.
Carrying Bikes
A bike bar rack is useful if you have a bicycle to mount on the roof of the car and it allows you to arrange up to six bicycles on the rack. It is installed while using the car roof rack as the base. There are lots of different bike racks and different methods of mounting.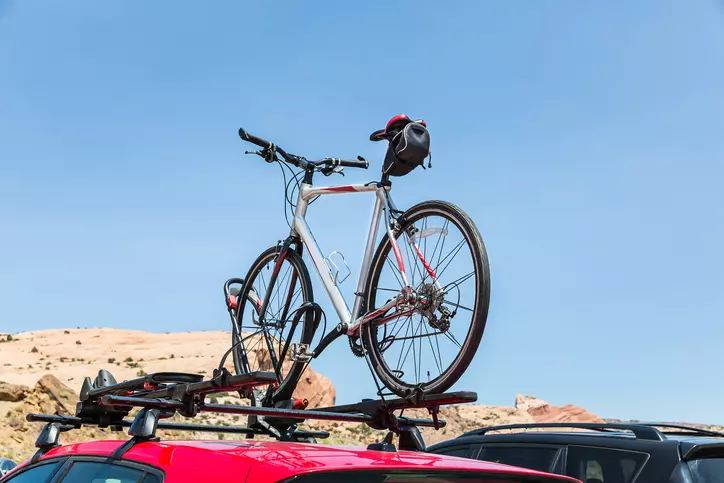 There are other additional products like the fork, frame, and wheel mount which are also used. The fork mount is used to hold the front fork in place when the bicycle is mounted, so it does not move.
The frame mount is used to lock the frames to the bike rack while the wheel mount is used to lock both wheels to prevent them from moving.
Carrying Canoes, Kayaks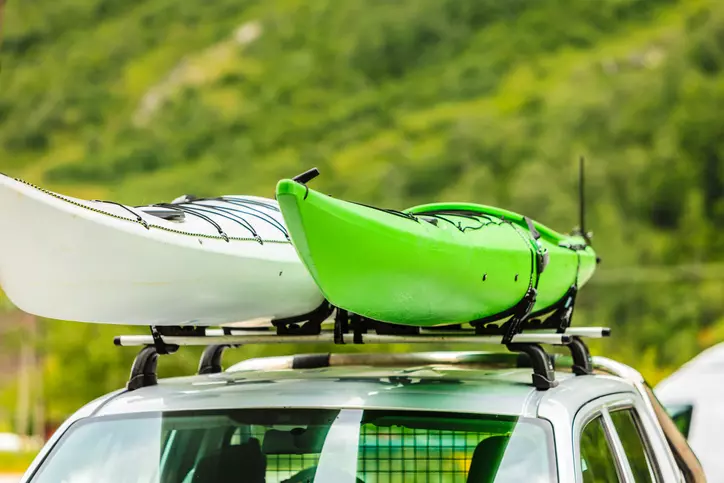 Kayak and canoes can be installed directly on the roof rack if you wish but if you use a wide mouth J bar, you can easily mount your kayak or canoe in a nearly upright position and strap it in easily.
Carrying Luggage, Cargo or Camping Gears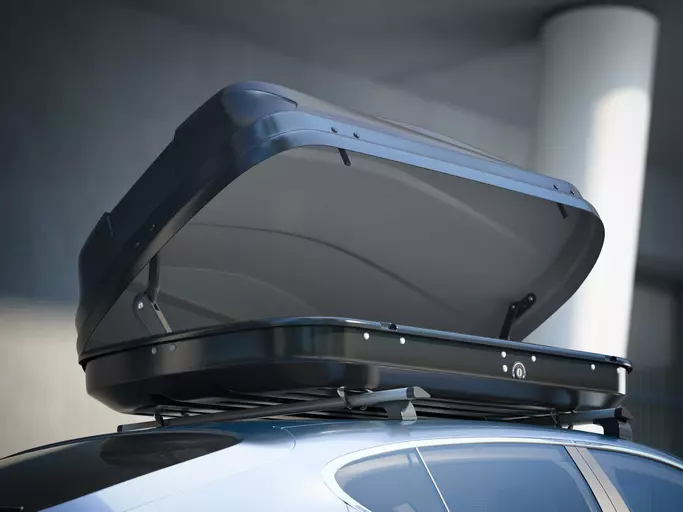 Transporting luggage and other gear or cargo can be done with any roof rack. As long as you secure it from falling off, it will be okay.
 You should also consider buying a carrier basket for this type of item. A carrier basket is simply a basket in which you can arrange the items. This makes it easier to cover and then mount on the roof by attaching to the bar racks.
7. How to Figure Out the Right Roof Rack for Your Car?
Here are a few points you should take note of before choosing a roof rack for your car
●    Consider the Maximum Weight the Roof Can Carry?
When you want to buy a roof rack, one of the questions you want to ask yourself is what kind of car roof do you have?  First, make sure your vehicle is rack compatible by checking with the rack manufacturer. After that, you also have to figure out the maximum amount of weight the roof can carry along.
●    Consider the Vehicle Overload Limit
If you have a commercial or four wheel-drive, have a think of what you want to carry. Figure out your vehicle payload limit as well as the manufacturer's maximum roof load capacity. There is no need for heavy-duty racks if the vehicle and other components like tires, engines, and fuel efficiency can't take the load.
●    Determine the Type of Rack that Fits Your Vehicle.
If you have an SUV, we recommended you use a simple rack system like those that come with crossbars and sturdy towers.
However, if you have a vehicle without pre-installed rails like a hatchback or sedan, then you want to go for a specialized roof rack that offers hardware, a kit of pads, and bolts.
●    Decide what Items You Want to Carry 
Before buying a roof rack, it would be an excellent idea if you decide on the types of load you want to carry. If you aim to haul bikes, then go for a rack that is suitable for bikes like the Thule Sidearm. If you want to haul different types of gear, then you may want to go for a customized roof rack.
In a nutshell, you can also check the manufacturer's website on crossbar links to know which one is the best for your vehicle.
8. How to Install Roof Rack on Your Car? 
Below are various ways to install roof racks of different models and make.
Install Naked Roof Rack
If you have a vehicle that has a naked rooftop, below are easy to follow installation tips you can apply to your vehicle.
Step 1: First figure out your car specific instructions in the q-clip measurement to know the exact for your vehicle.
Step 2: Remove any accessories on the roof and do a thorough cleaning
Step 3:   The next step is to place the pads on the roof of the vehicle. Make sure they are 2 feet apart and at the same time parallel to each other.
Step 4:   You want to open all the doors on your vehicle and wrap the chest around your vehicle.
Step 5:  After that, wrap the chest around the vehicle through the bracket.
Step 6: You will also have to wrap the straps around your car, then thread the straps through the bracket of the other side.
Step 7:  Tighten the straps and ensure that the pegs are firmly in place.
Step 8: At this stage, you can place your item on the roof using the straps to tighten the load. Don't forget to wrap the strap around the bracket.
Step 9: make sure your item is securely placed on the roof
Step 10: Please test-drive after installation.
Install Fixed Point Roof Rack
Step 1: When setting up your fixed point crossbar start by setting up your fit kit to your vehicle by inserting the metal attachments into the rubber base pad.
Step 2: Once you have the metal inserted into the rubber base pad. You'll need to attach the base pad on the foot. This is easily done by lining up the holes on the foot with the holes on the metal bracket.
Step 3: know that each kit will be slightly different depending on your vehicle and whether or not you have fixed points or flushed rails.
Step 4: You can adjust the feet by loosening the silver Allen bolt which allows the crossbar to slide in and out of the foot housing.
Step 5:  To prevent the crossbar from sliding in the foot, simply tighten the bolt.
Step 6: Remove the fix points cover to the fix point location.
Step 7: You need to screw the bolts that come with the rack into the fix point locations.
Step 8: The next step is to tighten the bolts to prevent any cross threading.
Step 9: Then slide a barrel sleeve over the bolt and finish tightening the bolts with the tools provided.
Step 10: Repeat this procedure in all the four fix point locations
Step 11: After the fixed point bolts are fastened install the bolts through the hole in the middle of the rubber base pad.
Step 12: You want to adjust the pad so it's properly aligned
Step13: Then place a washer and tighten a barrel nut to secure the foot in place.
Step 14: Next, ensure you have your rubber base pad attachments and the points fully tightened as well.
Step 15: With the foot securely fastened you want to measure your crossbar so you have equal crossbar length in each foot, then tighten a silver bolt to secure the crossbar in place.
Step 16: Insert a rubber strip to help eliminate any wind noise that is created by the open channel. You can do this by simply pressing the strip into place.
Step 17: To complete the installation place the lock cover onto the foot and use a plastic plug to secure the cover in place. So, you have to buy a lock core separately and install the lock and place the plastic plug and lock crossbar to your vehicle.
Install Raised Side Rail Roof Rack
Step 1: Assemble your roof rake components. You'd have to slide the clamp into the cross rail.
Step 2: Then install the end cap into the end of the cross rail.
Step 3:   Insert the rod on the lock assembly into the center hole of the end of the cap and clamp
Step 4:  Rotate the lock counterclockwise to rotate to open the jaws of the clock.
Step 5: Repeat this process on all four ends of the cross rails.
Step 6: Place the roof rack onto the vehicle.
Step 7: Make sure you adjust the position of the roof rack on the rail and make sure the cross rails are centered.
Step 8: Fasten the clamp jaws and rotate the lock clockwise.
Step 9: Lock the end of the ends of the roof rack with the supplied keys
Install Side Rail Roof Rack
Step 1: place the front crossbar to the front of the vehicle's roof. Make sure you measure from a fixed point on your factory side rails.
Step 2: Once you have established this position, use the included Allen key hold down the bolt which will pitch the clamps firmly to the side rails on your vehicle.
Step 3: Repeat this process on the driver and passenger side of the car so that the front crossbar of equal opposite position with the side rails.
Step 4: After this, you can place back all the cover you have removed before installation.
Step 5: Place the rear crossbars to the rear of the vehicle's roof.
Install Rain Gutter Roof Rack
Step 1: Adjust the rubber boat to all four legs.
Step 2: Fit the lakes to the vehicle gutter, adjusting each leg so the foot sits into the groove of the cutter.
Step 3:  Position the legs parallel across the vehicle
Step 4: Slightly tie the clamp screws and measure the distance of the vehicle.
Step 5: Repeat this process on the other side of the car.
Step 6: Place the heavy-duty crossbar onto the legs and push the leg attachments to bolt up and turn so that the channel nut is fully located on the inside of the bar.
Step 7: Make sure you measure for equal crossbar overhang.
Step 8: Hold the leg against the outer edge of the cute and use a spanner to tighten the m10 bolt and the channel, but to 15-Newton meter.
Step 9: Do not over tighten. Lower all to secure the roof rack of the gutters
Step 10: Don't also over tighten the m6 screws too. Insert the end caps by using a rubber mallet to knock the end caps into place.
Step 11: After all this, your rack system is now ready for use.
In all, please read the appropriate instruction of your manufacturer's manual to ensure you get the list of all components.
9. How to Tie Things to Your Roof Rack?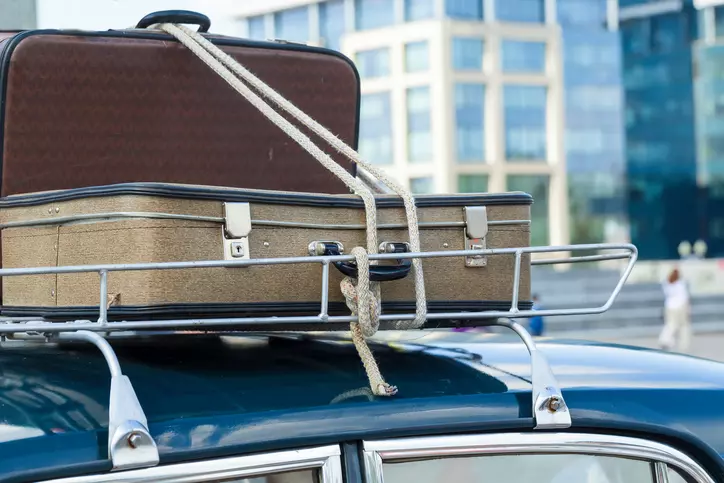 It's important to always secure your items on your roof rack before hitting the road as failure to do this may pose serious problems to you and those around you. Here are a few ways you can tighten items on your roof rack.
Step 1: As earlier said, you want to make sure that your roof rack is unique to your vehicle model
Step 2: Make sure the item is not too heavy. The most you want to place on your roof rack is about 80 kilograms.
Step 3:  Ensure the roof bars are set wide apart to evenly support the load and make sure you properly fasten the straps.
Step 4: Don't forget to spread a blanket or any piece of clothing that will protect the vehicle from being scratched up before loading the item.
Step 5: Make sure you arrange all your loads in an orderly manner.
Step 6: Although a roof rack that is attached to the side of a rail roof is preferable, make sure you loop the rope through the doors of your vehicle and tie it around the item on the roof if you have a vehicle that is using a naked roof rack.
Step 7: Check for movements and make sure the load is securely fastened.
Step 8: You may need an extra strap when conveying bulky items like canoe, ladder or even a bike. In such case, you'll have to get another strap and wrap it around the front and back of the vehicle to hold it down with the rack.
Step 9: If you are going to carry an item like a ladder that overhangs to the end of your vehicle, you will need to attach a red flag.
Step 10: Lastly, ensure the load is secured nose-down with no amount of lift.
Step 11: A rule of thumb is to check whether the item has moved on the rack after driving for a short distance.
Step 11: Make sure you tighten and add more straps if required.
10. Safety Rules When Traveling with Roof Rack 
Do you know that each year almost 1000 poorly secured items fly off the car roof on the main roads? And this can cause delays, damages, and most times injuries. So, to ensure your loads are properly secured in your roof racks, here are a few safety tips you want to keep in mind.
●    Don't Overload the Vehicle
You should always make sure you pay close attention to the manufacturer's instruction on the amount of load your vehicle can carry. You don't want to overload your vehicle as this may reduce speed and fuel efficiency.
●    Choose Roof Racks with Security Locks
To ensure the load is securely held down, you want to choose roof racks that offer security locks to lock up the load and prevent them from moving or falling off the roof.
●    Use High-Quality Tie-Down Straps Ropes
We recommended you use quality tie-down straps to fasten all the items nose-down without any sign of movements.
●    Don't Over-Speed
We also recommend you shouldn't be at a high speed or pass the required driving limit when carrying bulky items on your roof rack.
Also, you want to make sure the tires are in good shape. You don't want it to blow up when you are at a very high speed.
●    Frequently Check the Ropes
Ensure you do check those straps occasionally, so you don't have anything falling off your roof rack.
11. Things to keep in mind before purchasing a roof rack 
Before you buy a roof rack, there are important questions you need to ask yourself. Below are some useful tips that can help you decide which is best for your needs.
●    Does your vehicle come with a pre-installed roof rack?
●    What kind of items do you wish to load on the roof rack?
●    What material is the roof rack made of? Is it durable?
●    How are you going to secure the items you want to transport?
●   What's your plan for getting the loads up to the roof? Most size of the rack should be the same size of the vehicle
●    You need to have an idea of your car roof design.
There are also some other things you can look out for such as if it is a heavy-duty roof rack if you will be using it frequently, and other features like adjustable feet, aerodynamic design, and safety lock.
12. Common Problems and Solutions
1. Most roof racks tend to be noisy when driving on a highway. Most times, it sounds like you are on an airplane while you're going 60MPH.
Solution: A quick tip to reduce the noise is to bring the crossbars down to a level that is more acceptable. You can also take a cordage cord and wrap it around your crossbar member in a spiral pattern. That will automatically reduce the noise of rushing air as you're driving on a highway.
2. Another problem is that the load doesn't often stay in place as it ought to.
Solution: In such case what you want to do is to tie down all the bulky items with an additional tie-down strap securely to your roof racks.
3. May end up leaving multiple scratches on your roof.
Another inevitable problem we often encounter when conveying objects on our roof rack is that they end up scratching our vehicle. Of course, we don't want that on our car. So, what is the solution?
Solution: As earlier said, all you want to do is to spread a towel on the roof to protect it from scratch. You also want to consider buying a roof rack that features a rubberized tower to protect your car from multiple scratches.
4. A roof rack can bring down your car fuel efficiency because of their resistance against noise, and wind.
Solution: Most roof racks reduce your vehicle's fuel efficiency. The best way to counter such problems is to choose an airplane wing roof rack that will increase your car cargo space as well as help you improve your fuel efficiency. You can mount multiple bikes, place canoe and kayak without even causing damage to your vehicle's roof.
Comparison table
Image

Features

Further information

- Brand: CargoLoc
- Weight: 8.6 pounds
- High quality aluminum construction
- 150 lbs load capacity
- Safe and secure
- Lockable for added security

- Brand: Apex
- Weight: 7.25 pounds
- Adjustable rubber-coated
- Easy to install
- Made with solid steel materials

- Brand: SportRack
- Holds up to 130 lbs or 59 kg
- Resists rust and brutal UV rays
- Easy installation

- Brand: Rage Powersports
- Weight: 11.45 pounds
- Made of aluminum material
- Easy to install

- Brand: Vault Cargo Management
- Weight: 8.8 pounds
- 150 Lbs load capacity
- Well-built

- Brand: Thule
- Made of robust and durable stee
- Super easy to instal
- T-track compatible

- Brand: SPEC-D TUNING
- Lightweight and durable aluminum
- Waterproofed and well-coated
- Ease of installation

- Brand: Highland
- Heavy duty gauge steel
- Easy to store and assemble
- Expands from 37 inches to 62 inches
13. What Are the Best Roof Racks On The Market?
CargoLoc Roof Top Rack is a high-quality, lightweight rooftop rack that's specially designed for vehicles with sturdy and raised 52" cross bars. This roof rack is estimated to offer 150 lbs. of load capacity and is ideal for a car that features SmartFoot fitting kits.
The looks and feel of this roof rack are simply amazing, and it perfectly fits my Toyota Siena. And can effectively help you to convey your kayak, bicycle as well as other larger object with ease. The installation is simple and straightforward, and it holds down your items very firmly without the steel getting rust.
The racks are lockable, making it convenient when carrying kayaks and bags. It is durable and can resist unfavorable weather elements.
The Apex RLB2301 is a sleek multi-purpose rack system that is designed for vehicles with raised factory side rails. The quality is pretty good, excellent and reliable.
It is made of some dark epoxy powder covered steel, and features rubberized grips on the portion where you lock down.
This item fits a vehicle roof of a complete 49.75″ roof rack cross bar system. It fits perfectly well for SUVs, Vans, Trucks or Cars.
The Apex RLB-2301's weight capacity is 130-Ib, and it has a dimension of 1.75″W x 1.75″H. The size and thickness of the crossbar allow it to carry heavy loads such as haul luggage, sports equipment, gear and more without being disturbed by the wind or torrential downpour.
The SportRack SR1002 Square Crossbar Roof Rack System gives you a chance to transport your items. The sport rack crossbars can be installed on most recent vehicles. And its weight capacity is 130Ibs, with a product dimension of 50.5X5.8X3.8 inches. With a square bar design and steel construction, this roof rack can accommodate a variety of accessories like skis carriers, bike, kayak, racks or different items easily and safely on your auto's exposed rooftop.
It delivers steel development and dark plastic covering that resist rust and brutal UV rays. This economically priced removable roof racks system is going to clamp to your vehicle roof. Just like every other crossbars, the sports racks come with two crossbars with four towers and four clamping feet, two for each crossbar.
The feet have a nice coded clamp, so it doesn't damage your vehicle. Each foot has a lockable cover, so if you remove the covers, it exposes the amble that secures the foot path of the vehicle. So, once you have the crossbar installed on your roof, you place the lockable cover so that nobody can gain access to it.
The Universal Aluminum roof load bars are made of quality aluminum that allows you to transport large cargo without difficulty. The lined ribbed rubber on the top of the bar gives an extra grip for your cargo. These bars come in a sleek design that helps to condition the breeze clamor down.
The dimension of this rails measure 53.4 x 1 x 1.5 inches, and it is ideal for vehicles such as cars, trucks, SUVs, and minivans. It is lightweight aluminum construction with a 150 lbs. weight capacity.
The Installation for this product is a piece of cake. You don't need any tool to do so, and you can easily install the two bars within fifteen minutes. Simply screw the long handles by hand to fix the bars over the roof rails. You would then be able to bolt the handles to secure the bars from any form of theft.
Regarding fitment, you can fit rails up to 50 inches separated from one side and the other. Each bar has a 5/8″ wide ribbed rubber attachment which gives extra grip
 One good thing about purchasing this product is that you don't need to get separate mounting bars that need you to invest hours checking if they will fit together.
Universal Locking Roof Racks are designed directly to fit your vehicle or SUV's raised side rail roof. If your vehicle has cross rails that are installed on the roof of your car, then this brand is for you. It supports any accessories such as kayak carriers, keyboard carriers, or cargo baskets. It offers three different sizes of the basket, providing a universal fit for your vehicle.
The Locking Roof comes with crossbars that measure 53 inches on both ends and features a 1-inch height by 2-inch wide. The low-profile Aerodynamic design of this roof rack is impeccable and skillfully engineered to give your load the maximum security. You can attach the crossbars to any side rail rubber pads. The rubber pads placed at the feet of the roof will protect the roof from scratches or chip the paint.
It comes with crossbars that offer you 2 sets of keys that allow them to lock and secure your items without falling off easily. Another interesting feature is that it comes with a rubber paint strip that protects it from dust. You will also get integrated lock and units that secure the rack to your vehicle.
This kit comes with everything you need to mount your favorite Thule Complete cross road accessories to the roof of your vehicle. Such as your luggage, bike racks, kayak carriers or cargo boxes.
The whole roof rack system has a 165-pound weight capacity, and the dimension of this rails measure 60 x 6 x 5 inches. It works with any vehicle that has raised side rails and the accessories directly mount to the load bars.
The crossbars themselves are 58 inches long. They are constructed of durable steel with a plastic coating to enable them to resist rust and corrosion. The cross-rod foot packs use a rubber coated steel strap to secure them in place and ensure the side rails don't get harmed.
The Spec-D Turning is a high-quality black aluminum roof rack that is specifically designed for vehicles with side rails to help you hold your items securely to the roof. The Spec-D Roof Rack offers both rear and front cross bars that house a black powder coated finish. The best part is that the roof rack produces no noise even at high speed.
The crossbar comes with 46 inches in length and 2.5 inches in width and also has a maximum weight capacity of 110lbs/50kg 110lbs/50kg to help you carry your entire load without falling off. You don't have to pass through a lot of stress installing it as the installation process is pretty easy and the instructional manual is easy to understand.
We do recommend you have someone assist you when installing the racks to make the work a lot easier for you.
The Highland 2006200 Heavy Duty Roof Rack is ideal for vehicles with a naked roof and Vans with rain gutters. It is carefully designed for high-quality commercial heavy duty steel for carrying objects like ladders, kayaks and large equipment.
With a well-built stainless steel and an aerodynamic cargo basket coupled with a sleek design, this roof rack can be customized to carry heavy items weighing up to 125 lbs.
The cross bars feature 37-inch to 62-inch for a vehicle with rain gutters, and it's sturdily built to securely carry a heavy load and also features heavy-duty gauge steel that is perfect for commercial use. With silver/black splotchy finish, this roof rack did an excellent job in prolonging the life of the crossbars to last longer.
14. Conclusion
As a motorist, you are legally responsible for any damage or injury caused if an item falls off your roof racks. That is why it is essential to getting the best roof racks as well as always properly securing your load before hitting the road. What you need are roof racks specific to that particular model.
That is why we have done the whole hard work for you by outlining a detailed guide of what you need to know about roof racks and the best products that will give you the best results. Take a closer look at each brand and see which one fits your vehicle and also your budget.