Robert Noaker, a 14-year-old racing driver in the Battery Tender Global Mazda MX-5 Cup, outdrove seasoned veterans at the Mid-Ohio Sports Car Course to claim the first-ever win of his Cup career and set the record for the youngest-ever winner in the series.
The Pennsylvania native started Saturday's race on 15th place which further highlights the youngster's monumental climb to the front of the field, especially at a track like Mid-Ohio, which is famous for its technical and challenging corners. Hernan Palermo and Robert Stout followed in second and third place, with the former being a whopping 30 years older than Noaker.
"I wasn't expecting to win today—but I was hoping I would have a chance this weekend," Noaker said. "I have done two weekends here at Mid-Ohio in Spec Miata. I was really trying to take care of my front tires because this track is really low grip, and a lot of the turns are downhill so you need to manage them."
Ignite Media / Mazda Motorsports
Of course, climbing 15 spots in any race is extremely difficult, but doing so in a field where every single car is virtually identical is simply astonishing. When the engine, tires, and other crucial components don't offer an edge over the rest of the field, it becomes a mission of skill and discipline to dispose of rivals the way Noaker did.
"My teammate, John Dean, got close to me and we were able to work together to catch the end of the lead pack," Noaker told The Drive. "Unfortunately Sparky had a gearbox issue, which put me into second behind Hernan Palermo and I had a bit of a gap over third place, so I decided to just stay in line for a few laps."
"The last lap is when it got difficult. I knew my only opportunity to pass Hernan [Palermo] was going to be in Turn 12, the carousel, and I was able to get on the outside of him—we traded a little bit of paint but I was able to get a better run off of the corner."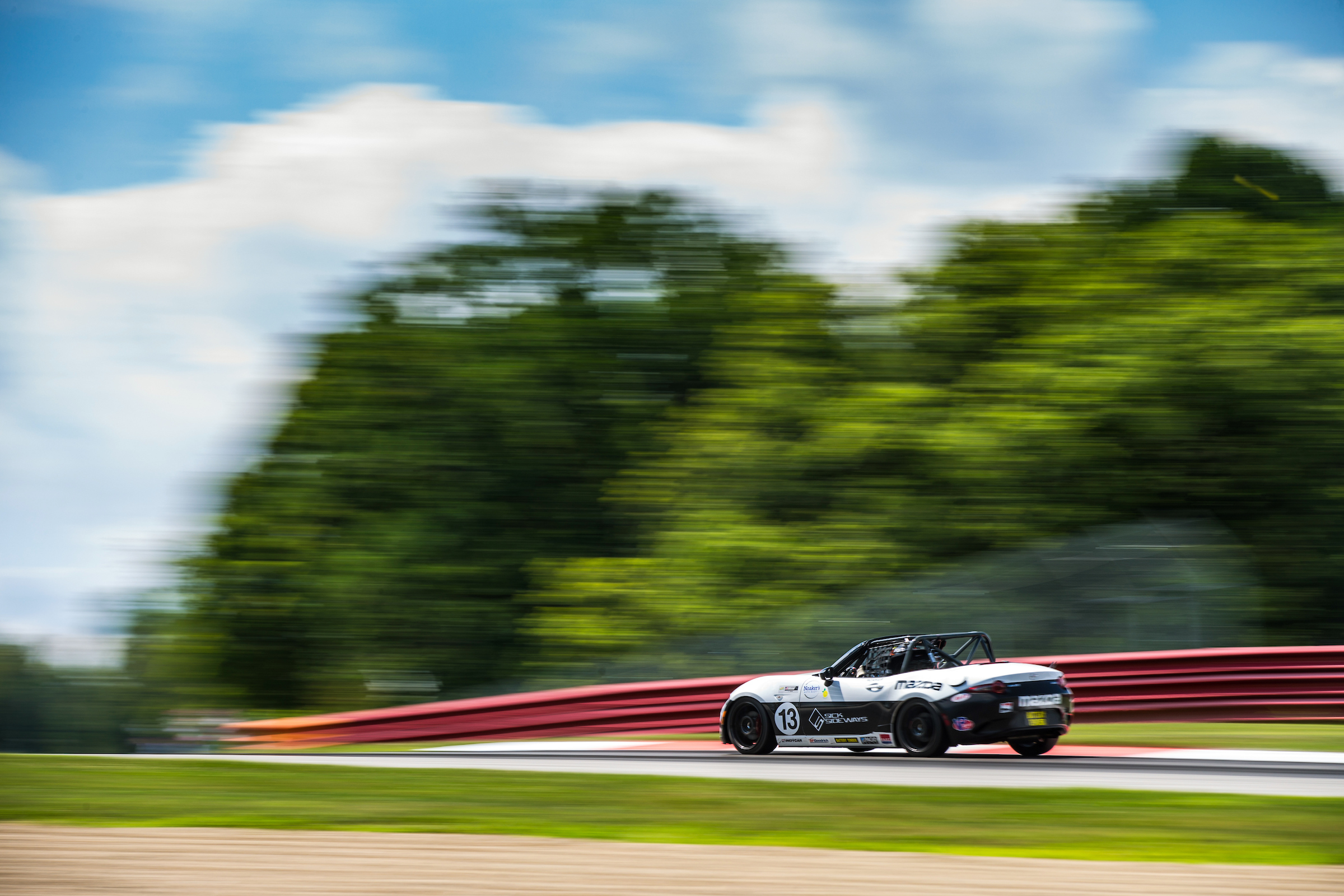 Ignite Media / Mazda Motorsports
Noaker is part of the Sick Sideways racing team led by fellow racer and team owner John Dean II, who despite not finishing Saturday's race due to an off-track excursion was happy to see Noaker's first victory become a reality. Fellow teammates Ashton Harrison and Brooks Leal, the Cup's only female racer, was also happy to see him and team score a win at Mid-Ohio.
"It was really great to see all the fans waving when I went by," said Noaker. "It was pretty cool that, when I came in the pits, the other pit crews were waving and clapping. Better than half the field came and congratulated me, and especially when two of my teammates, Ashton and Brooks tackled me still fully suited with their helmets on."
"I really feel that this was a team win not just my win—it was my Sick Sideways team win," he added.
Noaker couldn't make it two in a row on Sunday, but a win and a solid sixth place will certainly make for an unforgettable weekend. The next stop on the MX-5 Cup calendar is the doubleheader at Portland International Raceway on August 31.