Today's world comes with a broad range of fantastic outdoor activities. For instance, camping, which enjoys our core focus today, is one of the prolific outdoor activities that many people find pleasure indulging in today.
Despite its adventurous nature, camping without strategic planning of your stay in a particular area could end up ruining your holiday or weekend leisure desires. If you wish to make your outdoor stay memorable and worthwhile, you will need to purchase or hire the best camping gears and accessories.
Your comfort and safety while camping should rank among your top priorities. Now, the discovery of truck camper tents is, perhaps, the greatest advancement in the camping area so far. A truck camper tent is a gear that will help you enjoy the delights of adventurous camping in an exclusive, safe, and economical way.
If you are a newbie in the camping world, then you must be wondering what we mean by truck camper tents. Well, your patience as we dive in to analyze these great camping gears could lead you to achieve the best camping experience.
What is a truck tent? What are the benefits of using a truck camper tent? What are the critical factors to consider when buying a truck tent? What truck tent models do we recommend?
These are some, among other vital questions, that we seek to answer in this post. Stay tuned.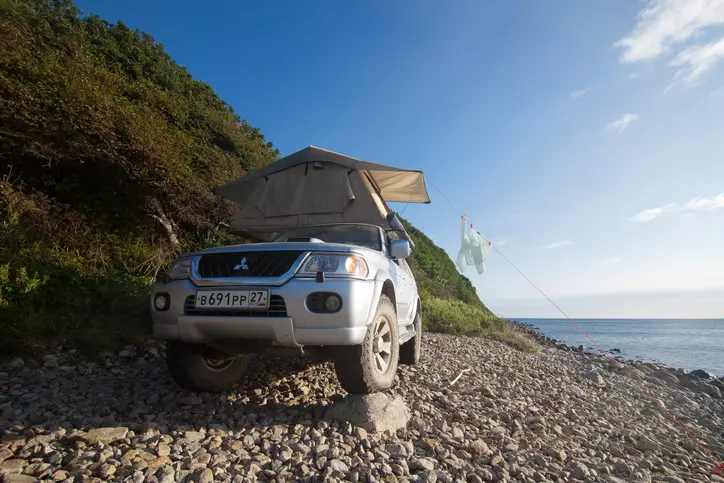 What is a truck tent?
If you wouldn't like the experience of sleeping on the ground while camping, then you must have a hint of the definition of truck tents.
Invented in 1990 by Roman Napieraj, the founder of the re-known Napier enterprise, truck tents are camping gears designed to allow you to sleep comfortably and conveniently. They eliminate the need to sleep on the uncomfortable and unsafe ground.
Just like the camping tent models made for utilization with roofs and SUVs, a truck camper tent allows you to convert your pickup truck's bed into a comfortable, safe and, warm sleeping space.
Most truck tents accommodate 2 to 3 people. However, the available room is dependent on the model and make of your pickup truck.
What makes truck tents worth buying and using?
There is an endless list of reasons why you should go for a truck camper tent. To start with, a truck tent will let you enjoy the pleasure that comes with sleeping outdoors while eliminating the need to lie on the uncomfortable, cold, bug-infested, and insecure ground. The high-quality models come with the ability to maintain their interiors warm, dry and, ventilated in the best way. Therefore, even when it's raining outside, your truck tent will keep you protected from the harsh weather.
Setting up truck tents is as easy as pie. Therefore, you can manage to set it up in minutes leaving you with more than enough time to explore the surroundings. Also, the fact that it installs on your truck's bed will save you from running up and down in the search for a campsite.
With the capacity to accommodate 2-3 people, you are bound to save much as compared to paying for accommodation on a camping site.
Even more, a truck tent is easy to store and transport. After your camping adventures are over, you will only need to bring it down, fold it on your truck's bed and carry it to your home store with ease.
What are the different shapes of truck tents available today?
On the market today, you are bound to find a broad range of truck tents with varying shapes. Three shapes are featured in most truck tents. They include dome, A-shaped, and umbrella.
A-frame Truck Tents: Also referred to as the wedge truck tent, the A-frame model is common among many camping enthusiasts. It's regarded as the most basic truck tent shape style on the market today.

The supporting poles for the A-frame truck tents could be as basic as an upright pole fitted on both ends that integrate with the strong lines that hold the shape in place. Also, the tent can feature two robust, vertical end-to-end poles that combine with a connecting top pole and lines to provide tension, thereby supporting and strengthening the shape. Even more, you can find A-frame truck tents whose guy-lines are there to provide an anchor for the tent while the hoop-type, shock-cord poles facilitate the formation of the shape.

The prolific A-frame truck tents are built to accommodate 2-3 people. However, you will also find the rare, large A-frame truck tents with the capacity to accommodate up to 6 people.

Despite the insufficiency of the headroom in most A-frame truck tents to suit tall people, they still provide sufficient room for comfortable sleeping arrangements.

Umbrella-shaped truck tents: The umbrella truck tents come with several benefits. They include ample camping gear storage, excellent headroom around the midpoint section, a basic design that only includes one upright pole, a tall and roomy entrance, and because they come with no floors, you will be free to utilize a small camping stove or light a campfire in an Umbrella truck tent. Even more, you won't struggle with achieving the shape of the tent as in the process of staking its bottom securely on your pickup truck bed; the tent will assume its shape automatically.

Also, umbrella-shaped truck tents come with large windows for viewing your surroundings from within the tent. The windows are usually well-screened against bugs and other invading insects. Most families prefer the umbrella-shaped truck camper tents for their spacious nature and versatile design.

Dome-shaped truck tents: The excellent and futuristic design in most dome-shaped truck tents allows them to rank highly on the market. Today, we have doom-shaped truck tents with flexible fiberglass, shock-cord poles that not only make them durable but also convenient to utilize. The flexible poles provide for extremely versatile shaping as well as easy set-up on any truck bed.

The majority of the available doom-shaped truck tents come with rain fly, a feature that allows them to feature ultra-lightweight interior walls (some all-mesh), as the rain fly protects the tent from adverse weather conditions.

Even more, you can choose a doom-shaped truck tent with interior-tent support or one with a hanging tent-pole frame. An exterior support structure provides sufficient headroom while the interior tent support frame provides adequate wing rooms.
What are the critical factors to consider when buying a truck tent?
Getting the best truck camper tent from the flooded market is not a walk in the park. It's a process that demands total commitment and care. Below, we look into the critical factors to consider when buying a truck tent. By analyzing the provision of the following features and functions on various truck tents, you should manage to identify the best product for the money. Let's get to business.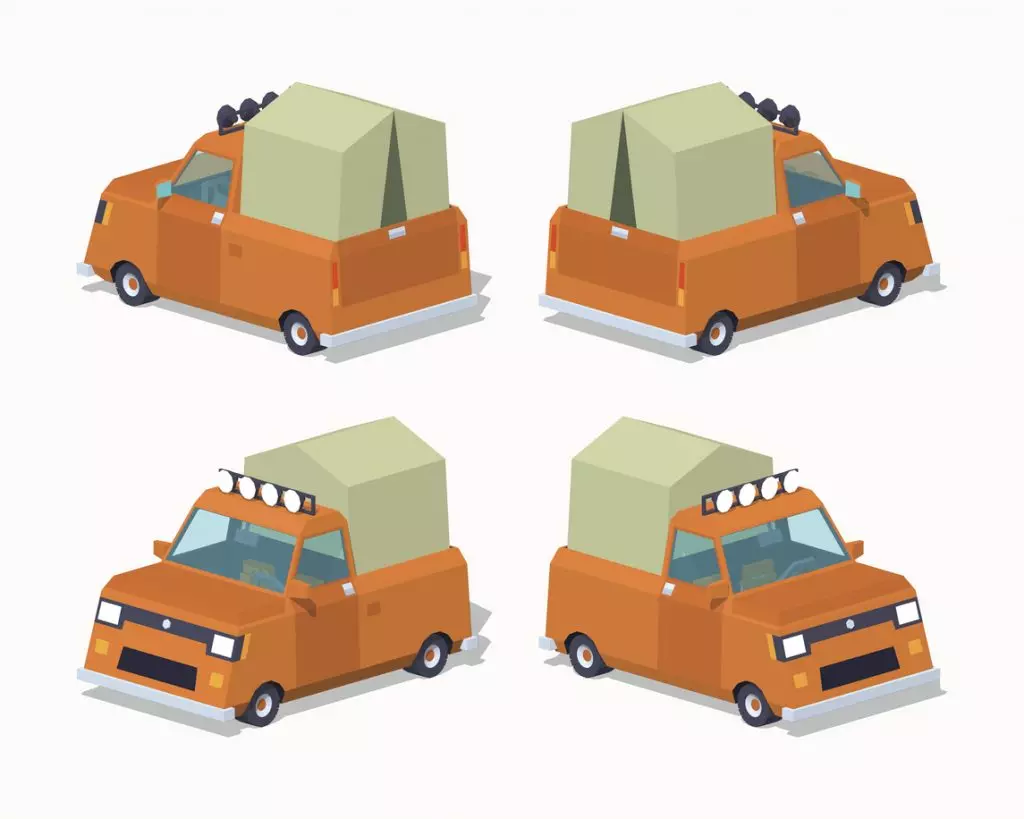 Truck model and tent size:
On the market today, you will find a broad range of truck camper tents. The most appropriate one for you, among the best options, will be dependent on your vehicle model. The hatchback truck tents are designed for installation on small SUVs or other vehicles with sufficient cargo space. The hatchback style tents are built to let you convert your vehicle's cargo space into a comfortable and protected sleeping area.
Also, on the market, you will find tents designed for the large minivans and SUVs, as well as others specifically designed for pickup trucks. The hatchback style truck tents are relatively easy to install as compared to those designed for large minivans and SUVs.
Even more, you can also find universal truck camper tents that suit installation on most vehicles. The universal models will let you convert the cargo space of any truck, SUV, or car into a convenient and comfortable sleeping space. They are common with frequent travelers.
Worth mentioning is that universal truck tents, owing to their flexibility and easy assembly, rank on the higher price end. Therefore, it's critical to consider your budget before heading out to purchase a universal model. It's within your powers to buy your most preferred truck camper tent depending on your budget and compatibility with your vehicle.
The size of the tent you buy will be dependent on the available cargo space in your car as well as your budget. It's important to consider purchasing a tent that will provide sufficient sleeping room.
The majority of truck and SUV tents come with ample room for 2-3 people. However, you can still find the high-end models that can serve more people. We consider it wise to go for a truck tent that can accommodate as many people while still being compatible with your vehicle and matching your budget prospects.
Seasons:
The season that characterizes the period which you will be camping is a primary factor to consider when buying a truck camper tent. Tents are classified into two categories depending on the number of seasons that a given truck tent can support.
3-season truck tents: These are the most popular truck tents on the market. They feature a lightweight build and suit utilization during the spring, early fall, and summer seasons. Among their valuable features is the excellent ventilation through panels. With a 3-season truck tent, you get to enjoy convenient airflow. The ventilation panels are built to block insect infestation. Even more, most 3-season truck tents come with a rain fly that keeps the interior free from moisture during the summer and spring seasons, characterized by rains.

4-season truck tents: The ranking of the 4-season truck tents on the higher price end makes them less common. They are built to offer nothing but excellent services thanks to their sturdy, durable, and feature-filled build. We love the ability of 4-season truck tents to withstand heavy snowfall and hard winds thanks to their doom-shaped design. The only drawback associated with most 4-season truck tents is their relatively high warmth during the summer season. This trait is attributed to their minimal ventilation panels as well as the low-lying rain fly.
Poles:
The poles used in your preferred truck tent will determine its stability and support. Also, poles determine the weight of the tent. It's more than direct that the more poles a truck camper tent has, the heavier it becomes. Again, the material used in the construction of tent poles will determine its weight.
Most truck tents feature durable, lightweight aluminum or fiberglass construction. Aluminum tent poles are the best if you will be camping in a windy environment, owing to their excellent stability. Apart from stability, light weight, and durability, tent poles should facilitate easy installation. Therefore, it's wise to go for truck tents with color-coded poles. Again, your preferred truck tent should come with durable clips for improved setup and security.
The number of poles fitted in a given truck tent will depend on its size. The large the tent, the more the poles needed to support its stability.
Price:
Low prices often trick buyers into buying inferior quality products. Therefore, it's wise to always consider the cost of truck tents as the last factor. After identifying all the truck tents that are in line with the discussed factors above, the final step will be considering your budget. Always go for the tent whose price is in line with your budget. Keep in mind that cheap products are not always the best. Go for a truck tent whose price reflects its quality in the best way.
So, how should you choose the best truck tent?
Selecting the best truck tent on the market will depend primarily on the discussed factors above. It's always wise to go for a high-quality truck tent model that's compatible with your vehicle. Below, we include a list of the top 10 best truck tents in 2017. By using the above factors to analyze our choices, you should manage to narrow down to your best suit product with no hassle. These are the truck tents that most campers are using as we prepare this post.
Top 10 Best Truck Tents in 2017
1. Napier Backroadz Truck Tent
2. Rightline Gear 110730 Full-Size Truck Bed Tent
3. Guide Gear 6-by-6-Foot Compact Truck Tent
4. Napier Backroadz SUV Tent
5. ​Kodiak Canvas Truck Bed Tent
6. ​​​​​Sportz Truck Tent Blue/Grey
7. Sportz Link Ground 4 Person Tent
8. DAC Full – Size Truck Tent
9. Sportz Truck Tent III for Full-Size Regular Bed Trucks
10. Sportz Camo Truck Tent
What are the exclusive design features in high-quality truck tents?
The features of a given truck tent reflect its quality. There are several design features that you should consider to ensure you go for the best product among the available options.
A truck tent with a floorless design allows for easy setup and uninstallation after your camping adventure without having to remove your gear as well as other items from the truck bed. Therefore, a floorless truck tent design is bound to save on your time and energy.

A standard tarp that covers the floor is a valuable element in a truck tent. It will serve you best whenever you need to set up your truck tent on a dirty bed without having to clean it.

With protective plastic buckles and heavy-duty straps on your truck tent, you can be sure of the easy set up without damaging the tent's material or its finish.
It's important to go for a truck tent with color-coded poles with pole pockets for easy, quick, and accurate setup.

Also, a truck tent made of a water-resistant fabric that integrates with tape-sealed seams is bound to last long while serving you in the best way.

Furthermore, we recommend truck tents with sky view vent designs, as they provide excellent lighting, ventilation as well as a great view of the stars during the night for an exclusive experience.
A truck tent whose design allows it to accommodate 2-3 people should be preferred. However, you can still go for a larger model provided it's compatible with your vehicle or truck.
Finally, among the critical design features to consider is the construction of a given unit. We recommend truck tents built of high-grade, water-resistant materials. Also, a tent that integrates with a rain fly could serve you better in protecting you from adverse weather conditions. Ensure that your preferred truck tent is well-sewn for optimum durability and security.
What are the best tent construction materials?
As mentioned earlier, the material used to construct a given truck tent influences its durability and performance significantly. It's therefore wise if not critical to consider the material used in the construction of your preferred truck tent before making a purchase decision.
Some of the best truck tent construction materials include polyester taffeta, premium-grade nylon, and polyester. Ensure that you purchase a unit whose build material is rip-proof, waterproof, and sturdy enough to withstand adverse weather conditions like snow and the sun's heat throughout its lifetime.
What are rain flies and awnings? What roles do they play in a truck tent?
Most of the prolific SUV and truck camper tents come with 1-2 fain flies. A rain fly is a feature that's designed to help in keeping water (especially rain water) from the tent. A rain fly that provides full tent coverage is ideal for use whenever you camp in stormy areas. Full-coverage rain flies also help in keeping the tent interior dry and warm at all times. On the other hand, rain flies designed for roof coverage allow for excellent lighting and ventilation while still protecting the tent from the rain water.
A rain fly may integrate with an awning to provide you with added storage space. The awning provides the perfect space for keeping boots as well as dirty and wet hiking clothes and gear. It's wise to go for a truck tent that comes with an awning or that which is compatible with awnings as you might need to add one as you advance in your camping hobby or profession.
What are mesh panels in a truck tent?
If you are planning to go camping in areas characterized by hot climatic conditions, then you will need to consider purchasing a truck tent with the best ventilation features-mesh panels. A truck tent with 1-2 mesh panels could serve you well in warm climates. However, if you will be going for camping in areas of extreme warmth, then a truck tent with three or more mesh panels could serve you better.
Mesh panels facilitate tent ventilation by allowing cool air to circulate in and out of the tent. Therefore, they help you maintain the interior temperatures cool.
What's the importance of truck bed liners in a truck tent for campers?
A truck bed liner, as its name suggests is a vehicle accessory built to improve your comfort significantly while you rest on your truck's cargo space. The truck bed liner not only absorbs the occurring shock from the ground while you sleep but also protects you from freezing as a result of the cold metallic body of your truck's cargo space. Therefore, it's important to equip your truck tent with a comfortable, water-resistant truck bed liner for the ultimate resting comfort and convenience.
What's the best height and length of a truck bed tent?
The height and length of a truck bed tent can't be fully specified. These actual tent measurements vary from one tent model to the other. When selecting the best truck bed tent, it's important to understand your needs first. If you will be camping with your family, then it's wise to go for a cabin-shaped truck tent as it provides sufficient space for more than three people.
The dome-shaped truck bed tents provide ample headroom to suit people with different heights and body sizes. Therefore, if you are tall and don't need as much room, then we advise that you go for a dome-shaped truck bed tent.
How should you set up a camper tent on your truck?
After identifying the best fit truck tent for your vehicle and making a purchase, the next step is installing it.
You should start by evaluating all the necessary tools that are required for the installation process. Also, check if the bought tent needs any adjustments to your truck's cargo space. After answering these two critical questions, you should now set to begin the truck tent installation process.
Some tents are designed for installation on the truck bed. Installing the truck bed tents is ultra-easy. You will need to find a level parking ground for your truck. Then, you should proceed to press the parking brake before beginning the process.
You should manage to install a truck bed tent without seeking help. Start by lowering the tailgate and removing all the tent accessories from the package box. You should now be fully set to start installing the tent.
Step 1: With the tent lying flat on the ground, ensure that its front door is at its tailgate while the other end faces the rear end of the cab. Then, attach all the straps to the sides. You should also attach the additional straps to the tailgate.
Step 2: Assemble and insert all the poles to the matching sleeves. Then, slide each pole into a matching pocket. After assembling the tent, connect each male clip to its matching female clip and attach the clips to the poles. You should also check to ensure that all the straps are not too tight or too loose.
Step 3: Finally, all the accessories that come with the tent should be attached appropriately. Gear lofts, for example, should be mounted to the tent's ceiling using the featured hooks. Also, a rain fly should be connected to the tent using the featured straps.
Besides following our instruction, it's critical to read through and understand the manufacturer's truck tent installation directions for the best results.
Safety tips for using a truck bed tent in the best way
A truck tent could bring out the best in you during a camping adventure. However, you will need to keep in mind several safety tips to ensure that your experience doesn't come with disappointments.
First, it's important to keep your heating sources away from your tent, unless your tent is fireproof. It could be sad to see your hard-earned tent and camping gear burn as a result of keeping your cooking stove close to the tent. Secondly, it's crucial not to run your vehicle's engine while you cook around the truck tent.
Finally, we advise you not to use gas-powered heaters inside or close to your tent.
By adhering to these safety tips, you should manage to keep yourself as well as your tent from harm during your camping time.
What are the common issues associated with truck bed tents? And how should you go about solving them?
Interior darkness: Darkness can be hectic especially when you go camping in areas with no electric connection. In such cases, we recommend the use of the battery or solar-powered lamps to light up your tent.

Accumulated rain water on the rain fly: Whenever water, snow, or dust collects on the rain fly, the wisest step to take is to retract the rain fly to let the water drain or sweep the dust or snow. Also, you can try to eliminate the accumulated water using a pipe without having to retract it from the tent.
Conclusion!
We have come to the end of this post. We hope that all these pieces of information regarding truck tents will serve you best when searching for a durable and comfortable truck camper tent for utilization on your vehicle cargo space.
Our choices, as presented in the list of the top 10 best truck tents in 2017, include most of the widely-sort truck tents by campers globally. You should manage to find a product that best suits your camping needs and budget.
With a high-quality truck tent, you can now begin to camp in a stylish, comfortable, convenient, and safe way. We wish you all the best in your camping adventures!