The long-awaited Tesla Model 3 was finally revealed at Tesla's Design HQ in Hawthorne, California, and it wasn't merely the cars that were electric. The audience hung on Elon Musk's every word, waiting to see the car upon which the company's future—if not survival—hinges.
His speech? Who cares? Musk could have used a flamethrower on a cage of baby lions and the crowd would have cheered. They were mostly Tesla owners—some with deposits on a car they'd not yet seen—with a sprinkling of journalists seemingly ready to pounce on the slightest sign of weakness in this real life Tony Stark.
But Elon Musk is the antithesis of Stark. Musk has had a clearly defined mission since the beginning, and has been unwavering in his mission to bring electrification—if not autonomous driving—to the masses. It is not merely a technological mission, but a cultural and behavioral one.
Save the planet. Make driving safer.
Musk had a very high bar to jump at the Hawthorne reveal. By any measure, the Model 3 reveal was a triumph. If he can deliver even a single car by the end of 2017 as promised, Tesla will survive. Why? Because Tesla's future isn't driven by the logic of traditional car manufacturing or customer psychology.
Tesla people are Apple people: Irrational. Emotional. Driven by idea. Brand. Musk.
To wit: 131,000 placed deposits of $1,000 each in the 24 hours leading up to the reveal for a car they knew nothing about. Let me repeat that: 131,000 people placed deposits of $1,000 each in the last 24 hours for a car they knew nothing about.
Forget electrification and autonomous driving.
This is a new era in the art and science of marketing and selling cars.
The Details
The Model 3 is gorgeous. It's a smaller Model S and a cleaner Mazda 6. It looks exactly like it needed to. All Model 3's have a gorgeous one-piece glass panoramic sunroof. This is what we all hoped the X would look like.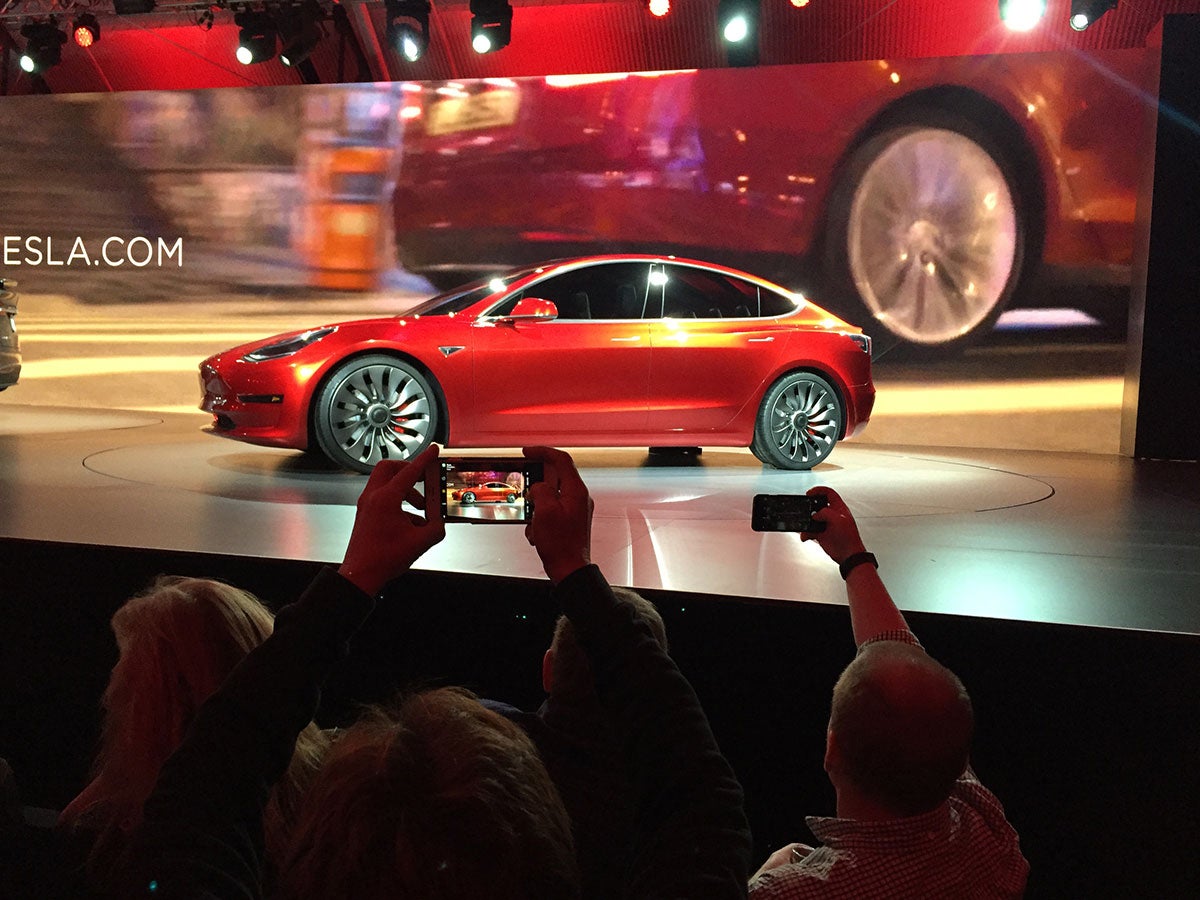 Associated Press
The Model 3, which will start at $35,000, will, according to Musk, "still be a very good car." That means it will be a single-engined model with at least 200 miles of range. It has to, because that's the range of the $30,000 Chevy Bolt. Musk claimed an EPA-verified range of at least 215 miles, and maybe more. We'll see about that, and the $35k figure. I'd be shocked if anyone will be able to order an un-optioned Model 3 under $50,000 until 2018—if ever.
The base Model 3 will do 0-60 in under 6 seconds, but other versions will go much faster. "At Tesla," Musk said, "we don't make slow cars." Mirroring the S lineup, we can expect a single motor version, a dual-motor upgrade with the best range, and a dual-motor, high-performance model with slightly less range.
All Model 3s will have the full Autopilot Autonomous Driving Suite as seen in the X and S, which is the best currently available from any manufacturer. Musk also claimed the Model 3 will be the safest car in its class, with a 5-star rating in every category. The Model 3 will seat five and, according to Musk, fit a surfboard. Whatever.
Despite rumors to the contrary, every Model 3 will be able to use Tesla's Supercharger network for free. This would be a win even if Model 3 owners had to pay, because the high-current (read: high-speed) Supercharger network is unique to Tesla. Musk claimed the number of Superchargers would double by the end of 2017. How many does GM have? Or BMW? Or Daimler?
Zero.
Let's not forget Tesla's wireless software updates, Fleet Learning functionality and direct-sales model. This is the heart of Tesla's appeal. It's not the cars. It's the ecosystem in which their cars live, and the owner escapes to. One either buys into it, or not. This is what the Chevy Bolt - which appears to be an excellent car - lacks, as does anything coming down the pike from Germany.
Love it or hate it, every Tesla feels like the future. Imperfect, perhaps, but better in its aspirations even when it falls short.
Let's see where it does.
First Drive
I got a brief ride in a Model 3 that was clearly not the base model. A five-minute spin clearly designed to show off the car's performance and - through deliberate management of light and shadow - conceal interior and exterior details. The cosmetic finish of both was very rough, and that included the wheels. It all looks great in pictures, but up close these were clearly not production ready cars. The dim lighting was no coincidence, nor was the rapid shuffling of photographers away from the cars before and after our drives.
A short loop through the parking lot and down an alley made it clear that the Model 3 is not a comfortable riding car. I asked whether the car would be offered with the air-suspension from the X and S. Our driver said our demo car had the air suspension. I hope he was wrong. If it wasn't on steel springs, the entire suspension needs a redesign. It was stiff and jarring.
Rear legroom was decent, somewhat on pair with the latest generation Audi A4 and BMW 3.
The big surprise was a wonderful, center-mounted dashboard display, a free-floating 15" diagonal touchscreen which combines both navigation functions and replaces the traditional dashboard. The driver was proud to point out the speedo in the top left corner. Cool, but I'm not convinced it's big enough to replace the traditional over-the-steering wheel setup. Center-mounted displays smell of cost-cutting, and feel like something out of a Mini concept no one liked. Tesla could learn something from the Audi TT on this one.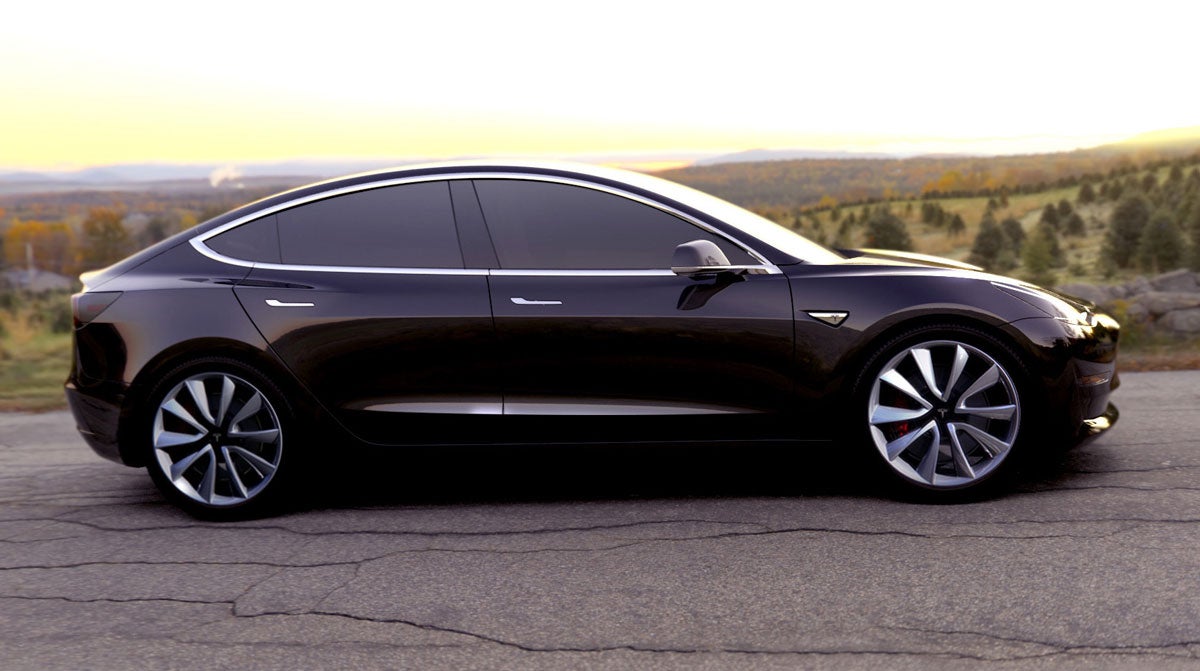 Associated Press
An acceleration demonstration made it clear we were in a dual-motor mule, possibly the middle model, if not the top-of-the-line. It wasn't quite as fast as an S in ludicrous mode, but it might have been just shy of a P85 in Insane Mode.
Sadly, we won't see THAT model until mid-2018, at best. Tesla's always late.
All in all, I came away very impressed.
Is it enough to save Tesla? Well, 131,000 deposits is $131M in the bank. Musk promises deliveries by the end of 2017, one year after the Chevy Bolt hits the market. The 3 isn't quite ready, but it FEELS close. Let's be honest, the demonstrators' fit and finish was mediocre, and the interiors were primitive.
But the Model 3 Tesla needed to show was all there. The features are all there, and the overall design is gorgeous. The Model 3 is no Bolt, and isn't meant to be. It's an electric assault on the BMW 3, which should have been obvious to everyone all along.
This night was Tesla's to lose, and didn't. Remember the Faraday disaster at CES? Tesla remembers. No one in automotive PR will ever forget. By the standards Musk set for Tesla, the Model 3 reveal was a win. For fans, a triumph that will only further feed the mythos. For the haters, Musk offered nothing new.
The Germans need to show up with cars AND a charging network to rival Tesla's, or else Musk may have sufficient critical mass to stick around for the long haul. The Germans have 18-24 months. If they don't, I predict Musk wipes the floor with the Bolt, digs in, and awaits their arrival.
Remember when the bears said Amazon would go broke building infrastructure? That was ten years ago.
Where's Barnes & Noble now?