Whether you have a prim and proper new sports car or a beaten up jalopy your car needs a battery to run. Car batteries come in many different voltages, amperages, and housing – regardless of the style one of the best accessories you can get for it is a battery charger. Just like the batteries themselves these machines come in many models. Picking the best car battery charger for you doesn't need to be a hassle as long as you know what to look for.
This article will give you a lot of information about car battery charger so if you are new to this field, it's better to read from the beginning to the end. But if you already have basic knowledge, you can use the quick navigation menu below. We also prepared a comparison table to give you the detail and informative comparison between each kind of car battery charger.
Car Battery Charger 101
Simply put, a battery charger is merely a device that puts energy, typically from an outlet, to rechargeable battery. They do this by converting the alternating current into an absorbable direct current. Car battery chargers typically operate on a trickle charge principle – slowly filling the battery to capacity so as to not accidentally damage it in overcharging. These charge ratings are measured in amperes – with anything from a few amperes to as high as fifteen being within the usual range.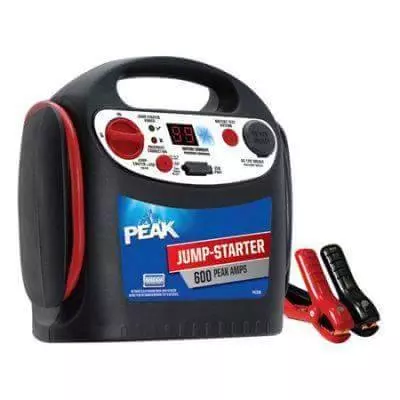 Factors to Consider When Buying a Car Battery Charger
As with anything else there isn't just one type of battery charger on the market. While there are some one-size fits all models out there, you should still keep in mind a few things when purchasing one of these devices.
What type of battery do you have? While there are varying types, the most popular by far are absorbed glass mat (AGM), wet cell, and gel cell batteries. Most chargers are versatile enough to charge just about any battery with the exception of gel cell – they typically require a specifically designed charger to work.
Know your battery size. This isn't the actual physical size of the battery per say but rather how many amps your battery has. If your battery contains a high amount of amps it will naturally take longer to charge on a lower rated charger – with a 10 amp charger taking about 6 hours to completely charge a 50 amp battery.
Look into special features like multi-voltage and waterproof. While it's recommended to have some sort of charger on your car just in case, having one that can control its voltage will allow you to use it for other vehicles and battery types as well. A waterproof model, on the other hand, can work great in even bad weather conditions.
Solar powered options are available. Not only is solar car battery chargers more environmentally friendly but can actually be more convenient. If you find that you are often in the wilderness these models don't need any outlets to power – only a clear day of sunlight and they are set!
Automatic models give peace of mind. Car batteries they can be a bit finicky when being charged – many models shouldn't be overcharged as it can damage the battery itself. Automatic chargers allow you to hook up your battery without having to worry about it as it automatically switches off when the battery is full.
Make sure safety features are built-in. Safety always comes first, especially when it comes to messing with electricity. Chargers can become incorporated with features such as the reverse polarity warning – which warns if users have attached the cables wrong – along with a float mode which lets you know when the battery is fully charged.
Battery Charger or Jump Starter?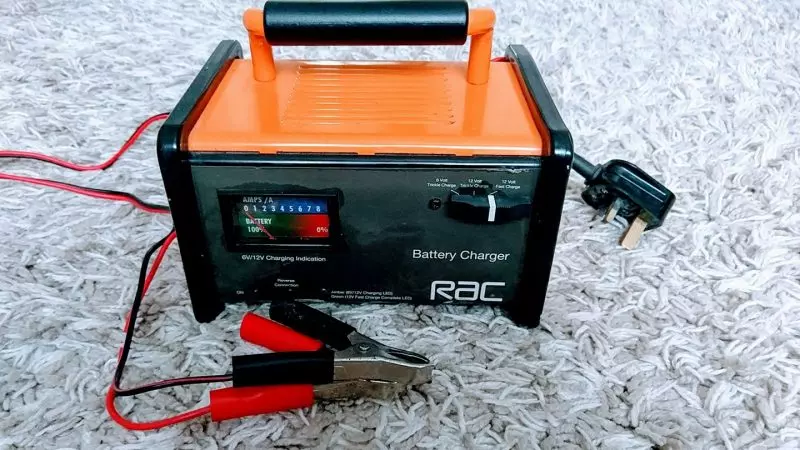 A battery charger converts the AC power of an outlet into DC energy that your car battery can absorb. As mentioned before, car chargers typically rely on a slow trickle charge to power up your dead battery but can come in multiple types of amperages. Jump starters work a bit differently and are often confused with normal chargers because of their similar goals of providing energy to your battery. Also called a boost starter or emergency booster, these devices provide a large amount of power to your battery all at once to get it started. They are actually more akin to an extra battery pack as they can be charged up and then taken – allowing you to provide power to your vehicle even when you aren't near an outlet.
Naturally because they have a small internal battery they require to be recharged after every use. While a jump starter won't necessarily completely revitalize your battery's power supply like a normal charger can it can get it started and running, allowing your engine's alternator to charge it.
Comparison table
Image

Features

Further information

- Brand: CTEK
- Weight: 3 pounds
- Fully automatic charging and maintenance
- Water and dust resistant
- No sparks, short-circuit proof

- Brand: Schumacher
- Weight: 3 pounds
- Microprocessor-controlled
- Auto voltage detection
- Reverse hook-up protection

- Brand: MOTOPOWER
- Weight: 3.2 ounces
- Compact, smart & durable
- Fully automatic
- Multi-level safety protection & battery rescue

- Brand: DieHard
- Weight: 2.3 pounds
- Intelligent charge technology
- Automatically senses voltage 6V or 12V
- Includes color-coded clamps


- Brand: BLACK+DECKER
- Weight: 7.2 pounds
- Reverse polarity protection
- Battery reconditioning feature
- Features a patented alternator check
Top 5 Car Battery Chargers Chosen by Experts
There are almost as many chargers as there are car batteries out there today, making the prospect of picking a device that is best for you a bit overwhelming. Delving through the best car battery charger reviews has led to a list of chargers that will help you get started on what you want to purchase.
One of the best portable car battery chargers on the market today. This CTEK device is highly dust and water resistant – making it ideal in just about any weather situation. The cables themselves are spark proof and it has a reverse polarity protection which keeps it safe in case of mistakes. To ensure the longest life of your battery this charger comes with the patented maintenance charge which has been proven to maximize your battery's life while not affecting performance.
What makes this charger so unique is that it has something called a reconditioning mode – this feature allows even dead batteries to be resurrected, which can save you money.
A great multi-purpose charger that can be converted from the typical 12-volt down to 6-volts. Microprocessor-controlled with multi-stage charging for added precision, safety and battery life. The reverse hook-up protection ensures charger will not operate if clamps are reversed. Because of its low rate of charge settings it can work great in keeping batteries charged when they are in storage. It can charge compatible battery types, including standard, AGM and deep-cycle batteries.
Probably the best charger for its price range – this Motopower device is capable of charging a wide range of different batteries proving that affordability doesn't equate to low quality.
This 12-volt charger will work automatically to keep track of the level of charge of your battery, cutting off at full-power to prevent overheating.
Also included in this machine are multiple safety protections all regulated by a microprocessor. You no longer have to worry about overcharging, short-circuiting, or accidentally hooking up the cables with this charger. The LED indicator is easy to read, along with having quick release adapters that simplify the charging process even more.
 DieHard is known for making excellent car batteries, so it's not a wonder they would make a great charger as well. Inside of this device is a microprocessor that watches your battery and charger to ensure that it maximizes safety and battery life. To make the charging process even more effortless the digital screen prompts you on everything you need to know about your battery.
Being able to be converted from 12-volt down to 6-volt means that you can use this device to charge much more than just your car battery. You don't even have to worry about flipping any switch either, like everything else with this device it will automatically detect if the battery it is connected to is 6 or 12-volt.
Coming in a 15 amp and 25 amp models, this Black + Decker charger will get your battery up and running in no time flat! The charging modes are fully-automatic and comes in 3 different stages of fast charge, top-off, to the slower trickle charge. Built into this device is a battery reconditioning feature which helps extend the life of your battery. Also available is reverse polarity protection along with a simple to understand LCD screen display making this machine certified in both performance and safety.
How to Use a Car Battery Charger
Make sure that you have protective clothing, gloves, and eye protection. When you are setting everything up make sure to always to have all your jewelry removed, keep your face away from the battery, and set up the charger as far as way as you can from the car motor.  Be aware if your car has a positive ground or not – while rare it means you should attach the red clip to that part of the car when charging. If not, attach it to the battery as normal while the black clip works as the ground.
When setting everything make sure that the volt-switch is set to the required voltage – typically 12 for cars. Also keep an eye on the amount of amps you want to set it at – while higher will charge faster you gotta be careful it doesn't overcharge. Looking at your manual determine what you should set your timer at before you take the charger off.
Final Thoughts
Car battery chargers work on a simple principle – they convert the AC power of an outlet into DC power for the battery. Recent models have incorporated reverse polarity warnings and automatic shut-off to facilitate a safer work environment. Regardless, you should always follow proper safety precautions when dealing with anything electrical as the shock could be fatal. A good car battery charger is reasonable priced, tough enough to withstand a little abuse, and simple enough that anyone can use it.