Anyone who has gone through a bad winter knows all about the automobile ills that it causes – shoveling snow to get out of the driveway, scraping ice off of the windshield, and the battery not starting when you pull the ignition. While the other two will always require a bit of sweat and perseverance, the latter doesn't when you pick the best car battery for cold weather. These batteries provide great starting and running capabilities in even the most frigid of conditions.
In this article, you'll read a lot of information related to the car battery for cold weather. We suggest you read all the information from the beginning to the end but if you already have some knowledge, just feel free to quit some information by using the quick navigation menu below. We also prepared a comparison table to give you the detailed and informative comparison of each kind of best car battery.
Cold Weather and its Effects on a Car Battery
Below freezing temperatures can have a deadly effect on a number of electronics, your car battery included. In fact, there is an inverse correlation between the temperature and the number of automotive failures – and this is no coincidence. At freezing temperatures – or 32 degrees fahrenheit – a battery can lose a full third of its strength. When the weather plunges even further, such as 0 degrees fahrenheit, than the battery can drop to 40% efficiency.
There are many warning signs to keep an eye out for that increase your risk of battery failure. A vehicle struggling to start, headlights that dim when idling, or a clicking sound when turning the ignition should all be noted if in cold weather. A battery that is over 3 years old is also more prone to dying in the future as well.
Factors to Consider When Buying a Car Battery For Cold Weather
If you are looking for a battery that is resistant to cold-weather then you need to look at a few characteristics – some are specific to the type that you want and others are just universal to all car batteries.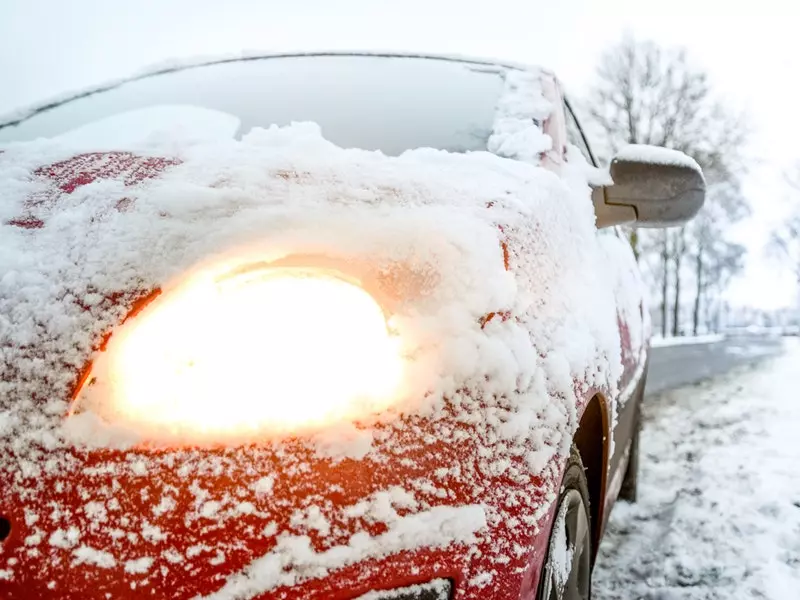 Cold Cranking Amps. Often simplified down to just CCA, this important factor determines that amount of amps you can expect it to pull at optimal power. While there plenty of other factors to consider when getting a car battery for a freezing environment, one with a large amount of amperage can go a long way.
Think about investing into other accessories. Doesn't matter how tough your car battery is or how much amperage it can pull, sometimes you're going to need added protection. Battery blankets keep your battery insulated and warm in even cold weather, while a jumper starter kit can give you the boost in the off chance that your engine won't turn over.
How heavy duty do you want it? If you are just using your car for driving to work and doing errands, than the case it comes in won't matter too much. For those that are going to be doing a lot of off-roading with a vehicle that bounces back and forth, then you should get a battery that has high vibration resistance.
Low maintenance designs are available. Many older batteries required the need for distilled water topped off or electrolytes to be balanced – by investing into a battery that is completely sealed you get a device that has a non-spillable design that requires practically no maintenance.
Comparison table
Image

Features

Further information

- Brand: Odyssey
- Weight: 58 pounds
- Longer cycle life
- Faster recharge
- Mounting flexibility
- Limited 3 and 4 year full replacement warranty

- Brand: Exide
- Weight: 53.3 pounds
- Non-spillable AGM construction
- Greater capacity

- Brand: ACDelco
- Weight: 45.5 pounds
- High density negative paste
- Enhanced life alloy
- Vent cap design

- Brand: NorthStar
- Weight: 75 pounds
- Incredible Power Metrics
- 48 Month Full Replacement Warranty

- Brand: Optima
- Weight: 38.8 pounds
- Dual SAE & GM Posts
- Reserve capacity of 100 minutes


- Brand: Optima
- Weight: 42.9 pounds_x000D_
- Reserve capacity of 120 minutes
- Fifteen times more resistant


- Brand: Kinetik
- Weight: 27.9 pounds
- 1200W Max Support
- 3/8 inch threaded terminals
- Advanced AGM Technology


- Brand: Universal Power Group
- Weight: 60 pounds
- Resists shocks and vibration
- 1 year warranty


- Brand: ACDelco
- Weight: 39.3 pounds
- Enhanced life alloy
- Silver Calcium stamped alloy
- Vent cap design


- Brand: Optima
- Weight: 42.6 pounds
- Reserve capacity of 100 minutes
- Fifteen times more resistant

Top 10 Car Batteries for Cold Weather
When looking through the best battery for cold weather reviews we decided to give a broad range of styles and brands to choose form – while all of them work great you do get what you pay for. The Odyssey LTV Battery for instance probably has the most impressive characteristics but also sports the highest price.
This Odyssey product is one of the best batteries on the market today as it provides some of the highest in cold cranking amps and reserve capacity – coming out at 950 amps and 145 minutes respectively. The Odyssey brand mentions that the unique design leads to twice the overall power and three times the life of a conventional battery. This battery also has the capability to go from almost nothing to a full charge in under 6 hours along with having a tough design that maximizes impact strength while diminishing vibrations.
The Exide Edge has been rated to consistently outperform conventional batteries across a wide-spectrum of tests ranging from stop and go traffic to high electrical usage. Containing 800 CCA and a 140 minutes of RC this non-spillable AGM construction of this battery makes it hardier than most. BatteryService also mentions that its design specializing in a faster recharge rate than that of the average car battery. Overall, this Exide battery does better in just about every facet when compared to other devices of the similar nature.
To maximize performance this ACDelco battery comes outfitted with an extra conductive silver calcium alloy and high density negative paste. This combination improves not just performance but also the overall battery life. To push the already impressive lifespan even further the envelope separator allows for improved acid circulation – cutting back on life sapping short circuits and potential overheating. ACDelco is so sure of their product that they included a 36 month warranty to go along with it.
This NorthStar battery is built to handle just about anything you can throw at it. With a massive reserve capacity of 220 minutes – that's over 3 and a half hours – along with a CCA of 900 means that this battery does wonder in the cold weather. This specific unit is also known for its incredible deep-cycling with a rating of 400 recharge cycles at a depth of 80%. Built specifically for an automobile, this marine grade battery can also be taken on the sea. This large battery also has a reinforced exterior to keep vibrations at a minimum.
Optima is known for its incredible batteries with a unique level of toughness that is practically unmatched. The extra-thick exterior is said to provide fifteen times the vibration resistance compared to a typical automotive battery – this results in almost triple of the lifespan. At 800 CCA and 100 minutes of consistent performance you can be sure your vehicle will be able to start up right in even the most frigid of circumstances. For added versatility this product is mountable is just about any position making the perfect for just about any setup.
Yet another Optima brand product and for good reason: This device can give incredible starting power in even bad or cold weather conditions. The manufacturer brags that this YellowTop battery has a combination high vibration-resistance, virtual spill proof design, and deep-cycle capabilities that put it ahead of most others. The reserve capacity of 120 minutes is impressive, along with the 750 CCA that gives you the ignition power to start in below freezing weather. Optima is able to do all this and more with its unique SpiralCell technology that improves power, performance, and lifespan.
If you're looking for a car battery specifically for your audio or electronic equipment, than this great Kinetik battery will more than do the job. Specifically designed to meet all your extraneous electrical needs. The manufacturer boasts that this product can be mounted just about anywhere.. The 12V product is made so as to provide a high-current and efficient amount of electricity with 1150 cranking amps of power. The case itself further maximizes performance by being resistant to vibrations and heat tolerant.
This deep cycle 12-volt battery works great as a secondary power source for all your automobile equipment needs even in cold weather. Because of its design it is able to recharge multiple time and is capable of being mounted in just about any position. To ensure that you are getting the most out of this product it is also made to be highly shock and vibration resistant. This Universal battery proves that quality doesn't have to come at a high price.
ACDelco makes incredible cold-resistant batteries and this one isn't an exception. Like most of their products, the manufacturer uses a calcium lead grid along with a silver calcium alloy. This combination of metals allows this battery to maximize power output and lifespan. The improved acid circulation, as a result of the robust envelope separator, has been proven to protect this product against overheating. This incredibly charge-receptive product works great for almost any automobile on the market today.
With an impressive 800 cold cranking amps at 12-volts, this battery will not only excel at starting right on the first pull in even freezing weather but also work great in marine crafts such as boats. The exterior follows the typical Optima formula of being ultra-durable so as to protect all the internal mechanisms from degradation and damage. The system itself uses an unique SpiralCell technology that increases the amount mats that can be fit inside the battery – helping boost performance when you need it most.
Optima comments that this is a self-discharge product, which means that even after a year of no use this battery will still be usable.
Final Thoughts
When the temperatures drop so does the effectiveness of a car battery. That's why it's best to pick one that excels in the amount of power it can supply – with cold cranking amps being one of the most important characteristics. There are plenty of cold weather batteries out there but the best ones come with a tough exterior and the specific design elements that maximize performance. In order to make sure your battery is working at optimum efficiency it's recommended to get a battery blanket and jump starter.