It's happened to everyone at some points – you get in your car, put your key in the ignition – only to discover that your engine won't start. The typical thing to do here is to get a set of jumper cables and have someone give you the jump for you to get home – but what if there was another way? That's where the car battery jump starter comes in. These portable devices allow you to get your car running even without someone else's car.
To have an overview about our article, please check this navigation menu below. You can use it to go to the part that you want to have deeply understanding. We also prepared a comparison table to give you the detail and informative comparison between each kind of car battery jump starter.
Car Battery Jump Starter 101
Also called a boost starter, a jump starter is a device that hooks directly to a car's battery and gives it enough energy to start it up. While they come in a variety of different forms and can be integrated into other similar machines such as battery charger, a jump starter typically holds a great deal of energy in its own internal battery and shoots it toward a car's battery. The power inside of this machine will be depleted at this point, requiring it to be recharged between jumps.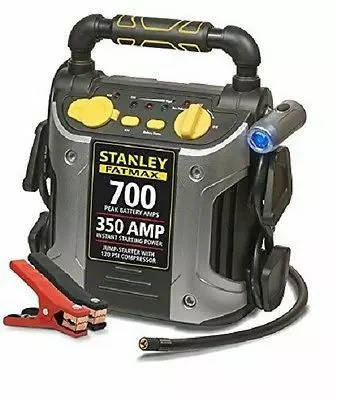 Factors to Consider When Buying
While a jump starter can be remarkably useful regardless of the form it takes, there are many features you are going to want to consider before making the plunge. All in all picking the best car battery jump starter for you is a matter of figuring out what you need and how much you are willing to spend.
Power: One of the most important characteristics to look at when picking a jump starter is the amount of power it can supply at one time. The range that these machines can have is anywhere from 300 to 3000 amps, with most consumers models typically in the 400 to 600 amp range. While more amps are typically better, you don't necessarily need to reach your battery's maximum.
Reverse Polarity Protection: Mistakes happen with even the most mindful person. The general rule with car batteries is that you want to attach the red cable to the positive terminal and the black cable to the negative – if this is reversed by accident it can cause major damage to your battery and car. A jumper with reverse polarity protection will let you know that this has happened.
Combination Models: While every jump starter fundamentally does the same thing, there are some that are combined into other machines to give them improved versatility. Often combined with items such as battery chargers, tire inflator, flashlight, and even air compressor to name a few.
Size: The onslaught of lithium ion batteries and new technology has brought jump starters of remarkably tiny size. This size does come at a disadvantage though – smaller starters typically give less in terms of amperage and usually work worse in cold weather.
Multiple Modes: For improved usability some jump starters have different voltage modes – with 12-Volt being the norm for car batteries but 6-Volt also not completely unheard of. Many starters also allow you to change the amperage to best fit with your car battery.
Temperature Resistance: While this may seem minor, it can be an important factor if you live in a naturally warm area. A mere outside temperature of 80 degrees can cause a car parked in the sunlight to reach temperatures of 131 degrees! Higher temperatures like this can cause even a well made jump starter to work poorly or not at all.
Top 5 Car Jump Starters Reviews
When looking at the best car battery jump starter reviews we looked for a cross section of everything that is on the market today – swiss army machines that do a little bit of everything, small ones that can be tucked away into a glove box, and simplified models that get the job done.
Comparison table
Image

Features

Further information

- Brand: Clore Automotive
- Weight: 25 pounds
- Clore PROformer battery technology
- Reach starting points
- Having voltmeter

- Brand: STANLEY
- Weight: 1 pounds
- 1000 peak amps and 500 instant starting amps
- Reverse polarity alarm alerts
- Features a 120 PSI air compressor

- Brand: Clore Automotive
- Weight: 18 pounds
- 1100 Peak Amps, 300 Cranking Amps
- Automatic Recharging
- Industrial Grade, Hot Jaw Clamps


- Brand: Schumacher
- Weight: 7.6 pounds
- Built-in charger
- Battery status LEDs
- Cables stay flexible in cold weather.

Combined with an air compressor this is one of the best car battery jumper starter kits on the market today. It has an impressive 1700 of amperage making it great for even the largest of automobiles. Included with this kit is a set of extra-long 68" cables along with an air compressor hose that is an impressive 12 feet in length! Mini Thunder praises this product as one of the best reviewed jump starters out there today.
This product has been streamlined to put power and reliable charge first – this means you will get more jumps per charge up and above typical models. You don't have to worry when this machine is charging either as it automatically cuts off when filled up – allowing you to leave plugged indefinitely without having to worry.
Coming in also a smaller 700 and 600 peak amp model, this combination starter and air compressor will more than get the job done for you. For added versatility this machine has built in USB outlets to let you charge personal electronics. Also integrated into this machine is a high-powered LED light that has a full 270 degrees of rotation. For added safety the machine will let you know in the instance of a bad connection with its reverse polarity alarm.
The air compressor itself is rated at 120 PSI, making it great for a filling up a tire that has gone flat. Jump Starters Guide comments that this device is excellent as it provide loads of power while also being easy to use.
If you are looking for the perfect balance of price and quality look no further that this excellent Beatit model. Being one of the best portable car battery jump starters this little machine has a bit of everything – dual USB ports to charge your smart devices, multiple forms of protection, and a flashlight when light is limited. Included in this portable kit is a wall charger, USB cable, car charger, and a case to hold it all in. Beatit is so confident with their product that they have included a two year warranty as well.
Despite all these features one of the most impressive parts of this machine is the starter itself – under just one full charge this machine can provide a jump start to your vehicle an impressive 30 times!
Starting at 1100 peak amps, this machine can be purchased in multiple higher rating all the way up to a massive 3000 amps. If you want a no-nonsense starter that provides plenty of power, than look no further than this 12-volt machine. This machine has a tough exterior that allows it to be used in all sorts of automotive, industrial and marine applications, along with an easy to read LED battery status indicator.
This Clore Automotive device has an automatic recharging feature which stop the battery from overcharging, allowing you to hook the battery up with little worry that it'll get damaged.
The best car jumper for its value, this excellent Schumacher product proves that quality doesn't necessarily mean expensive. The lead-acid battery within is completely sealed meaning storage is simple and maintenance practically non-existent. The set of jumper cables that it comes with have been specially designed to stay flexible in even cold weather. My First Car Guide says that it is the best car jumper for its price range.
The automatic charging feature lets you plug this device in without having to keep track if it is over-charging. The outside for the case is designed to hold up in even the toughest conditions, making it great for just about any environment.
Usage and Safety Tips
Don't be fooled by their ease of use – a jump starter still deal with electrical components that can harm or maim you if you aren't careful. It's also important to get into the habit of having your jumper fully charged between uses – this ensures you'll be able to jump start your battery with little worry. When setting up the charger make sure it is put in the spot so the cables can reach. Before attaching look to see if the switch is turned to the off position on the jumper.
Attach the cords to the required spots turn on the starter and try to start the engine. Keep in mind that a jump starter is typically only a temporary fix and if your battery is going dead consistently it may be time for either a full charge or just a replacement.
When in doubt you need to check the manufacturer's instructions on how to properly use your specific machine. Unless stated on the device itself most jump starters are only rated for a traditional gasoline car battery. Any cars that are hybrids or simply electrical shouldn't be jumped with these devices as they have specific ways they require to be charged.
Final Thoughts
A jump starter is a useful device that allows you to get your car running without having to rely on anyone else. These starters can come integrated with other machines giving you a versatile tool that can provide light, fill up a tire, charge a laptop, and much more. Whatever device you get make sure that you follow proper safety procedure – always follow all the manufacturing instructions when operating and never attempt to hook up anything while electricity is flowing.