A car battery has an incredible job – supplying the boost to get your engine started along with providing a constant source of power to all your automobile's electronics, it can be consider the heart of your vehicle. In order to ensure that this device is working at optimum efficiency it's important to do routine maintenance and checks on its whole life. Getting the best car battery tester can ensure that you know how this all-important piece is working.
We prepare the following navigation menu to give you an overview of this article. You can use it to go to the part that you want to understand more. We also prepared a comparison table to give you the detail and informative comparison between each kind of car battery tester.
Car Battery Tester 101
A battery tester does exactly what its name implies – it is a device that tests the state of an electrical battery. The simplest of car battery chargers is a DC ammeter – this device merely looks at the charge rate of the battery. Integrated battery testers go a step further than this and fire a small current through a certain amount of time in the battery – whatever voltage output given is the condition of the battery. Most car testers are rated for 12-volt, but 6-volt and 24-volt varieties are available.
Factors to Consider When Buying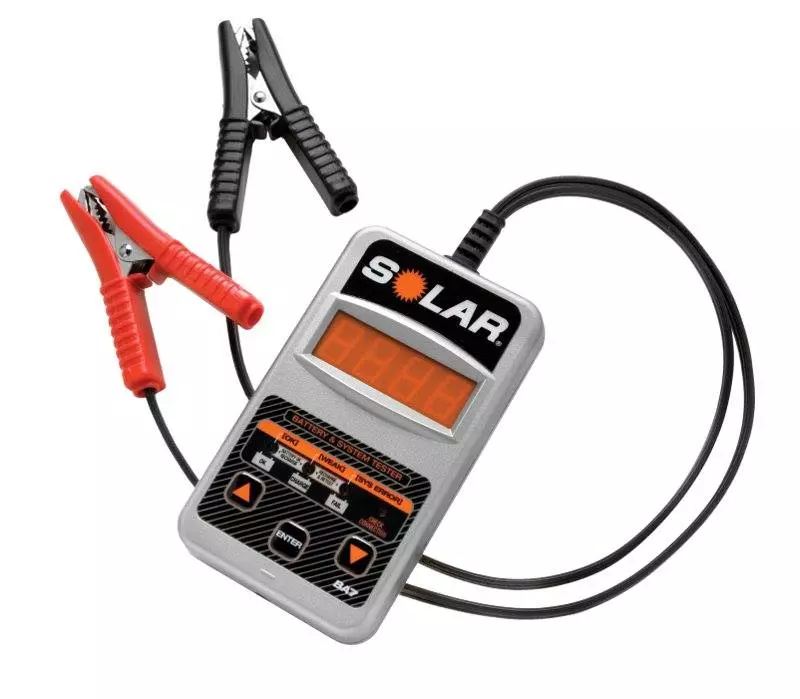 ​
Not any two battery testers are equal and picking the best means considering many different factors. Overall you're going to want to know how much of information you want from your charger and in what format – while some want a meticulous analysis of everything other prefer a more simplified approach.
Digital or Analog: When most people think of a battery tester they often think of a device with a needle that fluctuates between a semicircle of different numbers. While these analog type of devices have a reliability that is unmatched, digital models are available for those that prefer it. Typically a digital model is easier to read but also has much more going on in terms of what it says.
Simplified or Complex: Many new devices today are a veritable smorgasbord of information – with car testers being no exception. For those who just want a tester that gets the job done a simplified set up will probably be better.
Make sure it works for your battery type: There are many types of car batteries such as lead-acid, AGM, and gel-cell to name a few. While most testers today can work on just about everything make sure that you look to see if the specific model that you want will work with yours.
Outside case: A good battery tester has some sort of ergonomic handle that is lightweight so as not to put any strain on your wrists or hands. Because they are set down in awkward positions often you should also consider getting a tester with an anti-slip back – this helps a tester be pushed up against something without falling down.
Voltage versatility: This isn't just a good alliteration – having a tester that can trigger between multiple voltage types can be remarkably useful if you are testing more than just your car battery. Basic battery testers are able to test at just 12-volts but other are able to fluctuate when needed – with some models going as low as 4-volts and as high as 20!
Comparison table
Image

Features

Further information

-Brand: FOXWELL
- Weight: 3 pounds
- Advanced conductance testing technology
- Cranking and charging system test

- Brand: OTC
- Weight: 0.01 ounces
- Includes battery load tester
- Repair warranty

- Brand: TT TOPDON
- Weight: 7 ounces
- Convenience and professional
- Wide rest Range
- Cranking & charging system test

- Brand: CARTMAN
- Weight: 1.6 ounces
- LED display indicates conditio
- Alternator, battery and charger check

Top 5 Car Testers Hand Picked by Experts
In order to get you started on picking what works for you we cross-referenced through the best car battery tester reviews on the internet to give you a range of different options.
This FOXWELL product is able to be used on battery types ranging from absorbed glass mats to flooded and gel-cell. The LED screen lets you analyze all aspects of your battery – everything from cold cranking amps to a plethora of tests. For instance, the charging system test allows you to look at both a 12 and 24-volt system to see if the output is normal and diodes are working at optimum performance.
To ensure improved accuracy the attaching clips is made from a high-quality copper with a matching wire – allowing stable signal all the way throughout the machine. The design of the machine is specifically made with your comfort in mind as it is lightweight and comes with an extra-long 7.8ft cable.
An excellent analog battery tester which the manufacturer boasts can work in just 10 seconds to provide you with all the information you need in a easy-to-read manner. The machine itself is even simpler to use – the grip is made in such a way to fit the contours of your hand perfectly, with a single switch being located where your thumb can flick it with ease. The device also has the maneuverability to work on both 12 and 6-volt systems.
The clamp themselves have been designed for both top and side-post batteries, along with an additional set of side tabs that works great with tool clamp storage systems. Real Tool Reviews comments that what makes this device stand-out is how intuitive it is to use.
This Schumacher device is the quintessential car battery tester. The easy to transport size and weight, along with accompanying handle means you won't have any issues getting around with this machine. The 100 amp load test is perfect for 12-volt batteries but can also be cut in half to work on a smaller 6-volt battery. Being able to work on anything up to 1000 cold cranking amps means that this Schumacher machine is usable on most automobile batteries.
Don the Small Engine Doctor praises this device for not only calculating running amps but cranking amps as well. This device also has a plethora of testing features ranging from battery condition, starter motor draw, test load, and even a complete charging system diagnosis. This device can also be used to test your alternator
​
With bult in reverse polarity protection you can be sure that safety is the number one priority with this device. This battery tester can work on anything from 8 to 16-volt automobiles to get you the detailed information on all this related to your battery: health status, cranking power, voltage, the state of the charge and much more. The test results aren't in some esoteric language either – everything is completely legible allowing you to quickly diagnose your issue.
To those that might not be great with the English language, this TI TOPDON machine can be changed to five other languages like German, Italian, French, Spanish, and Russian. Most impressively is that this machine doesn't dawdle either – with most results coming in about 3 seconds or less!
For those that want a simplified and no-nonsense machine than look no further than this CARTMAN battery tester. Despite it's super easy to read interface – composed of just a series of pre-printed words with LED light indicators next to them – it is capable of relaying a bunch of information related to the state of your battery and alternator. This tester is also notable for being one of the best value on the market today – coming in at a fraction of the cost of other models.
To check your alternator with this device merely hook it up via the manufacturer's instructions and rev the engine up to 2000 rpms – when the green lit comes on it means that the charging circuit is good to go.
Usage and Safety Tips 
When dealing with any sort of electrical system or automobile always follow the same principle: Make sure that all power is cut-off and that there is no possibility for it turn on as you are attaching everything. Some testers don't come with clips but rather just simple needles that you touch at the terminal – in this case you are allowed to have someone start the engine but only when everything is completely detached first. While performing any sort of automobile test make sure to wear the proper safety glasses along with a good set of protective gloves.
You should try to get a feel for how your specific tester works – some are just a simple hook-up and display, while others have plenty of knobs, buttons, and keys to apply many different functions. Most fully charged batteries should be measured at around 12.6-volts or higher, with it being anywhere from 13.7 to 14.7-volts while the car is on.
Final Thoughts
Picking a battery tester for your car is just a matter of knowing what you want. Digital models look sleeker but can provide a lot of unnecessary information that you might not want. Analog models, on the other hand, have a simplicity that may not be useful for those that are bit more meticulous. Whatever you may get make sure to always put safety first and always follow the best practices when using your tester. Now that you have knowledge of the different types of testers and what to look out for, getting the best battery charger for you should be within your grasp.