Driving comfortably is very important, especially if you are doing it every day for extended periods of time. If you are not able to concentrate on the road because you are not comfortable with your seating position, it will also affect your driving performance. Driving with discomfort can be a dangerous thing if left unchecked – it can escalate to back pain and might even lead to unwanted accidents. You need something to help you correct your seating position – something that only the best car seat cushions can provide.
In this article, we will try to cover the different types of car cushions and the different features that car cushions have. We will try to find the car cushion that fits your specific needs and try to find the one that will fit your budget too. We also prepared a comparison table to give you the detail and informative comparison between each kind of car seat cushion.
What Is A Car Seat Cushion?
People often mistake car seat cushions for car seats or back relievers – which is often not the case. More often than not, car seat cushions serve a different function than custom car seats and back supports – which is to provide you a comfortable experience while driving for long periods of time. There are also different types of car seat cushions depending on who will use them – from kids who need more support to adults who have back problems, and even mothers who have big belly bumps.
A car seat cushion is a supportive material that you put on your car seat to help make your driving position more comfortable – especially if you are going for a long drive. There are specific car seat cushions for long drives to help your back feeling comfortable. There are also car seat cushions for back pain or hip pain, which are specially made for people who have medical problems on their back.
Sometimes, a small change in your posture or seating position is not enough to improve your seating comfort, especially if you are driving a small, cramped car. Some car seat cushions have back supports, while some cushions are only meant for the glutes and lower back. Some even support only the lower tailbone – which is what hurts most during long drives.
Different materials are also used in creating car seat cushions – some of the more popular ones being memory foam and gel cushion filling. Some car seat cushions, especially those for pregnant women, even have straps to make sure that you are properly supported in all directions.
What Kind of Car Seat Cushion Do You Need?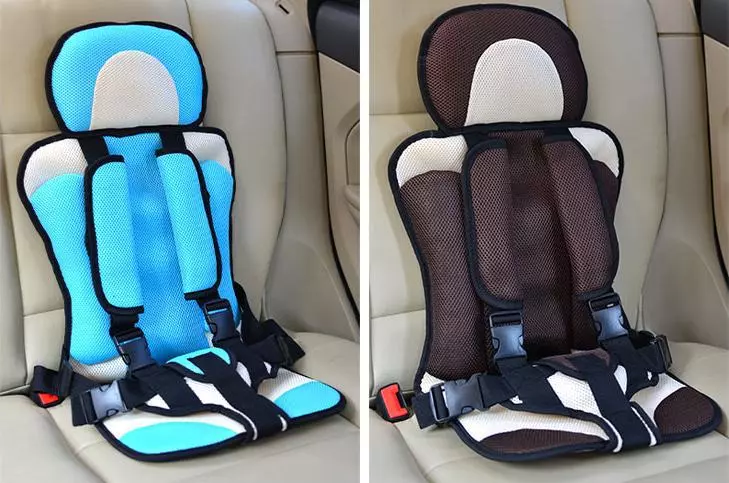 While many believe that there is only one kind of car seat cushion, this is not totally true. There are several types of car seat cushions designed to fill a specific niche – some more specialized than others. For example, there are car seat cushions designed for people who just got out of a medical operation. There are also seat cushions designed for traveling with little kids. Depending on your needs, you might need to look deeper into the specific type of cushion that you need before buying one.
Some people underestimate the importance of buying good quality car cushions until back pain and discomfort start to really affect them. This is not good practice. Even if you don't feel severe back pain and spinal problems right now, getting a good quality car seat cushion is something we really recommend. Remember – prevention is better than cure. Don't wait for the problem to occur before you start doing something about it.
Why Do You Need A Car Seat Cushion?
There are a lot of reasons why you should purchase a car seat cushion. Depending on how you plan to use it and who will use it, you should understand the reasons why you need a car cushion in the first place.
Below are some of the important reasons why you need to buy a car seat cushion, especially if you are doing UBER or you are doing driving as an occupation:
Cushions provide comfort during long drives.
They prevent improper posture that often cause pain and injuries.
They give firm support and comfort to people who have special needs such as pregnant mothers and post-operation passengers.
Car seat cushions correct wrong seating posture that often cause back problems
They can also act as a seating cushion for your pets. This can help them feel comfortable during long drives.
Cushions reduce the pressure on your lower back, especially the bone tail. This will allow you to drive longer and better.
Memory foam car cushions also help in distributing your weight evenly when seating down. This will prevent unnecessary pain in your glutes and legs when you are driving.
If you live in a place where the climate is cold, cushions can also offer additional warmth and protection.
Types of Car Seat Cushions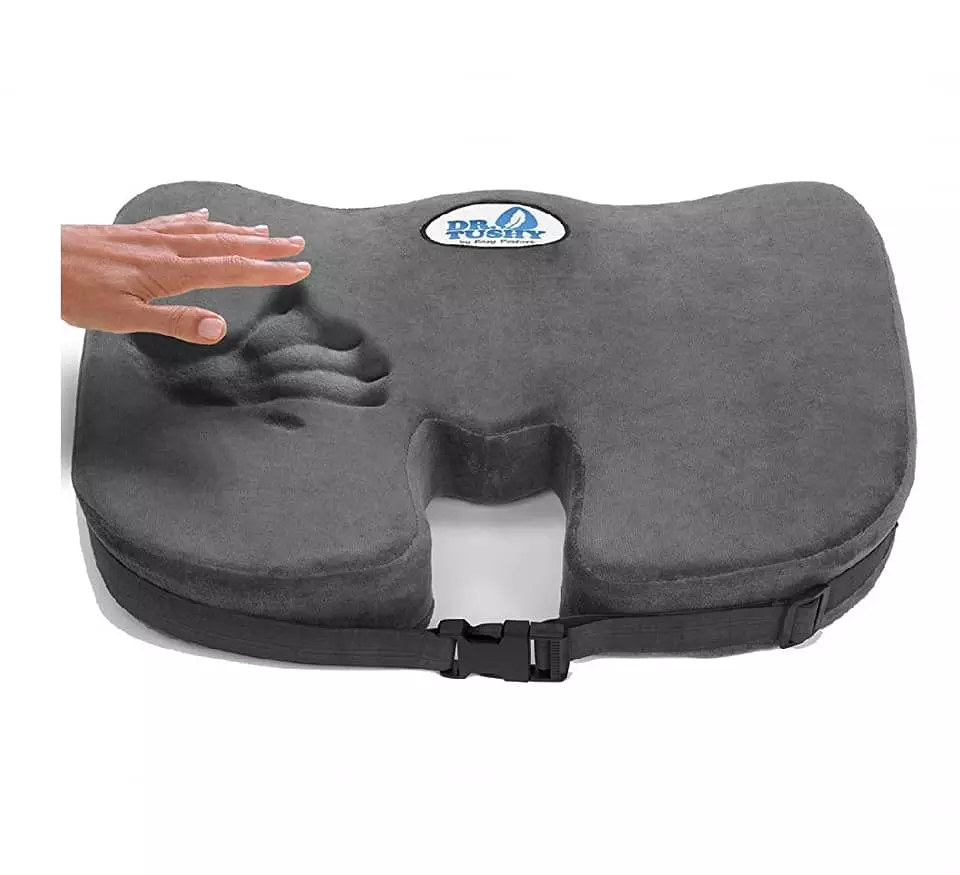 There are different types of car seat cushions – each providing a specific feature for the passenger. One thing that you should keep in mind is that car seat cushions are not made only for the driver. They can also be used by passengers who have special needs such as newly-operated patients, kids, babies and pregnant mothers.
So what are the different types of care seat cushions for your car? Check out our list below:
1. Universal Car Seat Cushions
As its name suggests, a universal car seat cushion is designed for general use. They are easy to find and readily available in the market – their general purpose is to keep your spine and lower back in a comfortable position even during long drives. While universal car seat cushions are plenty abound, they are also considered as "one size fits all" and doesn't really fill a specialized niche unlike the other seat cushions.
2. Injury-Care Car Seat Cushions
Some car cushions are specifically made to help in injuries – and these are also known as injury-car car seat cushions. Unlike universal seat cushions that aim only to make longer drives comfortable, injury-care seat cushions are designed to help with problems such as slipped disc, lower back pain and sciatica. Some of the best car seat cushions for sciatica and slipped disc employ special materials and even scents to keep the car smelling good. If you have an ailment or injury, going for injury-care car seat cushions is something that we highly recommend.
3. Maternity Car Seat Cushions
Maternity car seat cushions are specially designed for mothers who are having problems seating comfortable on their car seat due to their baby bump. Having to sit long hours with a big baby bump on your tummy can be quite uncomfortable – which is why we highly recommend having a car seat cushion for pregnant women. Most maternity car seat cushions have very soft yet stable base and they often employ straps to keep mommies even more secure. The growing discomfort of a big belly can be removed by a simple maternity car seat cushion.
4. Car Seat Cushions For Pets
Traveling long distances can affect not only the driver, but also the passengers. And one of the most fickly passengers that you could have are your pets – they easily get disgruntled and uncomfortable during long rides. Pets are not used to just sitting long hours doing nothing, and the average car seat can make it even more uncomfortable for them. Some pets experience nausea and dizziness leading to vomiting and sickness – this is something you definitely want to avoid.
Pet-friendly car seat cushions are specifically made for this problem, and you should have one if you plan to travel with your pets. Unlike car seat cushions for humans, pet cushions are often thicker and softer to handle the stress produced by the moving vehicle. Most pet cushions are made for smaller-sized pets such as dogs and cats.
How To Choose A Car Seat Cushion?
Choosing a car seat cushion depends on many factors. What do you need it for? Who will use it? What materials do you prefer? What is the weather condition in your area? To help you choose the perfect car seat cushion for your needs, read our tips below and make sure to go through each one before you make a purchase.
When buying a product that aims to solve your problem, you need to first define your needs. What do you need the product for? Who will use the car seat cushion? Is it for your baby? Is it for your pets? Or is it for your pregnant passenger or driver?
If the car cushion is to be used for chronic pain or injuries, you should look for specific shapes and types meant to relieve discomfort. Some cushions support the lumbar and the buttocks along with the lower spine tail. Some even have back supports to keep the lower back firm.
Knowing and defining your needs is the first step in choosing a car seat cushion. Yes, choosing what to buy can be a daunting and challenging experience. But once you know what your needs are, you already won half the battle.
Choose The Right Materials
The materials used for your car seat cushion is also an important thing that you have to consider. Some car seat cushions are made from simple fabric and foam, and these products are often priced lower than most. Some cushions, on the other hand, are made out of memory foam material which can remember your body shape to give you a much more comfortable feel every time you use it. Some even employ gel-based cushions for a more even, fluid feeling. Knowing the materials of your car seat cushion is important in making the final decision on which product to buy.
Take The Weather Into Consideration
Some people overlook this criteria, but the weather is an important factor that you need to consider in buying a car seat cushion. The climate that you live in will determine how your cushion lives up to the weather long term – and the longevity of your seat cushion's life will depend a lot on this.
For example, people living in a cold climate where snow usually falls should choose a cushion made from fabric and memory foam. These materials tend to help up pretty well in lower temperatures and the firmness and shape won't change as much. On the other hand, if you are living in an arid, desert-like hot climate, choosing something made out of gel cushions can be a good idea. Gel cushions usually work better in a warmer weather because the colder climate makes the gel stiff and hard.
Always set a specific budget before you go around and shop for your car seat cushion. Don't overspend when you don't need to and make sure that you can afford your purchase. Going for the more expensive ones might not be a good investment if you are not doing driving as an occupation. Set a budget and stay within that price – you will always find something within your range if you know how and where to look.
These are just the basic things that you need to look out for when it comes to buying a car seat cushion – and it can become more and more specialized depending on your needs too. For example, pregnant mothers have different needs than kids and pets, so you might want to think about that before doing your purchase.
Comparison table
Image

Features

Further information

- Brand: ComfiLife
- Weight: 1.45 pounds
- Easy transport and machine-washable
- Support tailbone and relieves pressure
- Provides lower back pain & sciatica relief
- Fully guaranteed

- Brand: FOMI
- Weight: 2.2 Pounds
- Easy transport and machine-washable
- Support tailbone and relieves pressure
- Provides lower back pain & sciatica relief
- A non- slip friction bead grip bottom

- Brand: ComfySure
- Weight: 1.3 pounds
- High density memory
- Muscle support for drivers
- Easy care and portable
- Non - slip bottom

- Brand: MAARYEE
- Weight: 7 oz
- Safe for baby and you
- Great for derinving mom
- Easy to install
- Non-slip design
- Safe & comfortable
Top 5 Car Seat Cushions
This time, we like to dig deep and give you a list of the 5 best car seat supports that we really love. We put into consideration a lot of things such as price and customer satisfaction rating in making this list. Furthermore, we also tried to recommend the product that best suits the needs of different people – hopefully this list serves you well.
The ComfiLife Non-slip Gel Enhanced Seat Cushion is one of the best car orthopedic seat cushions that you can find in the market today. Rated as one of the best-selling and top-rate cushions as proven by its numerous recognitions won, this cushion has a gel memory foam cushion that is protected by a washable zipper velvet velour cover. Made out of premium grade and durable memory gel cushion, you can sit comfortable even during long road trips if you have this as your companion.
One of the best feature of the ComfiLife Non-slip Gel Enhanced Seat Cushion is the cool off gel layer that it uses to provide a higher level of quality compared to other foams. It supports the tailbone and helps relieve the pressure on the glutes – promoting a healthier posture due to its ergonomic design. The velvet cover protecting the memory foam is also machine washable and easy to clean. Now you won't have to worry about sweat and dirt building up.
Known as one of the best eat cushions for coccyx pain, the Dr. Tushy Memory Foam Car Seat Cushion is a highly-recommend product that you should also check out. Coccyx, also known as the tailbone or the lower bone of our spine, suffers the most during uncomfortable long drives. Because of its wide coverage and valley cut out design that has a small split in the middle, the Dr. Tushy Memory Foam Car Seat Cushion is a perfect lower back support.
The specialty of Dr. Tushy Memory Foam Car Seat Cushion is its increased size and coverage compared to other seat cushions. This increased coverage means it is contoured to support more pressure points – which alleviates most coccyx pain problems. If you are having lower back pains while driving, this is one of the best products that you should look into – it will not disappoint.
Unlike other seat cushions that are shaped in one giant foam mass, similar to the structure of memory foam beds, the FOMI Premium All Gel Orthopedic Car Seat Cushion Pad is made with criss-cross patterns. The small spaces in between these criss-cross patterns allow more air to flow within the foam, which prevents sweating that causes a stinky smell. This is definitely an ergonomic design that allows more airflow – perfect if you are driving around hot and humid climates.
The FOMI Premium All Gel Orthopedic Car Seat Cushion Pad uses medical grade materials to make sure that the gel won't lose its shape as time goes by. Even when used for long drives, you won't feel the shape and support change as much because of the cushion material and design. If you are living in an arid, desert-like temperature, the FOMI Premium All Gel Orthopedic Car Seat Cushion Pad is something we highly recommend.
What we love most about the ComfySure Memory Foam Car Seat Wedge Pillow is its unique and ergonomic design that really stands out. This car cushion has a slight wedge on its back end that gives space for the tail end of your spine to move unhindered. You might not notice it on short daily commutes, but this small wedge really does wonders on long drives. From this one specific design feature alone, the ComfySure Memory Foam Car Seat Wedge Pillow won our vote of confidence.
Made out of high density memory foam, this product will stay firm and true even after a year or so. Because driving all day takes a toll, we really love its therapeutic memory support that takes the shape of your glutes and lower back. It is not only great in vehicles – it can be used as an office chair support and even on airplane seats too.
Pregnant women can really feel uncomfortable when riding cars, and the MAARYEE Pregnancy Car Seat Cushion aims to alleviate some of that discomfort.
Made with high quality foam polyester, it has a non-slip design that is large enough for pregnant moms to sit on. The seat cushion is also supported by a series of straps that you can install and attach in your car seat, making the seat much more secure for mommies and the baby on their tummies.
Furthermore, the MAARYEE Pregnancy Car Seat Cushion has a bump belt that keeps everything secure and in place. The straps and belts are easy to install and attach. If you are a pregnant mother who wants to keep your baby safe while enjoying a comfortable ride, we really think you should check this product out.
Conclusion
When choosing a car seat cushion, rely not only on the materials and the price of the product – also consider the weather in your location and the passenger who will be using the device. The car seat cushion that you should buy must also provide you the best support for your specific needs. Hopefully, this article has helped you find the best car seat cushions for your specific needs. Make sure that you check out our list before you decide on your purchase too!