A car doesn't feel totally complete without a crisp and clear audio system. Who wants to spend hours stuck in traffic – sitting in boredom while doing nothing, right? A great car audio system can really lift up your mood especially when road traffic is starting to get on your nerves.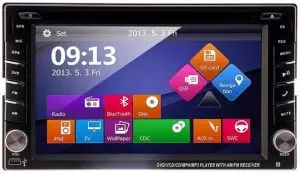 There are two kinds of DIN units often installed in cars – single DIN units and double DIN units. Both have pros and cons, and they both fill a specific niche. Double DIN units are larger and often have more features over single DIN units – modern vehicles with navigational features often have OEM double DIN units installed in their cars.On this article, we would like to answer this question: what is the best double DIN head unit to get for your car? What are the features that you should be looking for in a car audio DIN and what are the advantages of a double DIN over a single DIN audio head? Also, we will help you answer your questions regarding the best DIN stereo units for your car's next sound system upgrade. Hopefully, this article can help you choose wisely and get the most value out of your money. You can use this navigation menu below to quickly go to the part that you want to understand more. We also prepared a comparison table to give you the detail and informative comparison between each kind of double DIN Head Unit.
What Is A Double Din Head Unit?
Before you start hunting for your car's audio system, you have to know first what kind of proposed standard dimension fits your car's needs. There are accepted standards when it comes to electronics, screws, fire prevention mechanism – anything that you can think of. When it comes to the size of car audio, the proposed standard dimension for audio units is called a DIN.
DIN is actually an abbreviation of the German phrase "Deutsches Institut für Normung" which is the principal standards body of Germany. The term DIN colloquially refers to the sizes of audio head units that is universally accepted by all car manufacturers. In layman's terms, DIN simply refers to the size of opening that a car audio fits into – which is universally accepted as 2" x 8".
A double din unit is simply a "DIN that is taller or bigger". Instead of 2" x 8", a double DIN's size is 4" x 8" – so if your car's audio looks taller, it is most probably a double DIN cd or radio unit.
The DIN standard is very important in car audio technicalities for so many reasons. First of all, most car radios in the past were actually manufactured by third-party providers. A car company will usually ask an external party to create, manufacture and install an audio head on their car units. Without an accepted, agreed-upon standard, it would be very difficult to ensure the overall fit and integrity of the audio unit inside the car.
Because of standardized units such as DIN, it is easier for audio manufacturers to create audio heads that perfectly fit any car – no matter what car company it is. Just like there are standard sizes for screws, nails and doors – there are also accepted standards for audio head sizes. This is why DIN is important in the car audio industry.
Which one is better, a Single DIN or a Double DIN?
This one is a bit subjective and cannot be truly answered with a clear conclusion. The advantage of a single DIN unit is size – it is smaller and it can fit a wide variety of car dashboards. Also, they provide a sleeker, cleaner look that fit most classic car dashboards. In short – it is simple, yet it gets the job done pretty well.
On the other hand, double DIN stereo are known for their better interface, more buttons and more functions. Some even have touchscreen capabilities and other perks such as GPS locators and trackers. Because it is bigger than its single DIN brother, a double DIN radio and audio head packs more punch.
TYPES OF DOUBLE DIN HEAD UNIT
1. Double Dins With Touchscreen
These days, double DIN units are usually equipped with a touchscreen function that allows it to be easily controlled and manipulated. Some have very responsive screens, while others need a bit of pressure put behind your touch in order for them to really work. Responsive screens are great for easy navigation – but the setback is that it can be manipulated with even the slightest touch. Still, a double DIN touchscreen head unit is very popular among car owners today because of its practicality.
Touchscreen is often used to input commands quickly while driving such as opening the radio, running the MP3 playlist, connecting the Bluetooth and many more. Screen size might vary depending on the model but they are usually around 5 to 6 inches in length.
2. Double Din With Navigation
Traveling today is much easier if you got a double DIN navigation head unit. A double DIN with navigation is crucial because of the way traveling works nowadays – we don't use maps anymore so we have to rely on something that can give us the right direction real-time. This is where a DIN with navigation features truly shines.
A good DIN with real-time satellite navigation can safely, quickly and efficiently take you from Point A to Point B without difficulties. If you are someone who is always on the go and if you are working as a part-time UBER, a double DIN with navigation is priceless.
3. Double Din With Apple Carplay Compatibility
Double DIN Carplay compatibility is a feature that most people would not look for in the past decade. Today, however, the importance of Apple integration has grown to a point that manufacturers of car audio are actually designing their double DIN to work with Apple products. Since Apple has sold more than a billion iPhones since the first one way back in 2006, it only means one thing – manufacturers need to cater to the needs of Apple users as well.
Double DIN Carplay compatibility might be a niche industry for some – but it is actually a handy feature that you might be looking for if you own a lot of Apple products that need integration with each other. You never know when you might need that compatibility to work.
4. Double Din Bluetooth Compatibility
Most Double DIN car stereo today already supports Bluetooth technology, so this is something that might not even be an issue for you when looking for your DIN unit. In the same way that most smartphones support Bluetooth and Wifi today, most Double DIN Bluetooth car stereo are now standardized by manufacturers.
5. Double Din With Android Auto Compatibility
Android Auto is the Android version of Apple Carplay. If you own Android devices instead of Apple products, then finding a DIN audio head unit with Android Auto compatibility might be something that you'd be interested to explore. Not all head units support compatibility with Android Auto, so finding one that suits your car is important.
HOW TO CHOOSE THE BEST DOUBLE DIN HEAD UNIT?
When choosing the best double din head unit to buy, you have to consider several factors in mind. Below are some of the most important factors that you need to keep in mind when it comes to choosing a double din head unit for your car.
1. Assess Your Usage
Before anything else, you need to consider what you are going to use the double DIN head unit for. Of course, we all know that your double DIN needs to play music and radio for you while you are traveling – but how about the other aspects such as navigational ease and device connectivity? You need to assess your usage and match it with the features available to the unit you are going to buy.
Usage is very important when deciding which double DIN unit to buy. For example, if you are an UBER driver, you would definitely give more priority to Navigational features such as Android AUTO or Apple Carplay compatibility. Why? Because your usage will revolve around these applications and having the convenience of device compatibility and navigation will really make your job as an UBER driver easier.
2. Check the Features
Things that will make your life as a driver easier such as Bluetooth connectivity, touchscreen and other features can also make or break your decision when it comes to buying a DIN unit. These features are not just for show – they perform a specific function that will make your driving a lot easier (and entertaining too!)
Make sure you weight all your needs first before jumping on your purchase. List down all the features you are looking for and arrange them from top priority to least priority. Doing this will give you more flexibility when it comes to choosing your double DIN head unit.
3. Audio Quality
Some people might not really pay attention to details such as sound quality – but some people do! And if you are an audio purist who wants to get the most out of his car's entertainment features, having a Double DIN that gives out great sound quality is a must. Some Double DIN have audio technology that allows you to listen to rich, fuller frequencies that are lost during the conversion of files (such as converting CDs to Mp3s) – audiophiles would love to jump on this feature.
If you are someone who loves to drive long hours while enjoying a good audio experience, you should also check the sound quality review of the double DIN that you are going to buy.
4. Price Range
This is probably one of the most important thing when it comes to finding a. It doesn't matter if a Double DIN has all the features, bells and whistles that you need if you can't afford it. Price is the limiting factor of every purchase so you have to work around the budget that you are willing to spend.
Luckily, technology has evolved so much today that you can buy a lot of great quality Double DIN audio units without spending an arm and leg.
Weighing The Pros And Cons Of Double DIN versus Single DIN
Of course, weighing the pros and cons of Double DIN vs Single DIN devices is just as important as studying the products themselves. Before buying your unit, you need to make sure that you are making the right decision because you don't want to waste money and regret your purchase.
For us, here are the pros and cons of double DIN units versus single DIN:
PROS of Double DIN Units:
More features added because of the bigger size
Options such as camera, integration with phone apps and visual navigation
Aesthetically-pleasing to the eyes
More open and friendly to newer technology such as USB, GPS and Apple Carplay
Faceplate is usually hard or impossible to remove – added safety from thieves
CONS of Double DIN Units:
Much more expensive than single DIN head units
Consumes a lot more power because of its extra features
No extra pocket space below unlike the Single DIN units where you can place items
Can be expensive to replace parts if broken
Comparison table
Image

Features

Further information

-Brand: Pioneer
- Weight: 3.95 pounds
- 6. 2" WVGA touchscreen display
- Apple and Android compatible
- Built-In Bluetooth
- Color Customization

- Brand: BOSS Audio Systems
- Weight: 4.41 pounds
- Built-In Bluetooth
- 80 Watts x 4 Max Power
- Smartphone compatible
- 3 Year Platinum Online Dealer Warranty

- Brand: Alpine
- Weight: 7 pounds
- Built-in GPS Navigation
- Built-in Bluetooth
- 9-Band Parametric Equalizer
- i-Personalize Sound Processor Tunes

- Brand: Kenwood
- Weight: 6 pounds
- 6.95" wide VGA color LCD display with LED backlight
- Clear resistive panel
- Motorized 7 Step Tilt Angle Adjust

- Brand: JVC
- Weight: 2 pounds
- 6. 8" Wide VGA display with CD text and MP3 ID3 tag
- High-resolution audio playback
- K2 technology for enhanced digital sound quality
Top 5 Best Double DIN Head Units on The Market
With a screen size of around 6.2", you can never go wrong with the Pioneer AVH-200EX Multimedia DVD Receiver. This product is a relatively brand new release from Pioneer, which is a known brand when it comes to car audio, and it just came out around 2017-2018. Because of its relatively inexpensive price compared to other brands and products, it has quickly become popular among people who are working on a limited budget.
Of course, the cheaper price comes at the expense of other features. For example, the Pioneer AVH-200EX Multimedia DVD Receiver doesn't really support navigational features and integration with Android AUTO and Apple Carplay. This Double DIN Audio unit is just as bare as it goes – it doesn't have a lot of bells and whistles but it gets the job done.
Boss Audio has been known to produce quite a number of decent audio units – and this BOSS Audio BV9386NV Double Din is one of their best products. If you need a double DIN with great navigation features at an inexpensive price, the BOSS Audio BV9386NV Double Din fits the bill. With its 6.2" digital LCD monitor, traversing through traffic should be a breeze. Furthermore, it has a wireless remote capability to make sure you don't always have to lean over to control it.
It supports touchscreen, Bluetooth, USB, Mp3 and Am/FM radio too. It is really a great product that you can appreciate without having to spend a lot of money – definitely a winner in our book.
Audio head units from Alpine have always surprised us because they always seem to surpass our expectations. The Alpine Ine-w960 Navigation Receiver Double DIN with built-in Bluetooth Technology is no different from their other products. Not only does it support Bluetooth, but it also has navigation built-in too. It uses a premium navigation feature with built-in map data – this ensures a faster loading of map data wherever you are in the world.
Aside from its great navigation and Bluetooth features, it also feature a text-to-speech capability – one of the most refined out there. You can easily talk to the Alpine Ine-w960 Navigation Receiver and it will understand your commands – great feature if you are busy handling the wheels and you got no time to push some buttons. It is also compatible with the SIriusXM satellite Radio Tuner
Featuring a 6.95-inch wide screen display, the Kenwood DDX9703S double DIN CD and DVD Car Stereo is really a very nice, ergonomic and aesthetic piece of equipment. Audiophiles will surely love having this piece of equipment in their arsenal. With a clear resistive panel that works with Touch Control system and variable key illumination, this Double DIN audio head is really a head-turner.
It has a motorized 7-step tilt angle adjust – a feature that we really love and appreciate because it allows you to adjust the angle to suit you better. And with a 13-band graphic equalizer, you can enjoy a high-quality audio experience while integrating your Apple Carplay device. Definitely one of the top products we would gladly recommend to anyone looking for an Apple Carplay-enabled Double DIN.
There is a reason why JVC is a leading name when it comes to car audio solutions – and the JVC KW-V830BT Double DIN Navigation Receiver is one of them. Another high-quality product that comes with Android Auto and Apple Carplay support, there are so many additional perks and functions that make the JVC KW-V830BT Double DIN Receiver a winner in our book.
For example, you can make calls, check your messages and even make voice commands with the JVC KW-V830BT Double DIN. It is touchscreen too – which means you don't need to push buttons all the time to input commands. Streaming music directly from your Apple or Mp3 list is possible with this device. A built-in navigation system with embedded map data of the United States also comes along with the JVC KW-V830BT Double DIN. If you are willing to spend money for the best double DIN stereo out in the market today, look no further than this one.
4 Top Biggest Double DIN Brands Most Trusted
Pioneer
Pioneer is a great brand that is known around worldwide. They create great audio equipment not only for car audio, but for other niche such as home entertainment as well. Simply put – they are a brand that had already established its name worldwide.
Pioneer Double DIN audio heads are known for their great ergonomics, very precise and responsive touchscreen capabilities and strong audio quality. Even outside the car audio spectrum, Pioneer is a well-known multinational Japanese tech company known for producing great electronics. From subwoofers, speakers, dvd players and DIN audio heads, you can never really go wrong if you opt to purchase a Pioneer Double DIN head.
However, the price might be a limiting factor for some people since some Pioneer products can be higher than usual. However, if you are willing to splurge just to get the best audio quality and experience, a Pioneer Double DIN will never let you down. In fact, Pioneer is one of the most recommended brands in our list that we truly trust.
Kenwood
Some people love a good deal. Who doesn't, right? So if you are the type who is looking for a good deal for your car's audio head system, look no further than Kenwood. For years, this brand has created a name out of creating products that are not only very good in quality but affordable as well. The brand Kenwood is known for their "bang for your buck" products, and their double DIN units are also the same.
Kenwood audio heads are loved by audiophiles because of the value that it gives for your money. Pound-for-pound, Kenwood Double DIN heads are some of the most inexpensive yet feature-laden products in the market. It is hard to beat a cheap product that provides great quality – and Kenwood consistently delivers in this area.
Kenwood consistently creates car audio products that are priced competitively while still offering a lot of bells and whistles. Simply put, if you want a "bang for your buck" car audio solution, Kenwood Double DIN head units should be on your list.
Alpine
Another great product that gives you a lot of value for your money is Alpine. And for what it's worth, the Alpine brand is known for its partnerships with high-end brands such as Lamborghini and Jaguar. In other words, the Alpine brand is what you would often consider a "boutique" audio brand – not everyone can afford it, but those who can afford it will never regret their purchase. It is the brand for audio connoisseurs.
Alpine Double DIN Head units have some of the nicest features around that doesn't require you an arm and leg to purchase. Alpine products come in a wide variety – from middle to high-end – but they are much known for their custom made speakers and audio heads that car enthusiasts really favor. Because they are high-end and really made to last, even companies such as Jaguar use them in their cars.
Alpine DIN units are reliable, well-made and reputable. They have great features that can compete well with other known car audio brands, and the build quality is really amazing. As a Japanese electronics company that is known to cater to brands such as Jaguar, Lamborghini and Dodge – you can expect nothing but the highest quality when it comes to Alpine Double DIN head units.
JVC
JVC is a name that is not as big nor as known as other Japanese electronic brands, but they do hold up their own high standards and quality – a trait that all Japanese brands seem to be known for. When it comes to audio and entertainment products, the brand is definitely something that many people trust. JVC audio products are known for their crisp sound quality. Even their home entertainments systems are known worldwide. JVC products are truly a great value purchase for your money.
For years, JVC has been consistently churning out audio products not only in the car industry. As such, JVC is already a well-established and widely-known name when it comes to Double DIN Audio heads. For us, JVC offers one of the best mid-range DIN units out there.  Based in Japan, JVC has a reputation not only as a top car stereo brand but also as a complete home entertainment provider – ranging from televisions to surround entertainment systems.
Compared to other big Japanese electronic brands such as Sony, JVC might not as be as popular globally. But they have a niche market when it comes to the audio industry just like Kenwood – and we really like their inexpensive line of products that still deliver high quality audio solutions. If you are on a tight budget, a JVC Double DIN is something that you might want to check out.
Common Mistakes In Choosing A Double DIN Audio Head
Don't Go Cheap – most of the time, trying to save money is not always a good thing. And going cheap on your DIN purchase is not something that we recommend. If you have the money to spend, you should spend it to get the best Double DIN unit that you can afford – don't go crazy over a few saved dollars. These days, Double DIN units are relied on to do a lot of things for drivers – from filling in the entertainment spot to giving you navigation directions when you are lost. You definitely don't want to regret your purchase after a few months because you tried to save a few bucks instead of going all-in.
Choose The Right Size – some cars support double DIN installations, while some only accommodate single DIN installations. There is no point in purchasing a double DIN unit if you can't use it because it doesn't fit your car. Yes, this might be a common mistake for you – but a lot of people get too excited to purchase their first third-party audio head that they fail to recognize this simple mistake.
Choose Only The Features You Need – buying a Double DIN is pretty much like buying a smart phone. Sometimes, people get too enticed by the smart phone ads that they splurge on their purchase – only to realize in the end that they barely even use half the functions and features they paid good money for. If you are going to buy a Double DIN head unit, don't always go for the bells and whistles. Choose the DIN that can provide the features that you really need – don't instantly fall for Features that look cool but do absolutely nothing for you.
Don't Go Overboard Your Set Budget – before anything else, you need to set a budget for you to work around with. This is an important thing because it allows you to filter the units that you can afford and research each and every one of them properly. Sometimes, the bells and whistles of some Double DIN heads attract us even if we don't really need the features that they provide. Set a budget and do not go overboard this limited budget – it will make your choices a lot more concise and reasonable.
Going for nostalgia instead of function – some people go for nostalgia instead of function – and this is one thing we really advise against if you are going to purchase your Double DIN unit. Do you even own CDs nowadays? If not, then why go for a DIN with CD function the won't even get used? For us, practicality should be the priority. Instead of nostalgia, go for practicality and function.
Conclusion
These days, a DIN is not just an entertainment unit we use to play music. We rely on it to serve more and more functions such as giving us directions, playing our music, answering our calls and many more. Because of that, finding the best double din head unit becomes more and more difficult for some of us. Hopefully, this article has given you enough information on how to look for the best double DIN car stereo unit and how to avoid the most common mistakes before purchasing one.