Bugatti showcased an unpainted, bare carbon fiber Chiron on Thursday to promote a special champagne made to celebrate its 110th anniversary, coming in 2019.
What does carbon fiber have to do with wine? The answer lies back in 2002, in the midst of development for the Veyron, the car that would put Bugatti back on the map as an automaker. A vineyard by the name of Champagne Carbon plucked its champagne and pinot noir grapes (at a 9:1 ratio) from the vines at the end of a favorable 2002 growing season.
The resulting juice would reach peak maturity as a champagne in 2018, coinciding with Bugatti's run-up to its 110th anniversary in 2019. The two joined forces to call the wine ƎB.01, in keeping with Bugatti's naming scheme. What does the bottle of wine and the car have in common? Simple: Both have a carbon exterior. To celebrate the first uncorking, Bugatti president Stephan Winkelmann took Champagne Carbon CEO Alexandre Mea for a test drive in the carbon Chiron.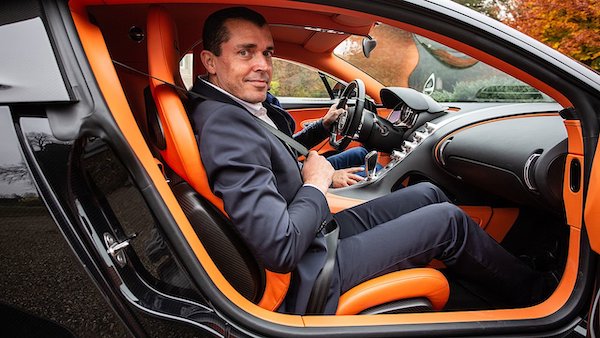 Bugatti
Mr. Mea was evidently distracted by the mere idea of being able to go for a ride in the 1,500 horsepower, $3 million Chiron—it showed on his face in one of the photos released by Bugatti. We imagine it to be similar to the expression that our own Mike Guy wore when he drove the Chiron. Mea himself, having sampled the champagne, didn't go for a drive immediately, and trialed the Chiron the following day.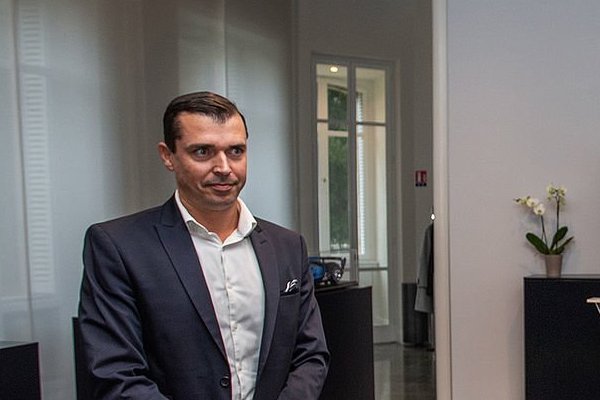 Bugatti
"We are thrilled to have the chance to begin an adventure with Bugatti. At the crossroad of tradition and modernity, excellence and technology, Bugatti never makes compromises. We feel the same about our Champagne," said Mea, presumably while dreaming about the Chiron, or its sister car the Divo. "Our constant pursuit of perfection and relentless desire to innovate has naturally led us to a powerful brand like Bugatti: breaking the conventions and remaining one of the top luxury brands in the World."
A Bugatti spokesperson told The Drive that Champagne Carbon won't restrict sales of the celebratory wine to Bugatti clients, and that it will be sold through some Bugatti showrooms in 2019, as well as Champagne Carbon's traditional sales avenues.
It's harder to have a vicarious experience of wine than it is a hypercar, but because of poor weather, Bugatti released only two photos of the carbon-only Chiron. The Drive reached out for more photos, and we'll add them here if Bugatti doles out a few more.