Cadillac recently confirmed the discontinuation of its exciting yet shortlived 4.2-liter "Blackwing" V8. That means the top-trim CT4-V and CT5-V models—also expected to wear the Blackwing badge—won't be treated to the same delightful powerplant as the outgoing CT6-V. However, it's hard to be too sad when the other engine options are so good. According to a report from Muscle Cars and Trucks, Cadillac's next batch of V sports cars is slated to receive familiar General Motors performance engines and, perhaps most importantly, manual transmissions. We tried to confirm the transmission options with Cadillac, but the company does not comment on upcoming product.
At the top, the quickest CT5-V variant is said to be fitted with the supercharged 6.2-liter LT4 V8 that makes an appearance in the Camaro ZL1 and Corvette C7 Z06. This engine is expected to produce around 650 horsepower as it has in the past, along with an equal torque figure. Notably, the "Blackwing" V8 made just 550 hp in the top-spec CT6-V with 627 pound-feet. 
Paired with a manual transmission, this would be the first time a hotted-up Cadillac has received such a powertrain configuration since 2015 when the second-gen CTS-V was discontinued.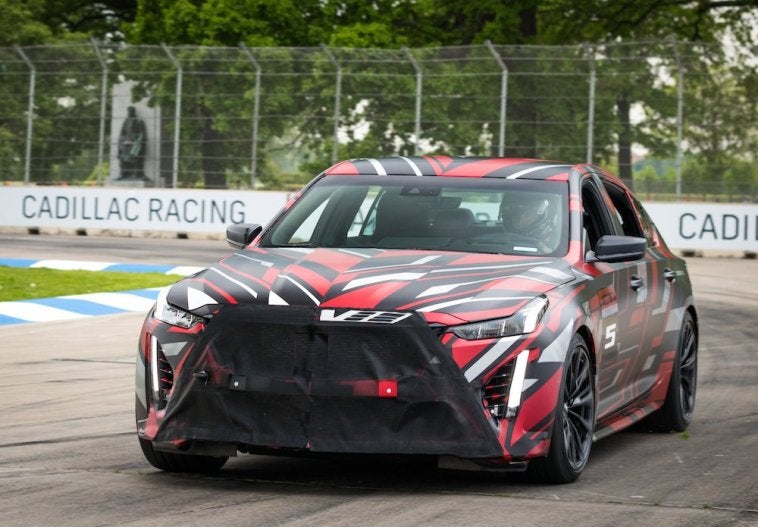 Cadillac CT5-V Blackwing Prototype, Cadillac
The CT4-V Blackwing is expected to receive the old ATS-V's 3.6-liter twin-turbo V6, which last made 464 horsepower and 445 pound-feet. That's a sizeable step above the standard CT4-V which makes do with a 320-horsepower four-cylinder.
In addition to a six-speed manual, Cadillac is expected to offer the 10-speed automatic transmission in both models. The new V-cars will also retain their rear-wheel-drive architecture, which makes them quite the unicorns in today's auto market. Aside from all the cost-cutting measures, the CT5's shift to GM's Alpha platform supposedly couldn't have supported the DOHC 4.2-liter anyway. It's hard to lament a manual transmission, rear-wheel-drive car with a supercharged 6.2-liter under the hood, even if the Blackwing engine was a real gem.
Got a tip? Send us a note: [email protected]